If you are wanting to learn a bit more about super affiliate, Zach Crawford, then you are in the right place. There are a lot of websites that have likely written about him, but I wanted to share my personal experience when it comes to applying what I've learned from his training.
In this post, I'll go into detail about Zach Crawford's background, his experience with affiliate marketing, his achievements, and how I won one of his courses for free!
But before we dive in, here's a quick background about myself in case you're wondering who owns this blog and why you should read this post.
How I Make $1,000 Commissions Using a Simple Website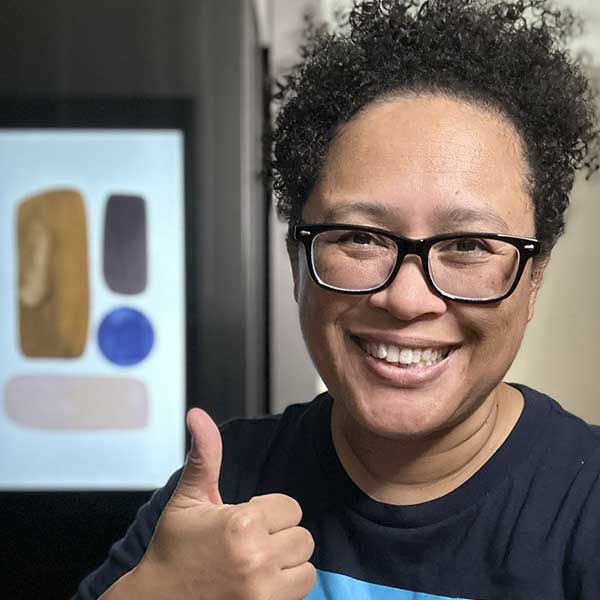 Hi! I'm Eartha, the author of this website and an affiliate marketer. I've been doing affiliate marketing for quite some time.
I'm always on the lookout for different affiliate programs, affiliate marketing courses, and ways to boost affiliate income.
I share what I discover here on the blog. I hope that you get a lot out of this post. If you want to learn more about how I was able to go from zero to making a steady income online, click below!
Click here to learn how I make $1K – $2K commissions using a simple 2-step process.
Affiliate Marketing for Generating Passive Income
Chances are you are already familiar with how affiliate marketing works. In case you are not, here is a quick definition:
Affiliate marketing is the promotion of another company's product(s) in exchange for a share of the sale (your commission.)
When you join affiliate programs, you are provided with special tracking links called affiliate links.
As people click on your affiliate link and buy the product you are recommending, the credit of the sale is tracked to you and you earn a commission.
Over time, it is possible to generate a steady flow of passive (or what I prefer to call it, semi-passive) income online.
Learning Affiliate Marketing From a Super Affiliate
If your intent is to learn affiliate marketing from a super affiliate, Zach Crawford is one of the best.
Zach has many achievements including becoming a millionaire in his twenties, winning the Clickfunnels 2 Comma Club Award as well as the Clickfunnels Dream Car contest, creating one of the top affiliate marketing courses on the market, and helping several of his students become 6 and 7-figure earners.
As of this writing, he has a goal of creating 100 millionaires and 1,000 six-figure earners by 2026.
I've come across a lot of super affiliates and I've yet to come across someone as genuine as Zach who has set out his own personal goal of helping to create millionaires and six-figure earners.
His Millionaires Challenge System (MCS) is aptly named and I don't doubt that Zach will accomplish his goal and that many of his students will be extremely grateful in the process.
As promised, this blog post will dive deeper into Zach's journey and hopefully, you will also get to learn more about his strategies and how you can apply them to your own business!
Who is Zach Crawford? From Novice to Super Affiliate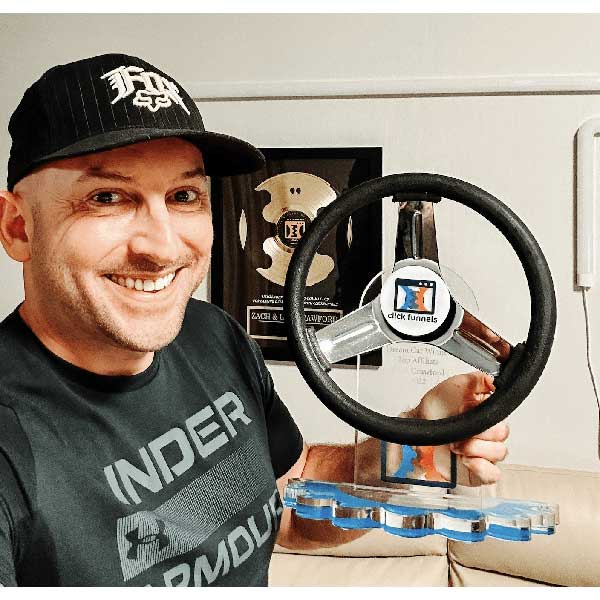 I actually came across Zach when one of his YouTube videos popped up on my feed. Since he was teaching about affiliate marketing, I clicked on the video.
To my surprise, he was teaching affiliate marketing in a different way than I've seen other super affiliates teach it.
He was sharing his entire online business model for free in a very down-to-earth manner. I subscribed to his channel and watched almost every video he had.
During that time, Zach would have giveaways and one of them was to win one of his online courses. All anyone had to do was to leave a comment on his video.
I left a comment and was chosen to win his course! That is how I became more familiar with Zach, his background, and his online business strategies.
How Zach Got Started in Affiliate Marketing
Zach's affiliate marketing journey was not an easy one. During that period in his life, he was working at the post office as a contractor. He had a nice car, a motorcycle, and everything was going well.
Then, one night Zach was riding his motorcycle and was hit by a drunk driver. He suffered extensive injuries. He went into a deep depression which led to drinking heavily, partying, and racking up debt.
Eventually, he made the decision to make a change. He began living a healthier lifestyle and incorporating physical fitness into his life.
However, he did not like his job as he was working 50+ hour weeks and wanted a way out of the rat race (who else can relate?)
His financial situation was not good. He had $50K in debt lingering over him and many of his creditors were attempting to garnish his wages.
It was then that he typed into the search engines, "How to make money online" and his journey into affiliate marketing began.
He decided to sell everything he owned and bought a one-way ticket to the Philippines. His only plan was to build a web-based business and get out of debt.
Soon, Zach created his first information product and launched it with great success earning $30,000 from sales.
Even with the success, he ended up losing all of the money due to poor business investments.
He didn't give up and found an affiliate opportunity. Zach told his father that with this new opportunity, he would make $30K in a month.
What happened is that Zach made significantly more in just 45 days. It became the norm for him to earn $20K to $30K a month.
Zach says his income changed when he put people first before profits. This hasn't changed as Zach is still helping people succeed in the affiliate marketing space.
Finding a Mentor
Things didn't really pick up for Zach until he met his mentor who he credits with teaching him how to create a long-term business as well as how to make larger commissions with high-ticket affiliate offers.
He was able to learn the importance of building an email list and leveraging high-ticket affiliate products.
Thanks to his mentor, he was able to land in the top 10 of many affiliate program leaderboards with only a small email list.
In comparison to some of the other top super affiliates on these leaderboards such as Russell Brunson, who I'm sure has large email lists, Zach was in competition with some of the best.
Over the years, he has also invested well over $300K in other mentorships and courses that have helped to elevate his online business to even further success.
Now Zach serves as a virtual mentor to many of his own students: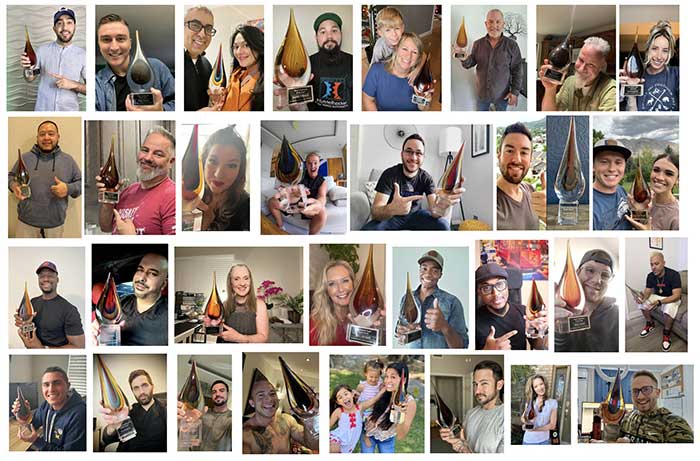 As of this writing, Zach has been in the affiliate marketing industry for close to a decade. His own funnel has been tested and improved upon over the years which has led to his earning hundreds of thousands per month.
The Strategies Behind Zach Crawford's Success
I've watched many of Zach's videos and have even purchased his Passive Affiliate Profits course also commonly referred to as the Zach Crawford $7 course.
If there is one thing I've learned from all of the training I've followed, it is to build a long-term online business.
Many beginner affiliate marketers will take their affiliate links and post them directly to their social media profiles.
While this strategy works, as Zach says, you're leaving money on the table by not thinking long-term.
The long-term strategy looks similar to the below flow chart: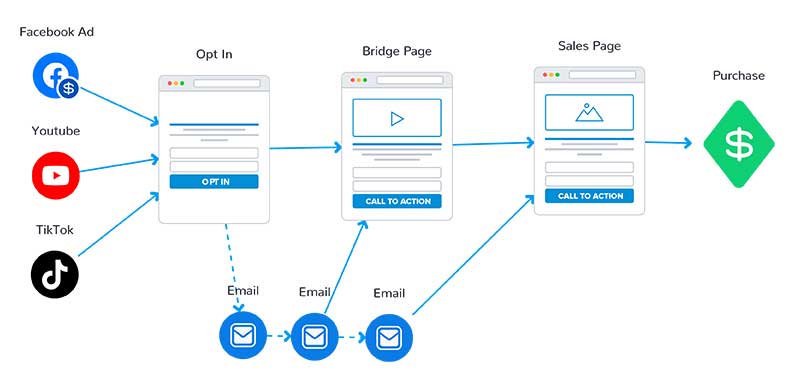 Essentially, after you've chosen the affiliate product that you want to promote, you set up a sales funnel.
This is important because you're able to also build your email list and that is key when it comes to making a steady income online.
If you only link your affiliate links in your social media profiles, you've lost every lead you've generated even if they've bought something and you've made an affiliate commission.
When you build an email list, you're able to keep marketing to your leads for as long as they remain a subscriber.
You'll have your own customer base that can't disappear the way your social media accounts can.
I can't tell you how many times I've heard of someone's TikTok account being closed for whatever reason.
It's always best to have your own database of leads that you can rely on no matter the fluctuations in the algorithms.
Niche Selection and Market Research
The great thing about affiliate marketing is that you can create your business in any niche that you want. In fact, you can make money in multiple niches.
What I've learned from Zach is that the make money online niche is one of the best niches to be in.
For obvious reasons! It's rare to find anyone who isn't trying to make more money. However, Zach's training teaches you how to find the best products to promote in ANY niche.
You don't have to be in the make-money niche unless you truly have an interest in it. Many of Zach's students build their businesses in a wide variety of niches.
Oftentimes, many marketers will say to go with what you're passionate about. It can work but when it comes to getting results faster, the MMO niche can be one of the most lucrative.
Leveraging Various Traffic Sources
The traffic method Zach teaches is related to leveraging social media to attract your target audience.
The popular social media platforms he utilizes include Instagram and TikTok. There are also Facebook reels and YouTube shorts.
However, if you're going to start with any of these platforms, Instagram and TikTok are good places to start.
If you want in-depth training as to how Zach utilizes these platforms for unlimited amounts of free traffic, check out his Passive Affiliate Profits course here.
Continuous Learning and Staying Updated with Industry Standards
One of my favorite things about Zach is that he is constantly sharing and teaching. If you are a student of his paid course, you're going to get a lot more in terms of teaching and guidance from Zach.
However, he still teaches often in his Facebook group. His free live coaching sessions offer more value than many of the courses I've paid for.
I highly recommend joining Zach's Facebook group if you haven't done so.
The Zach Crawford Course
Zach's current course as of this writing is his Millionaires Challenge System (MCS). It is this course in which he has set his own personal goal of creating 100 millionaires and 1,000 six-figure earners by 2026.
It is his premium course and many of his students are earning thousands of dollars per month from what they have learned and applied to their own businesses.
How Much Does the MCS Course Cost?
I don't know the exact price of the course. Do know that it will not be a low-ticket course. Buying the course is a definite investment in yourself.
One thing I know for certain is that Zach doesn't do anything halfway. He over delivers and he actually wants his students to succeed.
So, before you invest in Zach's premium course, consider these two things:
Are you willing to do the work? – If you can't commit to learning the skills and then applying what you've learned, you likely will not succeed. It doesn't matter how good the training is if you are not consistent and taking action.
Can you make the investment? – Zach's course is not low-ticket. It is a premium course that provides a high level of training and guidance from Zach.
Some people are also skeptical and I get that. They may not know enough about Zach to make a large investment in his premium training.
If that is the case for you, I recommend checking out his Passive Affiliate Profits course. It is at an affordable price point and gives you the opportunity to learn more about Zach and his teaching style.
Not only that, the course is on the level of courses that are much more expensive and the training is incredible. Plus, you have the opportunity to join the Zach Crawford affiliate program.
As a student inside of his Passive Affiliate Profits course, he asks that you send in your testimonial once you've had your first success applying what you've learned in the training.
I can personally vouch for the course myself. After watching the videos and implementing what I've learned, I made my first $1K commission within eight days of starting!

Please note that my results are not typical and it will vary from person to person as each individual has a different work ethic, a different rate at which they learn, and other factors as well.
Conclusion
To recap, Zach Crawford is a 7-figure super affiliate and CEO of MCS. He has trained and helped many of his students to reach 6-figure incomes.
Overall, I think Zach is a genuine person. I like his teaching style as he is down-to-earth and tells it like it is.
I also believe his training works and that's because I have applied what I've learned myself and have had excellent results.
Like anything, you won't get results if you don't apply what you've learned and are consistent with it.
I do hope this blog post was helpful and that you learned a bit more about who Zach Crawford is.
Be sure to check out his Facebook group and take advantage of his Passive Affiliate Profits course!