If there is any niche that is evergreen and has products that sell well, it is the fashion niche. SHEIN is a popular online clothing retailer and what's even cooler for affiliates is that there is a SHEIN affiliate program.
If you have a passion for fashion, this affiliate program may help you monetize your content creation and start earning semi-passive income online. Plus, you can join other related affiliate programs and earn income from those as well.
SHEIN is a global online fast-fashion retailer catering to trendy, affordable fashion. In this blog post, I will dive into the SHEIN affiliate program to help you learn about this option for earning income in the fashion niche.
I will also share some strategies that you can use to help you get approved for affiliate programs on the first try as well as how to create engagement and inspire your followers to take action and buy what you recommend.
How I Make $1,000 Commissions Using a Simple 2-Page Website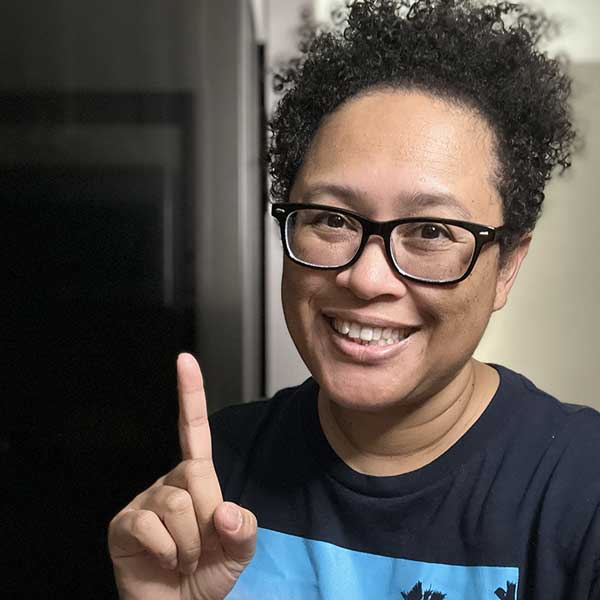 Hi! I'm Eartha, the author of this blog and an affiliate marketer. My goal is to help other affiliates find useful affiliate programs and increase their affiliate income.
One of the ways I've been able to scale up my affiliate income is by recommending high-ticket affiliate offers.
These offers have commissions of $1K or more. Best of all, I use an automated system to do all of the selling and converting for me.
You can learn how too! Click the button below to get started:
Understanding the SHEIN Affiliate Program
Many major brands offer an affiliate program. It's a win-win for the company and for its customers.
That's because affiliate marketers are able to attract the target audience of the company and direct that audience to the products they are highly likely to buy.
Affiliate marketing is the promotion of another company's products in exchange for a commission (a percentage of the sale) for every sale that is referred.
The SHEIN affiliate program is ideal for anyone interested in or who is already in the fashion niche. Influencers, bloggers, and fashion enthusiasts are able to earn commissions by driving traffic to the SHEIN website.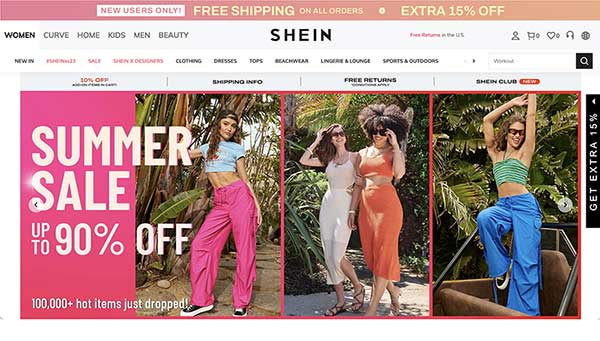 Benefits of Joining the SHEIN Affiliate Program
SHEIN offers a pretty good commission rate in comparison to a lot of other online fashion retailers with affiliate programs. SHEIN offers 10% – 20% commission on each referred sale.
Affiliates can also earn an extra monthly cash bonus by sharing the company's promotions. They also offer new monthly profitable activities as well as updating banners and coupons. The affiliate program has a 30-day cookie length.
Commission: 10% – 20%
Cookie Length: 30 days
Large Product Catalog
When you visit the SHEIN website, you can immediately tell that their target demographic is women. However, they do offer a large variety of different products.
Some of the categories covered include:
Women
Curve
Kids
Men
Dresses
Beachwear & Sports
Home & Living
Beauty & Health
Electronics
Home Appliances
Shoes & Bags
Accessories & Jewelry
The benefit of an online retailer offering a large product selection is that many of their customers are likely to buy more than one item.
That means a larger commission for you as an affiliate. Take Amazon.com for example. Many people that shop on Amazon will order more than one product.
SHEIN has become a very well-known online clothing store. Once people visit the website and are ready to shop online, the chances of them buying more than one item are high.
Another plus of SHEIN's popularity is its global reach. People from all over the world shop there.
Therefore, you have an even bigger opportunity to make sales as you get traffic to your own niche blog or social media accounts.
One of the biggest draws to the website is the prices. They are super affordable in most cases. Online shoppers are always on the hunt for discounts and with the large variety of products and the low prices, it makes for an excellent combination.
You can bet that many of SHEIN's affiliates are raking it in when it comes to making monthly commissions.
How to Become a SHEIN Affiliate
Becoming an affiliate is a fairly simple process. You head on over to the affiliate program page and click on the sign-up button.
The sign-up button should take you to a form to sign up as a new publisher. Fill it out and follow the rest of the prompts.
I'm not sure if they have an instant approval process. Like most affiliate programs, they may ask for your website.
If you do not have a website, you can link one of your social media accounts.
How to Improve Your Chances of Getting Approved
When you are a brand new affiliate marketer, you likely won't have an online presence in the niche that you're going into.
The best way to improve the chances of getting approved by the affiliate program the first time that you apply is by creating a web presence.
You can go about this by focusing on one traffic source or multiple. For example, let's say you want to create a niche website around fashion.
Buy a domain name and hosting. Install WordPress on your hosting account (most web hosting companies will do that for free.)
The next thing is to post at least 5 – 10 good-quality blog posts. Now you have content related to a targeted niche.
When you apply to the SHEIN affiliate program, you can submit your niche website and this may help to increase your chances of approval.
The goal is to demonstrate that you are serious about recommending the products with your content creation.
It's similar to social media. If you prefer to do your marketing using Instagram, Facebook, TikTok, etc., then create an account on one or more of those platforms.
Start creating related content and then use one of your social media accounts when applying to the affiliate program.
Either way, you want to demonstrate that you are a content creator and that you can generate targeted traffic.
Strategies for Success
The key to affiliate marketing is a fairly simple formula:
Traffic + Offer = Sales
Don't overcomplicate it. The goal is to make affiliate commissions so targeting the right audience is essential.
In this case, a fashion-conscious audience is going to be an audience that aligns with SHEIN's target market.
Short-form content will work well with this audience. Creating short videos to post as Instagram reels, YouTube shorts, Facebook reels, and TikTok videos is going to be ideal.
Creating engaging content that inspires your audience will help lead to conversions. Here are some ideas:
Fashion hauls
Lookbooks
Style guides
Product reviews
Keep in mind that building a following and getting a flow of steady traffic is going to take time and consistent effort.
If you don't create content on a daily basis, the chances of succeeding will be low. Dedicate at least 1 to 2 hours a day to content creation and stick to it.
So many affiliates give up before they make their first commission. If you can make one commission, you can make as many more so long as you put in a consistent effort.
Build Trust With Your Audience
Another important factor when converting leads into sales is the trust factor. Be genuine and transparent with your audience.
If you are doing a product review and want to direct them to where to buy the product using your affiliate link, disclose that information.
Most people don't care that it is an affiliate link but may be glad that you disclosed that information anyway.
It builds trust and shows that you are genuine when you are recommending products.
Personally, when I get help with something that someone has recommended online, I hope that it is an affiliate link that I click on so that they can be compensated.
Trust and credibility will go a long way when you are doing affiliate marketing.
Promote Related Products
The fashion niche enables you to promote a lot of related products that can earn you higher commissions
For example, if you apply to some luxury affiliate programs, you can recommend high-end brands for larger commissions.
I'm talking about brands like Louis Vuitton, Rolex, Prada, and so many more. People who are into fashion also like designer brands.
When you can show them how to get designer brands at a discounted price, it's a win-win for the customer and for you.
Many of these luxury online retailers are selling designer clothing, jewelry, accessories, and more that are pre-owned.
People love a good discount on top of being able to buy a designer brand that they love.
Frequently Asked Questions
Here are some FAQs that may help you with whether or not to apply to become an affiliate:
How can I join the SHEIN Affiliate Program?
Visit the affiliate program page and click on the signup button. It is free to join.
Can I promote SHEIN on social media platforms?
Yes, you absolutely can. In fact, that is where they state to do so on their own affiliate program page.
How much commission can I earn as a SHEIN affiliate?
You can earn between 10% and 20% commissions on each referred sale.
What are the Customer Benefits?
SHEIN offers over 2 million products with 500 new arrivals each day. The prices are affordable which is one of the big draws to the website. There is 24/7 live chat and customer service available. Customers can return products with a no questions asked refund.
How I Make $1,000 Commissions Using a Simple 2-Step Process
One of the nice benefits of affiliate marketing is that you can promote products in any niche. I've promoted products in all types of niches but I've had the best success in the digital products niche.
Particularly with software and online education. Since changing my focus, I've been able to make commissions of $1,000 or more and that can have a significant impact on your monthly income.
Here is a screenshot of a $1K commission that I made from one affiliate program:

The best part is, the commissions that I make are automated because I use a sales funnel that directs my audience to a high-quality product that offers a solution for them.
Here is how my sales funnel works: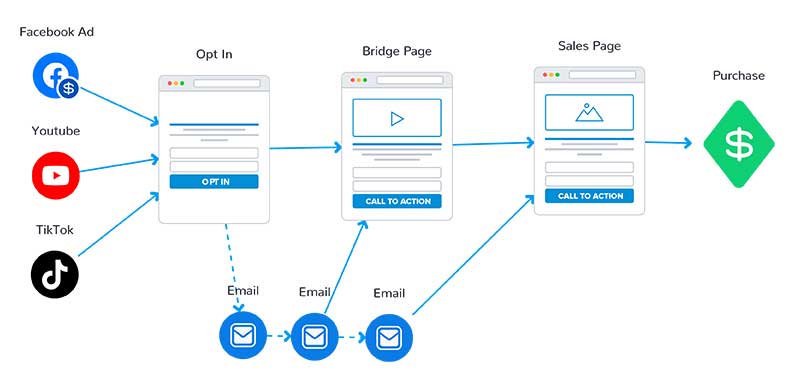 It works by creating a sales funnel which is a simple 2-page website. The landing page (also known as a squeeze page) is where you collect your visitor's contact information such as an email address.
Once they submit their contact information, they are sent to a bridge page or thank you page where you introduce your audience to the product.
The bridge page can have a call-to-action button that links to your affiliate link.
A percentage of people will click on the link and buy immediately while others will click and not buy.
Either way, all of your visitors that subscribe have been added to your email list and you can continue marketing to them as long as they remain subscribed.
This all runs automatically and my only job is to send traffic to my funnel which is the fun part.
If the process above is going over your head, don't worry. A lot of people have learned the skills without having any prior knowledge about it whatsoever.
It's a matter of learning from the right source and taking action on what you've learned.
You can learn how to make high-ticket commissions of $1,000 or more by following the same training that I followed:
Conclusion
If you are excited about monetizing your passion for fashion, the SHEIN affiliate program may be exactly what you're looking for.
I hope that this post has provided some helpful information about the affiliate program itself as well as how to start earning income from it.
The best way to get results is to take action and stay consistent. I wish you all the best with your online journey and earning affiliate commissions!