Webinar software is one of the most useful software that you can promote. These eight webinar affiliate programs are likely exactly what you're looking for as an affiliate marketer.
I'm sure you have signed up for a number of different webinars. Webinars are used quite often by internet marketers. However, many types of businesses are understanding the power of using webinars for marketing.
Russell Brunson of ClickFunnels™ has demonstrated the success of using webinars to generate leads and boost sales. The use of webinar software is not going away any time soon.
In fact, it would be a wise idea to promote this software and begin generating consistent commissions. I will share my recommended method for earning consistent affiliate commissions.
How I Make $1,000 Commissions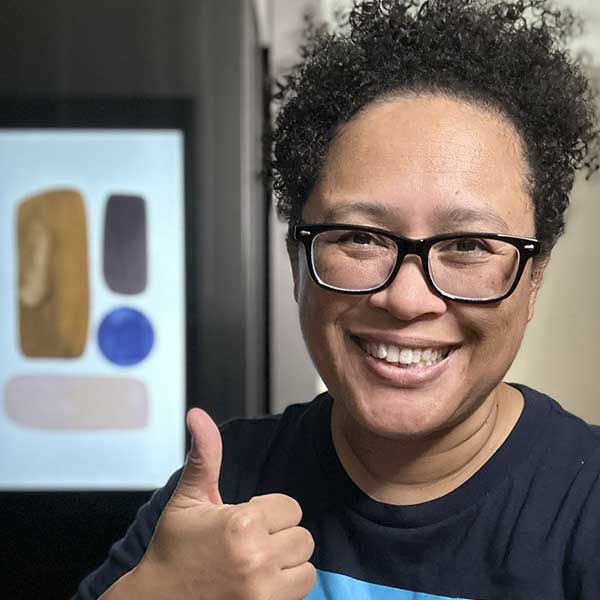 Hey there! I'm Eartha, the author of this website and an affiliate marketer. Besides sharing different affiliate programs, I also share ways to help boost affiliate income. Click the link below and I'll share exactly how I'm able to make $1,000 – $2,000 commissions:
Webinar Affiliate Programs:
ClickMeeting
WebinarNinja
Genndi (WebinarJam)
EasyWebinar
Business Hangouts
Demio
LiveWebinar
BigMarker
1. ClickMeeting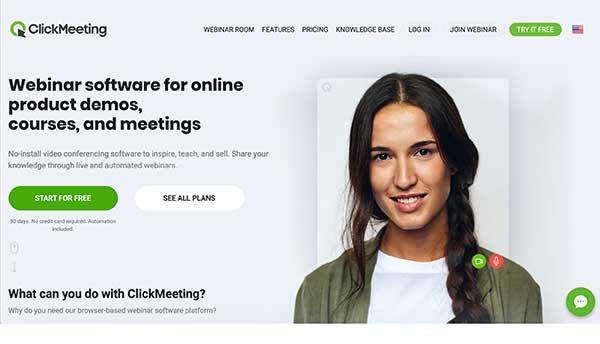 ClickMeeting is webinar software that needs no installation. It can be used for both live and automated webinars. They offer a 30-day free trial and no credit card is required.
This software has a ton of features and it is browser-based. Monthly and annual plans fluctuate based on the number of attendees you need. Users can pay monthly and annually.
The affiliate program offers commissions up to $515 dollars with a cookie length of 120-days. The program is managed by CJ Affiliate but they also offer an in-house sign-up as well.
2. WebinarNinja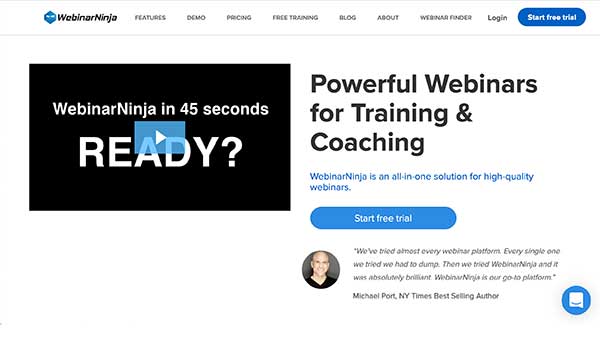 WebinarNinja is a cloud-based software that enables users to create Live, Automated, Hybrid, Series or Summit webinars. Plans are available in monthly or annual payment plans.
They also offer a 14-day free trial. They offer a 30% recurring commission with a 90-day cookie length. It appears that the affiliate program is managed in-house.
Commissions are held for a 30-day period. However, your first affiliate payment will be held for 60-days to avoid fraudulent transactions. Payments are made on the 5th of each month via PayPal.
3. Genndi (WebinarJam)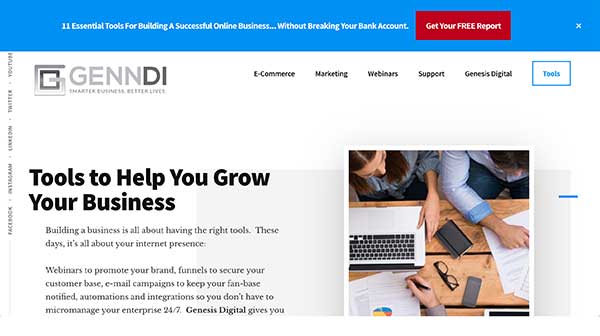 Genndi (Genesis Digital) is the company behind WebinarJam. WebinarJam is one of the most popular webinar services online. It is used a lot by internet marketers.
The affiliate program offers a 40% recurring commission and products range from $297 to $497 in price. There are two WebinarJam funnels that you can promote.
One is the main funnel in which customers pay $497 for an annual subscription. The second is the $1 trial funnel for the first 60-days of a customer's subscription. On the 61st day, they are billed $497 for the year subscription.
The affiliate program is managed by Kartra.
4. EasyWebinar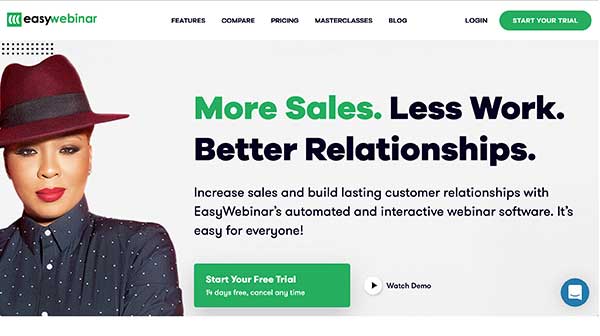 EasyWebinar is another popular webinar software that has a lot of great features. Customers can run both live and automated webinars.
Plans can be paid monthly or annually and unlike a lot of webinar services, this is one of the only ones that offer a 2,000 attendees plan. They offer a 14-day free trial.
The affiliate program has a 30% commission and appears to be managed in-house. The cookie length was not posted on the affiliate program page.
5. Business Hangouts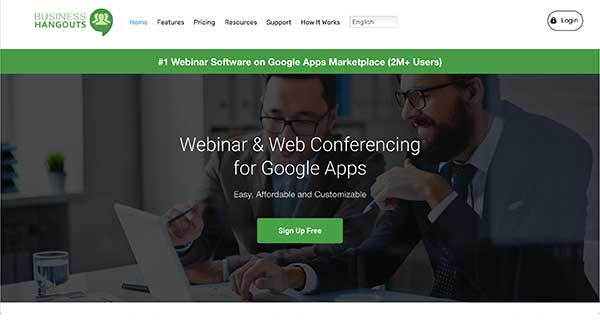 Business Hangouts is webinar and web conferencing software for Google apps. It works by creating an account with Business Hangouts and connecting your YouTube account to stream your events live.
Using Business Hangouts also enables customers to scale and have as many as 5,000 simultaneous event viewers.
The affiliate program offers up to 50% commissions and is managed by ShareASale. This particular service is a great option to promote to those that are looking for a YouTube webinar solution.
6. Demio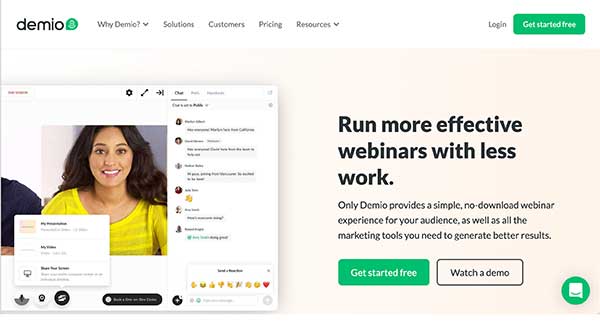 Demio is webinar software in which customers can create live, hybrid, automated, on-demand webinars. There is nothing for users to download to join a webinar.
They offer a free trial and no credit card is required. It seems that the highest number of attendees offered on the highest plan is 500.
The affiliate program offers a 30% recurring commission. Cookie length was not disclosed and it appears that they run the program in-house.
7. LiveWebinar
LiveWebinar is cloud-based webinar software that offers screen sharing, live video streaming, and recording features. It integrates with a number of email marketing software.
What's niche about LiveWebinar is that they have a free plan for up to 5 attendees. The Pro and Business plans are reasonably priced and if customers need 1,500+ attendees, there is a custom plan.
The affiliate program offers a 30% recurring commission and a lifetime cookie. They do require you to sign-up with a paid plan in order to become an affiliate.
8. BigMarker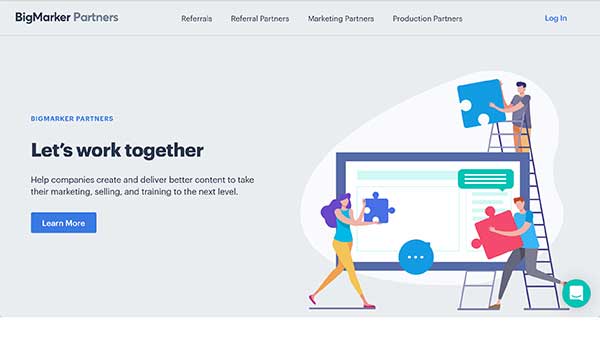 BigMarker is another cloud-based webinar software in which users can create live, on-demand, and automated webinars. They are also highly-scalable and can reach up to 10,000 viewers.
They have monthly and annual billing plans with a free trial offer. The affiliate program appears to be managed in-house. They offer a 50% commission on a referral's first month's payment.
It is not a recurring commission. However, they have a low minimum of $10 in your account which is available for withdrawal after 14 days.
Ready to Earn Commissions with These Webinar Affiliate Programs?
As you may have noticed, webinar affiliate programs offer great commissions. Many online marketers and business owners are searching for webinar software options.
You can get in front of this audience by creating a niche website that addresses their questions and concerns.
I got my start in affiliate marketing by creating a niche website. It is still how I run my online business today.
A niche website is simply a website that focuses on a specific topic. In this case, the niche would be webinar software.
However, you can choose a niche that is related to it as well. For example, think about the type of people that would use webinar software.
These include small business owners, online marketers, or anyone that has an online course or product that they want to sell.
The goal is to generate new leads and convert them into customers. Your niche website could focus on digital product creators.
You would then create content that helps digital product creators and recommend webinar software to reach a larger audience.
Why Niche Websites Work
Are you curious as to why niche websites are often used by affiliate marketers? The short answer would be because they work! However, I know that doesn't justify wanting to create one yourself.
There are many reasons why niche websites work so well for affiliates. The primary reason is the content. Content is what gets indexed by the search engines and ranked in the search results.
No, content marketing is not the fastest way to start earning commissions but no way is really fast unless you've got thousands of dollars to spend on paid ads.
Most people do not so you must view a niche website as a long-term investment. It may take several months to get even trickle traffic but guess what?
Time is going to pass anyway and when done properly, a niche website can earn affiliate income month after month and increase in earnings as time goes on.
How to Start Your Own Niche Website
A niche website is a self-hosted WordPress blog. Self-hosted means that you will register your own domain name, get a web hosting account, and have WordPress installed on your account.
You can get all three with almost any commercial web hosting provider. I do recommend a hosting provider such as WPX Hosting as they are one of the fastest providers and have stellar user reviews.
When I got started, I knew there was going to be a lot to learn. Although creating and maintaining a blog is easy, I wanted to learn how to make the most of my website.
I sought out an affiliate marketing training program and found one that I am still a part of today. This online training course has helped me to get to where I am today.
My Closing Thoughts On Webinar Affiliate Programs
Promoting webinar software as an affiliate can absolutely result in lucrative commissions.
I believe that creating a niche website is the ideal method for generating consistent commissions.
It is how I run my online business and I recommend it to beginners who may not have a lot of start-up cash or experience with affiliate marketing.
It can seem overwhelming which is why I followed and implemented the training from this affiliate marketing training program.
I am still a part of that training program today and use the platform to help others one-on-one with starting their own niche websites.