Are you an affiliate that wants to get into the luxury brand niche? After doing research on the luxury affiliate programs below, I learned just how lucrative promoting these products can be.
You may be aware of the more popular selling items such as handbags and shoes. However, there is also a niche for luxury pre-owned watches as well as luxury brands for kids.
If you are fairly new to affiliate marketing or are struggling a bit to make consistent commissions, I will also share my tried-and-true method of earning affiliate commissions.
Tired of not making sales? Learn how I went from zero to consistent affiliate commissions every month. Click here to learn how I did it.
Luxury Affiliate Programs
Luxury Garage Sale
Vestiaire Collective
The Real Real
Open for Vintage
Harrods
Bloomingdales
MyTheresa
MeliJoe
1. Luxury Garage Sale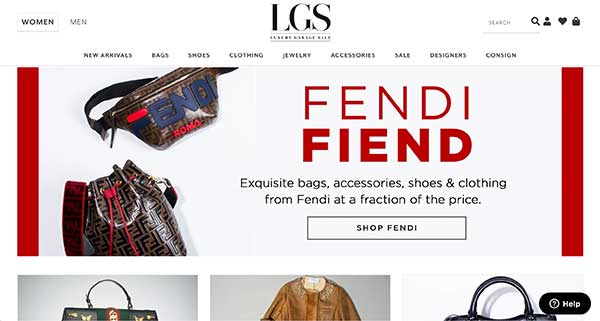 Luxury Garage Sale was founded in 2011. They authenticate pre-owned pieces from luxury brands such as Chanel, Louis Vuitton, Hermés, Christian Louboutin and David Yurman.
Their inventory consists of bags, shoes, clothing, jewelry, and accessories. They receive inventory on a daily basis.
The affiliate program offers 5% on sales and 3% for anything over $5K. There isn't an application on the affiliate page so applying must be done through email.
2. Vistiaire Collective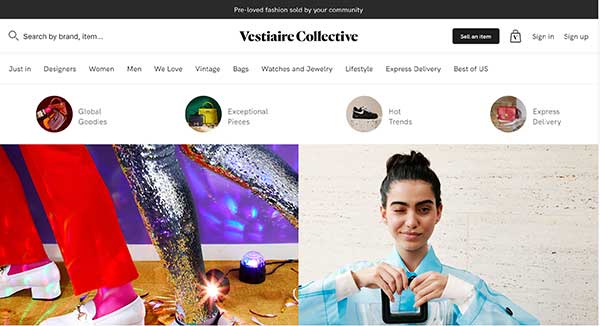 Vistiare Collective was founded in 2009. They curate luxury brands and receive 25,000 new luxury items on a weekly basis. Their inventory consists of vintage items, bags, watches & jewelry, home decor, and more.
You can apply for their affiliate program via an email address. They offer 7%-9% commissions with a cookie length of 30 days.
This company has definite longevity and carries a large amount of inventory. They are reputable so that ensures that they do a great job with authenticating products.
3. The Real Real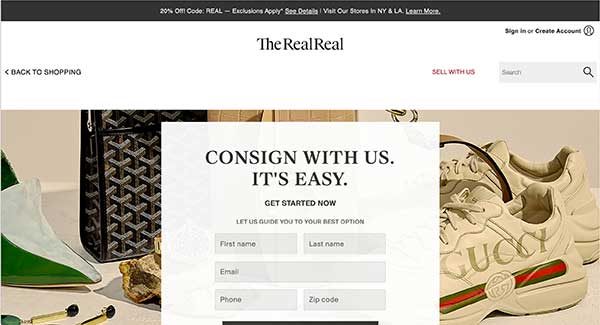 The Real Real was founded in 2011 by Julie Wainwright. She started the business from her kitchen table and began visiting consignors' homes with a UHaul.
The company has grown to three retail stores and has millions of shoppers. It appears that the affiliate program is run in-house. They offer $5 for every item that is consigned or 5% of the sale price on single items sold over $3,000.
The cookie length or payment options were not disclosed.
4. Open for Vintage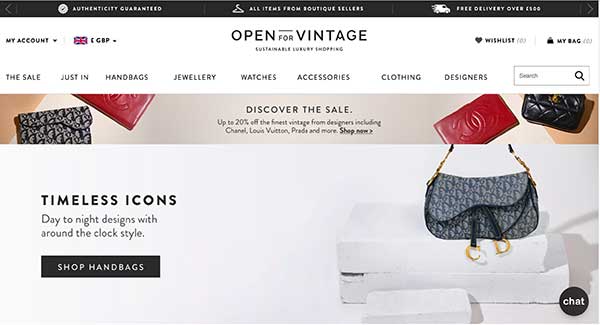 Open for Vintage was founded in 2015. They are based in the UK and carry luxury brands such as Gucci, Louis Vuitton, Hermes, Prada, and more.
Their product line includes handbags, jewelry, watches, clothing, and more. Unfortunately, there were not many details on their affiliate page besides applying via an email address.
However, this is still a reputable luxury reseller and chances are their approval process is a bit stricter.
5. Harrods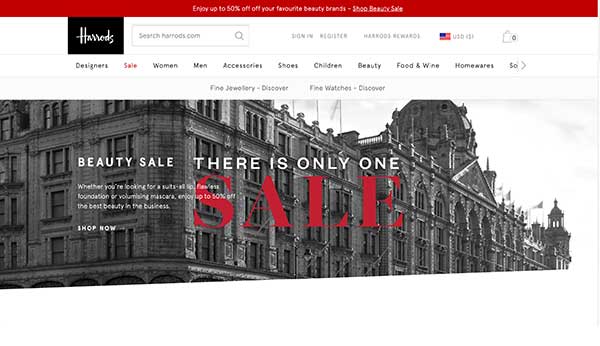 There really isn't a need to explain much about Harrods as they are very well-known for selling luxury items. Unfortunately, they did not state a commission on their affiliate page.
There is a 30-day cookie length and chances are high that you will receive great conversions. Their affiliate program is managed by Rakuten.
6. Watchbox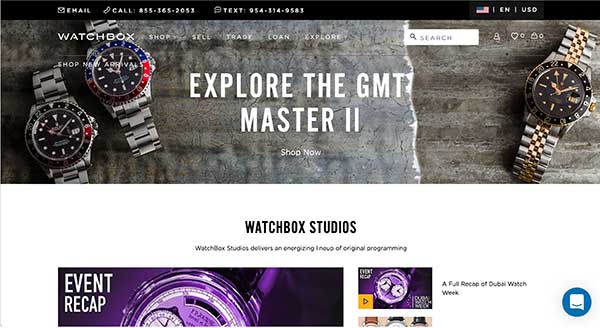 Watchbox, as you can guess, focuses solely on selling pre-owned luxury brand watches. Their pricing ranges from $2,500 to $100,00 and up.
Their affiliate program is managed by Impact. An average sale is $12,000 with a 3% commission which means a $360 commission. The cookie length is 30 days.
This is an excellent niche to be in as luxury watches are big sellers. Since the prices are quite high, you will still earn great commissions.
7. MyTheresa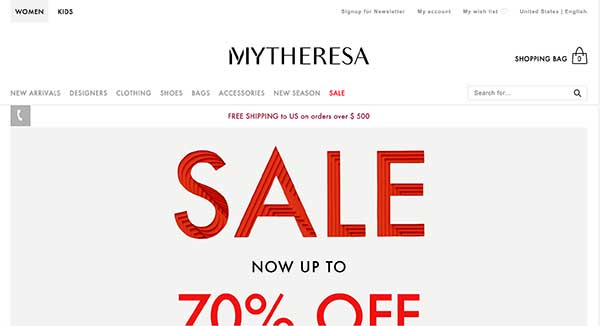 MyTheresa was founded in 2006 in Munich. They sell luxury brands such as Burberry, Gucci, Prada, Jimmy Choo, and more.
They carry bags, shoes, clothing, and accessories. Their affiliate program offers an 8% commission and a 30-day cookie length. You can apply to their affiliate program via CJ Affiliate, Rakuten Marketing, rewardStyle, or apply via email.
This company has a wide selection and tons of luxury brands so it probably also has great conversions.
8. MeliJoe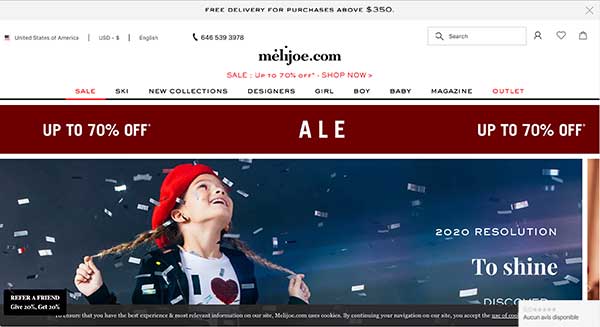 MeliJoe was founded by Nathalie Genty in 2007. They specialize in children's fashion and carry luxury brands such as Burberry, Chloe, Dolce & Gabbana, Gucci, and many more.
Their affiliate program is managed by CJ Affiliate and offers a 10% commission with a 30-day cookie length. While luxury items are big sellers in themselves, the children's niche is a great niche to be in.
Many parents are into fashion for their children and this is a good company to promote. They have a huge inventory (over 10,000 items) and a ton of designer brands.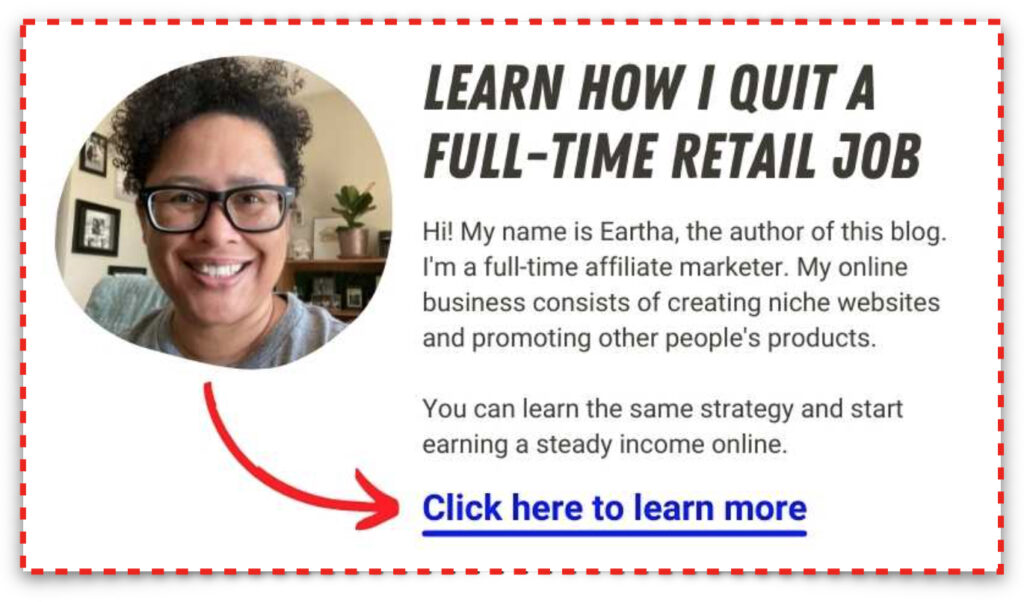 How to Earn Commissions with Luxury Affiliate Programs
One of the best ways to promote luxury products is through content marketing. It is my number one recommended method of earning affiliate commissions.
I started my own online business by creating a niche website. It is still how I run my business today. Niche websites work extremely well when it comes to affiliate marketing.
When I got my start, I knew that I didn't want to spend a ton of time trying to figure things out on my own. I searched for an online affiliate training program and found this one.
It is that program that has helped me to progress much faster than if I had learned everything on my own. That being said, let's dive into the basics of launching your own niche website.
The Luxury Niche
Since you want to promote luxury products, you'll want to choose a niche related to luxury. Some of these niches can include fashion, high-end travel, product reviews of luxury items (you don't need to own them to do these), etc.
Creating Your Niche Website
I recommend getting a self-hosted WordPress website. Meaning, registering your own domain name, obtaining web hosting, and installing WordPress on your account.
You can get all three at any commercial web hosting provider. I plan on transferring all of my websites to WPX Hosting. They continue to receive stellar reviews and are one of the fastest hosting providers around.
If you need help with installing WordPress, let your web hosting provider know. Almost all of them have 1-click installation which is really easy to do.
Your Website's Content
Content is what powers your niche website. The content that you create is what gets indexed and ranked in search engines like Google.
The more content that you create, the more opportunity that you have to rank in the search results.
Keep in mind that content creation is a serious thing. Search engines like Google are wanting to provide the best results for their users.
Therefore, it is important to create relevant and helpful content for your niche audience. Don't stress about this if you are not accustomed to writing.
All that you are doing is providing information. You do not need to be an expert in writing to manage a niche website.
If you want to learn how to create awesome content for your website, take the first 10 lessons of the same training program I used for free.
My Closing Thoughts On Luxury Affiliate Programs
Promoting luxury products is just as easy as promoting any other affiliate product. It is all about targeting the right niche audience.
Creating a niche website is the ideal option for earning affiliate commissions. It is how I run my online business and it is one of the best ways to be an affiliate marketer.
You can literally earn commissions while you are sleeping, running errands, or spending time with your family.
Beginners may find it a bit challenging to get started. I did as well so I followed a step-by-step training program.
Ready to make money with a blog? Learn how I went from zero to consistent affiliate commissions every month. Click here to learn how I did it.