As an affiliate marketer, if you're in search of a money-making niche, then you'll like the virtual private network niche. VPN affiliate programs often offer commissions that are 40% or more.
VPN affiliate programs are put together by VPN companies in order to boost sales via the marketing efforts of affiliate marketers. Commission rates vary and are usually paid out via PayPal.
Below I share some of the top-paying VPN affiliate programs.
How I Make $1,000 Commissions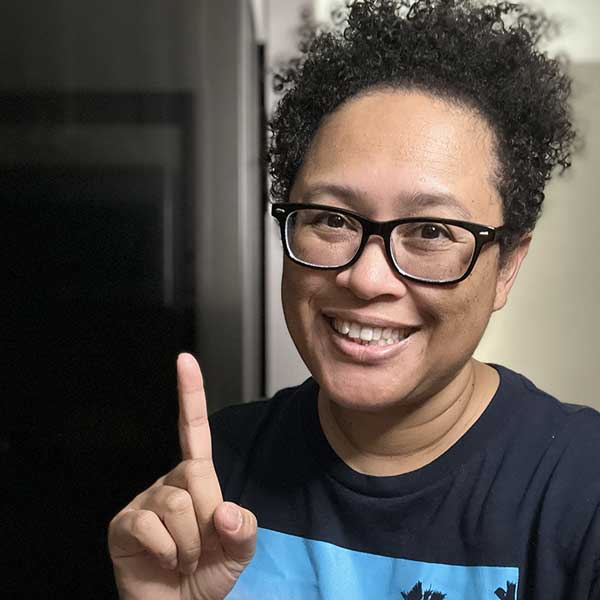 Hi! I'm Eartha, the author of this website and an affiliate marketer. I share various affiliate programs as well as ways to help boost affiliate income. Click the link below and I'll share exactly how I'm able to make $1,000 – $2,000 commissions:
Top Paying VPN Affiliate Programs
PureVPN
Surfshark
TunnelBear
StrongVPN
CyberGhost VPN
Virtualshield
PureVPN
PureVPN owns a self-managed global network of 6500+ Servers. Many other providers have servers in a few countries and use shared servers from third-party providers. Another plus about PureVPN is that they offer a 31-day money-back guarantee. As far as support goes, they are available 24/7.
The PureVPN affiliate program has a 35% recurring commission and 90-day cookie length. Recurring commissions are always the best commissions, in my opinion. You get a commission every month as long as your referrals remain a customer of the service.
Surfshark
You can use unlimited devices with Surfshark. They also offer a 30-day money-back guarantee and 24/7 customer support. Surfshark includes privacy tools and also has an app.
The Surfshark affiliate program offers a 40% commission rate and 30-day cookie length.
TunnelBear
You can use the TunnelBear app to connect by selecting a country and turning it on. It then works quietly in the background to keep your data secure. It does provide unlimited data but you can only connect up to 5 devices.
The TunnelBear affiliate program offers a 50% commission rate. You can apply to the affiliate program through CJ Affiliate.
StrongVPN
Every StrongVPN account includes a free proxy (StrongDNS) that gives fast access to an open internet. You can connect up to 12 devices or use a VPN router to connect all the devices in your household.
The StrongVPN affiliate program offers up to a 200% commission.
Commission: up to 200%
Cookie Length: not disclosed
CyberGhost VPN
You can connect up to 7 devices with CyberGhost VPN. They also have an app, 24/7 support, and a 45-day money-back guarantee.
The CyberGhost VPN affiliate program offers up to a 100% commission.
Commission: up to 100%
Cookie Length: not disclosed
Virtualshield
You can get started with Virtualshield using their 30-day free trial. Set up is easy by downloading the app and clicking connect. There is a 60-day money-back guarantee and you can connect unlimited data. They also offer a family plan for 5 additional users.
The Virtualshield affiliate program offers up to $96 per referral and a 60-day cookie length.
Commission: up to $96 per referral
Cookie Length: 60 days
How to Make Commissions Promoting VPN Services
VPN services are in demand and due to the many different VPN companies out there, you can get excellent pricing as a new customer. That is a perk you can use when promoting these services.
But how exactly can you promote VPN services and make affiliate commissions? I recommend creating a niche website. It is how I got started in affiliate marketing and what I continue to do today.
A niche website is essentially a blog that focuses on one specific topic. In this case, you can choose a niche related to virtual private networks.
The purpose of a niche website is to create content for it that addresses the questions and concerns of your target niche audience.
Your content (blog posts) is what eventually gets indexed and ranked in the search engines like Google and Bing.
I learned how to create successful niche websites by following an online training program (pictured below.)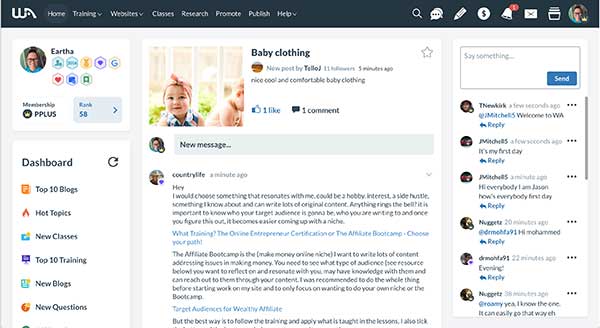 Click here to follow the same step-by-step training I followed to make a steady income online.
How to Create Content for Your VPN Niche Website
In order to attract visitors to your website that are highly likely to buy one of the VPN services that you're promoting, you'll need to create content that helps them.
The way I do this is by doing some keyword research. I use Google Ad Planner or Keywordtool.io for Google autocomplete results.
Type your main keyword and get ideas for article content from the results. Here are some content ideas that I found:
vpn for gaming
vpn for netflix
vpn hulu
vpn benefits
When you compile a list of ideas, you can then write helpful blog posts or outsource the writing to another writer.
I recommend writing at least 1 to 2 new pieces of content per week. If you can produce more, even better.
Remember that the content you create is what gets indexed and ranked in the search engine results.
Posting regular content will provide new opportunities for ranking well in the search engines.
Why Niche Websites Work So Well for Affiliate Marketing
There are several reasons why niche websites are excellent for promoting affiliate products. Here are some of my favorite reasons:
Organic Targeted Web Traffic: Your content generates free targeted web traffic from search engines.
Long-Term Online Business: Niche websites can generate income for years.
Get Approved by Affiliate Programs Faster: Most affiliate programs ask for your website. A niche website helps you get approved faster.
Low-Cost & Low Maintenance: You can create a niche website for well under $50 and compared to other online businesses, it is easy to maintain.
Niche websites are also excellent for beginner affiliate marketers. They are easy to set up and it is easy to learn how to do content marketing.
Closing Thoughts On VPN Affiliate Programs
Don't underestimate the VPN niche. It is a service that more and more people are using as they become aware of the importance of internet security.
This is especially true for those that travel often or find themselves using free Wi-Fi in coffee shops, hotels, etc.
Create a niche website that helps people learn more about VPNs, internet security, etc., and recommend various VPN affiliate products.
It will be a matter of time before you receive web visitors that click on one of your affiliate links and buys a membership to a VPN website that uses your affiliate link.
To give you an idea of what is possible, here is a screen capture of an affiliate commission I earned from one affiliate program: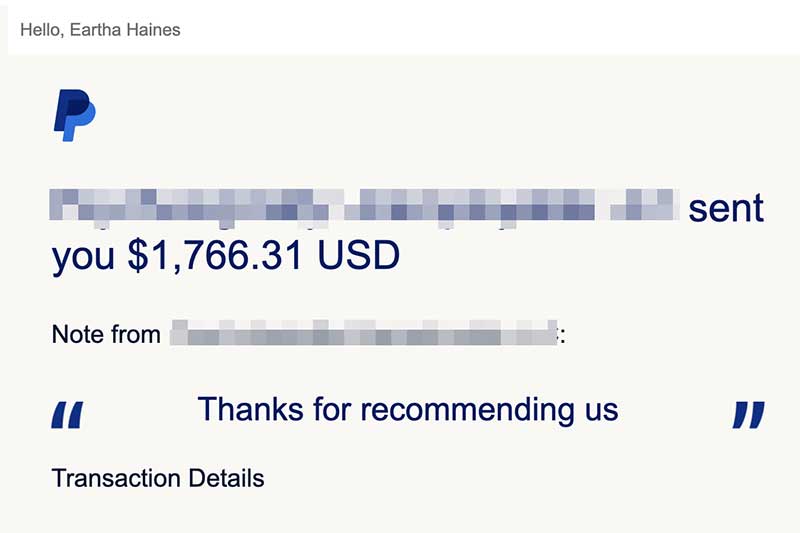 Learn how I went from zero to steady affiliate commissions using a simple niche website and affiliate marketing. Click here to learn more.