VPN affiliate programs are some of the most lucrative affiliate programs that you can join. The NordVPN affiliate program is a popular option as NordVPN is one of the top VPN companies out there.
The NordVPN affiliate program is a program managed by the company in order to increase sales through the marketing efforts of its affiliates. When affiliates refer new customers, they can earn a percentage of sales which are affiliate commissions. NordVPN offers great commission rates.
Affiliate Program: NordVPN
Commission Rate: 30%, 40%, 100% depending on plan
In this NordVPN affiliate review, I will go over the commission rates, how to sign up, and one of the best ways to promote the service in order to begin generating affiliate commissions.
How the NordVPN Affiliate Program Works
Before I get into how the affiliate program works, let's first quickly define what a VPN is in case you are not sure yourself. According to the company website, a VPN is a "virtual private network" that protects your internet connection and privacy online.
It creates an encrypted tunnel for your data and hides your IP address so that you can use public Wi-Fi hotspots safely.
A VPN is useful for anyone but especially those that travel often or prefer to work in locations that offer free Wi-Fi like coffee shops, hotels, etc.
About NordVPN
The company was launched in 2012 by childhood friends. After living in different parts of the world, they realized that there was a need for an internet security tool that is easily accessible. Today, NordVPN is the leading VPN trusted by millions of users.
The NordVPN Affiliate Commission Rate
NordVPN offers a variety of affiliate commission rates based on the type of plan that is chosen by the customer. Here is what is currently offered as of this writing:
One Month Offer: New sign-up: 100%, Renewal: 30%
Six-Month Offer: New sign-up: 40%, Renewal: 30%
One-Year Offer: New sign-up: 40%, Renewal: 30%
Two-year Offer: New sign-up: 40%, Renewal: 30%
These are great commission rates and I have no doubt that with a steady flow of targeted traffic, there is no reason to not earn steady commissions from this affiliate program.
NordVPN Affiliate Requirements
As far as I can tell, there are no major requirements in order to join the affiliate program. It is as simple as heading over to the affiliate sign-up page and completing the form.
It appears to be a typical affiliate sign-up form asking for your contact details. A website is required to complete the form so if you don't have a niche website, you may want to consider creating one (I go into how below.)
Besides that, the application also asks for some user details and additional questions before you'll have to agree to the user agreements.
It is important to have some type of online asset before applying to the affiliate program such as a website or social media following.
Most companies want to know how you plan on promoting their product or service. Therefore, if you can demonstrate that by having a website or social media following related to the same niche, it will greatly increase the chances of you being approved.
Is NordVPN One of the Best VPN Affiliate Programs?
There are a number of VPN affiliate programs that you can join. However, NordVPN is one of the most popular companies.
Many of the various VPN affiliate programs offer similar commissions. If you are curious about some of the other options out there, here are some to consider:
The great thing about being an affiliate marketer is that you can join as many affiliate programs as you like.
What many affiliates do is join multiple programs within the same niche and then compare the products and/or services on their website.
That is a great way to help out your niche audience and earn affiliate commissions from multiple affiliate programs as well.
How to Best Make Money with NordVPN
Now that you know a little bit more about NordVPN and what its affiliate program offers, it is time to talk more about how to start earning commissions.
There are many ways to promote affiliate products but one of the best ways is to create a niche website.
A niche website is essentially a blog that focuses on one specific topic. Why does this work? It is because the content that you create (blog posts) is what generates free organic traffic to your website.
When your website gets targeted traffic, it has the ability to earn income. So in this case, you would create a niche website that provides helpful information about using a VPN.
Over time, the content that you create will eventually get indexed and ranked in the search engine results.
People who are seeking out information about a VPN may click on one of your web pages, read your content, and click on one of your affiliate links. If they buy the product or service that you recommend, you earn a commission!
Getting Started with Your Own VPN Niche Website
It doesn't take very much to launch your own niche website. All that you'll need is a domain name, web hosting, and WordPress installed on your web hosting account.
You can get everything that you need in one place with most web hosting providers. However, I often recommend following the same online training program I used when I got started as an affiliate.
Following that training program is what helped me to go from zero to earning steady affiliate commissions online.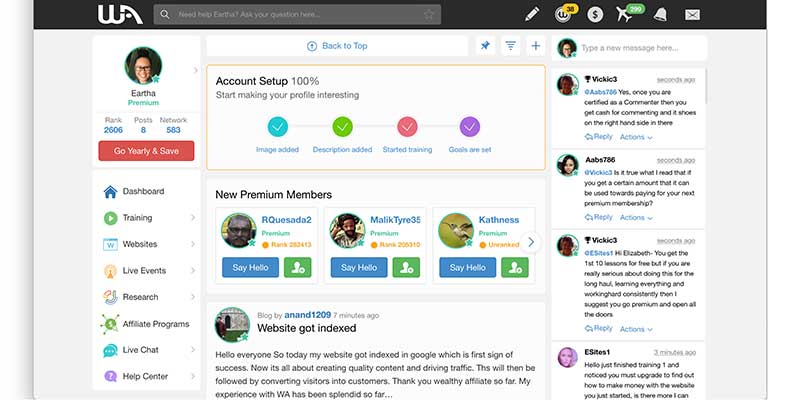 Click here to learn more about how this online training program helped me and how it can help you make affiliate commissions!
By taking action on what I learned within the training course, I was able to create my first successful niche website.
It is how I got started as an affiliate and what I continue to do today. Below is a screen capture of one affiliate commission that I received from one affiliate program: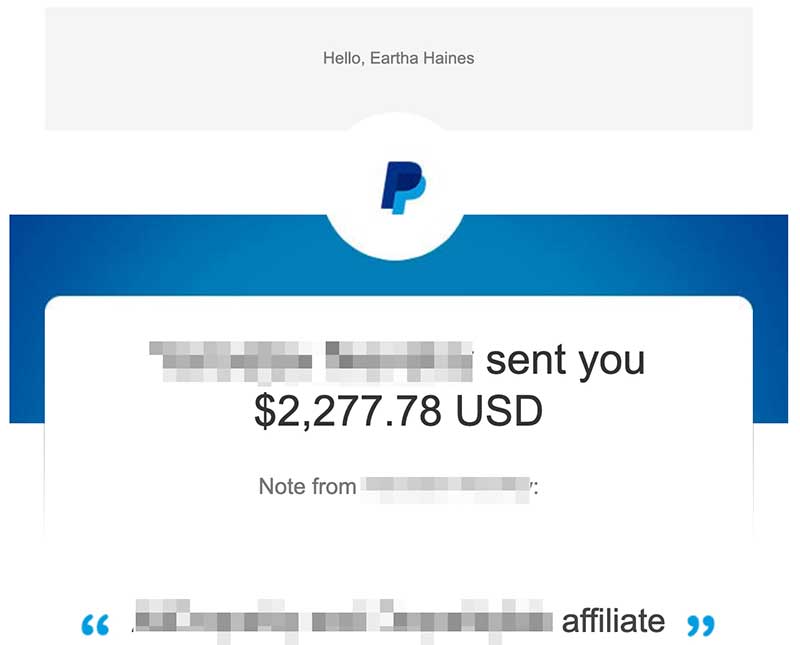 When you learn and understand how to promote affiliate products, you will have the skills necessary to repeat the process over and over again.
Closing Thoughts On the NordVPN Affiliate Program
Virtual private networks are always going to be a needed service and therefore, you can cash in on this niche as an affiliate.
If you are a beginner or have been struggling to earn steady affiliate commissions, I highly recommend creating a niche website.
A niche website was a game changer for me in terms of earning commissions. It is a long-term online business model and anyone with a desire to do affiliate marketing can create a niche website.
Discover how I went from zero to earning steady income online with a simple website and affiliate marketing. Click here to learn more.