I've researched several different Amazon FBA courses so when I discovered the Travis Marziani course, Passion Product Formula, I was a bit skeptical. Amazon FBA is such a popular business model and many people want to get into this business.
The problem is that starting and operating an Amazon FBA business is hard when you are a beginner. It is beneficial to have these different online courses to offer guidance and support.
However, these courses are not low-cost. Many of them cost anywhere from $1,000 up to $6,000 or more! Besides that, if you pay for a course and decide it's not for you, getting a refund is often tough.
Some of the refund policies on these courses have conditions such as having to prove that the training didn't work for you.
That is why I like to do as much research on a product or course before I decide to buy it. If you are the same way, this Passion Product Formula review may be helpful.
Who am I? Hi! I'm Eartha and I'm the author of this blog and a full-time affiliate marketer. I enjoy seeking and researching products and online courses related to starting online businesses.
Be sure to read until the end as I address questions about Travis Marziani's course such as the price, what it includes, what you will learn, and more.
Product Name: Passion Product Formula Course
Product Creator: Travis Marziani
Product Price: $997
Niche: Amazon FBA
How I Make $1,000 Per Sale Using a Simple 2-Step Process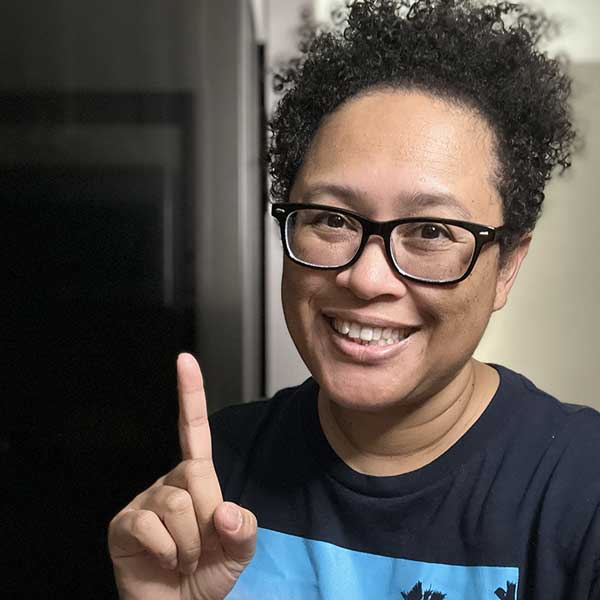 Hey there! I'm Eartha, the author of this blog and an affiliate marketer. I seek out various affiliate programs and courses that teach how to make money online.
I also share ways to help boost affiliate income. One of the best ways that I found is to focus on recommending high-ticket affiliate products.
Making higher commissions is one of the fastest ways to scale up your affiliate income.
Click below to learn how I'm able to make $1,000 commissions for every sale that I refer (100% online.)
Who is Travis Marziani?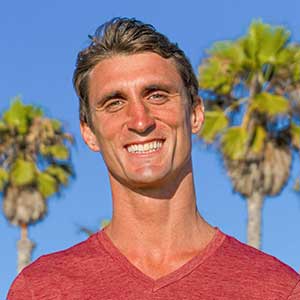 Travis' story is somewhat similar to many others in that he was working a corporate job and wanted out of it. He was depressed and stuck in a dead-end job.
He soon heard about passive income and liked the idea of creating a business that provided time freedom and financial freedom to do the things he was passionate about.
Inspired by the idea of passive income, Travis quit his corporate job without any other income coming in. He immediately got to work creating his first eCommerce business which was selling dance clothing.
It was a successful business and soon he shifted to selling the products on Amazon using Amazon FBA as he had some friends that were doing well with this business model.
The dance clothing sold just as well on Amazon as it did on his own online store. Travis wanted to launch a new product to sell with Amazon FBA, but this time he wanted to learn from the mistakes that he made with his dance clothing business.
Rather than find a product and private label it, he decided to create a product that he was passionate about. Thus, Performance Nut Butter was created.
He created a Kickstarter campaign to raise money for manufacturing the product. That led to selling it on Amazon using FBA.
Within 2 months of launching the product on Amazon, he was earning a $10,000 per month profit. In his first year, he made over $100,000 in profit.
Now he helps others find their passion product to sell on the Amazon platform with his course, Passion Product Formula.
How Does the Passion Product Formula Course Work?
Unlike the typical Amazon FBA courses that are available to buy, Passion Product Formula does not teach you how to private label a product.
Instead, it teaches how to take what you're passionate about, create a product through manufacturing, and sell it on Amazon.
Travis believes that the old-school method of private labeling and wholesaling products to sell on Amazon doesn't work anymore.
Today it's about creating a brand and creating a unique product that you are passionate about.
I agree with Travis. There is so much competition with almost any product that you can think of selling on Amazon. How can you stand out besides creating your own brand and your own product?
Essentially, you will learn all of the proven methods that Travis has used to build his Amazon FBA business.
You don't have to have your own product in mind as the course will teach you how to come up with a winning product idea.
The length of the course is based on how much time you put into it but on average, 4 hours of work per week will put you on pace to finish between 3 to 6-months.
It is also not required to start a Kickstarter campaign as it is taught in the course. It is optional to go that route.
Another plus with this course in comparison to others is that you get access to two 1-on-1 meetings with Travis. This is unheard of with a lot of FBA courses. Most offer group coaching but no 1-on-1 meetings with the course creator.
What You Will Learn in This Course
How to come up with a winning product idea
How to test to make sure your idea is amazing
How to create a powerful brand
How to get your product manufactured
How to crowdfund your idea so you don't spend a dime
How to properly legally set up your business
Tricks Travis used to set up his product on Amazon for more sales
How to get a huge spike in sales and reviews on day 1
Scale your business beyond Amazon
Who Is This Course For?
Have you always wanted to start an Amazon FBA business but were hesitant about private labeling due to competition? Or maybe you simply don't know where to start?
This course is great for anyone interested in eCommerce. Amazon FBA is a popular business model because you don't have to do a lot of marketing to build a customer base.
You get instant access to Amazon's millions of customers every single day. Starting is difficult as there are so many elements that you have to understand and put into place.
Personally, I wouldn't attempt starting an Amazon FBA business without ordering some type of course. There are many to choose from such as FBA Academy and FBA Masterclass.
However, I really like what Passion Product Formula teaches about creating a brand and selling a unique product.
What is Included in the Passion Product Formula Course?
This is a 9-module course that includes plenty of extras to get you off on the right foot. The modules are as follows:
Module 1 – Create an Idea
Module 2 – Validate Your Idea
Module 3 – Create Your Brand
Module 4 – Create Raving Fans
Module 5 – Create Your Business
Module 6 – Crowd Fund
Module 7 – Production
Module 8 – Amazon Launch
Module 9 – Bonus Shopify
You'll also get:
6 Group Training Q&A Sessions
Lifetime Membership to Private Facebook Mastermind Group
3 Premium Checklists and 2 Worksheets
2 Free One Hour 1-on-1 Coaching Sessions with Travis
Adwords, Facebook, and YouTube Course
Bonus Shopify Marketing Course
I like everything that is offered in this course. The two free one-hour coaching sessions are something I haven't come across in other courses.
How Much Does Passion Product Formula Cost?
The course is priced at $997. It is a one-time payment and doesn't offer any payment plans. You can pay via credit card or PayPal.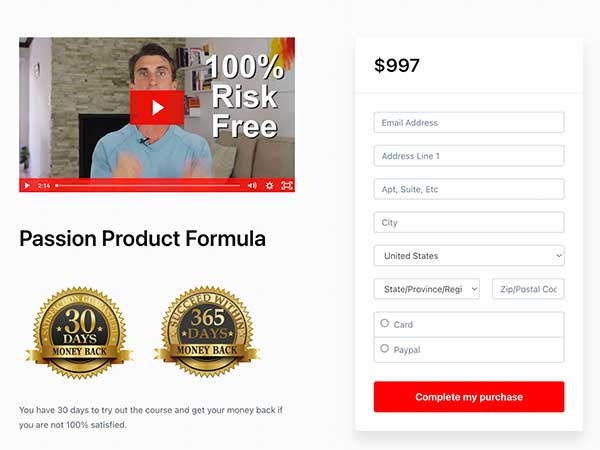 In comparison to other FBA courses, Travis' course is actually a great price. I've seen courses in this same niche sell for $5K and up and they don't offer some of the training offered in this course.
I also like that Travis has a module on scaling beyond Amazon. Amazon FBA is a great place to start but it is someone else's platform. Things can change. You could be pushed off of the platform for any reason.
This is why it is smart to have your own eCommerce store as well. Not only could you make more money but you'd have your own personal store to fall back on if you could no longer sell on Amazon.
Does Travis Marziani Offer Refunds?
Yes, Travis does have a refund policy and it's one of the best I've seen for this type of course. He calls it a double guarantee.
The first guarantee is a 30-day money-back guarantee. If during the first 30-days you decide the course is not for you, you can send him an email and he'll refund 100% of your money.
On top of that, he offers a 365-day guarantee. The way this works is if you follow the steps, launch a product on Amazon, and it doesn't pay for the course in profits in the first year, he will pay for your course.
Is Passion Product Formula a Scam or Legit?
There is nothing that throws up any red flags for me with this course. Passion Product Formula is legit and so is Travis Marziani.
I recommend checking out his YouTube channel. His videos are informative and fun to watch. He shares a lot of information about running an Amazon FBA business.
What I Like About The Course
Compared to other Amazon FBA courses I've researched, my favorite thing about Passion Product Formula is the fact that it focuses on creating a unique product.
If you are selling a product that a ton of other people are selling, it is more difficult to make your product stand out.
Not only that, but creating your own brand and product is a heck of a lot more fun! Imagine how good it would feel to sell a product that you can actually stand behind.
This course is a winner for me.
What I Don't Like About The Course
There isn't much that I don't like about this course. I will say this, if you are not willing to put in the work, there is nothing that this course can do for you.
Amazon FBA is a challenging business model. If it were easy, you wouldn't need to find a training course like this one.
I do think that the sales page should have a little information about startup costs. Even with the crowdfunding option, some people may not want to do that so it helps to know an estimate of how much may be needed to start.
Final Thoughts On Passion Product Formula
After digging a bit deeper into what this course has to offer and learning a bit more about Travis Marziani, I would consider this one of the better Amazon FBA courses available.
If you would rather focus on creating a unique product to sell, this is an ideal course. Otherwise, there are plenty of these courses to choose from that will teach you how to private label a product.
How I Make Passive Income Online
Thankfully, there are all types of ways to generate a passive income online. When I got started online, I didn't have a budget to do eCommerce.
I had also just lost my job due to a job layoff. I ended up taking a retail job to make ends meet. At the same time, I started a website because I knew it was a way to make money with affiliate marketing.
Affiliate marketing is the promotion of another company's products in exchange for a commission when a sale is made.
The way I do affiliate marketing is by creating simple niche websites. These websites focus on one specific topic and I recommend products related to the niche.
It is one of the easiest and most low-cost online businesses to start. It is also beginner-friendly.
You never need your own product and you don't have to deal with customer service issues.
It works like this:
Choose an interest
Build a website
Attract visitors
Earn revenue
Here is a screen capture of an affiliate commission I made from one company: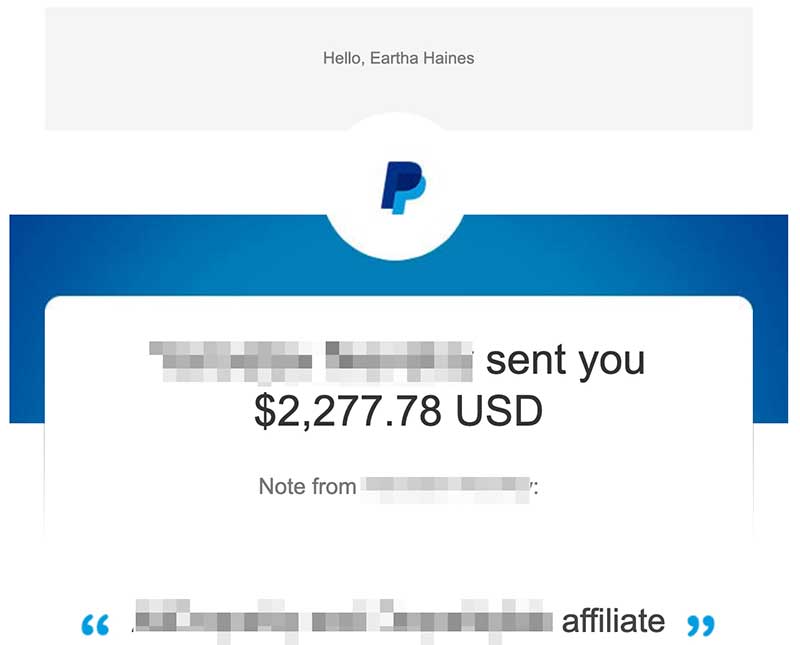 Affiliate marketing is an awesome online business model. In fact, it is also one of Travis Marziani's income streams!
If you want to learn how to get started the same way I did, click on the button below:
I wish you much success!
Eartha 🙂
P.S. – Learn how I went from zero to making $1K – $2K commissions recommending other people's products. Click here to learn how.