There are so many Amazon FBA courses to choose from, you're probably wondering what makes AMZ Champions so different? Is it a legit course or a scam? How much is AMZ Champions? Who is Trevin Peterson?
Well, stick around as I help answer these questions in more in this AMZ Champions review. Who am I? I'm Eartha, the founder of this website and a full-time affiliate marketer.
I seek out the latest online courses and products related to starting an online business. It is my goal to research them before deciding whether or not they are worth buying.
The reason is that many of these courses cost over $1,000 and don't offer the best refund policies. For the most part, you only get to know if the course or product is for you after you buy it.
If for some reason you want a refund, a lot of these courses want you to prove that you've used the training. That is why I do my best to research as much as I can before making a decision.
That being said, let's get into AMZ Champions and learn what it's all about.
Product Name: AMZ Champions
Product Creator: Trevin Peterson
Product Price: $997 (estimate)
Niche: Amazon FBA
How I Make $1,000 Commissions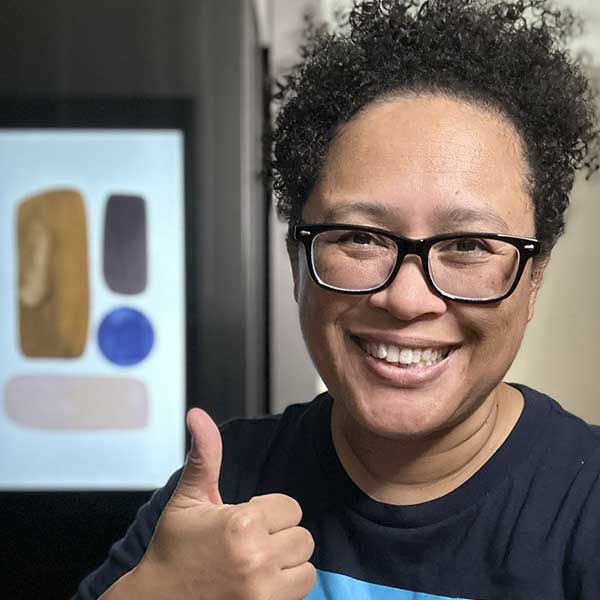 Hey there! I'm Eartha, the author of this blog and an affiliate marketer. Thanks to affiliate marketing, I was able to work my way out of a full-time retail job. I never need my own product, it's done completely online, there is no order fulfillment, and zero customer service. Click the link below to discover how I make $1,000 – $2,000 for every sale that I refer:
What is AMZ Champions?
AMZ Champions is an online training program that teaches how to start and launch a successful Amazon FBA business.
The training offers 130+ step-by-step tutorials and over 12 hours of educational content. It is a self-paced course so you can start and finish when you want.
When you buy the course, you get lifetime access as well as updates. You will learn things such as finding the best products, sourcing & building a long-term brand, shipping products directly to Amazon, launching to page 1 in 7 days, and more.
It was created by 7-figure Amazon seller Trevin Peterson. The course also provides access to 1-on-1 coaching calls, live Q&A calls, and more.
Who is Trevin Peterson?
Trevin got his start in entrepreneurship while still in college. His first business was running a Shopify store and dropshipping. The business failed and he eventually dropped out of college and got a job in construction.
Realizing that a regular 9-to-5 wasn't for him, he set upon starting another business. This time he got involved with an MLM. Trevin did well establishing a few hundred people in his downline. However, the company went under.
Not giving up, Trevin went back to a 9-to-5 but eventually discovered selling on Amazon. He would work his job during the day and then work on his Amazon business from 6 am to 1 am.
Six months later, he was able to quit his full-time job to work on his Amazon FBA business full-time.
Trevin now manages over 40 different products on Amazon and is the creator of AMZ Champions which has over 2,000 students.
He also has a popular YouTube channel and shares a lot of helpful tips on running an FBA business:
How Does AMZ Champions Work?
This course is a self-paced training course with 130+ tutorials and over 12 hours of training. When you enroll, you automatically get lifetime access and lifetime updates to all future course updates.
Here is what you get inside of the course:
1-on-1 Coaching
100+ in-depth tutorials
Weekly live Q&A training calls
Product verification
Private student group
1-on-1 exclusive mentorship
Lifetime access and updates
There is also an Elite AMZ Champions Mentorship that includes:
1-on-1 coaching calls
AMZ Champion 4.0 course
Weekly live training calls
Private student Facebook group
Product verification
25+ PDF guides and templates
Email support
Lifetime access + updates
Bonus Master Brand Registry Course
The training modules are as follows:
Module 1: Understanding Amazon FBA
Module 2: Seller Central Account Set Up
Module 3: Building a Long-Term Amazon Brand
Module 4: Understanding Product Research
Module 5: How to Destroy Your Competition
Module 6: Mastering Product Research
Module 7: Verifying Products
Module 8: Finding Suppliers and Making First Orders
Module 9: How to Create Effective Product Listings
Module 10: Amazon FBA Champion Product Launch
Module 11: Mastering and Understanding Amazon PPC
Module 12: Marketing & Advertising
Module 13: Scaling to 6 & 7 Figures
AMZ Champion Bonus Content
Who is AMZ Champions For?
This course is designed for beginners and experienced Amazon sellers who want to scale their business.
If you need step-by-step tutorials as well as one-on-one coaching, this course would be ideal for you.
There is also elite training that shares advanced techniques and strategies to help experienced Amazon sellers take their business to the next level.
Why AMZ Champions is Not a Scam
AMZ Champions is not a scam training course at all. Trevin Peterson is a legit Amazon seller with years of experience.
Most scam courses have some typical red flags. The first is that the course creator is never seen and sometimes you don't know who it is.
I would consider Trevin to be accessible via the group coaching and 1-on-1 coaching that is provided in the course.
Besides that, the course has a lot of content. You can view the entire curriculum here.
AMZ Champions Price and Refund Policy
The price of the course is not readily available on the sales page. However, doing some research I did come across the price of $997.
When you are ready to buy the course you have to fill out an application that has several questions pertaining to your goals, how much you have to invest, and let you know that there is a fee to work with Trevin.
The last form field also states that starting an Amazon FBA business requires an investment and not to apply if you have less than $2,000.

There is a 14-day refund policy. The refund only applies if you haven't already consulted with Trevin for mentorship or product verification.
You must have completed less than 25% of the course content and have not jumped around from module to module.
If you meet those requirements and are within 14 days, you can request a full refund.
Alternative Amazon FBA Courses
There are a lot of Amazon FBA courses that you can choose from all by successful Amazon FBA sellers.
If you want to shop around you can check out the Travis Marziani course. Travis' course is a bit different from most as he doesn't focus on private labeling. His focus is on creating a brand and a unique product of your own to sell on Amazon.
There is also FBA Academy by David Zaleski. This course gives you two options. You can build your business yourself or have David's team build it for you.
Another good option is FBA Masterclass by Tom Wang. Tom is another successful Amazon seller and his course covers all of the details to launch a successful business.
What I Like About AMZ Champions
The thing I like about AMZ Champions is that you get direct coaching from Trevin himself. It's rare to find courses that offer 1-on-1 coaching with the product creator.
Most courses only offer the group coaching option. I also like that it offers very thorough training. The modules are packed full of content.
Another plus is that Trevin is upfront about the costs of starting an Amazon FBA business. I like that he is transparent about that and not out to just sell his course.
There is nothing worse than investing in a course only to find out that you have to invest more money to operate your business.
Final Thoughts On AMZ Champions
I consider this a legit course and would feel comfortable investing in it if I were interested in starting an Amazon FBA business of my own.
The only thing I'm not certain about is the price since it wasn't readily disclosed, the $997 estimate could be way off.
I would expect that this is a high-ticket course and won't be less than $1,000.
How I Make Passive Income Online
There are many online businesses that you can start. Some have a higher startup cost than others such as Amazon FBA.
When I got my start online, I had been laid off from a web design position. There was no budget to start an eCommerce business.
However, I had done affiliate marketing as a hobby and always liked the business model. Affiliate marketing doesn't require having your own product, nor do you deal with customer service, shipping, or running an e-commerce store.
I like affiliate marketing because you can recommend awesome products while making commissions at the same time.
For example, I have a niche website that talks about selling coffee online. I recommend software like Shopify and a coffee dropshipping Shopify app.
Each time someone orders Shopify or the dropshipping app, I make a commission. My website earns income month after month as long as I create content (blog posts) that attracts my target visitors.
It's really as simple as that!
Here is a screenshot of an affiliate commission I made from one affiliate program: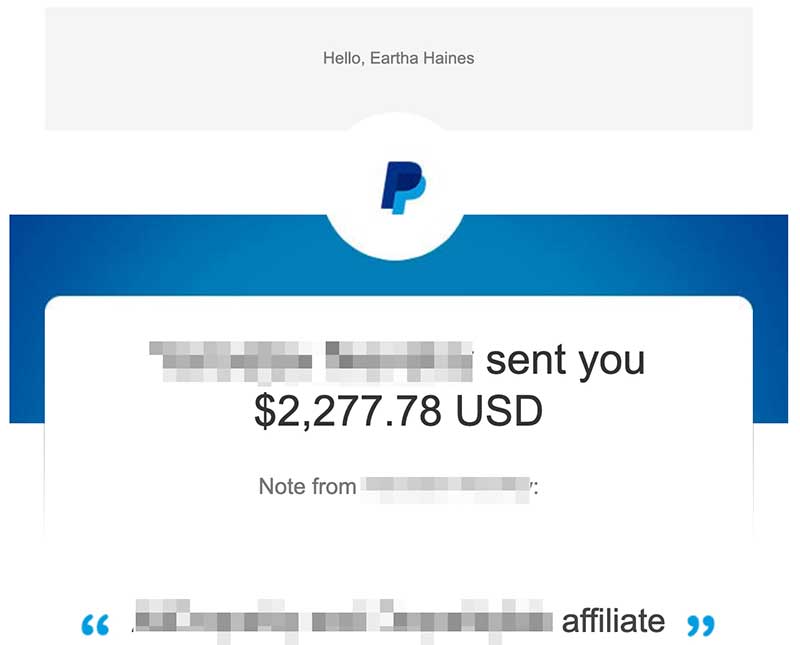 It doesn't take much to start affiliate marketing. You don't need thousands of dollars. In fact, you could start for under $50 in most cases.
All that you need is a domain name, web hosting, and WordPress. Any web hosting provider can set you up with all three.
I got guidance when I started because I didn't want to waste time trying to learn how to do it on my own.
You can follow the same exact training I did. Get one-on-one help from me when you use my link below:
I hope to see you on the inside!
Eartha 🙂