Health, wealth, and relationships are the big three evergreen niches. This is why I hope this Text Chemistry affiliate review will be beneficial for affiliates new to the product. The relationship niche is extremely lucrative and promoting Text Chemistry is a great way to cash in on this niche.
Text Chemistry is a dating/relationship guide for single women that are continually dating men that withdraw or refuse to commit. The guide outlines various "desire" text messages to send to a man to make him fall in love and commit.
This product is produced by LoveLearnings, a Clickbank Platinum vendor and publisher of multiple relationship guides.
Product Details:
URL: https://www.textchemistry.com
Product Creator: Derek Lau, Mark Borland, Amy North (author name)
Product Pricing: $49.95
Commission: 75% front-end, back-end, recurring, 35% order bump, 30% upsells
Tired of not making sales? Learn how I went from zero to consistent affiliate commissions. Click here to learn how I did it.
What is Text Chemistry?
When it comes to communication in a relationship, texting plays a large part in it. I don't feel it is the ideal method of communicating but it has become the norm.
That being said, Text Chemistry serves this segment of the relationship niche that feels texting is essential for communicating in a relationship.
Text Chemistry is a dating/relationship guide that teaches women how to send specific desirable text messages to men in order to make them want to commit.
It is authored by Amy North but it is part of a series of dating/relationship offers produced by LoveLearnings. LoveLearnings owned by Derek Lau and Mark Borland.
The product consists of a 50,000 word eBook in PDF, ePub, and MOBI formats. It also includes various bonuses and a 13-part live-person video series.
The product can be accessed on its video sales page and is priced at $49.95. Since it is sold on the Clickbank platform, you also get a 30-day money-back guarantee.
Text Chemistry Affiliate Review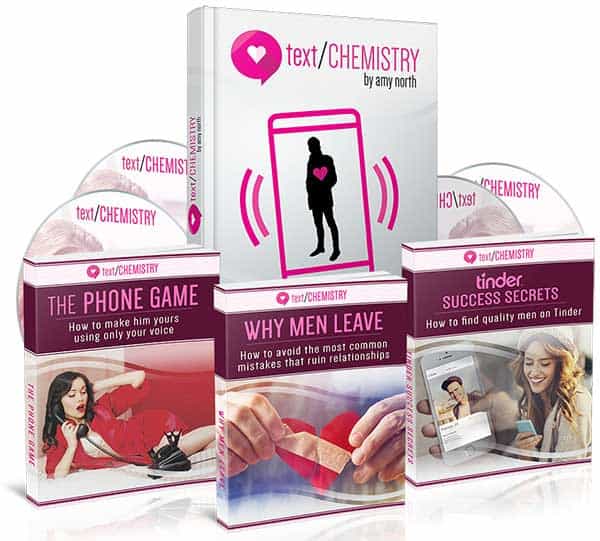 The product price is $49.95 with a commission rate of 75% on the front-end and back-end product. There is an order bump with an almost 35% rate and 3 upsells with an almost 30% rate.
The average sale is about $46 and the average rebill total is around $95.
In order to obtain your affiliate links, you must be signed up to Clickbank. You can find the product under Clickbank's marketplace and by searching for "text chemistry."
Clickbank pays commissions either weekly or bi-weekly (you choose your preference) via check or direct deposit.
Possible Earning Potential
With such a high commission rate, the average sale is around $46. At just one sale per day of this one product, you could pull in close to $1,400+ per month.
There are likely affiliates of this product pulling in much more than that depending on their marketing methods. For example, if they have large email lists in the relationship niche, it can generate a lucrative income.
Is This an Evergreen Product?
With so many products that come and go on Clickbank, it is always great to find a product in an evergreen niche that has been selling for a long time.
Text Chemistry is one of those products. The relationship niche is an evergreen niche. There will always be an audience that is seeking to obtain and maintain a romantic relationship.
Besides that, Text Chemistry has a great Clickbank marketplace rating and still ranks as one of the top-selling products on the platform.
Is Text Chemistry Worth Promoting?
This product is well-done in terms of quality and how they accommodate their affiliates as well.
The video sales letter converts extremely well and they designed the entire funnel specifically for mobile users.
With regular targeted traffic, there is no reason that you shouldn't make great commissions with this product.
How to Best Promote Text Chemistry
You can promote affiliate products in a number of ways. As a new affiliate marketer, some methods are more challenging than others.
For example, you may not have the budget to place ads on Facebook or other ad platforms. You may not understand how to create effective landing pages or how to build an email list.
Fortunately, those are not the only ways that you can earn a consistent income online.
I got my start in affiliate marketing with niche website creation. A niche website is a website that focuses on one topic.
In this case, you would want to focus on a niche that is in the relationship niche. It doesn't have to be broad. You could focus on better communication in relationships.
You could focus on how to get an ex back. There are many ways that you could approach the relationship niche.
Getting Your Website Up
I never recommend using free website services. I use self-hosted WordPress websites for my niche websites.
WordPress is free and you can get it installed on your own web hosting account with most commercial web hosting providers.
WPX Hosting is a great web hosting provider. They have stellar customer support and fast web hosting in comparison to other hosting companies.
Creating Content
Your niche website relies on content. Essentially, you will be creating helpful blog posts for your niche audience.
Learning SEO (search engine optimization) is not difficult. However, when I started, I wanted to give myself the best chance.
I didn't want to spend a lot of time trying to learn everything on my own so I found an online affiliate training program. I found this one and it made a big difference in my progress.
I do my best to create 1 to 2 new blog posts per week. In most cases, I write new content every day. This type of content creation has created momentum in my business.
I feel that anyone can create one new blog post per week and generate consistent affiliate commissions.
My Closing Thoughts On Becoming a Text Chemistry Affiliate
I hope that this Text Chemistry affiliate review has been helpful to you. It is a high converting product in the dating/relationship niche.
No matter what your experience level is in affiliate marketing, creating niche websites is an excellent way to generate consistent affiliate commissions.
Niche websites are what I use to earn a consistent income online through affiliate marketing.
It is one of the best ways to earn affiliate commissions. I make commissions while I am sleeping, out grocery shopping, or relaxing with my loved ones.
Beginners may find it a bit challenging to get started. I did as well so I followed a step-by-step training program.
That training program made all of the difference for me and I use it today to help others one-on-one with creating and growing their own niche websites.