I love wearing T-shirts. Especially ones that are funny or retro. Millions of other people do as well. The t-shirt niche is an evergreen sub-niche in the broader clothing niche and these t-shirt affiliate programs are a great start.
As an affiliate marketer, you do not have to open up your own clothing store, deal with shipping & handling, or get into dropshipping. There is a variety of t-shirt companies with affiliate programs.
The following t-shirt affiliate programs will help you get started in this niche. They offer great shirts with great commissions.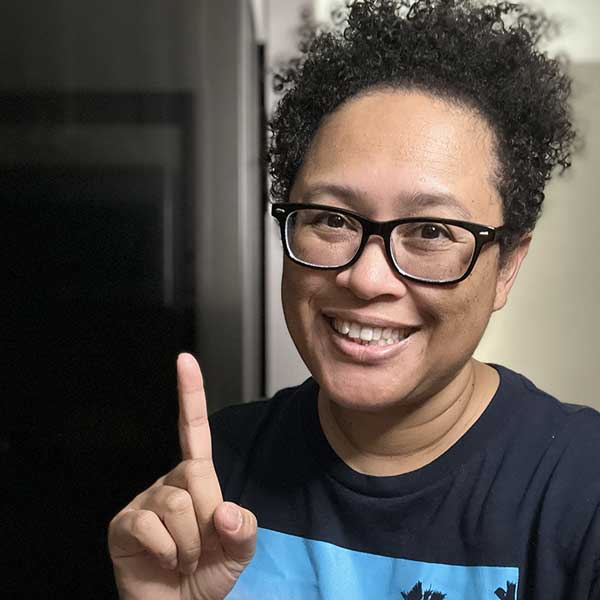 How to Make $1,000 Commissions
Hey there! I'm Eartha, the author of this website and an affiliate marketer. I share ways to help boost affiliate income. Thanks to affiliate marketing, I was able to work my way out of a full-time retail job. Click the link below and I'll share how I make $1,000 – $2,000 commissions:
T-Shirt Affiliate Programs:
Design by Humans
Design A Shirt
Crazy Dog T-Shirts
TeeFury
Allied Shirts
80s Tees
Printful
I Love Apparel
1. Design By Humans
Design by Humans is a t-shirt store that offers apparel and accessories from independent artists, content creators, and various brands.
There are some really awesome unique prints in this store. The pricing is also reasonable. It sort of reminds me of Threadless.
The affiliate program is managed by Impact. They offer a 3-10% commission with a 30-day cookie length. They also have a merchandiser feed.
2. Design A Shirt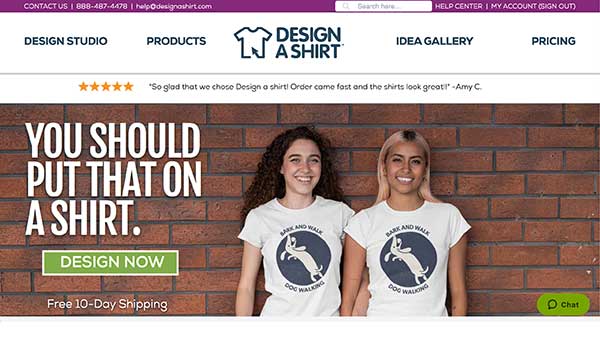 Design A Shirt has been online since 2003. They enable anyone to create custom t-shirts. They even offer free 10-day shipping.
If a customer doesn't have a design of their own, they can create a custom shirt using pre-made design templates. They also have a concierge service that offers custom design work.
The affiliate program is managed by Commission Junction and offers a 10% commission. What is great about this company is that the average order is about $400. They pay affiliates monthly with no payment thresholds.
3. Crazy Dog T-Shirts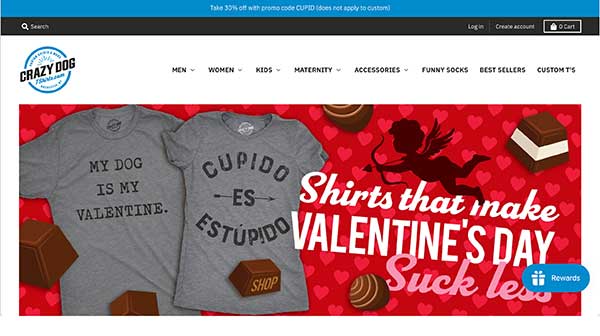 Crazy Dog T-Shirts create and print all of their apparel in-house. They have a lot of funny t-shirts and some retro designs. They also sell accessories such as socks, aprons, hats, etc.
The affiliate program is managed by ShareASale and offers a 12.5% commission. I think promoting these shirts will have great conversions. There is a wide variety and the accessories category is nice as well.
4. TeeFury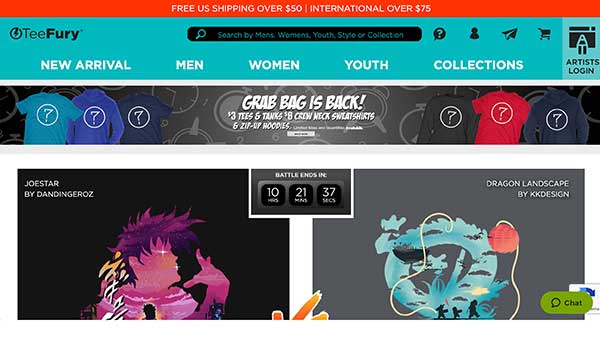 TeeFury has been in business since 2008. I used to order t-shirts from them all of the time. Back in the day, they would have a design on sale for a limited time and once it sold, it was not sold again.
Today is a bit different. They feature more artist's designs and you can buy different designs anytime you want. The affiliate program is managed in-house.
There were no details on the affiliate page about commissions or payouts but I'm sure the conversions are great.
5. Allied Shirts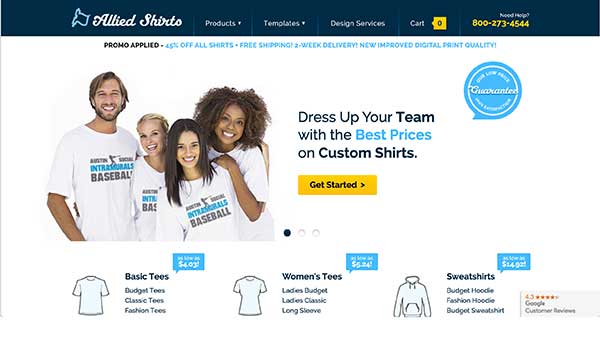 Allied Shirts specializes in printing custom t-shirts for sports teams, special events, businesses, and more. The more shirts that you order, the less they cost per shirt.
They have templates that can be customized which makes it easy for anyone to create a t-shirt design.
The affiliate program is managed by ShareASale with a 17% commission and 30-day cookie length. They have an average order of $150.
6. 80s Tees
80s Tees has to be one of my personal favorites when it comes to buying t-shirts online. As you may have guessed, they sell retro 80s themed tees.
If you are looking for high-converting t-shirts, this store will be it. Their affiliate program is managed by ShareASale and offers an 18% commission which is higher than many of the t-shirt affiliate programs.
Keep in mind that they are particular about who they approve for their affiliate program. If your website is not 80s related, it may not be approved.
7. Printful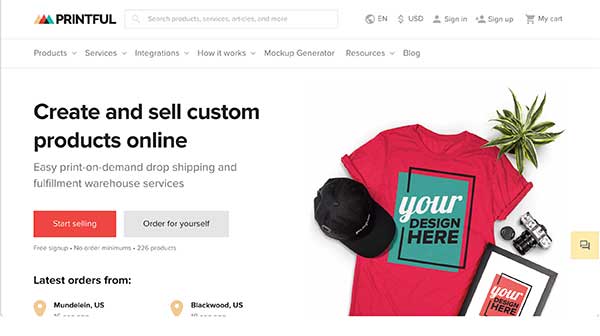 Printful is a print-on-demand t-shirt service in which anyone can upload a design and sell it on the platform. It is one of the more popular print-on-demand services online.
Many people dropship t-shirts using Printful. They will have custom designs made, they upload them and then sell the shirts and other apparel using Shopify.
What is nice about the affiliate program is that they offer a 10% recurring commission for 9 months. Commissions are paid out via PayPal.
8. I Love Apparel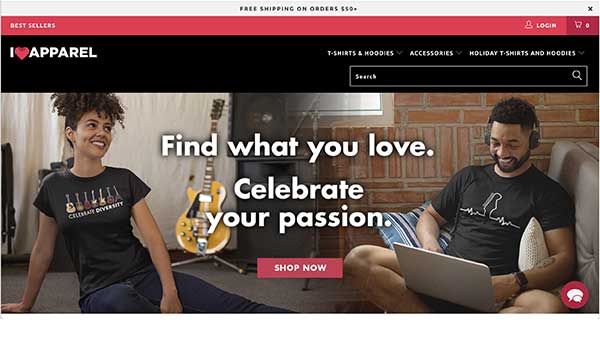 I Love Apparel has been in business since 2013. They have different catchy designs that are funny and relatable. They sell other apparel and accessories as well.
The affiliate program is managed by ShareASale with 15%+ commissions and a 90-day cookie length.
I think the t-shirts on this website will convert well as they are humorous and cover a variety of categories.
Options for Promoting T-Shirts
You have a variety of ways in which you can promote t-shirts. You can do so through social media. Instagram and Pinterest come to mind for this.
Another option is to create a niche website which is one of my favorite ways to make affiliate commissions.
My own online business revolves around niche websites. In the case of t-shirts, you can choose a niche that you like and find t-shirts that relate to your niche.
A great example of this would be 80s tees. Let's say you created a Ferris Bueller fansite. You could then promote all types of 80s tees on your website.
When I got started with niche websites, I wanted to be sure that I started off on the right foot. I found an affiliate marketing training program, stuck with it, and it helped me to progress faster than if I had done so on my own.
Benefits of Niche Websites
There are many benefits to having a niche website. For one thing, they are extremely low-cost to start. You only need a domain name, web hosting, and WordPress.
You can get everything that you need through any commercial web hosting provider. I use and recommend WPX Hosting. They specialize in WordPress hosting, have stellar reviews, and are one of the fastest web hosting providers around.
Another great benefit to niche websites is that you can get approved for affiliate programs faster as most programs ask for a website URL.
My Closing Thoughts On T-Shirt Affiliate Programs
T-shirts are always going to be great sellers. It is great to have such a wide variety of t-shirt affiliate programs to choose from. Hopefully, the list above will be plenty to get you started.
I do recommend creating a niche website to start making affiliate commissions. It is how I got my start in affiliate marketing and what I continue to do today to make consistent income online.
It is one of the best ways to earn affiliate commissions. I make commissions while I am sleeping, out grocery shopping, or relaxing with my loved ones.
Beginners may find it a bit challenging to get started. I did as well so I followed a step-by-step training program.