Hiking is a common pastime for many people. You may be a hiking enthusiast yourself and are interested in starting a hiking blog. If so, you should invest the time to create a blog.
A hiking blog is simply a niche blog that focuses on all topics related to hiking. When maintained with new content on a regular basis, this type of blog can also generate income.
In this post, I will share how you can create a blog around your genuine interest in hiking and make money in the process.
How I Make $1,000 Commissions Using a Simple 2-Step Process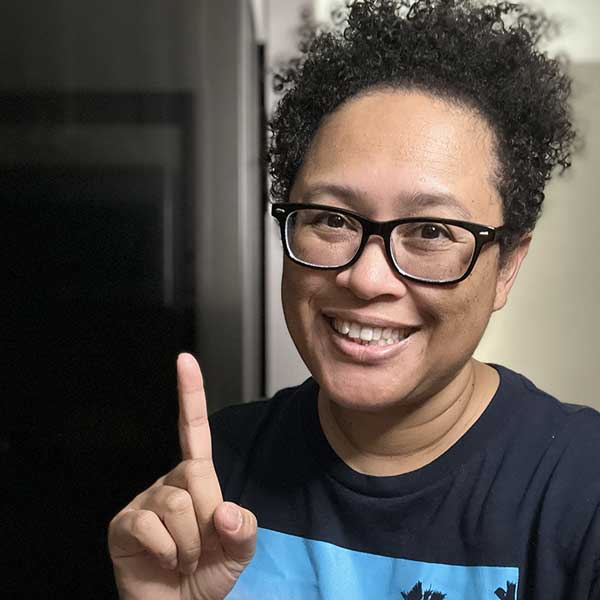 Hey there! I'm Eartha, the author of this website and an affiliate marketer. I search for various affiliate programs to share here on the blog.
I also share ways to help boost affiliate income. One of the ways I've been able to boost my income is by focusing on recommending high-ticket affiliate offers.
Making higher commissions is one of the fastest ways to scale up your affiliate income. Click below to learn how I make $1,000 – $2,000 commissions online.
Starting a Hiking Blog – No Experience Required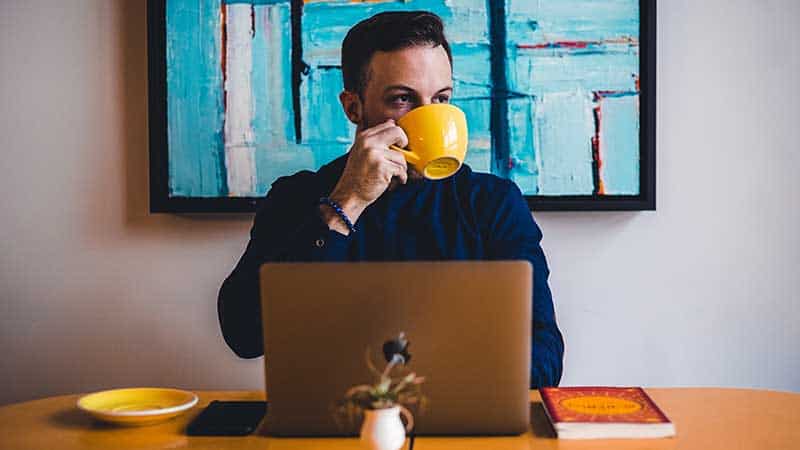 The great thing about blogs is that you don't need any prior experience to start one. You don't even need any technical skills.
When starting a blog for fun and profit, I recommend creating your blog on a self-hosted WordPress blog. All that means is that you will need to register a domain name, get a web hosting account, and install WordPress.
Any commercial web hosting provider will provide everything you need. My web hosting provider (WPX Hosting) can register your domain, set up your hosting, and you can install WordPress with a click of a button.

A self-hosted WordPress website is essential as you do not want to start your blog on a free service. By doing so, you risk your account being closed and losing all of your work.
When you have your own web hosting and WordPress blog, you retain 100% ownership of your content with no worries of another service closing your account.
What About Writing Blog Posts?
Blogging doesn't require any previous writing experience. If you've ever written a book report, you are good to go. Another great thing about blogs is that you can write in a very casual manner.
I write all of my blog posts as if I'm talking to a friend. Your content for your hiking blog can be fun and casual. As long as you are providing helpful information for your readers, you are doing a good job.
Getting Step-by-Step Help with Starting a Hiking Blog
If you want to get your hiking blog off on the right foot and need some guidance on how to do so, I recommend following the same step-by-step training program I used when I got started.
This training program is what helped me to make progress faster than if I tried to learn everything on my own.
It will take you step-by-step with setting up your own WordPress blog as well as how to create content and make money with your website through affiliate marketing.
That is what I do with my own niche websites. Following and implementing what I learned from the training is what helped me go from zero to a consistent monthly income online.
What Kind of Content To Create
Deciding what to write about will be based on your own personal interests with hiking as well as doing some keyword research to find out what others are searching for.
Keyword research is easy to do and you don't need any expensive keyword tools to do it. In fact, you can generate some great topics by doing a quick Google search.
Start typing in keyword phrases and Google's autocomplete feature will display what people are searching for.
Here are some keywords that I found using Google's autocomplete:
do you need hiking boots for the grand canyon
what hiking gear do I need
hiking clothes for cold weather
best hiking trails near [your city]
hiking for fitness and weight loss
These are just the tip of the ice berg in terms of keyword phrases that you can find. There is plenty of content to write about for your blog. It is a matter of taking the time to create your posts.
Content Writing Tips
In my opinion, the hardest part about blogging is being consistent with how often you create new blog posts. Maintaining a blog is easy but it requires discipline to write new posts often.
I recommend writing at least 1 to 2 new posts per week. This is completely doable even with the busiest schedule. I used to work a full-time job and still managed to create 3 to 4 new posts per week in my free time.
It is also important to insert your target keyword phrase in your blog post's title as well as at least once in your opening paragraph. You can then add it naturally throughout your post.
Writing at least 1,000 words or more per post also helps in terms of search engine ranking. It is not a hard and fast rule. However, I've noticed longer posts do well.
When you are writing to help people, one thousand words is easy to surpass so do not think that you cannot do it. You definitely can!
How to Make Money with a Hiking Blog
Hiking is a pastime that requires some equipment. At a bare minimum, most people will want to buy a pair of hiking boots.
Some people also want to buy backpacks, clothing, and other gear made for hiking. You can make money with your blog by promoting these types of products using affiliate programs.
Affiliate marketing is a great way to make income with a niche blog. Affiliate marketing is the promotion of another company's products and/or services in exchange for a commission when a sale is made.
For example, Keen is a well-known footwear brand for outdoor activities, primarily hiking. They also have an affiliate program that offers 4%-8% commissions with an average order value of over $100.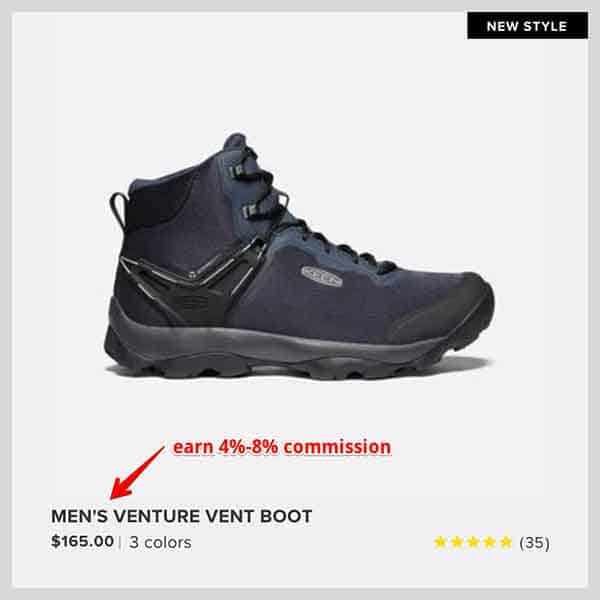 You can join a variety of affiliate programs for free. When you are approved by the company, you will gain access to your affiliate links.
Affiliate links are special tracking links that give you credit when a visitor clicks on them and buys anything from the merchant's website.
If you signed up to be Keen's affiliate, once they approved your account, you could use your affiliate link within your blog posts.
Each time a visitor clicks on your affiliate link and buys something, you receive a commission.
Now imagine having hundreds of visitors per day to your hiking blog and a percentage of those visitors click on your affiliate links and buys. Those commissions add up!
Keep in mind that there are TONS of affiliate programs that you can join. They all have different commission plans so there is plenty of money to be made.
My Closing Thoughts On Starting a Hiking Blog
I hope this post has been helpful in your deciding to start a hiking blog of your own. There is no better time than now to get started.
Not only can you have fun creating and maintaining your blog but you can make some good money in the process.
You can read my posts about getting your blog to $500 per month or $1000 per month and more.
Niche blogs are one of the best ways to generate a consistent income online. It is how I run my own online business.
Success doesn't happen overnight but with guidance from a step-by-step training program and consistent effort, you can achieve success of your own.
Niche websites are how I make a consistent monthly income online. You can literally make money while you sleep! Click here to learn how I did it.