Are you ready to make money in the wedding niche? These wedding affiliate programs can help you make great commissions when targeting the right audience.
There is a wide variety of products and services that relate to the wedding niche. As an affiliate, you can recommend various products and services that may help your audience plan their perfect wedding.
Check out the wedding affiliate programs below to get some ideas on the type of products that are available to promote.
Wedding Affiliate Programs
My Wedding Favors
Wed & Wish
For Your Party
Minted
Blush Fashion
Sandals Resorts
Wedding Window
How I Make $1,000 Commissions Using a Simple 2-Step Process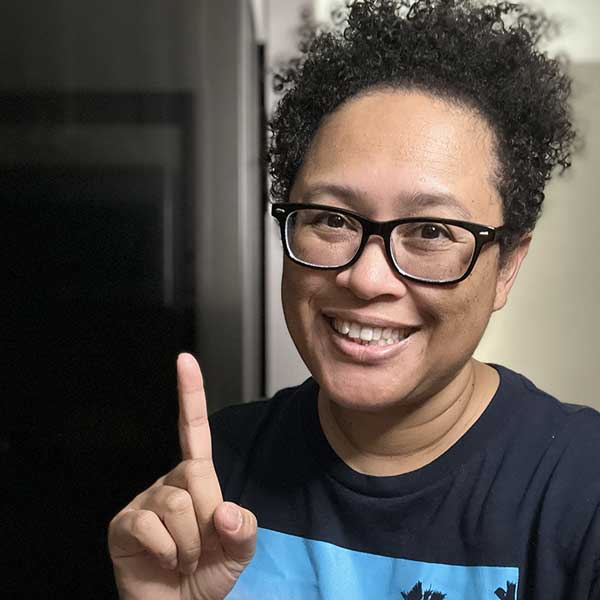 Hey there! I'm Eartha, the author of this blog and an affiliate marketer. I seek out various affiliate programs to share here on the blog.
I also share ways to help boost affiliate income. I've been able to increase my affiliate income by focusing on promoting high-ticket affiliate products versus low-ticket products.
Making higher commissions is one of the best ways to scale up your affiliate income. If you want to learn how I make high-ticket commissions, click the link below:
There is plenty of money to be made in the wedding industry as an affiliate marketer. What is great about this niche is that you can sub-niche into various categories.
For example, you could focus on honeymoons, wedding dresses, wedding invitations, wedding registries, and more.
You can create a general wedding niche website and recommend a combination of these products.
1. My Wedding Favors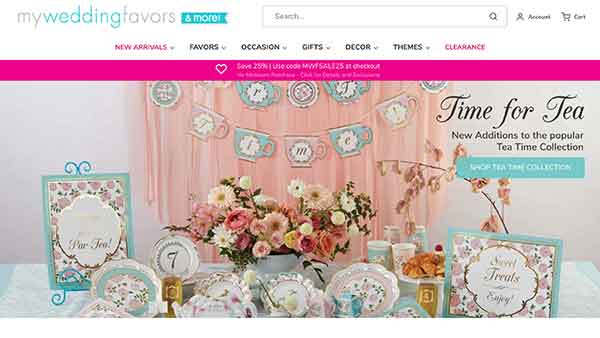 Commission: 7-12%
Cookie Length: 90 days
My Wedding Favors sells tons of wedding favors in all types of categories to include drinkware, packaging, candy, and more.
The affiliate program is available on three different affiliate networks to include AvantLink, ShareASale, and CJ. It offers a 7-12% commission with a 90-day cookie length.
Why My Wedding Favors is Worth Promoting
Wedding favors are essential for any wedding and where best to shop for them than a store that specializes in all wedding favors? You can expect easy conversions when targeting the wedding niche.
You could create a niche website exclusively for wedding favors or another sub-niche of the broader wedding niche. Chances are your visitors will visit this website and consider buying.
2. Wed & Wish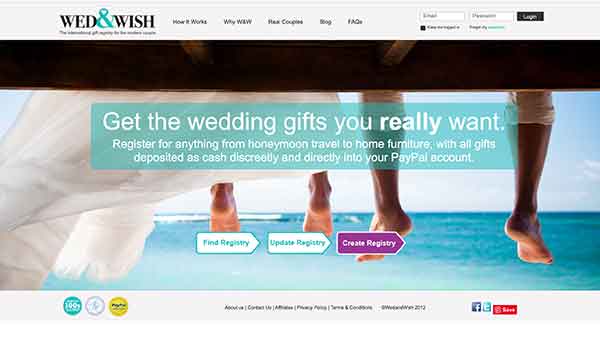 Commission: $50 for every eligible couple
Cookie Length: not disclosed
Wed & Wish is a wedding cash registry service that allows couples to receive monetary gifts in a discreet and elegant way. The company was founded in 2010. Cash gifts are transferred via PayPal.
The affiliate program is managed in-house and offers $50 per eligible couple. Commissions re paid via PayPal or can be donated to charity.
Why Wed & Wish are Worth Promoting
This is a convenient service that enables people to give cash gifts as an alternative to physical gifts. You can recommend this service to couples that prefer cash for their honeymoon or as a way to help with starting their new life together.
3. For Your Party
Commission: 10-15%
Cookie Length: 90 days
For Your Party is an online retailer of personalized party accessories which includes personalized wedding accessories and favors.
The affiliate program appears to be managed in-house and offers a commission of 10-15%. There is a 90-day cookie length with an average order size of $150.
Why For Your Party is Worth Promoting
This service offers a wide variety of customizable products to include items such as napkins, matches, cups, invitations, barware, favors, and more.
You can definitely recommend this service for bridal showers as well as for wedding favors. With an average order of $150, you can get some great conversions and make good commissions.
4. Minted
Commission: 15%
Cookie Length: 120 days
Minted offers unique art, wedding stationary, home decor, and more designed by independent artists. The service offers wedding invitations, save the dates, thank you cards, and wedding websites.
The affiliate program is managed by ShareASale with a 15% commission and 120-day cookie length.
Why Minted is Worth Promoting
Wedding invitations are a key factor in any wedding and finding a unique design is essential during wedding planning. Minted offers just that with designs from independent artists.
This is a great service to recommend for a wedding planning niche website. Wedding invitations is a popular sub-niche to focus on.
5. Blush Fashion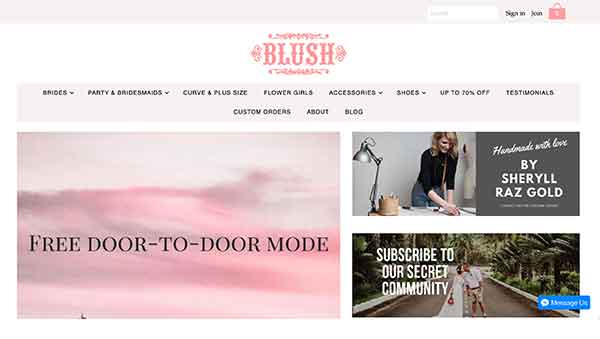 Commission: 18%
Cookie Length: never ending
Blush Fashion is a wedding dress boutique founded in 2004 by designer Sheryll Raz Gold. The company specializes in wedding dresses, evening wear, bridesmaid dresses, and more.
The affiliate program is managed by ShareASale and offers an 18% commission and never ending cookie length.
Why Blush Fashion is Worth Promoting
Finding the perfect wedding dress is one of the most important aspects of planning a wedding. Many women are seeking unique designs while staying within a budget.
Blue Fashion offers unique wedding dress designs at great pricing. You're sure to get plenty of conversions when marketing to the right audience.
6. Sandals Resorts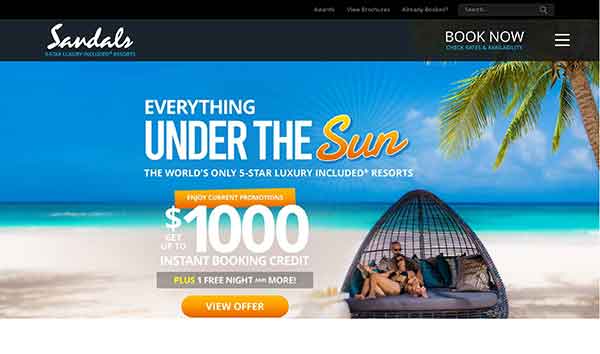 Commission: 4%
Cookie Length: 60 days
Sandals Resorts is a well-known for their luxury resorts in locations such as Jamaica, Saint Lucia, Antigua, The Bahamas, Grenada, and Barbados.
The affiliate program is managed by CJ and offers a 4% commission and 60-day cookie length. They also have a dedicated affiliate team managed by OPM Pros.
Why Sandals Resorts is Worth Promoting
Planning a honeymoon is part of wedding planning and Sandals Resorts offers everything needed for a great honeymoon.
Their resorts include luxury suites, unlimited meals at fine restaurants, unlimited premium liquors, and so much more.
This service is an ideal option for promotion on a honeymoon niche website.
7. Wedding Window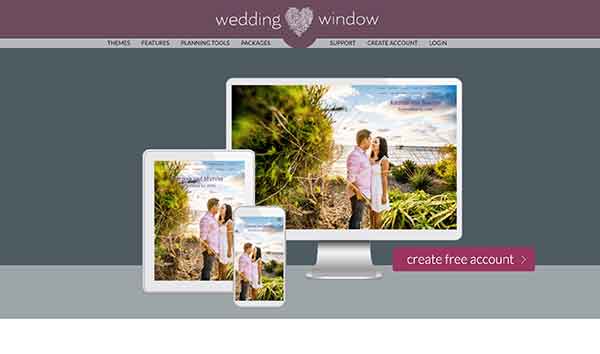 Commission: 30%
Cookie Length: 12 months
Wedding Window is a website design service specializing in wedding websites. They offer several themes and mobile-ready websites.
The affiliate program is managed in-house and offers a 30% commission and a long 12-month cookie length.
Why Wedding Window is Worth Promoting
Having a wedding website is a great way for family and friends to get information about important dates and events. Many people do not have the time or skills to create a website.
Wedding Window makes it easy for couples to create a wedding website using their engagement photos. It's low cost and easy so you can expect great conversions promoting this service.
How to Best Promote These Affiliate Products
There are many ways to promote affiliate products but niche websites are one of the easiest and often very lucrative ways to make commissions.
Niche websites are low-cost and low-risk. You can create a website on any niche that you want.
You then create helpful content for your target audience and promote affiliate products within your content.
Over time, your web pages are indexed and ranked by the search engines. That is how you get free web traffic and when that happens, your website can make money.
I was able to use this online business model to go from zero to a consistent monthly income with affiliate marketing.
Closing Thoughts On Wedding Affiliate Programs
The wedding niche is an evergreen niche that you can cash in on as an affiliate marketer. The affiliate programs above are only a handful of what is out there to promote.
I recommend promoting any of these products by creating a niche website. Niche websites are how I am able to make consistent commissions every month.
Creating a niche website is easy to do but there are some key things to learn to make your website successful. Following a step-by-step training program can make all the difference.
By following a training program, I was able to make significant progress in my own online business.