The topic of cars is popular among all age groups and genders. Whether people are looking for their next family car or someone wants to customize their sports car, starting a car blog can help provide helpful info and get you making money in the process.
I've had many cars over the years and with each car I've bought, I made a point to seek out car blogs for tips on maintenance, feature add-ons, and more.
If you are a car enthusiast, creating and maintaining a car blog of your own is a fun and potentially lucrative endeavor. I'll explain how you can get started and how you can generate income from your blog.
Ready to make money with a blog? Learn how I went from zero to making a consistent monthly income with my blog. Click here to learn how I did it.
What You Need When Starting a Car Blog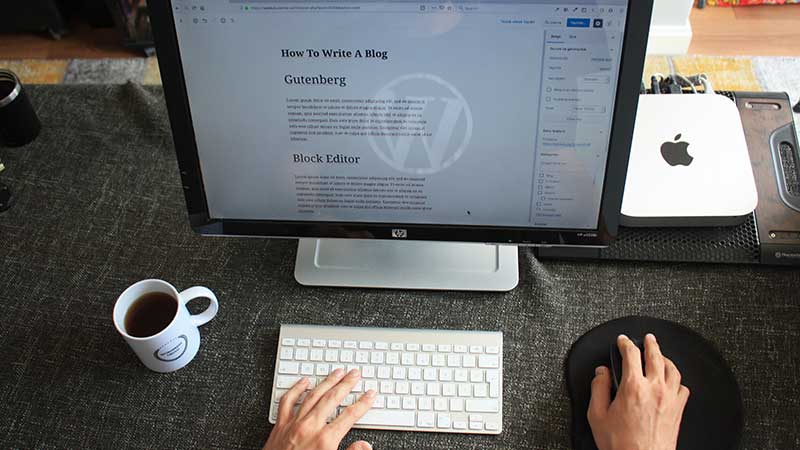 There are only a few things that you need to begin any blog. One thing I always recommend is starting a blog using a self-hosted WordPress website.
What that means is that you will not be using free website services such as Blogger, Wix, Tumblr, etc. When you use free services, your content is not 100% yours.
These services always have the authority to close user accounts. While they may not do that often, it can happen.
Besides that, you cannot advertise on your blog the way you can with a self-hosted WordPress website. Many free services limit you on how you can advertise and may even place their own ads on your blog.
I will cover how to get your WordPress website up with your own domain and hosting below.
What is a Self-Hosted WordPress Website?
A self-hosted WordPress website is a WordPress blog that you own. WordPress is free to download and install.
All that you need is your own domain name, web hosting, and installing WordPress on your web hosting account.
Any commercial web hosting provider makes it super easy to get everything that you need within minutes. You can register your domain, get hosting, and install WordPress in one-click.
The web hosting service that I use (WPX Hosting) can set you up quickly with registering a domain, setting up hosting, and letting you install WordPress in one click.

Step-By-Step Training
Coming from a web background, it is easy for me to get a WordPress website up on a web hosting account.
I understand that it is still a challenging process for many which is why I recommend the same step-by-step training I used for creating a niche blog.
Although I am familiar with installing WordPress, I didn't know how to make money with a blog. This training takes any user step-by-step into installing a website and growing it to make consistent income online.
Following the training and implementing what I learned is what helped me to go from zero to a monthly online income with my blog.
Choosing a Car Sub-Niche
You can create a general car blog but you will be competing with larger and more authoritative car websites such as KBB.com, Motortrend.com, and others.
When it comes to a majority of general car topics, these larger car sites will outrank smaller websites on the first page of Google and other search engines.
However, by sub-niching, you have a higher chance of ranking on the first page. For example, if you do a Google search for the keyword phrase "best vehicle for family of 6″, you will see all of the major car sites ranking.
Then there is one blog that stands out. It is a mom blog on having six children. The post is about the best large family car when you have six children.
That blog isn't a car blog at all but the post is relevant and ends up ranking on the first page of Google. Now, imagine if you created your car blog on a specific sub-niche.
Here are some ideas:
SUV blog for families
car blog for [insert car make here] owners
car maintenance for beginners
beginner car detailing tips
If you are a Honda enthusiast, that is likely a great niche to be in. Same goes if you are a Ford truck fan, etc. Whatever type of car or car related topic that interests you will work.
Many larger car websites will not focus on smaller (also known as long-tail key phrases) niche topics. However, there are millions of people that are seeking these niche topics.
Getting Free Web Traffic to Your Blog
A blog isn't a blog without content. Content consists of the blog posts that you write. I recommend writing a new blog post at least 1 to 2 times per week at a minimum.
That schedule is absolutely doable even with the busiest schedule. It would require no more than 2 to 4 hours per week.
Before you begin writing your blog posts, you will need to do keyword research to figure out what your target audience is searching for.
You don't need any fancy keyword tools for this. Google's autocomplete feature is good to start off with. Pull up Google search and begin typing in some keywords.
It will provide you with plenty of long-tail keyword phrases that you can write content on.
Writing content on a regular basis is what will help your posts to eventually get indexed and ranked by the search engines.
When this happens, you will begin receiving regular traffic to your blog and that gives your blog the opportunity to make money.
Let's talk about making money with your car blog below!
How to Make Money with Your Blog
While writing about cars is already a fun way to have a blog, it is even more fun and rewarding when you can earn money from your content.
There are several ways to make money with a blog. Two most common methods include affiliate marketing and display ads.
I make consistent income with blogs via affiliate marketing. Affiliate marketing is the promotion of another company's products and/or services in exchange for a commission when a sale is made.
There are millions of products and services with affiliate programs. Being in the car niche, you have the opportunity to recommend all types of car related affiliate products.
Some example of car affiliate programs include:
When you join an affiliate program (they are free to join) and are approved, you will receive access to special tracking links called affiliate links.
These affiliate links are what you use within your blog posts when recommending the products.
A percentage of your visitors will click on your affiliate links. When they do click and buy something from the merchant's website, you make a commission.
These commissions add up in a month's time. Most affiliate programs pay commissions each month either by PayPal, check, or direct deposit.
Display ads are another option for making money with a blog. They are a bit tougher to join because most display ad networks require your blog to have a certain number of page views per month.
Affiliate marketing programs don't usually have such requirements. Most will approve you fairly quickly and sometimes instantly.
My Closing Thoughts On Starting a Car Blog
I hope that this post has been helpful if you are thinking about starting a car blog of your own. With consistent effort, you can grow your blog to a nice extra stream of income.
Niche blogs are how I make a consistent income online. They are one of the best online business models when it comes to affiliate marketing.
You can make affiliate commissions while you sleep, shopping, or relaxing with your family.
Creating a successful niche blog takes time and there are some essentials that need to be learned. You can learn what you need by following a step-by-step training program.
That same training program is what I used to take my own niche blogs to the next level. I now use the same training platform to help others one-on-one with their own niche websites.