The skincare industry is in the billions of dollars and fortunately, you don't have to have your own product line to make a great income. Affiliate marketers have a plethora of skincare affiliate programs that they can apply to.
In this post, I cover a variety of skincare affiliate programs that offer excellent products. Recommending these products are sure to get you plenty of sales.
That being said, I will also share my most preferred method of promoting affiliate products so that you can generate a steady stream of affiliate commissions each month.
Ready to make money with a blog? Learn how I went from zero to consistent affiliate commissions every month. Click here to learn how I did it.
Skincare Affiliate Programs
These affiliate programs are set up by companies in order to increase the number of leads and sales generated by utilizing affiliate marketers. Companies share a percentage of each sale generated by an affiliate in the form of a commission.
Commission rates vary and they are often paid once per month via PayPal, direct deposit, or by check. Some companies have their affiliate programs managed by an affiliate network or they manage them in-house.
Either way, you are free to apply to them. Some affiliate programs may have a stricter approval process than others. It always helps to have a website or social media following related to the skincare niche.
---
Loops Beauty
Unlike a lot of skincare lines, Loops focuses solely on beauty masks. Their beauty masks are simple with only 4 key ingredients and 4 key benefits. The actual masks are compostable and the plastic trays are recyclable.
These beauty masks are excellent for those that want to do daily skincare but don't want to spend a lot of time doing it. The affiliate program offers a 10% commission. You can apply to the program by filling out a contact form.
Commission: 10%
Cookie Length: not disclosed
---
Image Skincare
This skincare line is a clinical brand designed with skincare professionals in mind. They offer a wide variety of skincare products that are physician formulated, clinically tested, and not tested on animals.
Image Skincare is a great product line that has a ton of products addressing various skin concerns – everything from dry skin to acne.
The affiliate program is managed by CJ Affiliate and offers a 12% commission and 45-day cookie length.
Commission: 12%
Cookie Length: 45 days
---
Juice Beauty
The Juice Beauty brand is an organic skincare line that is vegan, cruelty-free, and sustainable. Their product line offers both skincare and makeup. The Juice Beauty product line addresses skincare issues such as wrinkles, dry skin, oily skin, dark spots, acne, and more.
The affiliate program is managed by Rakuten and offers a 6% commission.
Commission: 6%
Cookie Length: not disclosed
---
100% Pure
As the name implies, the 100% Pure skincare line is just that, 100% pure. Their formulas never contain harsh or toxic ingredients. They are cruelty-free, naturally pigmented, and never animal sourced.
They carry both skincare and makeup. You can even find products for hair and body. The affiliate program is managed by ShareASale and offers an 8% commission and 45-day cookie length.
Commission: 8%
Cookie Length: 45 days
---
Ecco Bella
This company is a pioneer in natural and organic beauty products. Ecco Bella is committed to vegan science based products that beautify the planet.
Besides skincare, they also have makeup, lotions, perfume, and hair care. The affiliate program is managed by ShareASale and offers an 8% commission rate.
Commission: 8%
Cookie Length: not disclosed
---
Nira
This product is a skincare laser that is clinically proven to reduce fine lines and wrinkles for visible results in just 2 minutes a day. The Nira Skincare Laser uses the same technology that dermatologists use.
The laser stimulates natural collagen production to plump skin and smooth out wrinkles. It is FDA cleared and made in the U.S.A.
Their affiliate program is managed by Refersion and offers a 10% commission and 30-day cookie length.
Commission: 10%
Cookie Length: 30 days
---
Misumi
The Misumi brand of skincare products is the first premium skincare brand that is dedicated to finding skincare solutions specifically for individuals with blemish-prone and oily skin.
Their products are also designed to reverse and prevent premature signs of aging. The affiliate program is quite generous offering 40% commissions and a 60-day cookie length. You can apply by filling out a simple form on their affiliate program page.
Commission: 40%
Cookie Length: 60 days
---
How You Can Make a Steady Income Promoting Skincare Affiliate Products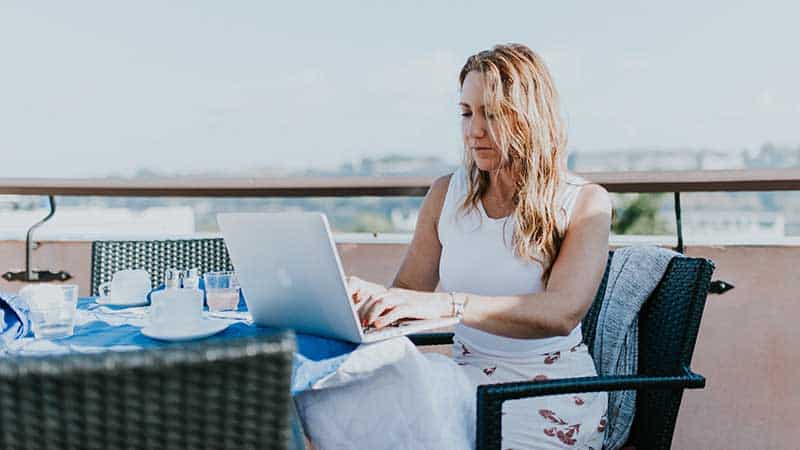 Skincare is an evergreen niche and definitely one to consider as an affiliate marketer if you want to pursue long-term commissions.
One of the best ways to generate consistent affiliate commissions is to create a niche blog. Why a niche blog? To put it simply, they work! A niche blog requires regularly posted content.
That content is what gets indexed and eventually ranked in the search results like Google. It wasn't until I created a niche blog that I actually had any success with affiliate marketing.
I didn't really have a plan and I didn't know how to actually make money with a blog when I got started. That is why I purposely sought out an online training program and found this one.
Following that training program is what helped me to progress much faster than if I had tried to learn everything on my own.
I implemented what I learned and was able to transition out of a full-time retail job into working on my niche blog full time.
Here are some reasons why a niche blog works so well with affiliate marketing:
They are low-cost and low-risk
Easy to maintain and convenient
Your blog content generates free targeted web traffic
Niche blogs can earn income for years
Fun to create
Tons of affiliate products to choose from
You can choose any niche you want
Once you learn the skills, you can repeat over and over again
So how would you go about creating a niche blog for skincare products? Let's break it down below.
Choosing a Subniche within the Skincare Niche
The first step in creating a niche blog is to choose a niche. You can stay general and cover all topics of skincare if that is what interests you.
However, you can typically receive web traffic faster and get sales faster when you are able to niche down even more.
Skincare covers a wide variety of skin concerns. You could create a niche blog that focuses on skin issues such as:
dry skin
oily skin
wrinkles
dark spots
acne
sun spots
anti-aging
sensitive skin
combination skin
enlarged pores
Choose from one of those subniches or a combination of 2 or 3. It's up to you! I have had excellent results from focusing on a subniche of an overall larger niche.
Writing Blog Posts in the Skincare Niche
First, let's debunk a common myth in the blogging world. You do not need to be an expert in your niche in order to create a successful niche blog.
If you are not a skincare expert, you can still create helpful content for your niche audience. You can approach your niche as a beginner learning the ins-and-outs about your topic.
Many people are beginners to different niches so your content may be exactly what they're looking for.
You'll need to do a bit of research on your part but it isn't any more difficult than writing a book report or research paper. I'm sure you've written plenty of those in school!
A nice thing about writing blog posts is that you can write in a very casual manner. Let your personality shine. After all, it is your blog and readers can tell when someone is being genuine.
How to Find Unlimited Skincare Topics to Write About
You'll never run out of things to write about in the skincare niche. You can easily find blog post topics by opening up Google Search and using its autosuggest feature to find out what people are searching for.
Simply type in keyword phrases related to your niche: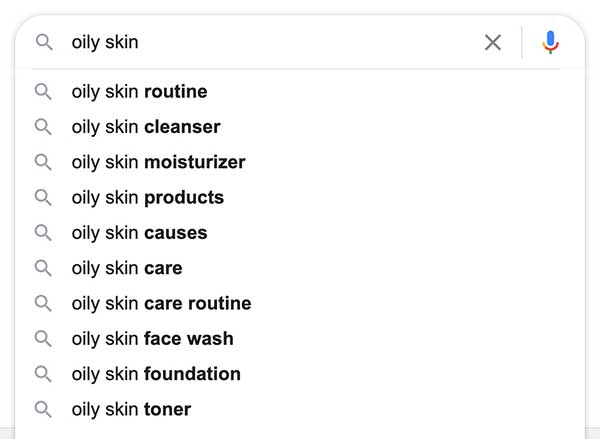 In the screen capture above, I type in "oily skin" within Google Search. The autosuggest feature returned keyword phrases that people actually search for such as:
oily skin routine
oily skin cleanser
oily skin moisturizer
oily skin causes
oily skin care routine
These are all great topics that you can write blog posts about. Write as helpful a post as you possibly can. The content that you write will get indexed and eventually rank for various keywords within your post.
When writing for a specific keyword phrase, be sure to include your keyword phrase in you blog post title and within your intro paragraph. Include it naturally through the rest of your post.
Making Money with Your Skincare Niche Blog
Ready to make money with your niche blog? This is when you can apply to some of the skincare affiliate programs mentioned above or others that you may find on your own.
Once you are approved by the affiliate programs you've applied to, you'll have access to your affiliate links. You can then recommend these products within your blog post by linking to your affiliate links.
As your blog begins to receive web traffic, a percentage of these visitors will click on your affiliate links and buy from the merchant's website. That is how you generate commissions on a consistent basis.
Closing Thoughts On Skincare Affiliate Programs
If you are interested in the skincare niche as an affiliate marketer, it is a terrific niche to be in. Skincare is a billion-dollar industry. You have plenty of opportunity to earn by joining any number of skincare affiliate programs.
Creating a niche website is one of the best ways to earn income from affiliate commissions. It is a tried-and-true long-term online business strategy.
If you are ready to level up your affiliate earnings, consider following the same step-by-step training program I followed.
I am a part of that training platform today and use it to help others one-on-one with creating their own successful niche websites.