Athletic wear are great products to promote as an affiliate marketer. There are all types of athletic clothing for all types of sports and activities. If you are ready to get started in this niche, the following athletic wear affiliate programs offer awesome products with great commissions.
I'll also highlight my preferred method of earning affiliate commissions. This method enables anyone to get started right away with very little cost and little risk.
If you are wondering if athletic wear is trending, take a look at the past 12 months worldwide for the term "athletic wear" on Google trends below: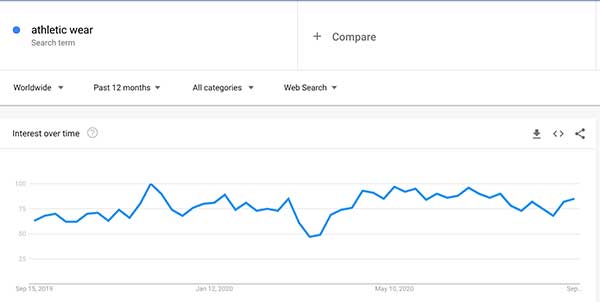 That being said, let's dive into these affiliate programs and also learn how to get started promoting the products.
Tired of not making sales? Learn how I went from zero to consistent affiliate commissions every month. Click here to learn how I did it.
Athletic Wear Affiliate Programs
These affiliate programs are put into place by companies in order to gain new leads and sales generated by affiliate marketers. Many of these programs offer commissions ranging between 5% – 15%.
Commissions are usually paid out monthly via PayPal, check, or direct deposit. Some companies have their affiliate programs managed by an affiliate network such as ShareASale, AvantLink, etc.
Others may manage their program in-house. Either way, applying for the programs is pretty much the same. The approval process varies from one company to another.
Pactimo
This company specializes in creating cycling clothing for all types of cycling conditions such as climbing, long distance, gravel, and racing.
Pactimo is a well-known brand in the cycling niche. This is a great brand to promote if you want to focus on cyclists. The affiliate program is managed by AvantLink and offers an 8% commission and 90-day cookie length.
---
Feetures
Performance socks are needed by many athletes and Feetures specializes in creating these socks for various sports and every day wear.
Their socks are designed with targeted compression and anatomical design to create a custom-like fit and prevent the issues people have with conventional socks.
As an affiliate, you could recommend these socks to athletes, fitness enthusiasts, and even those seeking high-quality socks to perform their jobs.
The Feetures affiliate program is managed by AvantLink and offers a 10% commission and 30-day cookie length.
---
Christy Sports
Interested in targeting the skiing and snowboarding niche? The cold weather sports niche has plenty of products to promote. Christy Sports sells clothing and gear for skiing and snowboarding.
They carry jackets, pants, boots, and more by various different brands. The affiliate program is managed by AvantLink and offers a 7% commission with a generous 120-day cookie length.
---
Elite Sports
Athletic wear for martial arts is a popular niche to be in. Elite Sports specializes in BJJ gis, gym bag, shorts, gloves, belts, and more.
They make products for martial arts disciplines such as Brazilian Jiu Jitsu, No-Gi, MMA, Boxing, Muay Thai, Karate, Judo, Wrestling, Taekwondo and more with an acute knowledge of the demands of each discipline.
Their affiliate program is managed by ShareASale and offers a 10% commission and 60-day cookie length.
---
Breeches
Have you ever thought about pursuing the equestrian niche? If so, Breeches carries everything you need to recommend to this niche audience.
They create, manufacture, and merchandise quality equestrian clothing and gear, footwear, tack and strap goods, horse clothing, and grooming supplies.
The affiliate program is available to apply to through both ShareASale and CJ Affiliate. It offers up to 12% commission and a 30-day cookie length.
---
Power WearHouse
This company specializes in weighted wearables. These products are great to promote to a variety of fitness niches. Power WearHouse weighted wearable training products helps accelerate calorie/fat burn, improves muscle tone, and enhances bone health.
Their weighted vests and shorts are the primary products and are available for both men and women. The affiliate program appears to be managed in-house and offers up to 15% commission.
---
Bonus: Learn about the Nike affiliate program.
How to Promote Athletic Wear Affiliate Products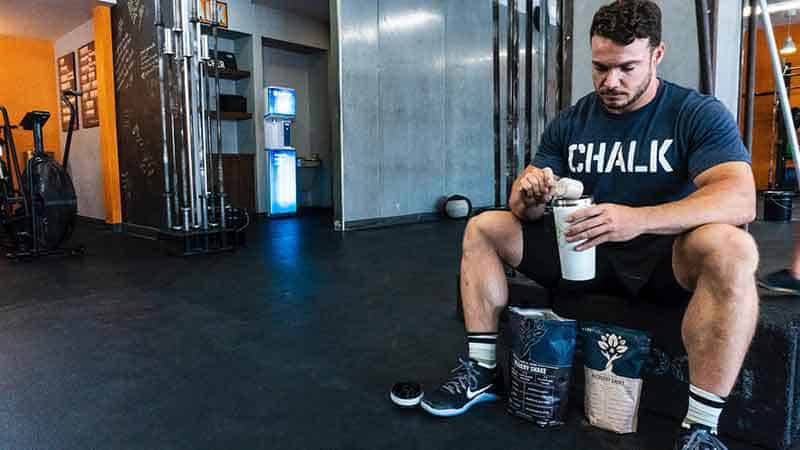 The nice thing about athletic wear is that you can find clothing for just about any athletic niche you are interested in. For example, some of the affiliate programs above are in the martial arts and equestrian niches.
Those are two unique niches that have large followings. The best way to promote products like these is by creating a niche website (also referred to as a niche blog.)
Niche blogs are ideal for promoting affiliate products. It is due to the content that you create in the form of blog posts. These blog posts are what get indexed and ranked in the search engine results.
It wasn't until I created a niche blog that I was finally able to generate a consistent income online. Initially, I didn't know how to get started.
I purposely sought out an online training program and found this one. Following the training and implementing what I learned is what made the difference in my affiliate earnings.
The great thing about niche blogs is that they are low-cost to start, low-risk, and easy to maintain. Plus, your content brings free targeted web traffic.
Ready to make money with a blog? Learn how I went from zero to consistent affiliate commissions every month. Click here to learn how I did it.
With a niche blog, you get to create helpful content for your niche audience and in turn, you can earn affiliate commissions when any of your visitors buy from the merchant's websites.
Setting Up Your Niche Blog
Getting your website up is extremely easy. You do not need a technical background to do so. Almost any web hosting provider can provide you with everything that you need.
I recommend creating your website using a self-hosted WordPress website. All that means is registering your own domain name, getting a web hosting account, and installing WordPress using one-click installation.
Most web hosting services can set you up with everything. The two hosting providers I recommend include SiteGround and WPX Hosting. Both are fast and have excellent customer support.
If you prefer step-by-step help and training, consider following the same online training program I followed.
Content Creation (Your Blog Posts)
The blog posts you create should be helpful content related to your niche. For example, if you create a niche blog about cycling, you'll want to focus on the questions in the cycling niche.
You can find what people in your niche are searching for by performing some basic keyword research. You can begin by opening up Google Search and utilizing its autosuggest feature.
Begin typing in keywords related to cycling. Google's autosuggest will display related keyword phrases that people are typing in.
You can build a list of blog post ideas. It may take some research to complete your articles but it isn't anymore difficult than writing a book report. Chances are you've written many of those in school.
Within your blog posts, you can recommend the various products that you are an affiliate of. Add your affiliate links where appropriate.
I recommend creating a new blog post at least 1 to 2 times per week at a minimum. That is doable even with a busy schedule.
Closing Thoughts On Athletic Wear Affiliate Programs
I hope that this post has been helpful in sharing some unique athletic wear affiliate programs. There are plenty of them out there which you can find with a bit of research.
Niche websites are how I generate a consistent income online. If you are ready to level up your affiliate earnings, consider following the same step-by-step training program I used when I got started.
I'm still a part of that training platform today and use it to help others one-on-one with creating their own niche websites.