Have you come across the Simple Affiliate System sales page and wondered if it's worth buying? The sales page is captivating and if you are new to affiliate marketing, it can definitely entice you to buy and learn more.
However, I like to do as much research as I can before buying any product. Hi! I'm Eartha, a full-time affiliate marketer and author of this blog.
I make it a point to seek out products and online courses related to starting an online business (particularly with affiliate marketing.)
Unfortunately, there are so many scam products out there and that has made me skeptical. I prefer to do a lot of research before making the decision to invest in a product or course.
In this Simple Affiliate System review, I want to uncover what I found and share my own experience on how I created a steady income online promoting affiliate products.
Product Name: Simple Affiliate System
Product Creator: Tim (?)
Product Price: $3
Affiliate Network: Clickbank
Niche: Make Money Online
NEXT: A Better Alternative to Make Affiliate Commissions That Works
What is the Simple Affiliate System?
I've been doing affiliate marketing long enough to understand what a course will likely teach based on the information on the sales page.
That is exactly what happened when I read through the Simple Affiliate System sales page. The copy is great and I don't doubt that many people that read it will be convinced enough to buy it.
However, I immediately knew what the product was going to offer before I even did more research to confirm my thoughts.
Essentially, the Simple Affiliate System is a short training course that teaches how to do affiliate marketing through the use of a landing page to collect leads for email marketing.
This strategy is not new at all. It may be new to beginner affiliate marketers, but it has been used since the beginning of internet marketing.
Building a list is a common phrase that you'll hear from just about any online marketer.
The Simple Affiliate System sales page talks about the creator who goes by "Tim" and how he worked as a broke bartender only to meet a mentor who teaches him about email marketing.
From there he finds success and it is how he makes his income online.
How the Simple Affiliate System Works
The course includes some training videos and done-for-you squeeze pages. The goal is to find a company with an affiliate program that you like.
You use one of the squeeze pages provided for your affiliate campaign. You then connect your squeeze page to your autoresponder (in this case they recommend GetResponse.)
So far so good. Next, is traffic. Without traffic, no affiliate campaign is going to work. The traffic strategy that is taught is to use solo ads.
Solo ads don't have the best reputation. They are email lists that the list owners allow people to advertise their links on. You pay per email sent. Prices can range from $0.30 cents to $0.75 cents and up.
The common issues with solo ads are:
List owners may have "scraped" emails from websites using software
The email list could be made up of bots
Not all email lists are tier 1 (English speaking countries)
Solo ads don't always have the best results
What the Simple Affiliate System teaches can work. However, I don't consider it the best way to generate a steady income online.
Solo ad traffic is always hit or miss. You can end up spending hundreds of dollars with little to no sales.
The key is to use solo ads to build your own email list and have your own autoresponder messages sending marketing emails.
Simple Affiliate System Price and Refund Policy
The price of the Simple Affiliate System is only $3. Have you heard of the saying, "You get what you pay for?" That means, don't expect a whole lot of in-depth training here.
You can definitely give it a shot. It is inexpensive and you can bet there will be several upsells after you buy it.
Since it's sold on Clickbank, you do get the standard 60-day money-back guarantee. Therefore, if it isn't at all what you expected, you can request a refund within 60-days.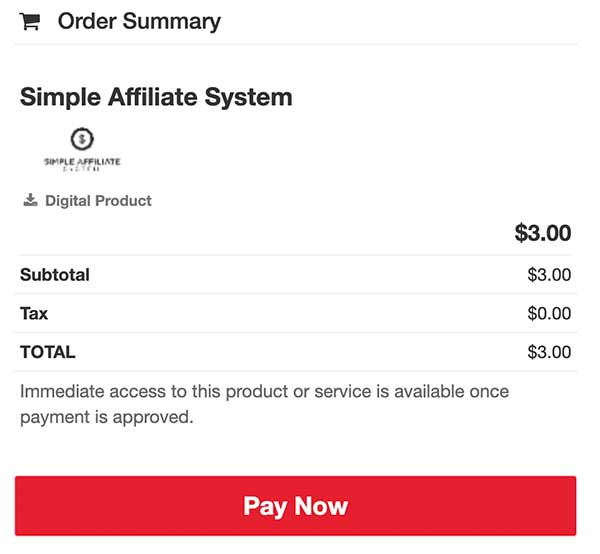 Is Simple Affiliate System a Scam?
I wouldn't call this product a scam. I think beginner affiliate marketers can learn from it in terms of how a squeeze page, funnel, and email marketing works.
What I don't particularly like about it is that you really have no idea who the product creator is. You only know that the person goes by the name Tim.
Usually, that sets off a red flag for me. Reputable products always have the product creator at the forefront.
The product creator should want their students to succeed and should be available in terms of group coaching or one-on-one help.
For example, Travis Marziani offers 1-on-1 coaching with his Amazon FBA course. The same goes for AMZ Champions.
Overall Thoughts About This Program
After doing my research on this product, it isn't something that I think I'd benefit too much from. There are many ways to do affiliate marketing and I prefer not to risk money on what is taught in this training.
Quite honestly, there are plenty of YouTube videos that explain how to use solo ads. I highly recommend the one below:
You can also search YouTube to learn how to set up a landing page and sales funnel too. If you want to learn quickly and easily with step-by-step instructions, check out Jonathan Montoya's 3 Day Business Breakthrough Challenge.
In the end, I think solo ads can be effective when used for the purposes of building your own email list.
I wouldn't expect to make a ton of affiliate sales immediately using them. There is a method to using them so it's best to learn as much as you can about how the process works.
How I Make a Steady Income Online with Affiliate Marketing
Personally, I prefer a long-term business model. The business model I use is creating niche websites.
Niche websites are essentially blogs that focus on one specific topic. They are excellent for promoting affiliate products.
You don't need to buy traffic because the content that you create in the form of blog posts generates free traffic.
It is easy to learn how to create a niche website of your own. It all boils down to four simple steps:
Choose an interest (anything you want)
Build a website (easy to do using WordPress)
Attract visitors (free traffic from your content)
Earn revenue (promote affiliate products)
Here is a screenshot of an affiliate commission I earned from one affiliate program: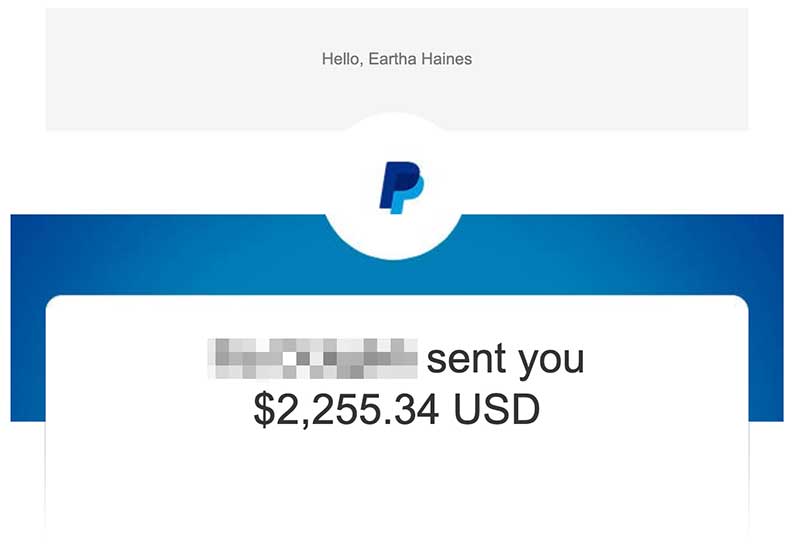 There is no limit to how much you can earn with affiliate marketing. It is all based on how much effort you want to put in.
If you are tired of gimmicky products and want to create a legitimate long-term online business, you can start today for free:
I hope this Simple Affiliate System review was helpful. I wish you much success in your online business journey!
Eartha 🙂
P.S. – Learn how I went from zero to making a steady income online with affiliate marketing. Click here to learn how.