If you've been anywhere online, then you've likely come across an ad by Tony Robbins and Dean Graziosi. They have partnered up and created an online training course that teaches you how to make an online course of your own.
They call it the self-education revolution. Creating your own training course is the trend nowadays. It's so easy for anyone to record their own video training and put their course online.
Figuring out how to start is challenging for beginners. What should your course be about? How do you record the videos? How much should you charge? The questions can go on and on.
That is why I wanted to dive a little deeper into Tony Robbins and Dean Graziosi's Project Next training program.
Most online courses are high-ticket. That means they cost $1,000 or more. Personally, I like to do as much research as I can before I invest in any product.
That being said, thanks for stopping by! My name is Eartha. I'm the author of this blog and a full-time affiliate marketer.
I make it a point to seek out online training courses and products related to starting an online business. Hopefully, you'll get some great information out of this Project Next review.
Product Name: Project Next
Product Creators: Tony Robbins & Dean Graziosi
Product Price: $997 or 6 payments of $199
Niche: Self-education (course creation)
HOW I MAKE $1,000 COMMISSIONS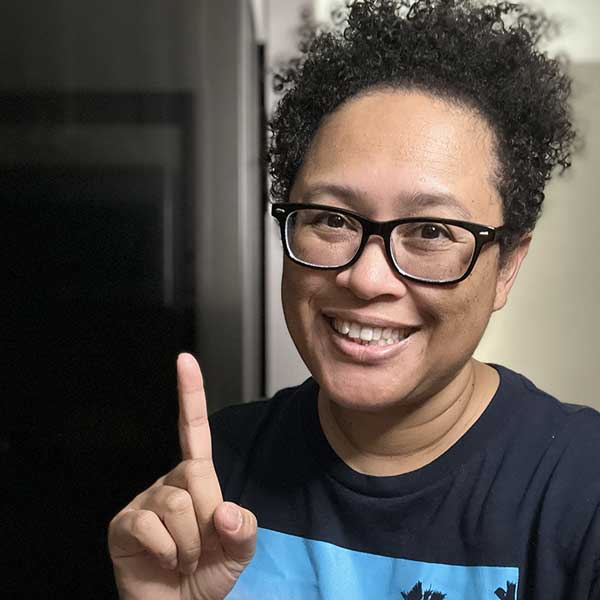 Hi! I'm Eartha, the author of this website and an affiliate marketer. Thanks to affiliate marketing, I was able to work my way out of a full-time retail job. I never need my own product, there is zero order fulfillment and zero customer service. Click the link below and I'll share how I'm able to make $1,000 – $2,000 for every sale that I refer:
Who are Tony Robbins & Dean Graziosi?
Tony Robbins Bio
Both Tony and Dean are successful entrepreneurs. I am more familiar with Tony Robbins after reading one of his early books, Awaken the Giant Within when I was a teenager.
Tony is a phenomenal public speaker and motivational coach. He coaches in business, life, and health. He has written numerous books and has various coaching programs.
Tony's childhood was chaotic and abusive. He left home at the age of 17. Working as a janitor, he asked the landlord of the property how he became so successful. The landlord stated that he turned his life around after attending a Jim Rohn seminar.
At 17 years old, Tony was able to work for Jim Rohn promoting his seminars. Eventually, he became a practitioner of neurolinguistic programming (NLP) and partnered with NLP co-founder, John Grinder.
As you may know, Tony Robbins has become one of the most successful and well-known personal development coaches in the world. You can also earn income from the Tony Robbins affiliate program as an affiliate.
Dean Graziosi Bio
Dean also had a challenging childhood. Born in Marlboro, NY, Dean, and his family faced financial hardships. They ended up moving more than 20 times before the age of 19.
Dean found success in real estate investing. He has authored several books and is a successful entrepreneur and educator.
Teaming up with Tony Robbins, they co-created their program called Project Next. They had one of the largest online product launches in history.
What is Project Next?
Project Next is an online training program that teaches anyone how to take their knowledge and turn it into an online course, workshop, ebook, or coaching business.
What makes it different from other similar training courses in the self-education niche is that they combine immersion, repetition, implementation & mastery into one program.
They state that similar courses only focus on one of those three things. This course is well-rounded on top of the combination of knowledge between both Tony and Dean.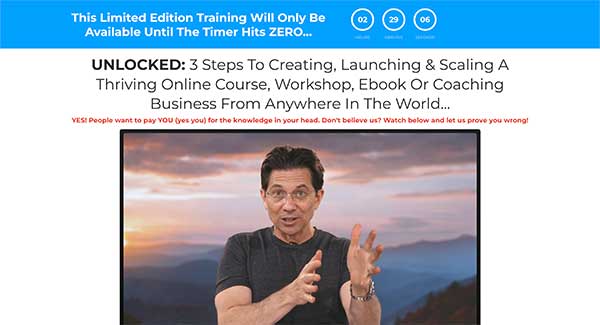 What is Included with Project Next
Digital Product System
After you've purchased Project Next, you get immediate access to a 6-module course where you learn how to launch and scale your digital product.
On-Demand Module Masterclasses with Dean
These are module trainings by Dean and guests to overcome hurdles and get your questions answered.
VIP Ticket to the 3-Day LIVE Mastermind Summit
This is a virtual summit where you get to learn from the most successful and innovative minds in the industry
1 Month Free to the Implementation Tool
You get access to Mastermind.com so that you can easily host and sell your digital product.
Bonuses
Tony Robbins' Modeling the Mentors
Unleashing Your Creativity with Jenna Kutcher
Mastermind.com A-Z Journey with Tanner Sheldon
Project Next Price and Refund Policy
The Project Next training program is priced at $997. You can pay it upfront or make 6 payments of $199.
If you choose to pay it in full, you also get a surprise 3-hour bonus by Tony Robbins.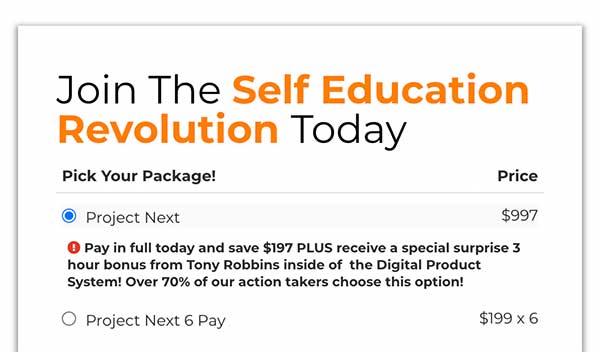 There is also a 30-day money-back guarantee. You can request a refund within the first 30-days.
Many online training programs have a condition in place such as "proving" that the training didn't work for you.
I'm not sure that this refund policy works that way but here is what it states on the sales page:
This program won't work if you don't work. But if for some reason you aren't on your way to real success in the first 30 days, email us and we will take care of your refund!
Who is Project Next For?
This training program is ideal for someone that already has a digital product in mind or wants to learn how to create one.
Almost everyone has some knowledge that they can turn into a digital product. Even if you don't, it shouldn't stop you.
You can always learn what you need to know to put a product together. Keep in mind that with any business model, there are no guarantees.
If you have any concerns such as not having a large following, the course will teach you how to use paid advertising to attract your target audience.
You also don't need to be tech-savvy in order to create your digital product. Since Mastermind.com was created by Tony and Dean, you'll likely be introduced to the platform.
Is Project Next a Scam or Legit?
I don't consider this training program to be a scam. It doesn't cost nearly as much as some of the other online courses in this same niche.
However, the price doesn't determine the quality of the course. What does help is that it was created by two well-known coaches.
Tony Robbins' brand is solid. Dean Graziosi seems to do the bulk of the teaching in terms of group coaching.
The training program is tied to becoming a subscriber to Mastermind.com (more on what it is below.) When you buy the course you get one month of access for free.
Overall Thoughts About Project Next
After learning more about what this training program offers as well as learning about Mastermind.com, I think that it is a good deal if you like the teachers.
I do wish they had more about the course curriculum on the sales page. There are 6-modules and they describe what is taught.
However, I like to see an outline of each of the video training in order to get a better idea of what's included.
For example, Kajabi has free courses on building an online course. SamCart has CreatorU. Then there are other creators that have courses about creating digital products.
My feeling is that I would probably do some comparison shopping before deciding. There are plenty of courses out there that will teach you how to create a digital product like an online course.
What is the Mastermind.com Software?
Mastermind.com is a platform that enables you to launch your own course, workshop, or mastermind online. Think of it as a competitor to platforms such as Teachable and Kajabi.
It was founded by both Tony Robbins and Dean Graziosi. It does have a 14-day free trial. There are three packages to choose from:
Launch – $47 per month
Grow – $97 per month
Accelerate – $297 per month
What is nice is that no matter which of the plans you choose, whatever you sell, you keep. They do not take a percentage of your sales or charge any other fees.
They don't go into detail about any of the features of the software so you'll have to sign up for a free trial if you're curious as to how it works.
How I Make a Monthly Income Online
I've always liked the idea of creating an online course. In fact, I'd like to create one for myself in the future.
In the meantime, I will continue growing my online business. I manage niche websites that earn income through affiliate marketing.
Affiliate marketing is the promotion of another company's products in exchange for a commission when a sale is made.
For example, Tony Robbins has an affiliate program. You could apply to become an affiliate of his company for free.
Once approved, you'd have access to special tracking links called affiliate links. You could share your affiliate links on your website or social media accounts.
Whenever anyone clicks on your affiliate links and buys a product, you earn a commission.
There are tons of affiliate programs that you can join for free.
What is a Niche Website?
A niche website is a website that focuses on one specific topic. Essentially, it is a blog. The content that you create (blog posts) is what gets indexed and ranked in the search engines.
That is how you get free targeted web traffic. The more content that you create, the more income potential your website has.
All that you need to start is a domain name, web hosting, and WordPress installed on your hosting account.
Earning Potential
A niche website is an excellent way to make money online by promoting affiliate products.
Your earning potential is only limited by how hard you're willing to work. Here is a screen capture of a commission I made from one affiliate program: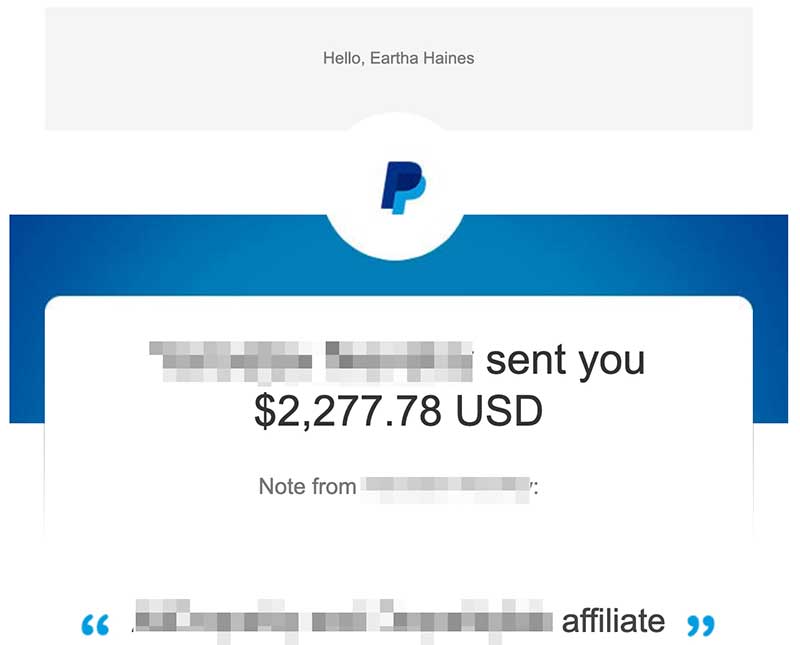 I think doing affiliate marketing with a niche website is one of the best ways to earn income online.
I hope this Tony Robbins and Dean Graziosi Project Next review has been helpful to you.
If you want to launch your own online business by building a niche website, I recommend following the same step-by-step training I did:
I hope to meet you inside!
Eartha 🙂
P.S. – Learn how I was able to quit a lousy retail job and work for myself using a simple website. Click here to learn how.