Have you been in search of a legit affiliate marketing training platform? If so, you may be interested in Powerhouse Affiliate. This platform offers several courses on how to do affiliate marketing in various ways.
The primary way is to promote CPA (cost per action) offers. This is different than promoting affiliate products. I've always been interested in learning how to make money with CPA offers.
It is quite different from how I earn income online. The method I use involves free web traffic. CPA offers involve running paid ads so there is quite a learning curve to it.
When I came across the Powerhouse Affiliate website, I had to check it out and see if it was worth trying. There are many affiliate marketing courses out there and it is difficult to find ones that offer a lot of value for the price.
So if you're interested in learning more about Powerhouse Affiliate, keep reading to learn more. Before we get started, I would like to introduce myself.
Hi! I'm Eartha the author of this blog and a full-time affiliate marketer. I seek out online courses and products that are related to making money online.
My goal is to do as much research as I can before investing in any product. It provides me with more information to decide if it is worth spending money on. If you're the same way, hopefully, this Powerhouse Affiliate review will help you out.
How I Make $1,000 Commissions Using a Simple 2-Step Process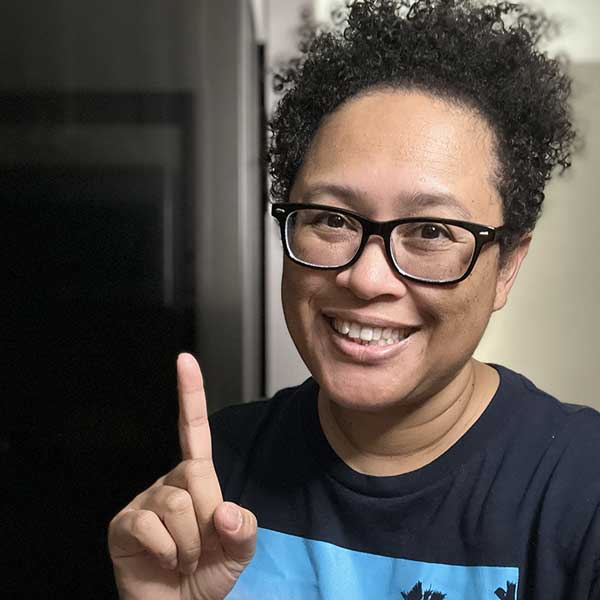 Hey there! I'm Eartha, the author of this website and an affiliate marketer. I seek out affiliate programs and online courses to share here on the blog.
I also share ways to help boost online income and one of the ways I've been able to increase my income is with high-ticket affiliate marketing.
Making higher commissions is one of the fastest ways to scale up your online income. Click the link below to learn how I make $1,000 – $2,000 commissions on a steady basis:
What is Powerhouse Affiliate?
Powerhouse Affiliate is a membership site that offers courses, case studies, webinars, and support on how to run successful affiliate campaigns. It is focused mostly on making money with CPA offers.
However, there is also training on creating an authority website which is great for beginners that don't have a budget for running paid ads.
Another big part of Powerhouse Affiliate is the member forum. This is where a ton of information is available in terms of case studies and other members' successes.
Some parts of the forum are open to free members but the case studies are for premium members.
All of the Courses Available
There are several courses on the platform. Only the introductory course is free. The others fall under the Premium membership. The courses include:
Affiliate Marketing Certification – An introduction to affiliate marketing and learning how to create an authority website.
Website Traffic Certification – Learn how to get traffic to your affiliate campaigns.
Performance Marketing Certification – Learn how to build a white hat affiliate campaign using Cost Per Action offers.
Email List Building Certification – Start collecting emails and building your own online asset.
Native Ads Certification – Learn how to profit from Native Ads.
Google Search Ads Training
How to Find Profitable Marketing Campaigns Online
Solo Ads Guide and Discussion
Webinar – Confessions From a Blackhat Affiliate
Native Ads Auto Profits
Email Marketing
Native and Push Advertising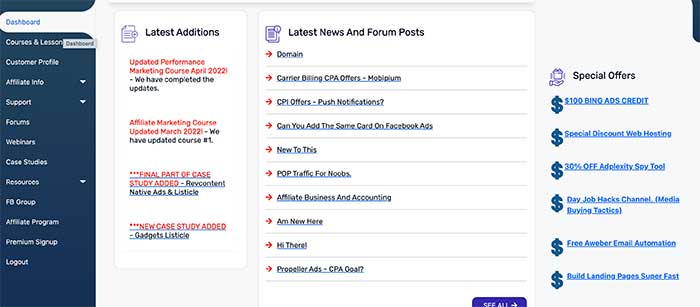 How Much is Powerhouse Affiliate?
Membership to Powerhouse Affiliate is extremely affordable. It costs $20 per month or $297 for a lifetime membership. You can also pay for 6-months at a time for $97.
I think they could charge way more per month. I've seen some affiliate marketing training platforms cost much more.
It is great that it is so affordable because beginners don't have to worry about such a large expense in order to learn how to do affiliate marketing.
I was actually quite surprised at how inexpensive this course is. It is a no-brainer to become a premium member and learn how to earn with CPA offers.
Who is Joey Babineau?
Joey Babineau is a successful online entrepreneur who got his start in 2002. Before then, he was a bartender trying to make ends meet.
Having $40,000 in student debt and two jobs, he spent money on courses trying to learn how others made millions online.
After spending thousands on testing, Joey was finally able to build his own winning formulas and achieve success online.
Now he helps his students within Powerhouse Affiliate learn the same strategies he uses to earn income online with affiliate marketing.
You can follow him on his blog and YouTube channel where he shares a ton of free information.
What is Included Inside Powerhouse Affiliate?
The first thing that you'll likely want to dive into will be the courses and lessons. These really are the foundation of learning how affiliate marketing and CPA offers work.
When you start a course, it will automatically track your progress. Everything is self-paced so if you start and need to finish later, you can pick up where you left off.
Each course has a certificate that you can receive after completing a quiz at the end. I found each lesson really easy to follow.
The lessons include text and videos. More than likely, if you are interested in learning how to promote CPA offers, you'll immediately dive into the Performance Marketing Certification and the Native Ads Certification.
Performance Marketing Certification covers how to build white hat affiliate campaigns using CPA offers.
The Native Ads Certification is great if you are struggling with Facebook banning your accounts. You'll get live examples of profitable campaigns in this course.
Case Study Library and Forum Case Studies
Another huge benefit of membership is getting access to the case study library. Some of these case studies are presented by Joey.
Not all case studies show successful campaigns. You learn just as much from failed campaigns. It's also important to learn what not to do.

The forum case studies sections shares case studies from other members. Again, some are successful and some are not. However, there is always something to be learned.
You also get access to "follow along" training inside the forum when you are a premium member.
Personally, I think the case studies in the forum plus the case studies library are where you'll spend a lot of your time.
You get to learn by watching over someone else's shoulder. There is a lot of value inside this platform for only $20 per month!
Who is Powerhouse Affiliate For?
I would say that this online course is for anyone who is serious about learning CPA marketing. The affiliate marketing certification course is basic but emphasizes the point of having your own authority blog.
When I say serious about learning CPA, I also mean having the budget to run paid ads. The training teaches how to use various ad platforms such as native ads, Facebook ads, and more.
After watching some case studies, you would likely need at least $1,000 to start. A lot of the money spent on a campaign will be on collecting data. That means you could burn through your budget fast and not make many sales
It requires a lot of testing and tweaking of landing pages among other things. In short, CPA marketing is not for the struggling affiliate. You will need some type of regular income that you can spare to run ads.
Is Powerhouse Affiliate a Scam or Legit?
After exploring the platform and checking out a lot of the content, I say that the training is absolutely legit. Even if you don't plan on doing CPA marketing in the near future, it is still a great place to learn about it.
It's affordable and by the time you get through the certification courses and have viewed some of the case studies, you'll have plenty of knowledge for when you're ready to run your own ads.
Personally, I'm glad that I stumbled on this website. At some point, I would like to learn more about running paid ads and making money from CPA offers.
If anything, it makes for a well-rounded affiliate marketer. Having an understanding of all forms of affiliate marketing is always beneficial.
What I Like About Powerhouse Affiliate
I like that this platform offers a lot of value for such a low price. I also like that Joey covers how to create a website and recommends this route for beginners.
He proves his point by demonstrating his own website and how he uses it to make more affiliate commissions.
Having a website is always a benefit no matter the type of affiliate marketing that you do. It serves as something to fall back on if you end up struggling with CPA marketing.
A website is an asset for the long term. I always recommend that anyone start a niche website. It is an excellent way to make affiliate commissions.
There really isn't anything that I don't like about the platform. There is so much value for the price.
The only thing I would say is to understand that the main form of affiliate marketing taught is how to make money with CPA offers.
CPA marketing tends to focus on running paid ads which can cost a lot of money. It's a riskier way to do affiliate marketing but once understood, many people find success with it.
It may be an easier business model than something like making money with Airbnb or eBay dropshipping.
CPA is pretty straightforward. Find offers, create landing pages, and send traffic. After you learn the skills, it becomes second nature like anything else you practice.
How I Make a Steady Income Online
Fortunately, there are other ways to do affiliate marketing if you don't have the extra income to promote CPA offers.
One of those ways is the way I got started and that is with a niche website. Niche websites are easy to start, low-cost, and excellent for promoting affiliate products.
All that you need is a domain name, web hosting, and WordPress installed on your hosting account.
The way the process works is simple:
Choose an interest
Build a website
Attract free visitors with your content
Earn income from affiliate sales
Here is a screen capture of an affiliate commission I earned from one affiliate program: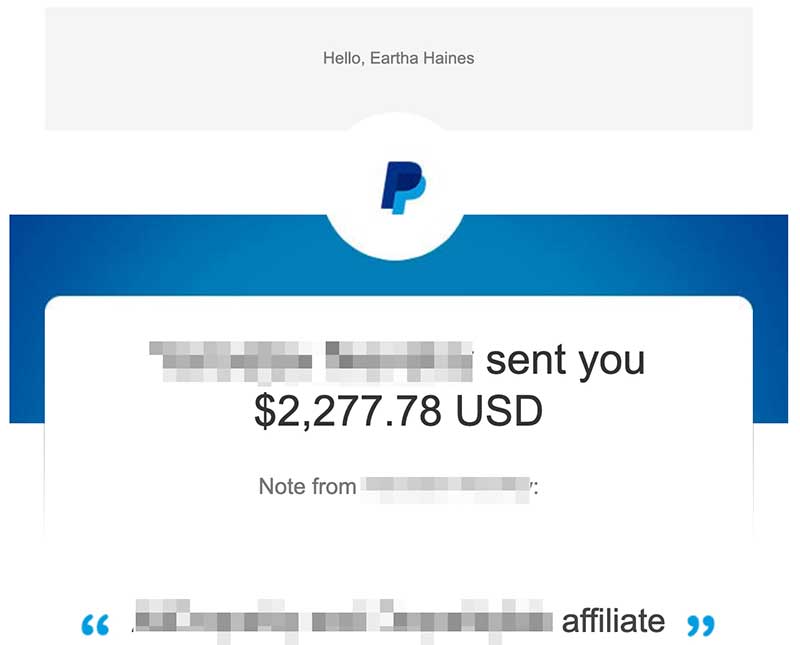 Another plus about niche websites is that they generate free traffic. You don't have to pay for ads in order to make affiliate sales.
The only investment is your time. However, a niche website can attract free traffic for years which is why it is an excellent long-term online business.
Of course, when I got started, I had no idea how to make money with a website. I had to find training and fortunately, I found the training program below:
I hope this Powerhouse Affiliate review has been helpful. CPA marketing is a popular option for many affiliate marketers.
Beginners should be cautious about spending on paid advertising. Otherwise, I do recommend the training platform.
I also recommend starting a niche website as a way to get started with affiliate marketing without spending money on ads.
I wish you much success in your online business journey!
Eartha 🙂
P.S. – Learn how I quit a lousy retail job using a simple website and affiliate marketing. Click here to learn how.