Chances are you have come across a shirtless pic or video of Mike Vestil. Somehow you ended up on his webinar that talks about his training program called Profit Singularity.
Me too. You are likely wondering if Profit Singularity is a scam or legit. Maybe you want to know what exactly you will learn and who Mike Vestil is.
Well, stick around as I share exactly what I learned about this course in this Profit Singularity review.
Hi! I'm Eartha, the author of this blog and a full-time affiliate marketer. Before I invest in any product, I like to research as much as possible to be sure it is worth the investment.
Many of these online training courses are high-ticket. That means they tend to cost $1,000 and up! In most cases, you don't get to try out the courses with a free trial.
You have to buy and hope that what they teach is going to work for you. That being said, be sure to read until the end as I share what I've found about Profit Singularity.
Also, I'll share my online business model that doesn't cost an arm and a leg to get started. Let's get started!
Product Name: Profit Singularity
Product Creator: Mike Vestil
Product Price: $2,497 or 3 payments of $997
Niche: Affiliate Marketing
How I Make $1,000 Commissions Using a Simple 2-Step Process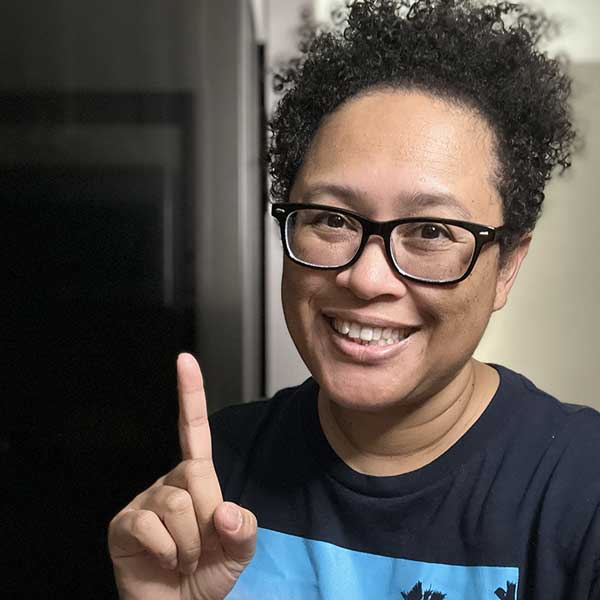 Hi! I'm Eartha, the author of this website and an affiliate marketer. I seek out various affiliate programs and online courses to share here on the blog.
I also share ways to help boost affiliate income. One of the ways I've been able to increase my income is by focusing on recommending high-ticket affiliate products.
Making higher commissions is one of the fastest ways to scale up your online income. Click below to learn how I am able to make $1,000 – $2,000 commissions on a steady basis:
What is Profit Singularity?
First, I have to mention that the Silver Lining Side Hustle webinar by Mike Vestil was a bit long. It isn't a live webinar but a pre-recorded one that you can watch every hour depending on when you register for it.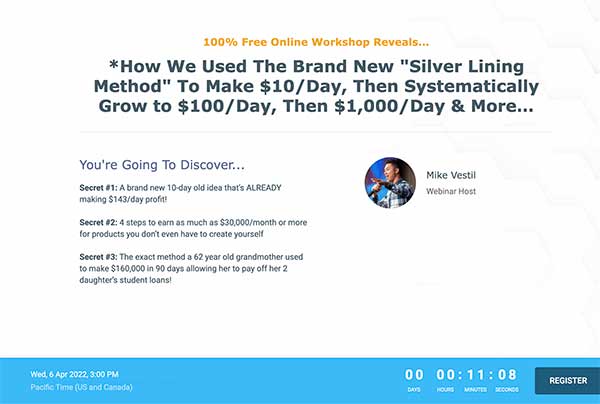 The bulk of the webinar talks more about his student success stories sharing intermittent video clips of his most successful students.
It started to get a bit annoying as I simply wanted to know how the process worked. After all is said and done, Profit Singularity is an online training program that teaches how to make money with affiliate marketing.
In the webinar, Mike shows a lot of screenshots of his and his student's Clickbank sales. In fact, he demonstrates how to find affiliate offers using the Clickbank platform.
I don't doubt that you could use the system to promote any type of affiliate product but consider the types of products that sell well on Clickbank.
Most of them are health offers or make-money-online offers. When you learn how Profit Singulary works (read below), you'll have a better understanding of why Clickbank offers work well with what they teach.
Personally, I'm not a big fan of Clickbank offers. Many of them seem sketchy. You can find some quality offers if you dig a bit but most are low-quality.
Another thing to know about this training is that they focus on running YouTube ads to your landing pages.
Running paid ads always comes with risk as you have to do a lot of trial and error before you find a winning campaign.
What's Included with the Training
This is an 8-week training program and includes:
Week 1: Choose your product and website setup
Week 2: Creating your million dollar YouTube ad
Week 3: Launching your ads
Week 4: Scaling to the moon
Week 5: Advanced tools and techniques
Week 6: Hot seat week
Week 7: $300K in 14-days case study
Week 8: Fast track to $10,000 days
Bonuses include:
Video script generator
A.I. voice software
Three free websites
Splash page templates
Money making products
The Million Dollar Ad Vault
Over-the-shoulder $300K in 14-days case study
Who is Mike Vestil?
Mike Vestil is a pretty well-known internet marketer. His YouTube channel has over 480K subscribers.
He grew up in Chicago and his parents wanted him to follow the American dream of having a good career, buying a home, etc.
Mike decided to go into dentistry and he hated it. Feeling hopeless, he eventually found a mentor who showed him how to make money online by promoting affiliate products.
Online marketing clicked for Mike and he realized he could be successful with it. Since then he has earned a lucrative income as an affiliate marketer.
Mike currently resides in Bali running his business as well as doing speaking engagements around the world.
How Profit Singularity Works
What you will learn in this program is how to create A.I.-powered sales funnels that promote Clickbank offers.
You'll start by choosing an offer. In this case, it will likely be a Clickbank offer that is selling well. Most of the high-selling offers are in the health (weight loss) category.
Then you'll create your funnel starting with your landing page (or splash page.)
The landing pages contain a video and a call-to-action button. Beginners do not need to worry too much about creating these funnels.
Templates are provided and the A.I. software helps to create the video and text. Finally, you'll need to send traffic to your funnel and the training teaches how to do so using YouTube ads.
It really sounds simple and easy but often, simple and easy is not always the case. I'm not saying this system doesn't work.
What I will say is to keep in mind that running paid ads can get very expensive and there is no guarantee that you'll make enough sales to make a profit.
Oftentimes, it is about doing a lot of trial and error until you find the winning product and ad campaign.
That could mean spending hundreds of dollars before you figure it out.
Who is Profit Singularity For?
I would consider this training for anyone who understands how affiliate marketing works or for anyone interested in starting a business online.
Since it is dealing with running paid ads, I wouldn't say that it is for complete beginners. However, the training may cover how to get started with paid ads even if you're new to it.
Another reason why this course may not be great for complete beginners to affiliate marketing is that most beginners do not have a large enough budget to work with for running paid ads.
I always recommend learning how to generate free traffic first. The course is not cheap so you have to spend around $2,500 just to learn and get access to the A.I. software.
If you are not willing to risk several thousand dollars, I'd search elsewhere for another online business model.
There are so many ways to do affiliate marketing that won't cost you thousands to get started.
For example, when I got started, I had been laid off from my web designer job. I didn't have any money to fall back on.
I wanted to start an online business and I needed a low-cost and low-risk way to get started. I also needed guidance that wouldn't cost me thousands.
Fortunately, I found this online training program and by following what I learned there and taking action every day, I was able to quit my next job and work for myself.
How Much is Profit Singularity?
Profit Singularity costs $2,497. You can pay for it at that price or make 3 monthly payments of $997. They also have the option to apply for PayPal credit.
If you are new to affiliate marketing and are struggling, I don't recommend putting yourself into debt to buy this course.
As I mentioned above, there are many ways to do affiliate marketing. What they teach in Profit Singularity is only one way.
People make commissions promoting Clickbank products in a variety of ways. Some affiliates use all free traffic. The Chad Bartlett course is an example of this.
Explore your options if you are already struggling financially.
Is There a Refund Policy?
There is a 30-day money-back guarantee. It states on the checkout page that you can request a refund with no hassles.
A lot of these online courses tend to have a condition you must meet before getting a refund such as proving that the training did not work for you.
Or you have to have completed a certain portion of the training first. This training program doesn't seem to have any conditions as far as requesting a refund.
What I Like About This Program
I think what is taught definitely works. If you have the right offers and you connect the right audience to these offers, there is no doubt commissions can be made.
It does seem helpful that they provide the templates and software to make creating the funnels simple and easy for beginners.
What I Don't Like About This Program
I don't think that this training is ideal for those completely new to affiliate marketing. That is because of the paid ad portion of it.
Most beginners don't have much of a budget. They may invest in the course and then realize they don't have a budget for running paid ads.
I also don't like that they do not offer any training on how to generate free traffic using SEO (search engine optimization.)
Is Profit Singularity a Scam?
I wouldn't call this training program a scam. Is it a bit overinflated? Possibly. I think anyone who is interested in making money promoting Clickbank products may like this course.
Although the webinar shows many success stories of students earning thousands of dollars per week on Clickbank, what they do not address are the refund rates.
I've sold Clickbank products in the past and I also received a lot of refunds. Clickbank offers are notorious for being low-quality.
You should expect refunds if you plan on spending your time promoting some of the products on the platform.
Final Thoughts On Profit Singularity
Overall, this is another affiliate marketing training course that teaches a type of strategy that focuses on selling Clickbank products.
A course like this would be attractive to new affiliate marketers. It is not an inexpensive training course.
Therefore, I would be cautious before buying and be sure that you like the business model that is taught and that you're ok with spending money on YouTub ads.
How I Make a Steady Income Online
Thankfully, there is more than one way to do affiliate marketing. Otherwise, it would be impossible for anyone to get started in this industry.
One of the best ways to start (especially for beginners) is to create a niche website. Why a niche website? Here are my favorite reasons:
It's low-cost (get started for under $50)
Easy to learn
Low-maintenance
Free traffic (no need to pay for ads)
Fun (work in any niche that you want)
One of the best ways to promote affiliate products
All that I do is choose an interest that I like. I then create a website that caters to the audience that has the same interest.
Then I create content (write blog posts) that addresses the questions and concerns of my target audience.
Finally, I recommend affiliate products that my target audience will benefit from and buy.
Each time a visitor to your website buys a product that you are an affiliate of, you make a commission!
Here is a screen capture of an affiliate commission that I made from one affiliate program: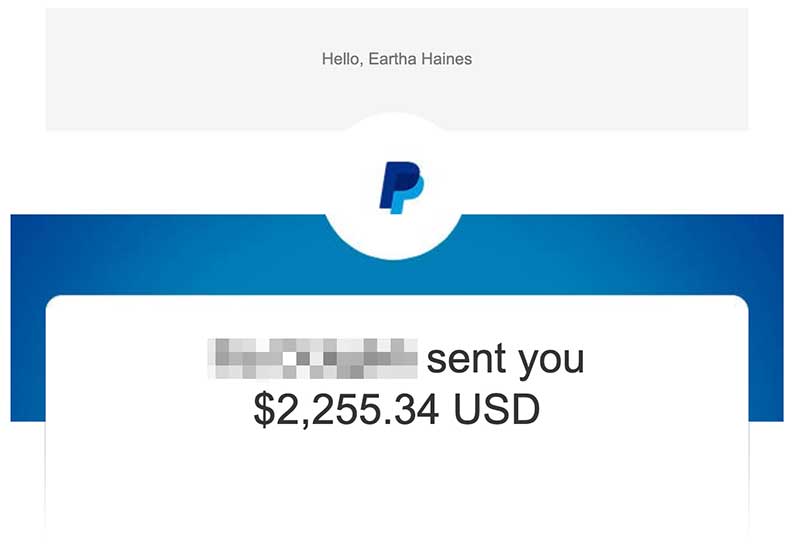 It is my all-time favorite online business model. This method took me from zero to making a steady income online.
Best of all, you can learn the same way I did by following the same exact training that I did. Access the training today:
I wish you all the best in your online business journey!
Eartha 🙂