Do you want to know what the Chad Bartlett course AMB Bootcamp is all about? Do you wonder if it's legit or another scam affiliate product?
I have the same questions. This is why I wanted to do a bit of research to find out if this course is worth the investment.
Hi! I'm Eartha, the author of this blog and a full-time affiliate marketer. I enjoy seeking out new online courses, affiliate products, and any product related to earning income online.
However, many of these online training programs are high-ticket. They often cost $1,000 and up. You don't get to do a free trial. Your only option is to buy it, try it, and hope that there is an easy refund policy if it isn't for you.
In most cases, there is no refund and when there is, you have to "prove" that the course didn't work for you.
That is why I like to research as much as I can to find out if a course or product is going to be worth spending money on.
In this post, I'm going to share what I found about AMB Bootcamp and Chad Bartlett. Stick around until the end as I also share how I make money with affiliate marketing.
Product Name: AMB Bootcamp
Product Creator: Chad Bartlett
Product Price: $997 or two payments of $597
Niche: Affiliate Marketing
How I Make $1,000 Commissions Using a Simple 2-Step Process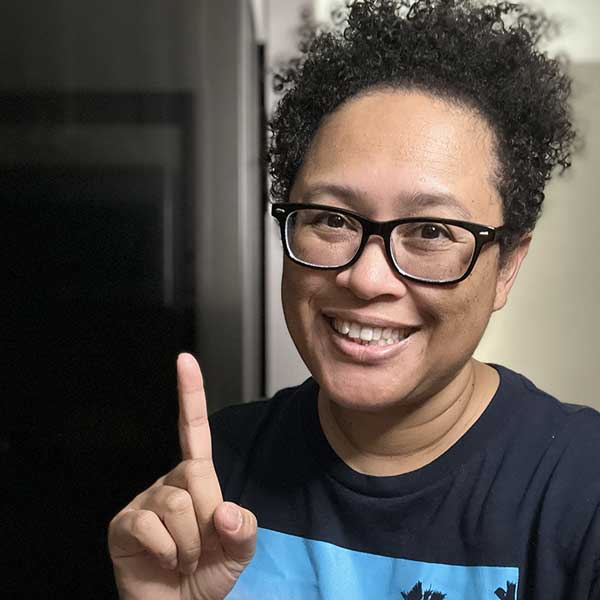 Hi! I'm Eartha, the author of this blog and an affiliate marketer. My goal is to share some of the best affiliate programs, and affiliate courses, as well as how to boost affiliate income.
One of the ways I am able to boost my affiliate income is by promoting high-ticket affiliate products. High-ticket affiliate marketing can help you scale your affiliate income faster.
If you're ready to level up your affiliate income, click the link below:
Click here to learn how I went from zero to making $1K – $2K commissions
What is the Chad Bartlett Course AMB Bootcamp?
The AMB Bootcamp (Affiliate Marketing Boss) is an online training course created by a successful internet marketer, Chad Bartlett.
This training teaches a new way of affiliate marketing that is faster and easier. Chad calls it Affiliate Marketing 3.0.
Like many affiliate marketers, he has tried the standard ways of making money online such as starting a YouTube channel, running ads to affiliate offers, starting a blog, Instagram, and more.
What is great about Chad's course is that everything that he teaches is things that he is currently implementing in his own business.
This is how Affiliate Marketing 3.0 is defined on Chad's website:
It's creating an ecosystem of mini digital assets that give you passive income streams every month!
All of the mini businesses make money from affiliate marketing and they all have mini digital assets that produce an income every month.
It is really a cool and effective way to generate a steady income online. Many beginners struggle to make their first commission.
When you make your first commission, it gives you the motivation to make the next, and the next.
However, you need a system and that's where many beginner affiliates stumble. Rather than throw your affiliate link up anywhere and everywhere, it works better when you have a system that works 24/7.
These mini businesses that Chad teaches about are those types of systems.
Some systems work slower than others like starting a YouTube channel. It can take months before your videos are getting consistent views.
Who is Chad Bartlett?
I couldn't find much on Chad in terms of his background. What he does share is that he used to be a broke college student living in his mom's guest room.
All the while he was doing affiliate marketing and managed to create an income of $5K a month online. He eventually dropped out of college and moved to the beach.
I do know that he is a Builderall super affiliate earning $500,000 in affiliate commissions:

If you're not familiar with Builderall, it is an all-in-one software that enables online marketers to create sales funnels, websites, email marketing campaigns, and so much more.
Besides that, Chad has an active YouTube channel with over 70K subscribers. His TikTok and Facebook accounts also have large followings.
How Does AMB Bootcamp Work?
The training covered in this course is quite impressive. I do believe that if someone were to follow the training and take action on everything they've learned, they can make affiliate commissions.
What Chad teaches is how to make mini businesses that promote affiliate products. These mini businesses are all low-maintenance. They can be operated in a couple of hours per week.
He has three examples of his mini businesses on the sales page. The first one is promoting a Clickbank product in the health & fitness niche using a TikTok account
The second mini business is similar but in the apps/surveys niche. Both accounts he was able to grow from $2,000 to $4,000 per month in a few months.
In the third mini business, Chad promotes a software company using a Facebook group that he created.
What is important to notice is that all three options requires consistent content creation. In this case, a majority of the content is video based.
If you're going to use free traffic sources, you have to produce content on a regular basis.
Check out Chad's own TikTok and YouTube accounts. Notice that there is always a recent video posted.
Yes, this is a passive income business but it won't feel that way until you build up traffic to your affiliate landing pages and start making steady commissions.
Chad does address this on his sales page by stating like any other business, his Affiliate Marketing 3.0 strategy will take hard work.
What is Included in This Course?
AMB Bootcamp is an 8-week course that teaches step-by-step how to build an Affiliate Marketing 3.0 business from scratch.
Week 1: The Affiliate Marketing Ecosystem

Learn how to build a full-time business
Discover how to make your first few sales quickly
Learn how to build a digital empire of mini brands that earn commissions for the long term

Week 2: Automated Affiliate Funnels

Set up an affiliate marketing funnel
Create high-converting opt-in pages and bridge videos
Watch Chad build an affiliate marketing funnel

Week 3: Email Automation

Learn how to craft automated emails that build trust
Get Chad's exact templates and formulas for writing emails

Week 4: TikTok Traffic

Learn the fastest way to get your first few sales
Get Chad's exact framework for coming up with content
Get results even if you don't want to show your face

Week 5: YouTube Traffic

Learn Chad's exact process for getting high-quality leads
Full tutorials for learning how to create a successful YouTube channel

Week 6: Facebook Groups

Learn the exact framework for running a successful FB group

Week 7: Profile Funnels

Learn how to turn your normal FB profile into a "Profile Funnel"
Great for making sales without making videos

Week 8: Paid Strategies

Get Chad's exact paid strategies like advertising, using VAs, buying mini brands, and more
There are also eight bonuses including:
One year of mentorship with Chad
60% commissions for life on AMB
Unlimited access to Lead Boss Pro
Weekly assignments personally reviewed
The Theme Page Hustlers Course
The Advanced Methods
The Affiliate Boss Blueprints
Private Community
How Much is AMB Bootcamp?
The AMB Bootcamp course is priced at a one-time fee of $997 or two payments of $597.
Does AMB Bootcamp Have a Refund Policy?
Yes, there is a 30-day money-back guarantee. However, there is a condition in place in order to request a refund.
In your first 30-days of joining, you must watch more than 50% of the videos and send in all of the assignments for each week to a support email.
According to the refund policy, this adds an extra layer of accountability and if you somehow still don't get the results you were expecting, you will be refunded in full.
Is the Chad Bartlett Course a Scam or Legit?
The AMB Bootcamp course is by no means a scam. It is a legitimate course that appears to offer a ton of value.
I've researched other courses in the past that have some common red flags that alert me to them being a scammy product.
There is nothing about AMB Bootcamp that gives me any negative vibes. In fact, it is one of the better courses I've researched in the affiliate marketing niche.
Although this course is high-ticket, it is not nearly as much as some that I've come across that cost $1,500 or more.
Who Is This Course For?
I would say this course is ideal for beginner affiliate marketers and those that are experienced but struggle to make steady commissions.
As I mentioned earlier, one of the biggest struggles for many affiliates is making that first commission.
I think a course like this one can help beginners make their first affiliate commission which can give them the confidence to make even more.
Plus, they get to learn long-term strategies that can help them grow their income as much as they want as long as they put in the required effort.
What I Like About This Course
I like the overall concept of creating mini businesses that each promote an affiliate product. I also like that these mini businesses are low-maintenance.
That does not mean that there is no work involved. Even Chad says it will take hard work to reach success.
When you have these systems in place, it shouldn't take more than a few hours per week to maintain.
Another thing that I like is that this training is designed to help new affiliates make commissions fairly quickly.
Nothing builds confidence like that first sale. When you know that this business model works, you want to keep going.
What I Don't Like About This Course
There isn't much that I can say about not liking what this course has to offer. One thing that isn't covered is SEO which means there is no focus on creating a blog.
Although a lot of people don't like blogging, it is still a great long-term business model. You still have to creat content with the strategies taught in AMB Bootcamp.
Creating content for a blog is no different and by doing so, you build an online asset that can generate income for years to come.
Also, in this course, you're learning how to use free traffic resources like TikTok, YouTube, and Facebook.
Any of these platforms can close your account for any reason. If that were to happen, you'd lose your free traffic sources.
A blog is a free traffic source that you do not have to worry about being shut down.
Besides that, I think AMB Bootcamp is on point and worth looking into.
Final Thoughts On AMB Bootcamp
This is one of the better affiliate marketing training programs I've come across in awhile. It is offering a different strategy than the typical ones taught today.
I'm all for long-term online businesses and that is what this course has to offer. It is a bit pricey so if you want to do more research yourself, that is a good idea.
If you have more questions about the course, I would even reach out to customer support to get answers.
How I Make Money with Affiliate Marketing
The one thing that I like about affiliate marketing is that there are so many ways that you can make affiliate commissions.
Although this course doesn't cover niche websites, I think it's important to understand how effective they are for making money online.
If it wasn't for a niche website, I wouldn't be able to make a steady income online. I think it's good to have multiple streams of income and niche websites will always be a part of my online business.
How it works is simple:
Choose an interest (your niche)
Create a website (self-hosted WordPress website)
Attract free visitors with your blog posts
Earn affiliate commissions
Here's a screen capture of an affiliate commission I made from one affiliate program: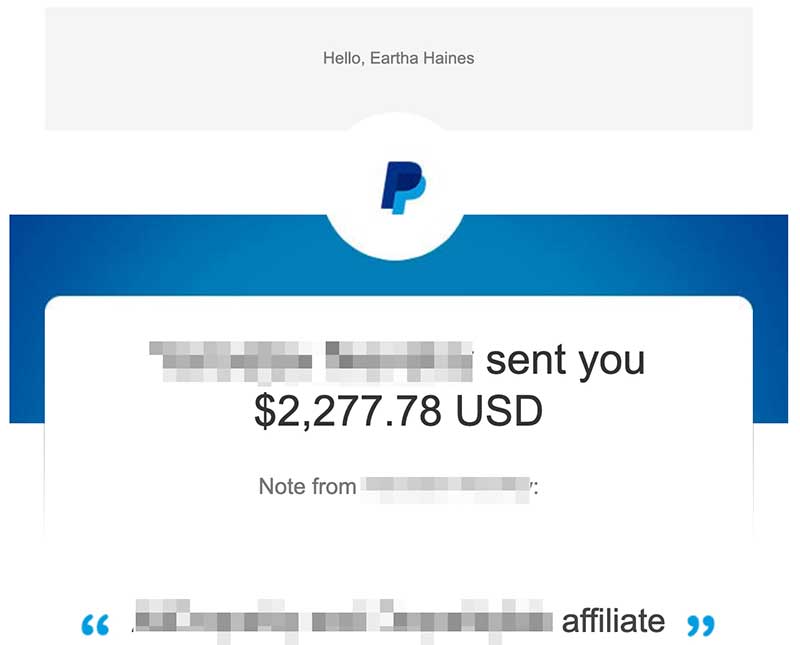 Creating a blog post shouldn't take more than 2 – 4 hours per week. That is still a low-maintenance business.
I always recommend creating a niche website in addition to any other strategy used for earning income online.
You can launch your online business today by following the same exact training program that I followed. Start by clicking the button below:
I hope that this overview of AMB Bootcamp has been helpful.
Keep on taking action!
Eartha 🙂