Ebooks are evergreen products. You create them once and they can sell over and over again with very little effort on your part. That makes them excellent for passive income. You can sell an ebook with SamCart easily which is exactly what I've done.
I'll explain how I came up with my ebook idea, how I created it, and why I chose SamCart to sell it. Don't underestimate ebooks. Information products are always going to sell well depending on the niche.
For example, there are popular home chefs that have a large following on Instagram. Many of them have their own cookbooks which are just PDF files. When they promote their ebook to their audience, they can earn thousands of dollars.
This is possible in almost any niche you can think of. People will pay for information and that isn't going to change.
Start selling your own digital products, memberships, or online courses on SamCart today. Click here for a 14-Day Free Trial.
What is SamCart?
SamCart as a company does a lot of paid advertising on platforms like YouTube and Instagram. However, I've noticed that many people still don't understand what SamCart is and who it's for.
NOTE: I explain in more detail about this platform in my own SamCart review.
If you have a product to sell, SamCart is likely a good eCommerce solution for you. SamCart is an excellent platform for selling digital products, memberships, online courses, services, and physical goods.
Some examples of who could sell on SamCart can include:
Internet marketers
Course creators
Coaches & consultants
Handmade craft sellers
Info product creators
Book authors
Side hustlers
Entrepreneurs
What makes SamCart stand out amongst other eCommerce platforms is its one-page sales page format.
Rather than sell multiple products at once as in a typical online store, SamCart focuses on one product at a time.
You get to highlight the features and benefits of a product on its own sales page and the checkout is located at the bottom of the page or on the side.
Therefore, your customer does not need to add your product to a shopping cart and then click another button to begin the checkout process.
Your customers can buy the product immediately on the same page and it does work effortlessly as I've sold several of my ebooks using SamCart.
Coming Up with an Ebook Idea
I've always liked the idea of information products. They are so easy and low-cost to create but can earn you a significant amount of income over time.
What is challenging is figuring out what type of ebook to create. You likely have some type of knowledge or expertise in some topic.
Maybe you have accomplished something that others are struggling to accomplish.
For example, my ebook is about earning recurring income online with a website and promoting affiliate products. That is something that many people are seeking help with.
Another example could be losing weight and getting into shape. If you write an ebook about your strategies for doing that, you could promote it to the health & fitness niche audience.
Or maybe you are a productivity master and can teach people how to make the most of their time and have high productivity throughout their day.
You may have to brainstorm a bit and write down the things that you have knowledge of.
If you cannot come up with anything, that's okay too. You can choose a random niche and research what a common issue is within the niche.
Seek out a solution for the niche and create an ebook about it. I once read about an internet marketer that created an ebook that helped people improve their credit score.
It sold like crazy and the product owner made a lot of money. There are unlimited niches that you can explore.
How to Write Your Ebook
You can use your favorite word processor for writing your ebook. The easiest and most convenient one is Google Docs.
I write all of my ebooks using Google Docs. However, if you prefer to use Microsoft Word or Pages on the Mac, those will work fine as well.
As long as you can save your document as a PDF file, that is all you really need. Writing your ebook is as simple as writing an email.
You don't need to be a professional writer. The first thing I do is create an outline for my ebook. I write out the main topics I'm going to cover.
Then I'll write subheadings under each main topic. Once that is done, I'll begin writing several paragraphs under each topic and subheading.
Your Ebook Length
The nice thing about information products is that they don't have to be lengthy. My ebooks are usually between 25 and 35 pages.
This works out because I don't write fluff in order to make my ebook longer. I focus on important details and what I feel the reader needs to know.
These types of information products should get right to the point. The reader wants help and they want it now.
The short length of information products makes it easy to create them more often. Once you complete the process, you'll realize how easy it is to repeat.
You can create an information product business that generates passive income from the comfort of your home.
Create a Book Cover in Canva
Years ago, it was difficult to create a simple book cover for an ebook. I remember the only options would be outsourcing the task to a graphic designer or buying expensive software that could create 3D covers.
Canva eliminates all of that hassle. You don't even need to be a designer to create a simple ebook cover.
Below is my own ebook cover that I created inside of Canva: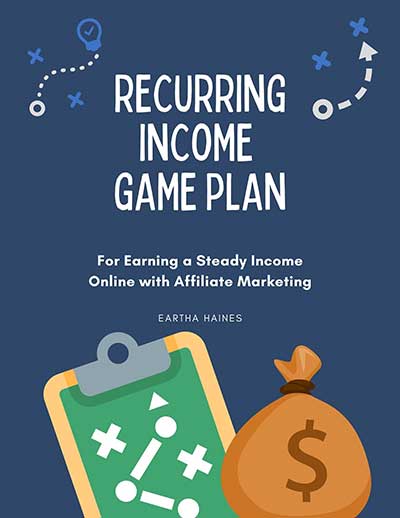 I'm a Canva Pro user and all that I did was type in "book cover" into Canva. I was presented with different book cover templates to choose from.
I picked one I liked and used it as inspiration. You can do the same thing. Canva is user-friendly and makes it easy for anyone to create awesome graphic designs.
After you've created your book cover, you can save it as a PNG or JPG file. You can then use that image on your sales page or wherever you plan on marketing your ebook.
How to Sell an Ebook with SamCart
As I mentioned earlier, SamCart is an excellent platform for selling digital products. They continue to improve the platform over time and it is even easier to use now than a couple of years ago.
I appreciate any software that is easy to use without having to stop to look up video tutorials or documentation.
That's how SamCart works. You can be a first-time user and upload your first product without any help.
If you do run into any issues, they do have a knowledge base and you can reach out to customer support with questions.
Overall, I think the average user will have no issues uploading a product and creating a sales page.
Uploading Your Product & Creating a Sales Page
This process is easy but it would take a lot of writing and images to explain in this post. I've created a video tutorial that will take you through the process.
Making Your First Sales
Your ebook won't help anyone if no one knows it exists. This is where marketing is going to come into play. There are a variety of ways to promote your ebook.
Paid advertising is an option, but if you are a beginner, I don't recommend that option right out of the gate.
You can use free traffic methods that can generate your target audience on a daily basis. Sales won't come in every single day but you could make enough sales in the span of a month that puts some extra income in your bank account.
The two free traffic methods below can lead to your first sale and many more. You'll be over the moon when you've made your first sale.
I remember my first ebook sale. It was really exciting! The cool part is that if you can make one sale, you can make as many as you want.
Promoting Your Ebook with a Blog
A blog is a great free traffic generator. If you already have one and it's related to the niche that your ebook is in, then it is a matter of linking to your ebook's sales page.
I link to my ebook in my blog's main navigation as well as in the footer. You can also link to your ebook from any of the blog posts you write or have written in the past.
If you don't have a blog already, now is a good time to start one. Web traffic won't happen overnight.
However, if you stay consistent with writing a new blog post once or twice a week, in the span of 6-months to a year, you'll have a steady flow of free targeted traffic.
Consider that it is free traffic that you didn't have to pay for. That is what makes blogs so amazing and I feel that people underestimate the power of blogging.
Using YouTube to Make More Sales
Have you heard that YouTube is the second largest search engine? It is one of the best free traffic sources you can use to promote your ebook or any product that you want to promote.
Like blogging, it will require creating helpful videos (content) targeted to your niche audience.
You can mention your ebook in the video or simply link to it in your video description. I've made most of my ebook sales from YouTube.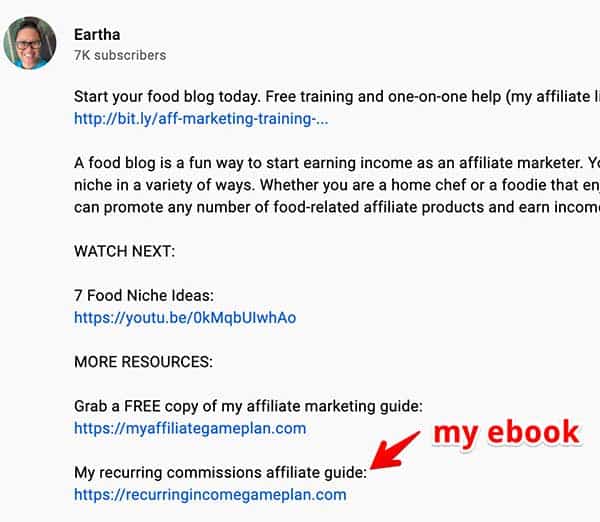 If your YouTube channel doesn't get a whole lot of traffic right now, you can change that by uploading more videos on a regular basis.
One video per week is great and over time, you'll be amazed at the number of views and subscribers you have obtained (and hopefully ebook sales too!)
Closing Thoughts
Using SamCart for selling digital products has been a breeze. I can create a new sales page in 10 to 15 minutes using their templates and the drag-and-drop page builder.
It is one of the best eCommerce platforms I have used that is user-friendly and simple. They also offer a lot of features with their intro plan (Launch) to include selling online courses.
The pricing is reasonable (starting at $49/month or $39/month if paid yearly) and well worth it for what you get.
I recommend testing out SamCart yourself. Take advantage of the 14-Day Free Trial. Upload your first product and create your sales page.