Does the idea of starting a local marketing agency sound like a good business model? If so, then you will probably like what Remote Millionaires has to offer in terms of training.
Remote Millionaires help people start and grow their own remote businesses. These businesses are in the form of local marketing agencies. A local marketing agency helps other local businesses to have a presence online in order to generate new leads and close new customers.
The difference between Remote Millionaires and other marketing agency courses is that they offer mentorship versus being a training course or coaching program.
I've come across so many different marketing agency training programs over the years. It seems to be a business model that has stuck around like dropshipping.
My name is Eartha and I'm a full-time affiliate marketer. I enjoy learning about new training programs related to making money online.
In this short review, I will share my research about Remote Millionaires and its creators. I'll also discuss how I earn a steady income online without dealing with clients, employees, or customer service.
Product Name: Remote Millionaires
Founders: Nick Ponte & Tom Gaddis
Price: High-ticket
Niche: Marketing Agencies
Read Next: How I quit a full-time job by using a simple website to leverage other people's products. Click here to learn how.
What is Remote Millionaires? How it Works
This mentorship program teaches anyone how to launch their own local marketing agency but in such a way that they are not tied down to their business.
You'll learn how to attract premium paying clients and train staff so that you can be involved in your business as little or as much as you want.
The goal is to leave you with free time to enjoy your life the way you want. Spend more time with family, vacationing, and having adventures.
Unlike other marketing agency courses, Remote Millionaires is an immersive mentorship and a community of expert-level support.
You will learn how to replicate Nick and Tom's multi-million dollar business. You'll also receive:
Powerful software
Company SOP (Standard Operating Procedures)
In order to access the mentorship, you will need to book a call. As far as pricing goes, it is not readily available. Expect it to be high priced.
Booking a call is going to likely set you up with a closer. Essentially, someone who will explain more about the service as well as the price in order to sign you up.
Who are the Founders of Remote Millionaires?
The founders of Remote Millionaires are Nick Ponte and Tom Gaddis. Together they built their own remote empire on the island of Hawaii.
Nick has a background in web development, design, and marketing. He has also co-founded several large-scale websites.
Using his experience, he launched his own marketing agency in Maui, Hawaii offering services such as search engine optimization, website development, PPC ads, and eCommerce solutions.
Is Remote Millionaires Legit or a Scam?
After conducting research on the product as well as the creator, Nick Ponte, I do not feel that Remote Millionaires is a scam.
I consider it a legitimate service that will teach others how to replicate Nick and Tom's own success with running a local marketing agency.
It is not without hard work. Nothing that is worth having ever comes easy. If you have a desire to start this type of business, I think Remote Millionaires offers a great starting point.
How Nick Ponte's Online Business Model Works
The great thing about Nick is that he's pretty transparent about his own online business. If you watch any of his YouTube videos, he shares a lot of information about his own successes and failures.
I definitely get the sense that he is genuine and wants to help others launch successful agencies of their own. It is only smart on his end to earn income from his knowledge.
Nick's business is located in Maui, Hawaii. I did a search for "maui web design" and Nick's business was ranked number one on Google.
His services include:
SEO
Website design
Social media marketing
PPC advertising
Reputation marketing
Marketing consultant
Graphic design
There is no doubt that he is the real deal and his training likely reflects that.
Pros & Cons of Running a Marketing Agency
I have a background in web development and design as well. I've worked for several marketing agencies over the years.
My last web job involved creating websites for attorneys. It was that job in which I was laid off when the company was bought out by a larger corporation.
What I have learned over the years is that running a marketing agency is hard work. The CEO's of the agencies I worked for were always at work and some were even micro-managers (the worse.)
So while a mentorship/training program like Remote Millionaires markets this type of business as providing a lot of time freedom and a high income, it's not without a lot of work.
Pros of Running a Marketing Agency
You are your own boss
Hire employees or outsource the work
Oversee your business rather than work in it
High income
Cons of Running a Marketing Agency
You must land your own clients (sales calls)
If clients are dissatisfied they want to speak to you
Must produce results regardless if you're doing the work or not
You're responsible for firing clients
Chasing down your money when clients don't pay
In my opinion, I wouldn't get into this business model unless you actually have an interest in online marketing.
Simply passing off all of the work to other professionals is one thing but you still need to be knowledgeable when speaking to potential clients.
You'll need to be well versed in how SEO works, PPC ads, and understanding what is involved in improving upon an already existing website or launching a new one.
Your potential clients will ask specifics and if you sound like you don't know what you're talking about, why would they trust you with their marketing budget?
Want to get an idea of how a sales call could go? Check out a live sales call Nick Ponte conducts in his YouTube video below:
Notice the types of questions the client is asking. Would you be comfortable answering these types of questions?
Personally, this business model does not appeal to me because I've worked in the industry and wanted so badly to get away from it.
Even as a web designer, project managers would pass the client on to me and I'd have to speak with them and answer questions about what they wanted to be done on their websites.
It wasn't a fun experience for me and they often want more than what is possible no matter how you explain things to them.
Sure, I'm a bit pessimistic about running a marketing agency. However, it is important to understand that even if you have staff doing the work, you will be involved more than you think.
How I Run My Online Business in Affiliate Marketing
I purposely chose to pursue affiliate marketing after I was laid off as a web developer. Working in different marketing agencies for so many years only made me want to escape from it.
Affiliate marketing was the answer for me for so many reasons including:
Never deal with clients
No customer service
You don't need your own product
There is no inventory to buy, pack, or ship
Work in any niche
Free to work anywhere with WiFi
Unlimited earning potential
There are tons of products that have affiliate programs and affiliate programs are free to join. Here is how I run my business:
I choose a niche that I want to target.
Launch a website (WordPress.)
Attract visitors with my content.
Earn revenue from the products I recommend.
I consider this a semi-passive online business. My biggest investment is my time in creating content which is writing blog posts.
If you have the budget to outsource the writing, it really is a hands-off online business model. However, for beginners, I do recommend writing your own content when starting out.
Overall, it is low-cost, low-risk, and a long-term business that can generate income for years.
Here is a screen capture of an affiliate commission payment I received from one client: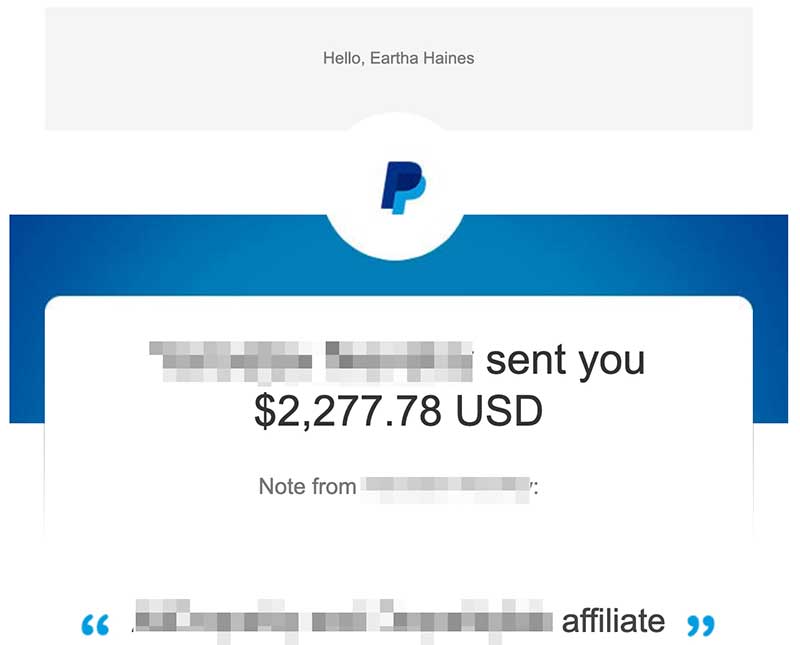 That was accomplished with a niche website. I didn't have to close a client. I didn't have to buy any products. And absolutely no customer service was involved.
Best of all, commissions are made while you're busy doing other things like spending time with your family, shopping, or even sleeping.
When I pursued affiliate marketing after my job layoff, I didn't want to spend my wheels trying to learn it on my own.
Instead, I searched for a legitimate online training program and found this one.
Following that training and taking action on what I learned helped me to transition out of a retail job I took to working on my website full-time.
I hope this overview of Remote Millionaires was helpful. There are many different types of online businesses that you can start.
Consider affiliate marketing. It has made all of the difference for me! Click the button below to follow the same exact training I did:
See you on the inside!
Eartha 🙂