Do you want to acquire new clients online without having to use free lead magnets and webinars? It seems to be the standard when it comes to marketing online.
According to Mike Shreeve, the author of The One Book Millions Method, you can say goodbye to complex marketing methods and utilize a single book to generate new customers and high-paying clients.
Hi! My name is Eartha and I'm a full-time internet marketer. Like you, I was curious about The One Book Millions Method so I ordered a copy.
So far, it is an excellent read and I'm learning a lot! In this review, I'll share more about the author, the book, and who the method works for best.
Also, if you want to learn more about a low-maintenance business model that only requires 2 – 4 hours per week to run without having your own product, read until the end.
I'll share my own online business model that can add an additional stream of income for you.
Product Name: The One Book Millions Method (Peaceful Profits)
Product Creator: Mike Shreeve
Price: $4.99 plus some upsells
Recommended: Yes
How I Make $1,000 Commissions Using a Simple 2-Step Process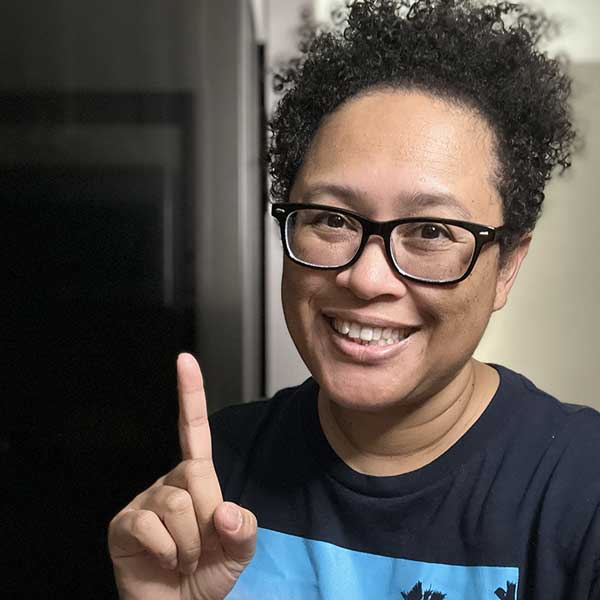 Hey there! I'm Eartha, the author of this website and an affiliate marketer. I seek out various ways to earn income online.
One of my favorite ways is by doing high-ticket affiliate marketing. High-ticket affiliate marketing is one of the fastest ways to scale up your online income.
Click below to learn how I am able to make $1,000 – $2,000 commissions by recommending another company's products.
What is The One Book Millions Method?
This is a method that is based on years of experience and testing on the part of the creator, Mike Shreeve.
It is a method that enables business owners to earn more without burning out and without using traditional online marketing such as webinars and giving away free offers.
When using such strategies, you tend to end up building a list of freebie seekers versus serious potential customers.
Using The One Book Millions Method, you can use a simple book to build a list of buyers, turn people that don't know you into premium clients and scale your business without complex marketing efforts.
Deciding to buy the book was a no-brainer for me. It includes so much value for only $4.99. Here is what's included:
Digital copy of The One Book Millions Method
6.5 hour audio version of the book
.mobi file version of the book
7 x 7-Figure Funnel Breakdowns
3 Premium Clients Per Day Training
3 Offers to 7 Figures Workshop
14-Day Book Writing Challenge
Sales Mastery: 40% Close Rate System
In essence, this method teaches how to build a customer acquisition funnel using a book as the main marketing asset.
It is also made clear that buying the book is also a way to introduce you to the Peaceful Profits business and what they offer in terms of helping people to scale their businesses.
And why not? The value you receive from the book and bonuses is a great introduction to what is possible if you need help with scaling your business.
Who is Mike Shreeve?
To gain an even better understanding of how The One Book Millions Method came about, you'll want to learn more about its creator, Mike Shreeve.
Mike has an amazing and inspiring story. I came across an interview on Medium.com and learned more about his background.
He was homeless when he began his entrepreneurial journey in 2007. He went to the public library in Portland and asked if there were any books he could read on starting a little business.
Mike ended up reading about ghostwriting, copywriting, and general business. He would use the library computers to begin freelance writing. His freelance work got him off the streets.
In 2015 he ended up working with Success Magazine and eventually working with people like Tony Robbins, Peter Diamandis, TD Jakes, and John Maxwell.
In 2017 Mike transitioned away from free webinars, giving away lead magnets, and using social media to get clients.
He began using books to acquire new customers and turn them into clients. It has enabled him to rapidly scale one of his coaching businesses.
Who is The One Book Millions Method For?
This method is ideal for coaches, consultants, freelancers, and course creators. I would even add in affiliate marketers.
I'm definitely learning some golden nuggets that I can apply to my own online business.
Mike and his team have used this method in a variety of niches including:
Freelance copywriting
eCommerce
Consulting
Make money online
Agency services
Financial
Parenting
Homeschooling
Photography
Personal development
Coaching of all kinds
I come across scam products all of the time so discovering The One Book Millions Method and Mike Shreeve was a breath of fresh air.
If you are running a small business or plan to, pick up a copy. It is well worth it and you can't beat the price.
Alternative Passive Income Business Model
Regardless of the type of business that you're in or if you are looking for good online business models, what I'm going to share will likely be ideal for you.
In fact, I recommend to anyone I meet to start this business. It's low-cost, low-risk, and low-maintenance. It is called affiliate marketing. Here is a brief definition of what affiliate marketing is:
Affiliate marketing is the promotion of another company's products and/or services in exchange for a commission when a sale is made.
Some of my favorite benefits of affiliate marketing include:
You don't need a product of your own
Never any inventory to buy, pack, or ship
No customer service to deal with
Work from anywhere with a WiFi connection
Unlimited earning potential
Millions of products with affiliate programs
Create lifestyle freedom & time freedom
Work solo or outsource work
You can choose any niche that you want to be in. Chances are high that there will be affiliate products you can promote.
Some of the biggest companies have affiliate programs including Amazon, Walmart, Target, and more.
Individual products may also have affiliate programs. My favorite products to promote include software and online courses.
How I Run My Online Business
There are many ways to do affiliate marketing but the way I do it is by creating a simple niche website.
Essentially, it is blogging. I write content that attracts an audience who is highly likely to buy the products that I recommend.
Whenever I receive visitors to my blogs and they click on my affiliate links to buy a product, I earn a commission.
Here is a screen capture of one affiliate commission I received from one company: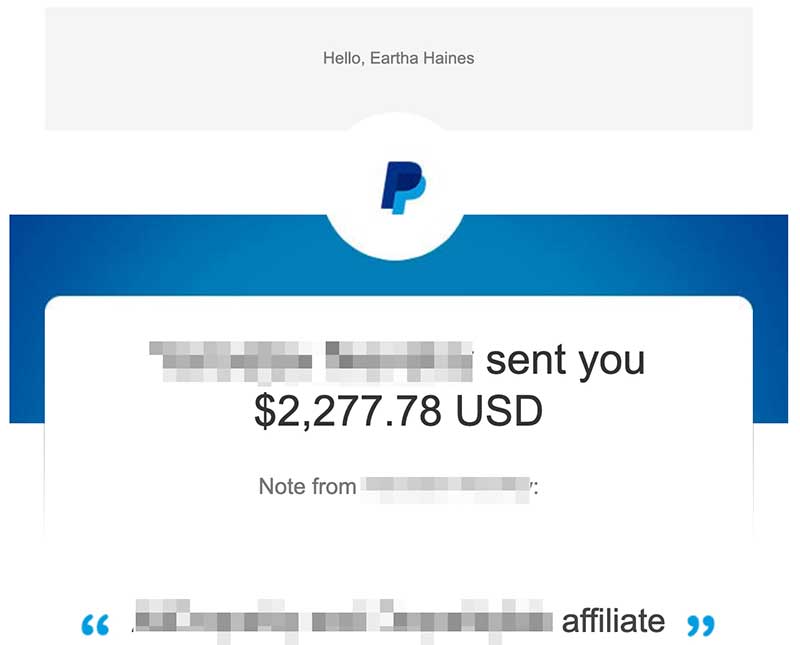 It is a great way to generate passive income for years to come. Whenever I create a niche website, I look at it as an investment.
Each page on my niche websites acts as a salesperson working for me 24 hours a day, 7 days a week.
When your websites are receiving traffic and earning income, you can literally make money while you sleep.
I got started in affiliate marketing many years ago after a job layoff. It was always my dream to do it full-time. Losing my job was the starting point I needed.
In the meantime, I got a full-time job doing retail work. At the same time, I created a website but I didn't know how to make money with it.
Instead of wasting time trying to learn everything on my own, I searched for an online training program and found this one.
I followed the training and applied everything that I learned to my own website.
By staying consistent with content creation, I was able to quit my retail job and work on my website full-time.
I absolutely love this business model! You can follow the same exact training I did that helped me to create a successful niche website. Click the button below:
I hope that this overview of Mike Shreeve and The One Book Millions Method has been helpful. It is an excellent book thus far and I can't wait to dig into the bonus material as well.
Keep taking action!
Eartha 🙂
Learn how I went from making zero to earning a steady income online with affiliate marketing. Click here to learn how.