As an affiliate marketer, you know that recurring commission affiliate programs are some of the best affiliate programs to join. I think it is important to be a part of several recurring payment affiliate programs.
It helps to generate a consistent steady online income when you have recurring commissions coming in each month. Below, I cover nine affiliate programs that I feel are worth applying to.
These companies offer services that customers tend to continue using for years. That being said, let's dive in and explore what these affiliate programs offer.
9 Recurring Commission Affiliate Programs
Aweber
SamCart
Wealthy Affiliate
ClickFunnels
SEMrush
Thrive Themes
Teachable
TubeBuddy
Getsitecontrol
Click here to learn how I make a consistent income online with affiliate marketing.
1. AWeber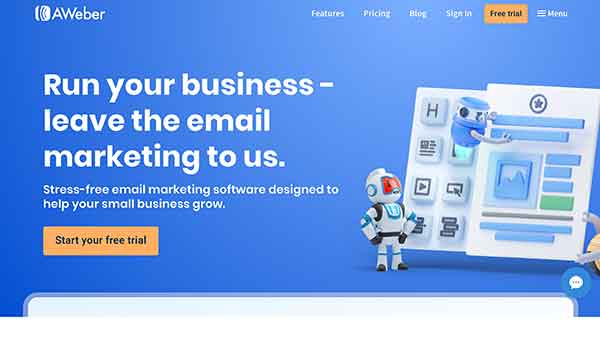 AWeber is an email marketing automation software. The company was founded in 1998 and it is one of the industry standards when it comes to internet marketing.
They offer features such as an autoresponder, landing pages, auto-newsletters, and more. New users can get started with a free trial and then pay $19 per month.
The affiliate program offers a 30% recurring commission so long as your referrals remain a customer of AWeber.
Why AWeber is Worth Promoting
AWeber continues to lead the way in email marketing. I have been a customer for years and enjoy using the service. They have excellent customer support which is another feature that you can upsell.
As an affiliate, you have the opportunity to earn recurring income which can be lucrative as your referral count grows. I feel the best conversions come from demonstrating how to use AWeber.
While you do not have to be a customer to promote AWeber, you may want to sign up for their free trial to document its features and create a user review.
2. SamCart
SamCart is a shopping cart software that creates one-page sales pages with the checkout form on the same page. It eliminates the need for complex sales funnels or multi-product online stores.
Many people prefer to have a simple solution for selling their products or services. SamCart is drag-and-drop software and has several features such as one-click upsells, subscription plans, payment plans and more.
The affiliate program offers up to 40% recurring commissions with a 45-day holding period. Payments are paid via PayPal.
I am actually a part of this affiliate program and have made a few commissions already. The cookie length was not disclosed on the affiliate overview page.
Why SamCart is Worth Promoting
SamCart provides a simple solution for selling products and services. Users can sell both physical and digital products as well as services.
It is definitely a service that people want and like as I've made commissions as an affiliate by creating one blog post and one video.
With more effort, I'm sure that I could increase my number of referrals and grow my recurring income.
3. Wealthy Affiliate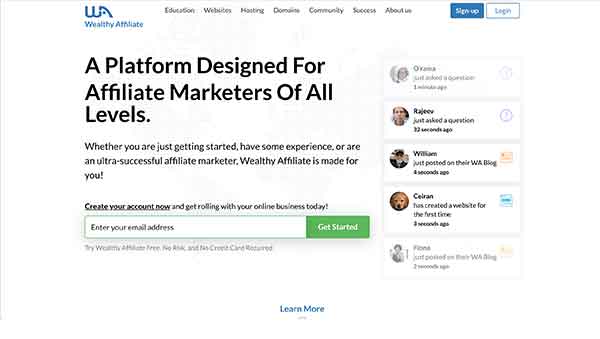 I could say a lot about Wealthy Affiliate but I'll be brief here. You can read my journey here for a full story. To sum it up, Wealthy Affiliate is an online affiliate marketing training program.
Thanks to the training there, I was able to grow my own online business to generate a consistent monthly income. They teach members how to create an online business as an affiliate marketer by building niche websites.
Their affiliate program is one of the best I've ever experienced. They pay on time every time via PayPal on the 1st of each month.
You do not have to be a Premium member to promote Wealthy Affiliate but your commissions are more if you are. Besides that, I have always found it challenging to promote products that I've never used.
My best conversions have always come from having experience with the product or service I am promoting.
Why Wealthy Affiliate is Worth Promoting
People everywhere are always seeking an alternative method of earning income and starting an online business is one of the most popular methods.
Wealthy Affiliate not only provides the training but they also offer domain registration, web hosting, and WordPress on their platform.
The large online community is also super supportive so that every member has the support they need as they grow their business.
4. ClickFunnels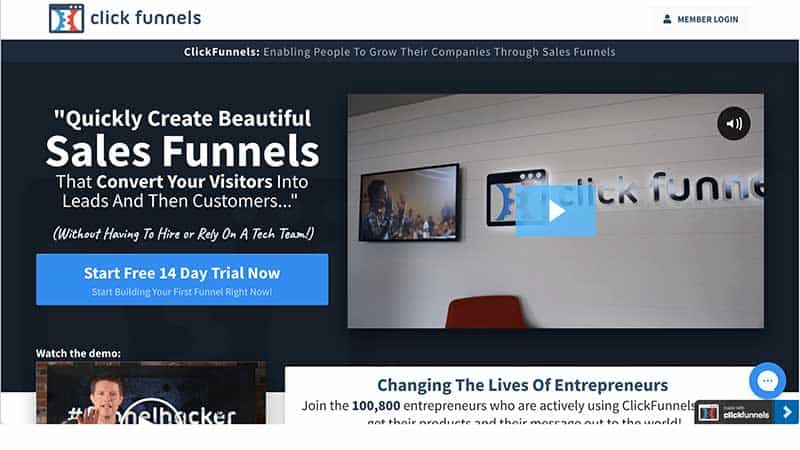 ClickFunnels is software that enables anyone to create simple to complex sales funnels. It is one of the most widely used sales funnel software online.
I've used ClickFunnels before and while I think it is awesome software, I didn't necessarily need all of its functionality at the time. I am one of those that would prefer the simplicity of SamCart versus a multi-step sales funnel.
However, there are many online entrepreneurs that are earning millions through the use of setting up a sales funnel using ClickFunnels. The software makes it extremely easy to create funnels through a drag-and-drop process.
Why ClickFunnels is Worth Promoting
There are many people that have no technical know-how but want to get their online business up and running. This is where software like ClickFunnels comes into play.
When you can point out what ClickFunnels can do, conversions can be quite high when marketing to the right audience.
Again, the best conversions would come from using the software yourself. Many internet marketers are making great commissions by demonstrating how they use ClickFunnels in their own business.
5. SEMrush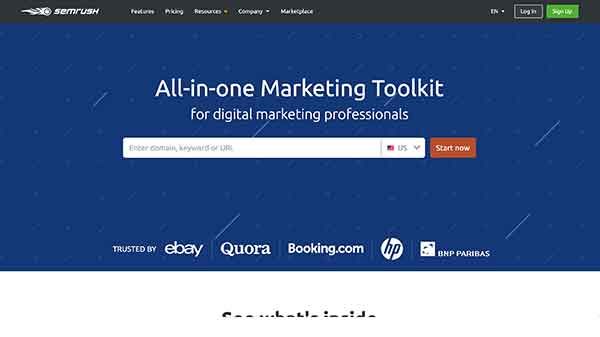 SEMrush is an all-in-one marketing toolkit for digital marketers. Users can get details on their competitor's keywords, backlinks, and paid ad campaigns.
Many internet marketers use and recommend SEMrush quite often. I like the platform myself but I do not have a large need for it at this time.
However, it is a great tool for those that are wanting a deeper look into keyword research and competitor analysis.
The affiliate program offers a 40% recurring commission. Commissions are paid twice per month via PayPal once the payment threshold has been met. They also pre-approve all affiliate sign-ups so no waiting.
Why SEMrush is Worth Promoting
It is a valuable marketing toolkit for novice to advanced digital marketers. When marketers become serious about ranking and/or paid advertising, it is a service that they may find they cannot do without.
Therefore, it is definitely a service that customers will use for quite some time. I don't doubt that some users will use this service for many years.
6. Thrive Themes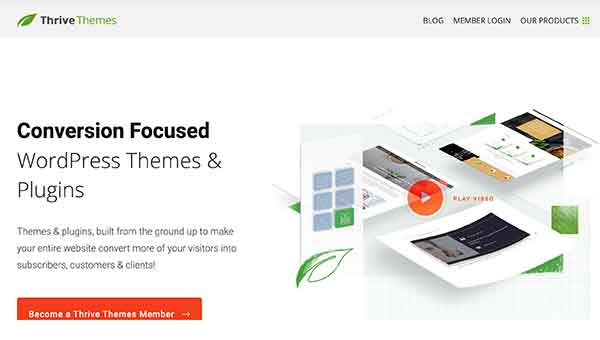 Thrive Themes are WordPress themes and plugins that are built to make any WordPress website convert more visitors into subscribers, customers, and clients.
These themes and plugins make it easy to create awesome landing pages and squeeze pages on a WordPress website. Some users have switched from using software like ClickFunnels to using Thrive Themes.
The affiliate program offers 35% commissions per sale and 25% recurring commissions on yearly renewals.
Why Thrive Themes is Worth Promoting
There are many people that run their online businesses using WordPress. At the same time, they want to create landing pages quickly and easily and Thrive Themes offers that solution plus other awesome marketing features.
Promoting Thrive Themes can earn you great commissions and offer your audience an alternative to other web-based landing page software.
7. Teachable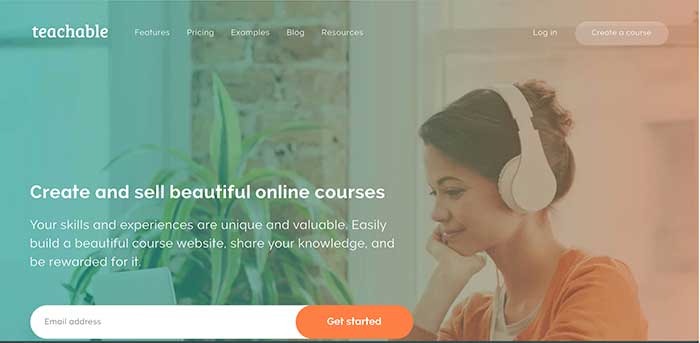 Teachable is a platform that lets you create and sell online courses. Users can create sales pages, create quizzes, completion certificates, as well as enforcing lecture completion, video completion, and more.
The affiliate program offers a 30% recurring commission. Payments are made via PayPal. They also have conversion optimized funnels that you can send your referrals to.
Why Teachable is Worth Promoting
Selling online courses has become a big trend in the last couple of years. If you have something to teach, creating a course and selling it is a great stream of online income.
More and more individuals are deciding to start their own business by creating and selling courses on topics they are experts in. As an affiliate, you can offer Teachable as a solution for online course creators.
8. TubeBuddy
TubeBuddy is a Chrome browser extension that makes managing a YouTube channel easier. It has several features such as bulk processing, video seo, data & research, and more.
Many YouTubers have given credit to using TubeBuddy for the accelerated growth of their own channels. I have used TubeBuddy before and really like all of its tools.
The affiliate program offers an up to 50% recurring commission. Signing up is fast and easy.
Why TubeBuddy is Worth Promoting
There are new YouTube channels created every day. TubeBuddy is beneficial not only for new YouTube channels but established ones as well.
They offer a free plan so if you want to test it out yourself, you can then create a blog and/or video review. Highlight how TubeBuddy can help grow a YouTube channel and start making sales.
9. Getsitecontrol
Getsitecontrol is website widgets that work on any website to generate leads and prevent site abandonment. The widgets are opt-in forms that can be set to pop-up on exit, scrolling, or slide out after a set amount of time.
You can set how you want the forms to look and what action needs to be taken for them to display. I have used Getsitecontrol in the past and it is hands-down one of the easiest to use lead generators I've ever tried.
Using it definitely increased my opt-in rate for my email list. The affiliate program is a 30% recurring commission for a year.
Why Getsitecontrol is Worth Promoting
One of the ways to increase the number of email list subscribers to a website is to grab visitor's attention with sign up forms. Getsitecontrol makes it easy to add these forms to any website without any coding knowledge.
I used their opt-in forms on my own website and set it to display when a user is exiting. It increased my email subscriber rate quite a bit. I think anyone that needs such a solution would be sold on using Getsitecontrol.
My Closing Thoughts On Recurring Commission Affiliate Programs
Overall, I think all of these affiliate programs are good ones to join. If you want to make the most of promoting these products, I recommend doing so by creating a niche website.
Niche websites are excellent for generating consistent affiliate commissions. It wasn't until I created my own niche website that I finally started making commissions on a monthly basis.
If you're just getting started with an affiliate website or have one and are struggling with making sales, I recommend following the same step-by-step training I used.
Following that training made all of the difference in my online business. I use the training platform today to help others one-on-one with starting their own niche websites.