Health and beauty is a billion-dollar industry. As an affiliate marketer, you can definitely cash in on it. You'll learn how in this Market Health affiliate program review. Market Health is an affiliate network with high paying commissions.
Market Health is a health and beauty affiliate network that has over 100 different affiliate offers such as health supplements and natural skincare products. They offer the highest paying affiliate program in the industry.
What is great about the products offered is that they cover a variety of niches to include hair loss, probiotics, ketosis, testosterone, and more.
Market Health Affiliate Program Review for Healthy Commissions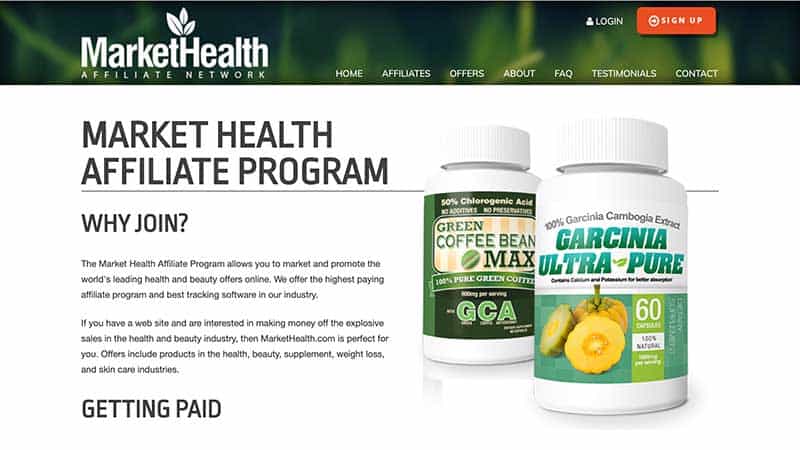 Commission: CPA or 50%
Cookie Length: 30 days
What is Market Health?
The Market Health affiliate network has been an industry leader in the performance-based health and beauty space for over 10 years.
Their affiliate offers consist of over 100 different products. A majority of these products are herbal supplements that address different health and beauty issues.
Some of the issues these products cover include:
hair loss
ketosis
probiotics
testosterone
acne
teeth whitening
cellulite
eye cream
anti-aging
men's health
pets
eczema
stretch marks
nail fungus
blood pressure
cholesterol
sunless tanning
I didn't cover all of the issues their products address, but just from the list above, you have a large number of niches that you can target.
Signing up for the affiliate program is quick and easy. They have immediate access. They require your contact details as well as an SSN/Tax ID.
Market Health Commission Structure
They offer a 50% commission on all affiliate offers as well as a CPA option which can range somewhere between $30 and $70 from what I've reviewed thus far.
CPA stands for cost per action. That means you earn a commission for an action that a visitor takes. The action could be filling out a form, completing a sale, calling a phone number, etc.
Re-orders are also paid a 50% commission. One thing that stood out to me while reading the Market Health FAQ page is that auto-recurring customers have a high number of chargebacks and returns.
All auto recurring customers are paid on the initial sale only due to the high number of charge backs and returns on this type of customer.

https://markethealth.com/faq.php
This makes me think that many of the offers may automatically subscribe customers for re-orders. If that is the case, it explains why the chargebacks and returns are high.
If you can refer 20 or more sales per day, they are willing to negotiate a special commission and payment requirement.
Getting Paid Your Commissions
One nice thing about the Market Health affiliate network is that they pay twice a month on the 1st and 16th with a $20 minimum.
Sales generated between the 1st and 15th are paid on the 1st of the following month. Sales generated between the 16th and 31st are paid on the 16th of the following month.
That means there is a two-week accounting period before you receive your payout. Payments are made via check, bank wire, Skrill, and pre-paid debit card via Payoneer.
Affiliate Perks
Besides offering high payouts, Market Health caters to its affiliates by providing real-time affiliate tracking through Has Offers.
They also provide landing pages, banners, and an in-house design team for custom design needs.
You have access to global offers full of hundreds of international campaigns with localized languages and processing methods.
Are Market Health Affiliate Offers Worth Promoting?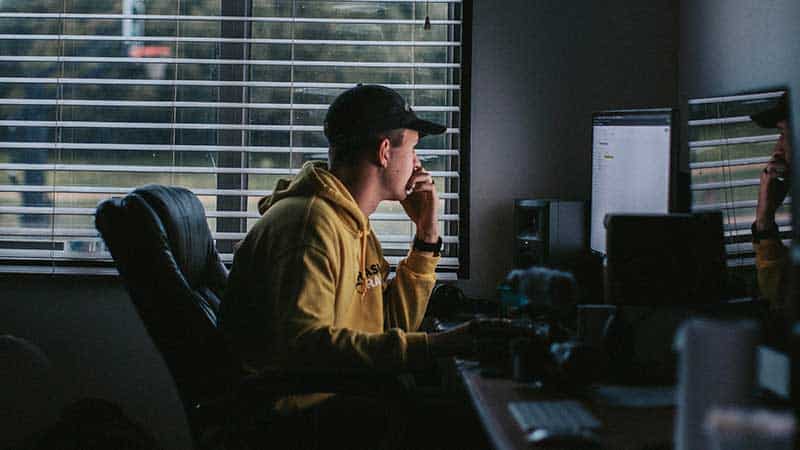 Before you jump in and begin promoting any of their offers, I highly recommend reading through their terms and conditions.
Keep in mind that each product may have limitations on which countries they can be marketed and sold to.
There are a couple of things that make me wary about Market Health affiliate offers.
For one thing, they state that auto-recurring customers have high chargebacks and returns.
To me, that is a big red flag that makes me think that many of the offers automatically subscribe customers to a recurring monthly payment plan.
The second issue for me is the landing pages themselves. Most of them come across as cheesy and leave me skeptical at best.
However, they apparently work in terms of converting leads into customers as they all follow the same design.
I would also warn against marketing any of their products using false claims or questionable tactics.
That is another reason to make it a point to read the terms and conditions before you begin any marketing campaigns.
How to Promote Market Health Affiliate Offers
I believe most of these offers are being promoted using PPC (pay-per-click) ads that lead to a pre-sell landing page which then directs visitors to the offer page.
Some affiliates may also email these offers to their email lists. If you have neither the budget for paid ads or an email list, you can promote these offers with a niche website.
Niche websites are my favorite method for promoting affiliate products. It wasn't until I created my first niche website that I was able to generate a consistent income online.
A niche website works extremely well for promotion as they attract free targeted web visitors. These visitors click on your affiliate links and a percentage of those convert into sales.
Getting started with your own niche website is really easy. All that you need is a domain name, web hosting, and WordPress installed on your account.
If you are like me and need step-by-step training, I recommend following the same training program that I used that helped me to start making consistent commissions every month.
Closing Thoughts On The Market Health Affiliate Program
I like the large number of affiliate offers available to promote in this network. The commission rate is generous as well at 50% plus the optional CPA offers.
The only downside, in my opinion, is the high rate of chargebacks and refunds. That signals to me that some of the offers may auto-subscribe customers into a recurring payment plan.
If that is a concern for you, you may want to think twice before recommending these products to your audience.
Although many of these offers are promoted using paid ads, I think you can make great commissions using niche websites as well.
Niche websites are what I use to earn a consistent income online through affiliate marketing.
It is one of the best ways to earn affiliate commissions. I make commissions while I am sleeping, out grocery shopping, or relaxing with my loved ones.
Beginners may find it a bit challenging to get started. I did as well so I followed a step-by-step training program.
That training program made all of the difference for me and I use it today to help others one-on-one with creating and growing their own niche websites.