The Polar brand of products is used by athletes and fitness enthusiasts alike. They have high-quality products such as multisport watches, fitness trackers, and heart rate monitors. Affiliate marketers can promote these products and make money with the Polar affiliate program.
The Polar affiliate program is managed by ShareASale and offers a 10% commission with a 30-day cookie length. They have an average order value of over $100. You can also utilize their product data feed and feature their products right on your website.
In this post, I will share the method I would use in order to promote Polar products and make steady affiliate commissions.
Tired of not making sales? Learn how I went from zero to consistent affiliate commissions every month. Click here to learn how I did it.
How the Polar Affiliate Program Works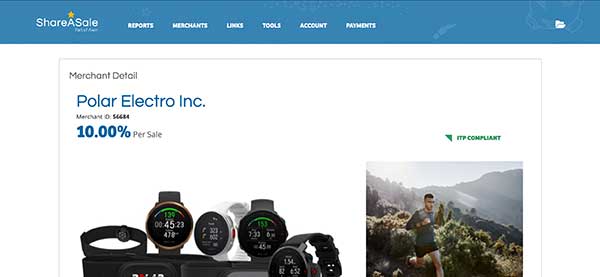 Joining the Polar affiliate program is a matter of signing up through the ShareASale affiliate network.
They do not auto-approve affiliates so you'll increase your chances of approval if you already have a related niche website or social media following.
Once approved, you will have access to your affiliate links, data feed, and any banners they may have available.
There is a 10% commission and 30-day cookie length.
Commission: 10%
Cookie Length: 30 days
How to Promote Polar Watches and Products as an Affiliate Marketer
One of the best ways to promote any affiliate product is by creating a niche website (also referred to as a niche blog.) A niche website is low-cost to start and easy to maintain.
It does take some initial work up front and it will take time before you get your first web visitors.
However, you won't have to spend money on paid advertising and as you continue to create content (blog posts), your web traffic will grow.
What is a Niche Website?
A niche website is a simply a website that focuses on one topic. Niche websites work extremely well for promoting affiliate products because the visitors that you attract are targeted to what you want to promote.
In this case, we would want to promote Polar products, primarily the Polar watches. These watches are geared toward endurance athletes (runners, triathletes, etc.)
You can also target anyone that may be wanting to track their fitness regardless of their current fitness level.
That being said, there are a number of ways you can approach creating your niche website.
Choosing the Best Niche for Your Website
Ideally, you'll want to choose a niche that you have a genuine interest in. The reason being that you will need to create new content for your website on a regular basis.
One of the most common things an affiliate marketer may do is create a review website. The problem with that is that many review websites do not have genuine product reviews.
Before you consider taking this route, ask yourself if you are willing to buy the various Polar watches and products yourself and actually review them.
If not, chances are you will search for previously written reviews and compile them together to create your own.
This is not the best option. For one, it is time-consuming as you have to gather so much information. Second, your readers can tell when a product review is not genuine.
An authentic product review will have the reviewer's personal opinion throughout the post. It is the personal opinions on a product that really helps with conversions.
Alternative Niche Options
If dedicating a website to only product reviews is not your thing, the good news is that you choose a niche that is fun for you.
For example, if you are actually a runner and you want to help others discover the joy of running, that is a great niche blog to create.
You can then create helpful content on topics that a beginner runner has questions about. You can find these topics by doing some quick keyword research using Google Search: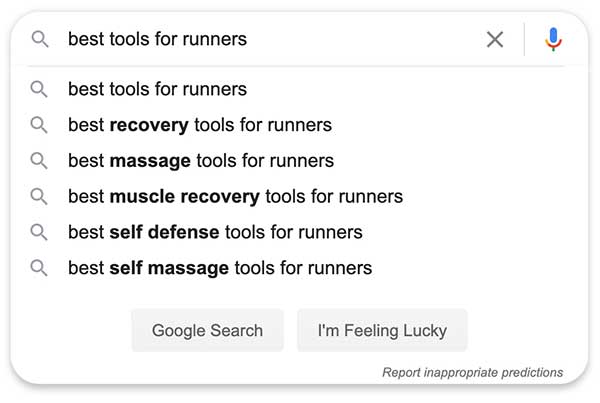 The autosuggest feature will provide you with tons of article ideas. Brainstorm what your niche audience may want to know about from a beginner's perspective and type them into Google.
Compile a spreadsheet of at least 30 topics and you will have a month's worth of blog post topics.
As you create content for your website, you can sprinkle in recommendations for Polar watches and other products.
If you actually buy a Polar product, you can create a review post and link back to your review post when you refer to it in other articles that you write.
These types of review posts convert really well because they are authentic. You can post images of your product and express your likes and dislikes. Of course, your affiliate links will be in these posts as well.
Writing Content for Your Niche Blog
If you haven't guessed by now, writing articles is the key to creating a successful niche website. The content that you write (blog posts) is what eventually gets indexed and ranked by the search engines like Google.
Over time, you'll have plenty of your posts ranking well which drives even more free targeted visitors to your website.
In order for this to happen, you will need to be consistent with your writing. Writing one new post per month is not going to cut it.
I recommend 1 to 2 new posts per week and that is at a minimum. The goal is to write helpful content. Meaning, you may need to do some research to provide the best possible answers for your topic.
A high-quality post will far exceed one thousand words. I used to think writing one thousand word posts was intimitdating. Not anymore. I hit over a thousand words easily.
Types of Posts You Can Write
Changing up the types of posts you write will prevent boredom for both you and your readers. Some post types you can include are:
How to / tutorials
Lists (top 10, etc.)
FAQ
Product reviews
Interviews
Writing content for your website should be fun. Otherwise, you will not want to stick with it. Many people give up on their niche websites too soon.
Is Polar Worth Promoting?
When it comes to smartwatch affiliate programs, Polar is one of the better ones to promote. They are a well-known brand and their multisport watches and fitness trackers are used by athletes and all levels of fitness enthusiasts.
The average order value is over $100. Many of their watches sell between $150 to $550. Attracting targeted web visitors to your website can result in steady commissions for you from this one affiliate program alone.
Keep in mind that their affiliate program does not auto-approval which makes it even more essential that you create a niche website before applying.
The key is to have at least 5 to 10 blog posts up before applying. This will increase your chances of being approved on the first go-round.
Closing Thoughts On the Polar Affiliate Program
The Polar affiliate program is a great option for affiliate marketers as far as smartwatches and fitness trackers go.
Creating a niche website of your own to promote Polar products is an ideal way to generate steady affiliate commissions.
Niche websites are what I use to make a consistent income online. If you are ready to level up your affiliate earnings, consider following the same step-by-step training program I followed.
I use the same training program today to help others one-on-one with creating their own niche website.