I have come across a lot of MLM (multi-level marketing) companies, but Paparazzi Accessories is one of the first jewelry MLMs I've discovered.
Paparazzi Accessories is an MLM company that sells inexpensive jewelry via independent sales representatives. Becoming a Paparazzi jewelry consultant requires signing up under another consultant and buying a starter kit ($99 – $499).
Initially, the company seems legit in terms of the products and price point. Every piece of jewelry is $5 and consultants can earn between 35% – 45% on every sale.
However, upon further research, I've come across many customer complaints citing Paparazzi Accessories as a scam.
I had to learn more so I'll share what I've discovered below. In this post, I'll cover:
What is a Paparazzi Jewelry Consultant
How the Paparazzi business model works
How much Paparazzi Consultants make
Whether Paparazzi is a scam or legit
An alternative to selling jewelry without joining an MLM!
Be sure to read the full article to learn how.
How I Make $1,000 Commissions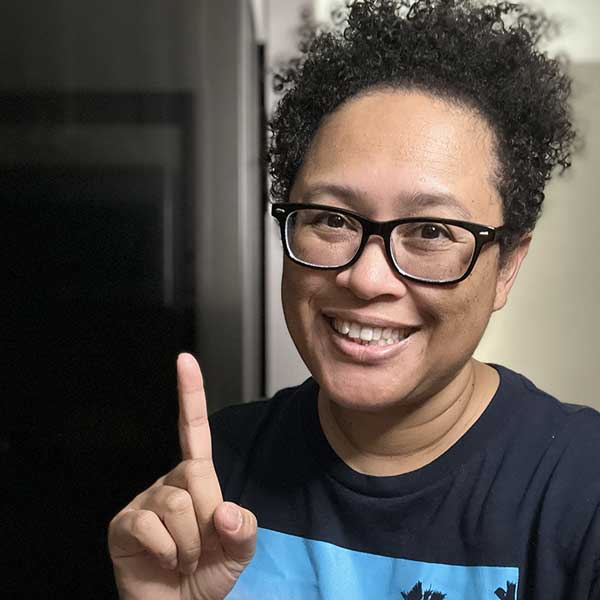 Hey there! I'm Eartha, the author of this website and an affiliate marketer. Thanks to affiliate marketing, I was able to work my way out of a full-time retail job. I never need my own product, I don't personally sell anything, and there is zero customer service. Click the link below and I'll share exactly how I make $1,000 – $2,000 commissions:
What is a Paparazzi Jewelry Consultant?
The first thing to know is that Paparazzi Accessories is an MLM company. It is not a real job where you earn an hourly wage.
You earn income by selling your jewelry as an independent sales rep. You can also earn from your MLM network which requires building your own team of independent sales reps.
As a consultant, you work as an independent distributor of the company. The way you become a consultant is really simple.
You'll have to have another consultant sponsor you. If you don't know anyone personally, you can search for a local sponsor on the website.
Once you have selected a sponsor, you can order a starter kit. Starter kits range in price from:
Preview Pack – $99
Small Home Party Kit – $299
Large Home Party Kit – $499
The next step is to sell the jewelry within your kit. The company promotes having a party and inviting friends and family to get first dibs on the newest jewelry arrivals.
How the Paparazzi Business Model Works
When ordering products for your business, you are paying a wholesale price of $2.75 per piece. Each item sells for $5 and you keep the profit.
What is nice is that you don't have to report any profit back to the company and taxes are paid on the jewelry when you purchase them.
The company promotes parties to showcase the jewelry line. What keeps consultants, as well as potential customers coming back, are the new arrivals.
According to the website, Paparazzi products are:
lead-free and nickel-free
one-of-a-kind
always changing
made in China
available only through consultants
How Much Do Paparazzi Jewelry Consultants Make?
The commission rate is 35% – 45%. According to the Paparazzi Compensation Plan, 69% of consultants reach the second level in the compensation plan of Star Consultant with an average monthly bonus paid of $23.90.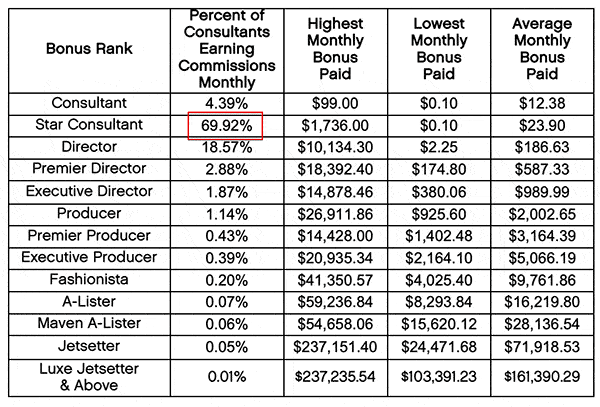 Like many MLM companies, it is difficult for many independent distributors to earn a steady income from their business.
Most don't reach the higher levels within the compensation plan. This is why companies like Paparazzi Accessories are viewed as pyramid schemes.
l don't particularly care for the MLM business model. It is really difficult to reach the higher levels unless you spend the time and effort of growing your downline.
The issue that many people run into is the recruiting process. You have the option to recruit people into your downline in person or using internet marketing.
Internet marketing can include using a website to attract new leads, social media, and YouTube.
No matter the marketing strategy, it takes consistent effort. You'll have to generate new leads on a regular basis as some of the people in your downline will quit after some time.
The turnover rate is usually high and if you are not nurturing your downline and encouraging them to build their own downline, you may experience a lot of people quitting.
Is Paparazzi Accessories a Scam or Legit?
I don't consider Paparazzi Accessories a scam. It seems to be a great opportunity for anyone seeking to start a business in the accessories niche.
However, it is a multilevel marketing company so you should be aware of how income is earned. You would need to sell a heck of a lot of accessories each month to make a decent income.
45% of $5 is $2.25 and that's how much you'll make per sale. You would need to sell 444 pieces of jewelry per month to make $1,000 in profit.
You can sell jewelry and accessories online without hosting parties and without recruiting people into your downline.
Want to know how? Keep reading below!
User Reviews and Complaints
Unfortunately, when searching for other user reviews, some of the results were not positive. The largest complaints are low-quality products and the pressure to buy products when not making many sales.
You can read more Paparazzi complaints here.
There are many consultant websites that share positive reviews about the company and business model.
Like any business, it will require a consistent effort to succeed.
An Alternative Way to Sell Jewelry and Accessories
There is an alternative way to stay in the jewelry niche without joining an MLM. It is called affiliate marketing.
The only similarity it has to an MLM is that you earn commissions on the products that you sell. However, that is where the similarity ends.
You never have to buy products and you never have to recruit anyone.
Here are some other cool benefits of affiliate marketing:
Tons of products you can sell
Unlimited earning potential
Work from home
No customer service
Never anything to buy, pack, or ship
Low-cost and low-risk
Here is how it works:
Choose a Niche
This is the fun part of starting your online business. You can choose the niche you want to be in. In this case, the jewelry niche.
Create a Website
The next step is to create your niche website. All that you need is a domain name, web hosting, and a self-hosted WordPress website. Don't worry, I know it can seem overwhelming.
One of the best places to get started is the same online training platform I used as a beginner. You can start your free training here.
The training will take you step-by-step into creating your own successful niche website. By lesson four, your website will be up and running.
Attract Free Targeted Traffic
Your website won't generate income without web traffic. Your website can attract free traffic from the content that you write.
Write content that the people interested in your niche will find helpful. The search engines like Google and Bing will crawl and index your website's articles.
When people search for various topics online related to your niche, some visitors will come across your content and click over to your website.
Make Money Online
You can promote products on your website by joining affiliate programs. One of the largest affiliate programs is Amazon Associates.
As you know, Amazon.com carries a large number of accessories and jewelry. By being an affiliate of Amazon, you can recommend these products and earn commissions when visitors buy products using your affiliate links.
Closing Thoughts On Becoming a Paparazzi Jewelry Consultant
Some people thrive in MLM companies and others struggle to make money. In most cases, independent distributors spend more than they make within an MLM.
I prefer and recommend affiliate marketing. It is beginner-friendly and doesn't require much in terms of start-up costs.
You also never need to build a downline or buy products every month.
Learn how I quit a full-time retail job to work on my website full-time by recommending other people's products. Click here to learn how.