My Lead System Pro, also known as MLSP, is one of the few internet marketing training companies with longevity. They also have a great affiliate program. In this My Lead System Pro affiliate review, I'll go over what the company offers and how its affiliate program works.
My Lead System Pro is an online attraction marketing company that helps network marketers, entrepreneurs, and home business owners to generate leads, sign up more reps, and get new customers. It offers various training, tools, websites, technology, and community support.
MLSP has been in business since 2008. It has helped many people in business (particularly network marketers) to get new leads and make a cashflow in the process.
Product Details:
Company Founders: Brian Fanale, Todd Schlomer, Norbert Orlewicz
Pricing: $49.97/m, $149.97/m, $299.97/m or $42/m yearly, $125/m yearly, $250/m yearly
Commission: varies from $150 to $1,000+ per sale
Cookie Length: 365 days (referrals linked to you for life)
Tired of online scams? Learn how I went from zero to a consistent monthly income with affiliate commissions. Click here to learn how I did it.
What is My Lead System Pro (MLSP)?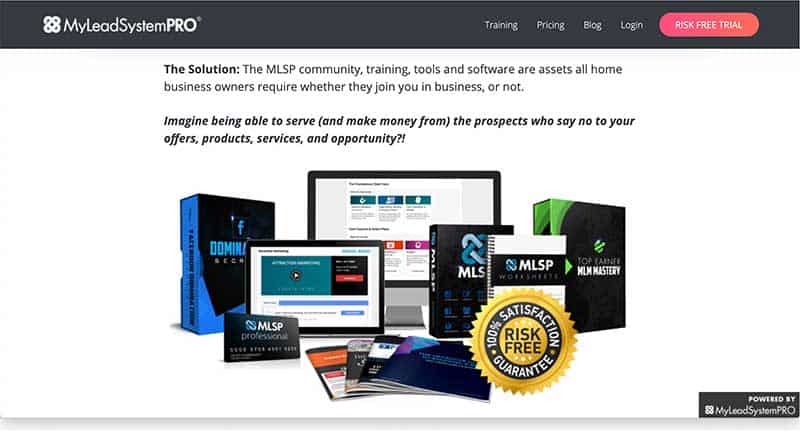 My Lead System Pro was founded in 2008 by Brian Fanale, Todd Schlomer, and Norbert Orlewicz. The company specializes in helping network marketers, entrepreneurs, and business owners with generating leads online.
It offers tools, websites, and MLSP community support to teach users how to use the power of the internet to keep a consistent flow of leads flowing into their business.
The platform is primarily marketed to network marketers but any business owner can benefit from the training and tools.
Members can get 1-on-1 coaching, live weekly lead generation training, and support from the MLSP community.
There are also capture pages, sales pages, and funnels that members can customize. MLSP also has its own blogging platform.
Members also learn the ins-and-outs of paid advertising, using social media, video marketing and more.
Another plus is the CRM (customer relationship management) tool for following up with potential clients.
Users can sign up for a 10-day free trial on the homepage.
My Lead System Pro Affiliate Review
The My Lead System Pro affiliate program is worth looking into. While I couldn't find much info on exact commission rates, I did find that the commissions are quite large.
There are various high-converting low-cost front-end products that you can leverage to generate new referrals.
When referrals sign up to buy these front-end products, the MLSP sales team then does the work of converting your referrals to the other products inside of MLSP.
Commissions on these products can range from $150 recurring commission to $1,000 and up one-time commissions.
Other benefits of the My Lead System Pro affiliate program include:
365-day cookie length
They buy advertising that retargets your referrals and you receive credit when they buy
Your referrals are linked to you for life. If they buy anything, you receive a commission.
Becoming an affiliate was easy. It is not required to be a member of MLSP to also be an affiliate.
There is one form to fill out and then you have immediate access to your affiliate admin area.
It took me a minute to find my actual affiliate links. You can find them under the Training tab and clicking on "MLSP Affiliate Strategies."
There are a lot of resources to help with promotion to include banner ads, PPC sample ads, and email marketing swipes.
You'll also need to finish your affiliate account set up which will require filling out a tax certification form.
The system will not let you set up your account until you've reached $100 in commissions.
MLSP Affiliate Earning Potential
Earning potential as an affiliate is quite large. Considering that commissions are high as $1,000 and up, you can imagine the potential.
There are many My Lead System Pro affiliates that are earning a full-time income by promoting MLSP.
Some MLSP affiliates are earning over six-figures per year. Of course, results are not typical but they are also not impossible.
That is the beauty of affiliate marketing. Your earnings are based on how hard you are willing to work. It truly is the sky's the limit.
The key is finding affiliate products that are quality and also have a great affiliate program.
MLSP offers both. They have been in business since 2008 and the training and tools they offer work well for their users.
Why My Lead System Pro Is Worth Promoting
I feel that My Lead System Pro is absolutely worth promoting. There are a lot of people struggling with how to generate leads for their businesses.
Without leads, a business will fail. MLSP teaches business owners how to generate leads without using old school methods. Rather, members learn how to leverage the internet to attract targeted leads.
They also leverage their affiliate program as a way to generate cash flow as you are growing your business.
For example, let's say you are part of a network marketing company. You really want to build your downline but are struggling to generate new leads.
You become a member of MLSP and implement their training, build funnels, etc., and begin receiving free targeted leads from your efforts.
Not all of your leads will want to be part of your network marketing opportunity. However, many of your leads will need what MLSP has to offer.
You can then recommend MLSP to your leads and some will also become members which generate commissions for you. Therefore, you are creating a cash flow while you are growing your own business.
Check Out MLSP's YouTube Channel
Do You Need to Be an MLSP Member to Become an Affiliate?
You do not need to be a member of My Lead System Pro to promote it. I do believe that investing in a product that you plan on promoting is an ideal way to increase conversions.
That is because you can share your own personal experience and that authenticity comes through in your product reviews or whenever you recommend the product.
However, there are plenty of experienced and successful affiliate marketers that understand how to promote products from any niche without investing in the product itself.
It is a matter of connecting people to products that they can benefit from and that is what you are doing with a service like MLSP.
Closing Thoughts On This My Lead System Pro Affiliate Review
I really like what My Lead System Pro is offering in the internet marketing training space. There are so many people that are in need of a lead generation system.
MLSP provides that system in one place while offering a way to generate cash flow in the process.
There are a number of ways to promote MLSP. One of the ways I recommend is by creating a niche website.
MLSP does offer the training to learn content marketing. It is how I got my start in affiliate marketing and what I continue to do today to earn consistent affiliate commissions online.
I used a different affiliate training program that offers step-by-step training. It has made such a difference in my progress and I owe my current success to the training I've learned there.