Coaching programs are big money. You can hardly browse through Instagram or Facebook without an ad displaying some type of coaching program offering to teach you how to create your own online course and become a coach yourself.
These ads and free webinars give the impression that creating a course, selling it, and making a large income online is easy for anyone to do.
The Mike Barron Academy webinar offers a different type of product but it is very much related to all of the coaching products that you come across online.
In fact, I thought his offer was quite good. It doesn't require having your own product or having your own website. There are some important things to consider though, so please read on.
Before we get going I do want to introduce myself. Hi! I'm Eartha, the author of this blog and a full-time affiliate marketer.
I enjoy seeking out different online courses and products related to earning income online. Hopefully, this review will help you out. Also, read until the end as I share how I earn a passive income online with a simple website.
How I Make $1,000 Per Sale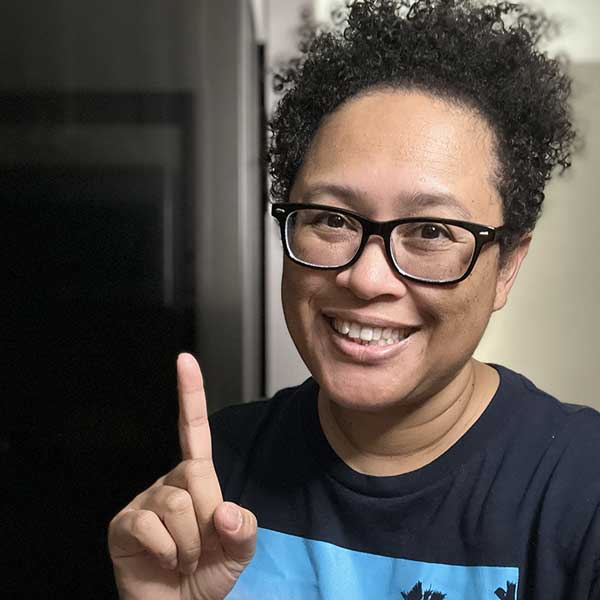 Hey there! I'm Eartha, the author of this blog and an affiliate marketer. I promote other company's products in exchange for a commission when a sale is made. I never need my own product or to personally sell anything.
Click here to learn how I'm able to make $1,000 – $2,000 for every sale that I refer.
Who is Mike Barron?
Mike Barron has an amazing story. He was born to a 16-year-old mother and grew up in a rough neighborhood. As a teen, he was caught up in street life and wanted to be a gangster.
Mike always had a hunger for success and decided to turn his life around and attend college. Eventually, he was offered a position as President of a private college.
Things took a turn when the college he worked for lost its accreditation. His income was gone and as he tried to find another job, things were not working out.
Then, by chance, Mike was able to get on a live call with billionaire, Grant Cardone. Grant invited Mike to his office and long story short, Mike became an inside closer for Grant and learned the ins-and-outs of high-ticket closing.
Now, Mike is the founder of Limelight Media, a multi 7-figure Facebook ad agency catering to fitness professionals. His company helps generate leads and sales.
He also runs Mike Barron's Closing Academy that teaches people how to be sales closers.
What is the Inside Closer Program?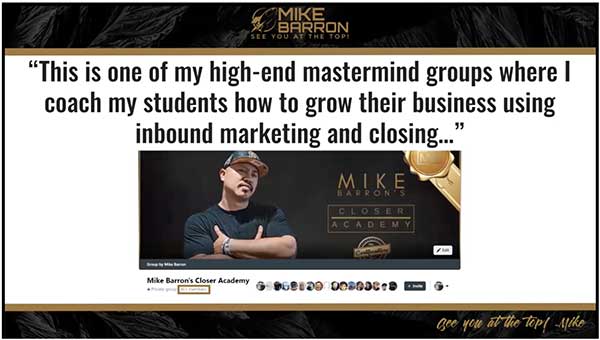 Does the idea of earning $1,000 to $2,000 or more commissions sound good to you? That is what's possible as a high-ticket inside closer.
Mike does a great job of explaining how the high-ticket coaching business model works.
I recently wrote an article about Richard Yu Coaching. Richard is a high-performance coach and has a program that teaches anyone how to create and sell their own high-ticket courses & coaching.
In Mike's webinar, he breaks down how these coaches are able to close their leads and sell their programs for tens of thousands of dollars.
Essentially it works like this:
Coaches run ads and generate leads
These leads book appointments with a team member (closer)
The inside closer follows a script to close the lead
When a sale is made, the closer earns a commission
The Insider Closer program teaches all the skill needed to close these leads for these high-ticket coaching programs.
What is appealing about being a closer for a high-ticket product is:
You don't need your own product
You're dealing with leads who are highly interested in the product
High commissions (10% – 20% in most cases)
Another plus is that it isn't like a regular sales position where you would have to clock in and out and meet a quota.
Rather, you book times that fit your schedule. That means you could work a few hours per week and if you can manage to close enough sales, you could possibly earn several thousand dollars per week.
As of this writing, the Inside Closer program is being sold for $97. If you're wondering how you'll be able to become a closer for a coach with a high-ticket product, Mike has that covered too.
He has a personal network of online entrepreneurs that he can connect you with. I'm sure there is more to it but it doesn't seem to be a huge hurdle to jump.
High-Ticket Selling
The big benefit of being an inside closer for high-ticket products is that you get to make large commissions.
According to Mike's Inside Closer webinar, most coaches with high-ticket products offer closers between 10% and 20% on average.
Some coaches sell their products from $5,000 to $20,000 and up. That means on average, you could earn around $1,000 to $2,000 or more in commissions.
You can understand how this is an appealing offer. Most people don't like their jobs and want to increase their overall income.
Talking on the phone or on a Zoom call for potential high commissions doesn't seem too difficult.
Pros & Cons of Inside Closing
I know that nothing is ever as simple as it seems. When I worked as a web designer at my previous job, I worked around many of the sales people.
The sales department had a high turnover rate and only the top closers stood out and were recognized for their accomplishments.
Inside closing for high-ticket products is a bit different but in the end, it's still sales. Training and scripts help the inexperienced but some people will excel more than others as closers.
If you are not at all comfortable with talking to people, let alone trying to sell them on a product, this may not be for you.
Even the best sales people get rejected by their prospects. You'll have to have thick skin for those moments.
No Guarantee of Landing a High-Ticket Client
Although Mike seems to have this covered in his webinar, there was still no guarantee that you would be able to become a closer for a high-ticket coach.
He mentions that he will teach you how to be irresistible to these coaches but if you're having to compete with other potential closers, I'm not sure how high the chances are of landing a closing position.
The good news is that these product owners are plentiful. As I mentioned earlier, you can't browse on any social media platform without coming across ads for these courses and coaching.
Final Thoughts On Mike Barron Inside Closer Academy
Unlike many of the products I come across online, I don't believe the Mike Barron Academy or Inside Closer Program is a scam.
The Inside Closer Program seems to offer good training for landing high-ticket clients and learning how to close for them.
Keep in mind that there are no guarantees. You aren't guaranteed high-ticket clients and even if you are contracted by one or more, there is no guarantee of income.
It is a sales position and you'll have to put in the work to close leads in order to earn your commissions.
The plus about this program is that you will learn some valuable sales skills, particularly for closing high-ticket products.
These skills can come in handy for future sales jobs or even for selling your own products if you become a product creator yourself.
How I Make Money Online
Closers can make a lot of money. However, it is not the type of work for everyone. I'm not comfortable talking on the phone or selling over the phone.
That is why I chose an alternative way to make money online. It is called affiliate marketing.
Affiliate marketing is the promotion of another company's products in exchange for a commission when a sale is made.
There are many ways to do affiliate marketing. The way I do it is by creating simple websites called niche websites.
A niche website focuses on one topic and it can be any topic that you have an interest in.
Your website gets free traffic from the content that you create (blog posts.) From there, you get targeted visitors who are highly likely to buy the products that you promote.
When that happens, you make commissions!
A niche website can generate income for years. It is a long-term online business model.
Here is a screenshot of an affiliate commission I made from one affiliate program: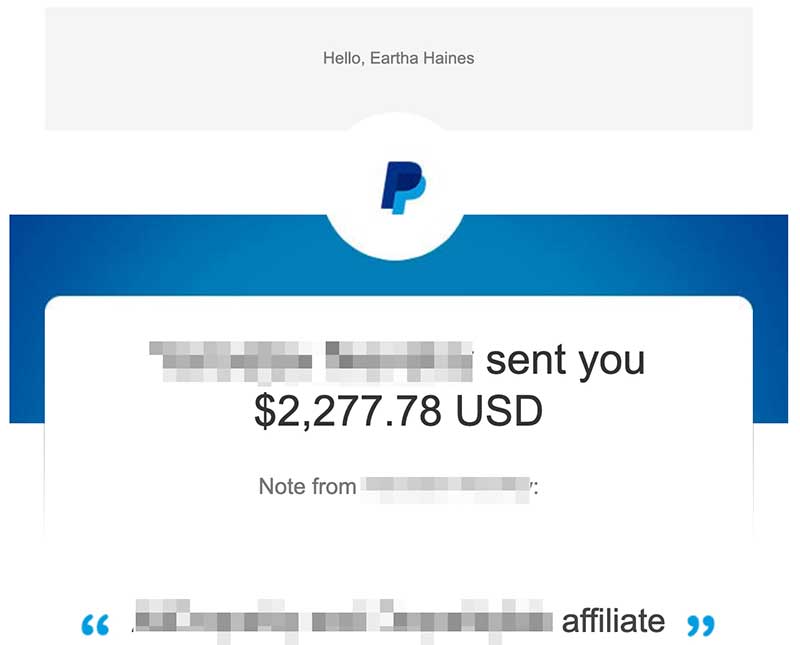 It is my all-time favorite online business. You can get started the same way I did by following the same exact training program I used. Click the button below to start:
I wish you all the best in your online business journey!
Eartha 🙂
ALTERNATIVE: Learn How to Earn Steady Commissions Online without Talking on the Phone or Zoom Calls