There are many meal kit companies online and I think that is primarily due to the convenience. Anyone can have meals delivered to their door with everything they need to prepare it. As an affiliate marketer, you can take advantage of these meal kit affiliate programs to start making commissions.
Many of these affiliate programs offer a commission or a flat fee per new subscriber. Either way, you have a great opportunity to make steady sales online in this niche.
You can even try out some of these services yourself and provide your own personal experience with using them. This can result in awesome product reviews that can bring in even more sales.
Meal Kit Affiliate Programs
Blue Apron
HelloFresh
MagicKitchen.com
Takeout Kit
Home Chef
Dinnerly
Chefs Plate
Tired of not making sales? Learn how I went from zero to consistent affiliate commissions every month. Click here to learn how I did it.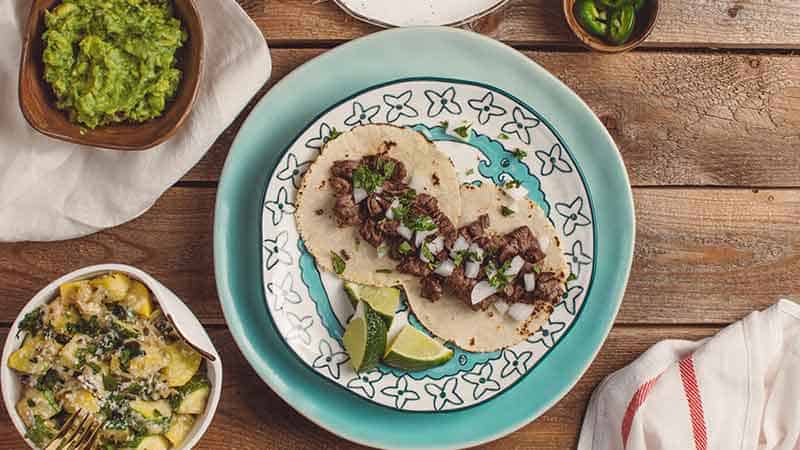 1. Blue Apron
The Blue Apron meal kit service offers a variety of meals for two or for four. Customers can choose between signature and vegetarian menus.
They include a mix of meat, fish, and Beyond Meat, as well as WW Approved, Diabetes Friendly recipes and health-conscious offerings.
Another plus is that they work to create better standards for growing food and raising animals. You can expect to receive sustainable seafood, meat that is antibiotic and hormone free, as well as non-GMO ingredients.
Their affiliate program is managed through Impact Radius.
Commission: up to $15 per each new subscription
Cookie Length: not disclosed
2. HelloFresh
The HelloFresh service is one of the most popular meal kit delivery services online. Like most meal kit services, they make it convenient and easy to make dinner.
Most people have hectic schedules and it is often challenging to plan meals for the week in advance. With HelloFresh, you can pick your meals and have them delivered each week.
There are no contracts and you can cancel or skip a week without any problem. It works by choosing your food preference (meat & veggies, vegetarian, family-friendly, or low-calorie), choose between 2 and 4 people, and the number of recipes you want per week (3, 4, or 5).
The affiliate program is managed by CJ Affiliate.
Commission: $10 on the first sale
Cookie Length: 14 days
3. MagicKitchen.com
The MagicKitchen meal kit service works a bit differently from many others as they deliver flash frozen meals versus fresh ingredients that you have to cook.
This service may be a great alternative for many people that do not care to or have the ability to cook their own meals. They have meals that are catered to seniors, diabetics, gluten-free, and many more.
You can also order items a-la-carte. The affiliate program is managed by LinkShare.
Commission: 8%
Cookie Length: 30 days
4. Takeout Kit
The Takeout Kit is not a subscription service as most meal kit services are. Rather, they offer shelf-stable meals that are a little more adventurous, international, and authentic.
You can order one of their meals anytime as the kits include the spices, canned vegetables, and other dry ingredients. You'll receive the recipe and be informed of other additional ingredients that you'll need to buy separately (typically protein like chicken, beef, etc.)
The affiliate program is managed through Refersion.
Commission: 10%
Cookie Length: 14 days
5. Home Chef
The Home Chef meal kit service offers a variety of food options delivered in weekly meal kits. Users can choose options such as carb-conscious, calorie-conscious, vegetarian, and more.
They also make it really flexible in terms of your meal options. Customers can always add meals, edit servings, or take a week off.
The affiliate program is managed by CJ Affiliate.
Commission: $10 per new sale
Cookie Length: 30 days
6. Dinnerly
The Dinnerly meal kit service is one of the first subscription meal kit services to offer $4.49 per serving meals.
They are able to offer a lower price per serving in comparison to other services because they use digital recipes versus paper, fewer ingredients, and do not have expensive marketing campaigns.
They offer a large variety of meal options and you can also skip a week whenever you want. The affiliate program is managed through AWIN.
Commission: $10 per new customer
Cookie Length: 30 days
7. Chefs Plate
The Chefs Plate meal kit service is based out of Canada. They are a bit on the expensive side at $8.99 per serving. However, users are able to skip weeks or cancel anytime.
Customers can choose between meat & vegetables, vegetarian, as well as family-friendly meal options.
The affiliate program is managed through Impact Radius.
Commission: up to $15 on all sales
Cookie Length: 30 days
How to Best Promote Meal Kit Affiliate Programs
Are you beginning to think about how to promote these various meal kit services? One of the best ways (in my opinion) is to create a niche website.
Niche websites are how I got my start with affiliate marketing and what I continue to do today to make a consistent income online.
A niche website or niche blog is excellent for promoting affiliate products because the content that you create (blog posts) are what attract targeted web visitors to your website.
When you have traffic to your website, it can begin making money. A percentage of your web visitors will click on your affiliate links and a percentage of those that click will buy products from the merchant's website.
I had no idea how to make money with a website when I got started. My background is in web development so putting up my own WordPress website was easy.
However, understanding how to make money was a whole other story. That is when I purposely searched for an online training program.
I found this one and it helped me to progress faster than if I tried to figure it all out on my own.
What Type of Niche Website To Make
The great thing about these meal kit services is that you can promote them to almost everyone. Some ideas that come to mind include:
People that don't know how to cook
Busy parents that want to save time
Single individuals or couples that want convenience
Anyone that wants to learn portion control for weight loss
Clean eaters
There are a number of niches that you can create a website on. Here are some niche ideas:
I always recommend choosing a niche that you have a genuine interest in. The reason is that you'll be the one writing the content.
If you don't really like the niche, you'll likely lose interest in it and will abandon your website. I have done this too many times to know.
I've also created a niche blog that I didn't particularly care for the niche but started to make money with it and kept going. That doesn't always work either because it feels like a chore to maintain.
Niche blogging should be fun and it can be when you actually like the niche that you choose.
Getting Your Website Up
Another thing I recommend is to have a self-hosted WordPress website. This will require registering your own domain name, getting web hosting, and installing WordPress using one-click installation.
You can get everything that you need from pretty much any web hosting provider. I use WPX Hosting for most of my niche website hosting.
That is really all that you need to get started. Niche websites are low-cost to create and easy to maintain.
Content Creation
As I said earlier, the content that you create is what will attract targeted web visitors. Your content will be in the form of blog posts.
I recommend creating 1 to 2 new blog posts per week. That is easy to do even if you are busy during the week.
The goal is to create helpful content for your niche. Figuring out what to write about is a matter of doing keyword research.
No fancy keyword tool is needed. Lately, the only tool I've been using is Google search and its autosuggest feature.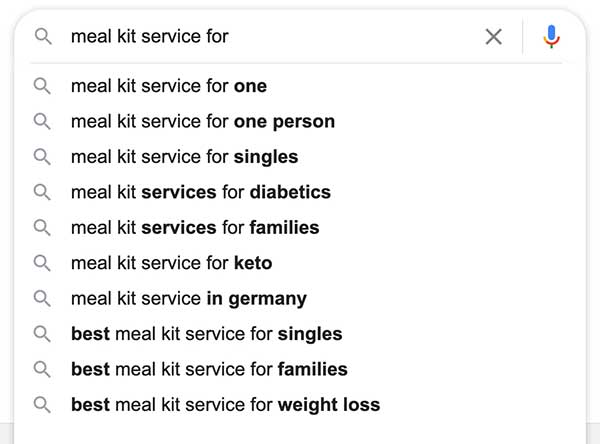 Doing keyword research like this can provide you with tons of article ideas as well as niche ideas if you are doing niche research.
Closing Thoughts On Meal Kit Affiliate Programs
I think meal kit delivery services are in high-demand for all types of people. As an affiliate, you have plenty of opportunities to make commissions with these various meal kit affiliate programs.
Niche websites are a tried-and-true method for generating steady commissions by promoting affiliate products.
If you are ready to level up your affiliate earnings, consider following the same step-by-step training program that I followed.
I use this same training platform to help others one-on-one with creating their own niche websites.