Affiliate marketing is my first choice when it comes to earning an income online. However, I do like to diversify and create new streams of income. A lead generation website is an excellent way to add an additional stream of income to your online portfolio.
There isn't a business that I can think of that doesn't require new leads on a regular basis. In fact, most businesses spend a bulk of their time focused on lead generation.
Small businesses often struggle in this area and this is where you can help them and earn income from doing so. I'll share how you can get started with your own local lead generation website.
Ready to make money with a local lead generation website? Get started quickly with a ready-made lead generation website.
What is a Lead Generation Website?
These type of websites are specifically designed to collect visitor's contact information in order to follow up with them and convert them into new clients.
The purpose of a lead generation website is to attract targeted visitors who are highly interested in the service that is being promoted.
Unlike a typical niche website, a lead generation website focuses on a local service. For example, it can be about plumbing services, chiropractors, dentists, pest control, etc.
Types of Local Businesses That Need Leads
All local businesses in your area and surrounding areas need leads. Relying solely on foot traffic and word-of-mouth recommendations is simply not enough.
This is why many small businesses turn to online lead generation and often do so in the form of creating social media profiles on Instagram, Pinterest, and others.
Local Businesses That Need a Regular Stream of New Leads
House painters
Dentists
Chiropractors
Plumbers
Pest control
Carpet cleaners
Pool maintenance
Landscapers
Roofers
Solar panel installation
Flooring
Insurance agents
Real estate agents
Accountants
A majority of local businesses do not have the knowledge, skills, or time to generate consistent leads online.
Some business owners may dabble in paid ads, social media, and more but really have no steady gameplan.
A lot of times a small business owner will outsource their online lead generation to someone they know or someone that has dabbled in it themselves.
Overall, local businesses either don't have a real steady way of generating leads online or they don't bother with it at all.
What a Lead Generation Website Consists Of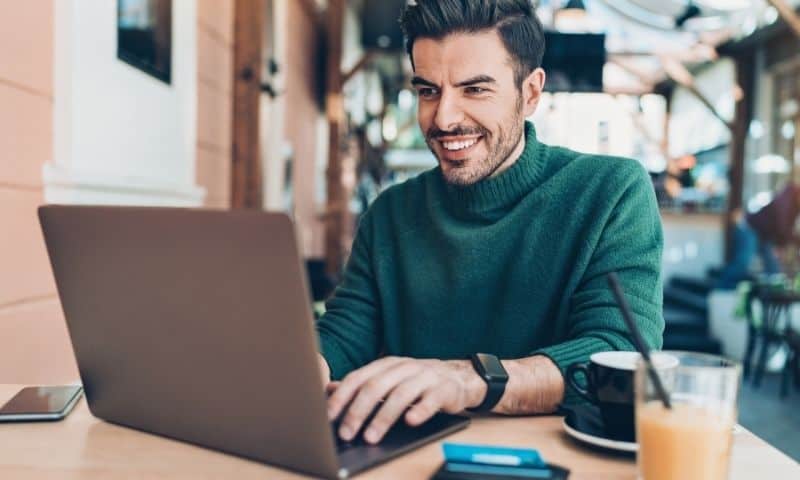 There are some key elements that need to be included on any local lead generation website.
Remember, the point of these types of websites is to collect visitor contact details in order to follow up with them.
Therefore, your website should contain opt-in forms, a contact form, service pages, and most definitely a blog.
It is important to provide value and details of the service and also make it easy for visitors to request more information.
A form should be accessible from every page on the website.
Opt-in Forms & Contact Forms
As mentioned above, opt-in forms and contact forms should be available all over your lead gen website.
It is ideal to have the forms near the top of the webpage or on the side. You can also have multiple forms.
For example, have an opt-in form on the bottom of every page and a contact form on the side.
The more easily accessible these forms are, the higher the chance your targeted visitors will input their contact details for more information.
Service Pages
You'll also want to have a page for each of the services offered. This is information that visitors will want to know.
Let's say you create a website for landscaping leads. Service pages could include lawn care, leaf removal, bush trimming, sodding, etc.
Leave no question as to what is offered with the service you are creating a website for.
If you need ideas, you can look up local businesses in your area providing the same service.
Service Area Pages
Another helpful option is to include service area pages. This is great for SEO purposes.
You'll already be targeting a specific city so in order to reach more potential customers, include pages for any surrounding areas.
That way, any visitors in those areas will know that they can obtain a company's service where they live.
Blog
Having a lead generation website up and running is great but it will not do any good if you are not generating the leads yourself.
There are multiple ways to do this but a long-term strategy is to generate free targeted web leads.
This is possible by creating helpful content in the form of blog posts. Many local businesses could generate their own targeted leads by maintaining a blog.
However, most will not invest the time and effort. This is where you come in.
You can also use PPC (pay-per-click) advertising but I wouldn't recommend that until you understand how to use PPC ads and you have earned some income from the website to reinvest in ads.
For now, just know that a blog is an excellent way to attract targeted traffic that can convert into a paid lead for you.
How to Start Your Own Lead Generation Website
Starting your own lead generation website is an easy process. Like most websites, you can register a domain name, get web hosting, and install WordPress.
Choose Your Niche
The first step is to choose your local business niche. There are many local businesses that need leads. Refer to the list above for some ideas.
Some common businesses you could consider include dentists, real estate agents, pool maintenance, lawn care, house painters, and more.
All types of service-based businesses require a consistent flow of leads to maintain their business. Any niche you choose will likely be profitable for you.
Select a Domain Name
I would recommend having your niche keyword in your domain if it is available.
For example, if you are in Austin, TX and want to create a lead gen website for landscapers, you could try a domain like, "bestlandscapingaustin.com" or something similar.
Registering a domain name is easy and can be done with almost any web hosting company you can find.
Get Web Hosting
There are numerous web hosting companies to choose from. I recommend SiteGround or WPX for hosting. Both have fast hosting and excellent customer support.
You can find lower cost options as well. For a brand new website, you can find affordable hosting and it will work fine.
Install WordPress
Most web hosting companies do offer one-click WordPress installation. If you need additional help, you can request that your web hosting provider install WordPress for you,
Either way, it is really simple to do. Follow a few prompts and click install.
Getting Traffic to Your Lead Generation Website
In order for your lead generation website to be effective, you have to generate the leads.
You can apply various strategies to accomplish this. One of the best is maintaining a blog on the website.
Since your website will be built using WordPress, this is already easy to do.
Blogging
Many people underestimate the power of a blog. Consistent blogging (writing blog posts) can generate free targeted web traffic for years.
Why pay for leads when you can get them for free? It does take some effort up front by creating the blog posts.
A new blog doesn't tend to receive traffic until around the 6 to 8 month mark.
However, when the traffic begins coming in, it will be worth all of the effort.
Keep in mind, you can also outsource the writing for the blog if you have the budget to do so.
Social Media Platforms
It doesn't hurt to create social media profiles on the more popular platforms such as Instagram, Pinterest, Facebook, etc.
However, you don't need social media to generate consistent leads. I generate leads on a daily basis for my online business without using social media to do so.
Closing Thoughts
Overall, I think adding a lead generation website to your online portfolio is a great way to earn (possibly) thousands of dollars per month.
It is well worth the time and effort to create one. You'll be providing a much needed service to small businesses and earning a nice extra income for yourself.
There was a time when a lot of "gurus" were selling courses about how to create these types of websites.
It has quieted down a bit in terms of seeing those courses advertised. But nevertheless, lead generation websites are still an awesome way to earn income online.
Ready to make money with a local lead generation website? Get started quickly with a ready-made lead generation website.