Creating my first affiliate blog was a game-changer for me. For years I struggled to make affiliate commissions. So much so that I gave up on affiliate marketing for awhile.
Thanks to a job layoff, I decided that I wanted to pursue my dream of becoming a full-time affiliate marketer. I knew that starting a niche blog was the way to do it.
After putting in some hard work, I learned a lot about maintaining a niche blog and even more so about the benefits of creating one.
Ready to make money with a blog? Learn how I went from zero to consistent affiliate commissions every month. Click here to learn how I did it.
Big Benefits of Creating an Affiliate Blog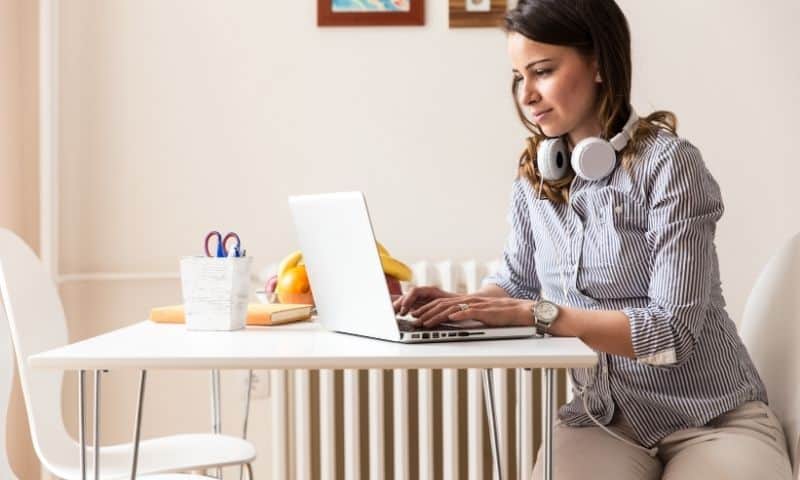 The following are some of my favorite benefits of creating an affiliate blog. I have been asked on multiple occasions by beginners, "what is the best way to make commissions from affiliate programs?"
My answer is the same every time and that is to focus on creating a niche blog. Why? For the very reasons that I outline below.
I do owe my blogging success to an online training program that I found. Finding this program was purposeful on my part.
After a job layoff, I didn't want to spend time trying to piece it all together myself.
I searched for an online training program that focused on niche blogging and found this one.
Following the training there and putting what I learned into action is what helped me to transition out of my full-time time job into working on my blog full-time.
Benefit 1: Low-Cost Online Business
Compared to a lot of online business models, a blog is definitely one of the lowest cost businesses you can start.
All that is required is a domain name (around $13/year), web hosting (around $10.99 month), and WordPress (free to use.)
When all is said and done, you can get your blog up for less than $50 in most cases.
Benefit 2: Easy to Maintain
A blog is low-maintenance and easy to maintain. It doesn't require any technical skills. WordPress is user-friendly and software updates are done with a click of a button.
As far as being low-maintenance, your job is to create new blog posts. That means writing content or even outsourcing the writing to someone else.
There are no customer service issues to ever deal with which makes it even easier to run an online business.
Benefit 3: Convenient
You don't have to give up your day job to start a niche blog. They are convenient and can be worked on part-time.
I worked on my first niche blog while still working a full-time job. Eventually, I was able to transition out of my job to work on my blog full-time.
This was possible because I could work on my blog anytime that was convenient for me. That was usually before work, after work, and on my days off.
Benefit 4: Choose Any Niche You Want
There are an unlimited number of niches that you can choose. You can choose a broad niche or subniche within a broad niche.
Some of the best niches are ones that you have a genuine interest in. It is more fun and interesting to create content in a niche that you actually like.
In most cases, it is a good idea to select a niche that falls under the big three: health, wealth, and relationships.
The big three are evergreen niches and are often very profitable.
Benefit 5: No Prior Experience Needed
Anyone with a desire to start a niche blog can do so with no previous experience. There will be a small learning curve but nothing too intense.
Most web hosting companies can set your blog up for you to include your domain name and installing WordPress.
Once you have your blog up, it is a matter of writing helpful content. If you can communicate your thoughts in the written word, that is the only requirement that you need.
Benefit 6: Affiliate Products are Plentiful
Whatever niche that you choose, chances are high that there is an affiliate product that you can promote.
Many companies run affiliate programs including major companies such as Walmart, Amazon, Target, eBay, and more.
Searching for an affiliate product is easy. Simple do a web search for "your niche + affiliate program" or something related and you'll be returned with relevant affiliate programs.
Benefit 7: Free Targeted Web Traffic
The biggest problem for many beginner affiliate marketers is getting traffic to their affiliate offers.
If you don't have a budget to buy paid ads, you'll have to rely on free web traffic and that means using SEO (search engine optimization.)
However, SEO provides free targeted web traffic when done correctly. What's even better is that when your traffic is targeted, you won't need a whole lot of it to make consistent affiliate sales.
I've made a consistent monthly income from several affiliate programs with small amounts of targeted web traffic.
Benefit 8: Growth Opportunities
Niche blogs have often resulted in awesome growth experiences for many bloggers. Some bloggers have built a successful brand and launched their own products.
Others have been able to sell their niche blogs for tens of thousands of dollars. Depending on your goals, there are plenty of growth opportunities for growing your online income.
Benefit 9: Unlimited Earning Potential
One of the best things about niche blogs is that there is no limit on the amount of income you can earn.
It is based on how hard you are willing to work. Most affiliate programs do not place a cap on your earnings. The sky is the limit in terms of earnings.
Benefit 10: It's Fun
What other type of online business model allows you to be as creative as you want? You get to decide everything about your business from the start.
It starts with choosing a niche that you have an interest in, deciding on the type of affiliate products you want to promote, and writing blog posts the way you want to write them.
When what you do is fun, it doesn't feel like work. This creative freedom is one of my favorite things about niche blogs.
Benefit 11: Lifestyle Freedom
This is absolutely the top reason why I enjoy creating niche blogs. More than earning income online, it is also about lifestyle freedom.
I can blog from anywhere with a WiFi connection. That means if I want to work from home, a coffee shop, a co-working space, or even another country, it is possible.
Besides that, as a full-time blogger, I create my own schedule. If I want to take long lunch breaks, I can.
Same goes for running errands when I want and taking a vacation when I want.
Lifestyle freedom gives you the time and freedom to work your business how you want.
Benefit 12: Lather, Rinse, Repeat
After you have learned how to earn income with one blog, you can repeat the process as many times as you want.
I started off with one blog and now I manage six of them. Keep in mind that you don't need to manage more than one blog to earn income onlne.
All that you need is one blog. When you are ready, you can create your next one.
A common beginner mistake is to try and create as many niche blogs as they can manage. The idea is to get them all earning income.
The problem is that it is is easy to get burned out trying to juggle more than one blog.
One blog is sufficient for earning your first online income as well as learning the necessities for creating a successful niche blog.
Closing Thoughts On Creating Affiliate Blogs
My recommendation for new affiliate marketers is to create an affiliate blog. They are a low-cost, low-maintenance, and highly effective online business model.
You don't need any prior experience, there are unlimited niches to choose from, and you can repeat the process as many times as you want.
If you are debating whether or not to start an affiliate blog, consider the above benefits before making your decision.
Ready to make money with a blog? Learn how I went from zero to consistent affiliate commissions every month. Click here to learn how I did it.