So you want to learn high-ticket affiliate marketing? I did too and now that I've been doing it for some time, there are things I wish I knew before I jumped in.
I'm talking about things I wish someone would have told me first to save me time (and possibly money.) That's what I'm going to share here with you so that if you're deciding to get started, you'll have some more information.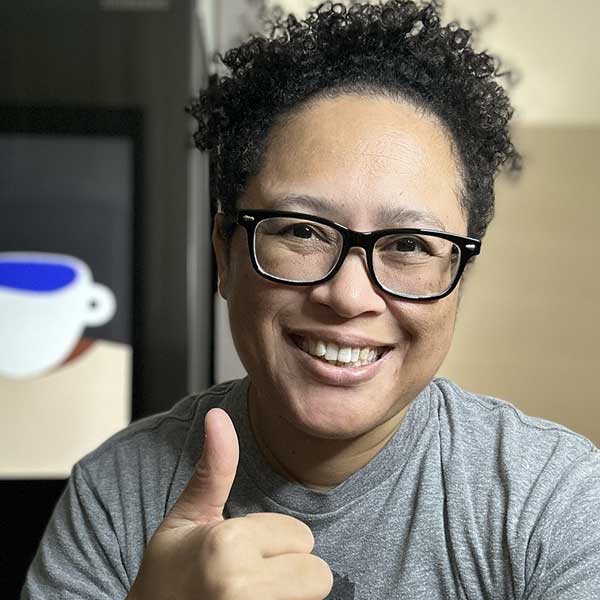 Why should you listen to me? Hi! I'm Eartha, the author of this blog and an affiliate marketer. I've been doing affiliate marketing for a few years now.
I started out with niche blogs and later moved into high-ticket affiliate offers. I'm still learning a lot and I do make high-ticket commissions.
Hopefully, this post will shed some light on how to get started. Keep in mind that the methods I use are not the only options. There are a number of ways to do affiliate marketing.
Research and figure out the method that resonates the most with you. Okay, let's dive into what I wish I knew before I started high-ticket affiliate marketing.
How High Ticket Affiliate Marketing Works
I would imagine that most affiliate marketers want to make the highest commissions possible and they want to make them often. There are plenty of affiliate offers out there but most are low-ticket offers.
The lowest commission I've made for a product I promoted heavily was $23 per sale. It's not much, and needless to say, it takes a heck of a lot of sales to make anything significant from such small commissions.
That is why I looked into high-ticket affiliate marketing. I kept seeing other successful affiliate marketers talking about how making higher commissions was a game changer.
I admit, it definitely is. Imagine making a $1,000 commission from one sale versus a $23 one. Now imagine making 3 to 5 sales and making $3,000 – $5,000 in a month.
You can easily understand why going high-ticket is so enticing.
The process works like this:
Find a high-ticket affiliate offer that you like
Set up an automated sales system to recommend the product (a sales funnel)
Send traffic to your sales funnel on a daily basis
Generate leads
Here is a graphic representation of what I mean: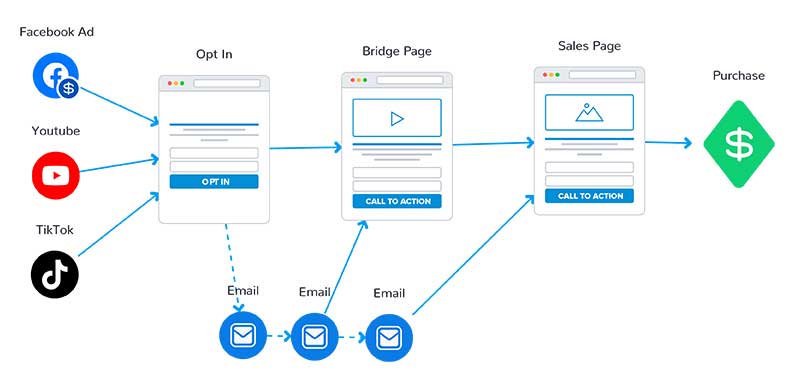 This is the process that I use and it works extremely well when you can generate a steady flow of targeted traffic. I'll discuss more about traffic further below.
The High Ticket Offer You Choose Really Does Matter
There are all types of affiliate products that offer commissions of $500 and up. Some are digital products and others are physical goods. However, my preference is digital products, preferably online education products.
Even then, not all products are always highly converting offers. I've purchased online courses that I personally liked but when I tried recommending them, they simply didn't convert as well as I had hoped.
That means there will be some trial and error when it comes to finding a really good offer. Start with offers that you've used yourself and learn the product inside and out.
It's always easier to recommend a product that you can stand behind. I've always had the best success with products I've used and can highly recommend.
My focus is always on making a steady income online so I have to promote an offer that converts well.
Making High Ticket Commissions is Really Hard Without Steady Web Traffic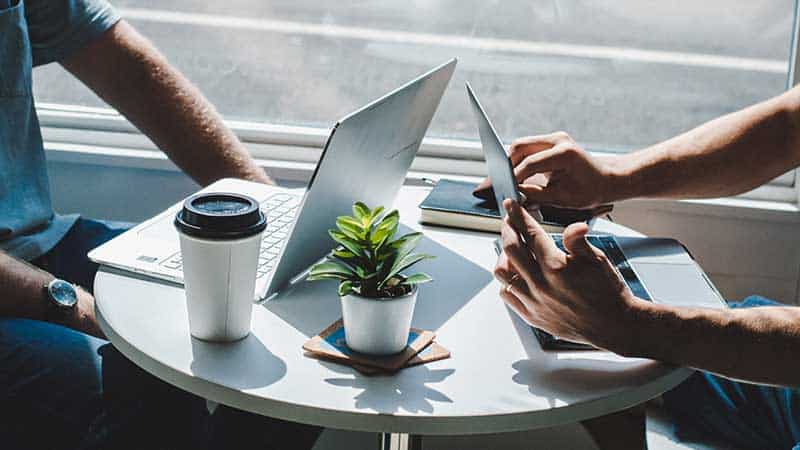 Sounds like common sense right? Well, when you are seeing the success of other affiliates, it's easy to think that if they can do it, so can you.
I'm not even a newbie affiliate marketer but I struggle to maintain a steady flow of traffic. Between Google algorithm updates and social media algorithm changes, it's a non-stop process of getting traffic to your offers.
I won't even get into paid ads because if you're just starting out, that is a whole other beast that can drain your budget when you don't know what you're doing.
The other tough part about traffic is that many of the leads you generate are not going to be ready to invest in the product right away (if ever.)
Therefore, if you want to make a steady income online, you need to send a lot of leads to the offers on a daily basis. It's like any other business. The more leads you can generate, the higher the chances you will make sales.
Traffic generation is an ongoing learning process. Whether you focus on SEO, paid ads, social media, or all three, there will always be something new to learn.
Follow the experts and stay up to date with the latest updates. Things are constantly changing so the more you know, the easier it will be to adapt.
Targeted traffic is essential. Without it, you will not make sales. Plain and simple.
A Sales Funnel is Essential But It Doesn't Have to Be Expensive
Here's the thing – a lot of sales funnel software has affiliate programs. That means many affiliates will recommend a specific sales funnel software to make recurring commissions.
There isn't anything wrong with that but what is recommended isn't your only option. Some software will cost $100 or more a month to use while others may only cost $47 a month.
Will there be a difference in features and functionality? Probably. But when you consider what a basic sales funnel is, you don't need to spend a ton of money on one.
A basic sales funnel is made up of two web pages. That's it. It's the main page which is called your landing page, squeeze page, or opt-in page.
The second page is your thank you page or bridge page. Most people haven't the slightest clue how to set up a sales funnel which is why the software is helpful.
I have a background in web development/design so I don't use any sales funnel software at the moment and I'm making commissions just fine. My funnel is running on WordPress.
Therefore, don't feel as though you have to spend a ton of money starting out. If you find a sales funnel software that is reasonable, you can start off with it and move on to something else later if you want.
I have used major software such as Clickfunnels, Systeme.io, and Kartra. I like all three and each software has its pros and cons. When it comes to affordability, Systeme.io is going to beat out most options.
Build an Email List and Nurture Your List (Don't Skip This!)
I can't tell you how long I put off building an email list. For a long time, my focus was on making commissions. There is a reason why many of the top affiliates are making a great income and top the leaderboards in affiliate contests.
It's because they have large email lists that they've been growing and nurturing for years. An email list is important because you have your own customer base.
Therefore, you don't have to stress when there is an algorithm update or one of your social media accounts is shut down (it happens.)
Nurturing an email list simply means emailing your list. Stay active by sending value emails in between your marketing emails.
I get replies from my subscribers all the time thanking me for a tip I offered or for answering one of their questions.
Being active with your list builds the know, like, and trust factor which is key. People will buy from someone they like and trust. Think about who and where you buy products from and why.
Why I Recommend Learning From a High-Ticket Affiliate Course
I put off buying courses for a long time and I also struggled to make commissions for just as long. My goal was to learn everything on my own using YouTube videos and reading blogs.
It is possible to learn for free but if you want to speed up the process, an online course may help. Not all affiliate courses are good. Let's face it, some are downright scams.
There are only a few super affiliates that I follow and have actually bought their courses. Two that I really like include Jonathan Montoya and Zach Crawford.
I think both of them do an excellent job of teaching beginners how to launch successful online businesses.
Investing in my own affiliate education has helped me tremendously. I've learned things that I wouldn't have discovered for free scouring websites and YouTube.
It wasn't until I began buying courses and implementing what I learned that I started to make steady commissions.
Conclusion
I hope my experience has been helpful on your journey with starting high-ticket affiliate marketing. It's an ongoing learning process but it is also fun and exciting when your hard work pays off.
I'll never become tired of email notifications letting me know that I've made a new commission!
If you're ready to level up your affiliate income, click the link below and I'll share exactly how I did it:
How I went from a lousy retail job to making $1,000 commissions