When you're new to affiliate marketing, the thought of making a $1,000 commission seems out of reach. I used to feel that way and today, it isn't uncommon to make those types of commissions.
In this post, I'm going to share how I made my first $1,000 affiliate commission online and how I continue to make high-ticket commissions. It involves three essentials to get started that includes:
A high-ticket affiliate offer
Sales funnel for automation
Targeted web traffic
Don't worry if you don't know what any of that is or how it all works together, I will go into details for each one below.
Who Am I?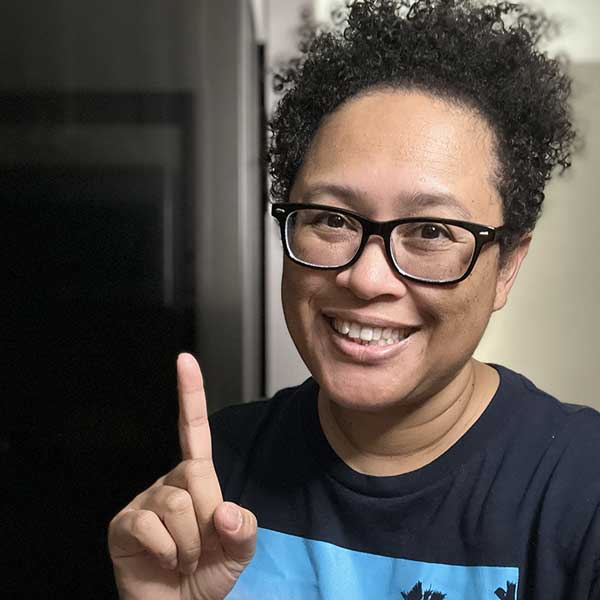 Hi! I'm Eartha, the author of this website and an affiliate marketer. I've been doing affiliate marketing for a few years now and recently became interested in high-ticket affiliate marketing.
High-ticket affiliate marketing is a game changer if you want to significantly boost your online income. Putting it all together is not difficult at all. Anyone can do it with the right guidance.
Click the link below and I'll share EXACTLY how I got started and how you can too:
Secure a High-Ticket Affiliate Offer
First, let's define what a high-ticket affiliate offer is. A high-ticket affiliate offer is one in which the commission pays anywhere from $500 and up. Some offers can start at $1,000 commissions and go up to $10,000 or more.
Where do you find these types of offers? In many cases, these types of offers can be found in the online education space. A good way to find these offers is by scouring YouTube or social media.
For example, search for "high ticket affiliate marketing" on YouTube and see what some of the more popular channels are promoting. You can do the same on platforms like Instagram and TikTok.
Another option is to search for software services that have affiliate programs that offer high commissions. There are also some physical products that have affiliate programs and high-ticket commissions. It may take a bit of research but there are many that exist.
Online courses are likely where you'll find a bulk of these offers, particularly in the make-money-online niche.
You can learn more about locating high-ticket offers here.
Automating Your Online Business With a Sales Funnel
One of my favorite things about my online business (besides making commissions, ha ha) is that 90% of it is automated. That is thanks to having a sales funnel.
A sales funnel can be as simple or as complex as you want it to be. In most cases, you'll only need a simple 2-page sales funnel. It would be made up of two pages that include:
The squeeze page (also called a landing page or opt-in page)
A thank you page (also referred to as a bridge page)
Here is how a basic sales funnel works: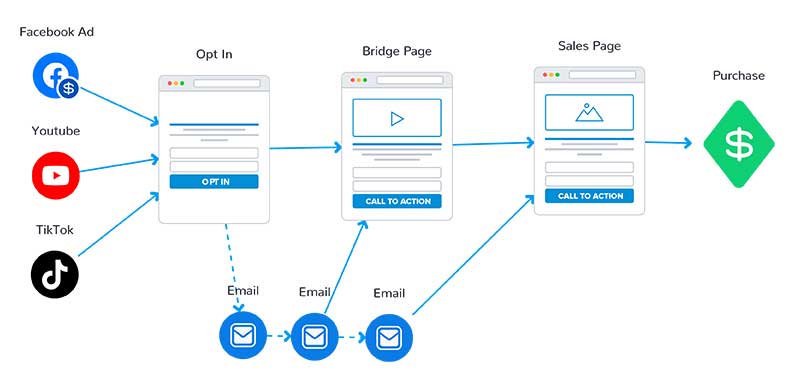 One of the main purposes of a sales funnel is to build your email list. As you can see from the flowchart above, as people sign up on your opt-in page, they are also added to your email list.
Software You'll Need for Your Sales Funnel
You're going to need to use some type of funnel software and there are many good options out there such as Clickfunnels, Systeme.io, and Kartra.
Some funnel software will include their own email marketing software. Otherwise, you'll have to obtain your own using a service such as GetResponse, AWeber, ConvertKit, and many other options.
I've used all three services (Clickfunnels, Systeme.io, and Kartra.) I liked all three so you can't really go wrong with any of them. Systeme.io is the most affordable of the three.
How a Sales Funnel Handles the Selling and Converting for You
The job of your funnel is to direct your subscribers to the product that you are recommending. Offering some type of free incentive is ideal for enticing visitors to opt-in to your email list.
Next, your thank you page is where you can warm up your subscribers by telling them about the product you're recommending. You can accomplish this using a video in which you talk about what the product is, how it helped you, and how it can help them.
You should also have a link or button on your thank you page that will send people to buy the product using your affiliate link.
Some of your new subscribers will buy right away and others will not. Either way, they are now on your email list and you can continue sending marketing messages to your subscribers.
Therefore, your funnel does the job of collecting new leads, introducing your leads to the product you're recommending, and even selling the product for you.
Click here to learn how to set up your own sales funnel quickly and easily with zero tech skills.
Generating Targeted Web Traffic
Without a steady flow of traffic, you will not be able to make affiliate commissions. You'll need targeted web traffic on a daily basis and there are various ways to accomplish this.
When you don't want to use paid advertising, you can do content creation in the form of blog posts, social media posts, YouTube videos, and short-form videos.
Content creation is time-consuming but the upside is that you don't have to pay for traffic. Another alternative to getting traffic to your sales funnel is to pay for it.
There is the option to pay for ads whether it is pay-per-click ads, ads on social media platforms, YouTube ads, or solo ads.
Paying for ads can get expensive very quickly and there is always the possibility that you will not make any sales.
Making My First $1,000 High-Ticket Commission
Since my sales funnel is operating, I spend the majority of my time on traffic generation. I focus on writing blog posts, posting on social media, YouTube, and email marketing.
By focusing on traffic, I was able to generate new leads on a regular basis which helped me to make my first high-ticket commissions of $1,000.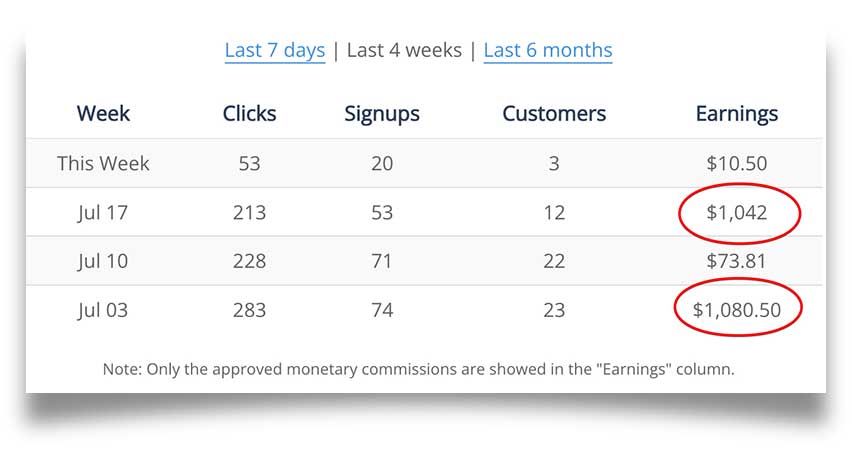 Are You Ready to Get Started?
Putting it all together can be challenging when you're a beginner. Following a proven system can help speed up the learning curve.
When I decided to do high-ticket affiliate marketing, I searched for a training program that was teaching the skills needed to make a steady income online.
If you're ready to level up your online income, click the link below and I'll share the resource I used to learn high-income skills: