Does selling on Amazon interest you? Have you been wanting to launch an Amazon FBA business? You're likely interested in the Inner Circle Mastermind by Brandon Young.
With all of the different Amazon FBA courses available, what makes this training program different? I'm going to answer that question and more in this Inner Circle Mastermind review.
Who am I? Hi, I'm Eartha, the author of this website and a full-time affiliate marketer.
So many online courses cost over $1,000 and oftentimes, the refund policy has conditions. That means you have to be certain it contains what you need to launch your business.
Otherwise, you buy an expensive program that you're unhappy with. That is why I like to do as much research as I can before deciding whether an online training course is worth investing in.
Let's dive into what this course has to offer!
Product Name: Seller Systems Inner Circle Mastermind
Product Creator: Brandon Young
Product Price: $2,997 or $1,351 + $149 per month
Niche: Amazon FBA
How I Make $1,000 Commissions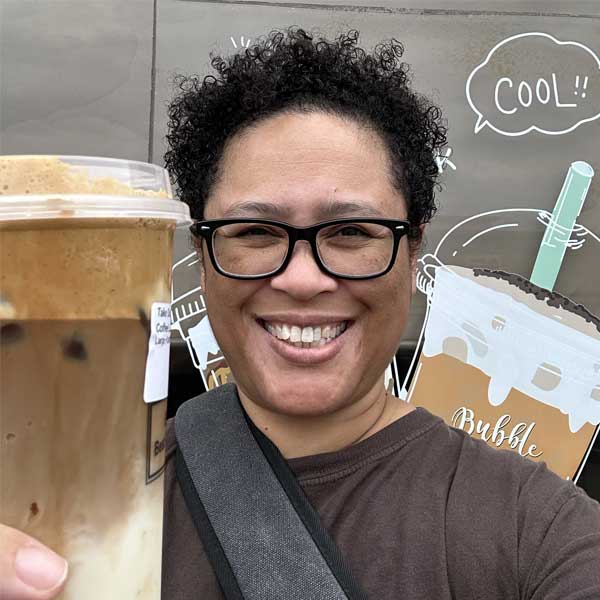 Hi! I'm Eartha, the author of this website and an affiliate marketer. Thanks to affiliate marketing, I was able to work my way out of a full-time retail job. I didn't need my own product and I didn't have to do any order fulfillment or customer service. Click the link below and I'll share how I make $1,000 – $2,000 for every sale that I refer:
What is Seller Systems?
Seller Systems is the home of an 8-figure Amazon seller, Brandon Young. It provides a central location for all of his training courses that all relate to starting an Amazon FBA business.
There is one mastermind course and three masterclass courses. There is the Inner Circle Mastermind, Free Amazon SEO Masterclass, PPC Masterclass, and Launch Masterclass.
Who is Brandon Young?
Brandon began selling online in 2015 by doing arbitrage/reselling. In order to scale his business, he turned to wholesaling and private labeling. In 2016 he launched his first private label products.
Within 5 years, Brandon sells private label products exclusively under multiple brands and has reached 8-figures in annual revenue. He has spent several years and tens of thousands of dollars in an attempt to figure out the Amazon FBA business.
Now Brandon splits his time between launching new private label products and helping the students in his course.
What is the Inner Circle Mastermind?
The Inner Circle Mastermind is the main Amazon FBA course. It is an advanced Amazon Private Label Course.
Essentially, this course provides a mastery level education on:
Finding profitable products
Advanced keyword research
Competitive analysis
Sourcing
Optimization
PPC
Brand building
Chatbots
Students also get "office hours" which are live weekly video calls. There is also access to the Inner Circle Mastermind with over 50 successful 7 & 8-figure private label sellers who provide support.
The Inner Circle Mastermind Price
This is not an inexpensive course. The Inner Circle Mastermind is priced at $2,997 or $1,351 + $149 per month. When you consider how challenging launching an Amazon FBA business is, these courses are more than worth it for some people.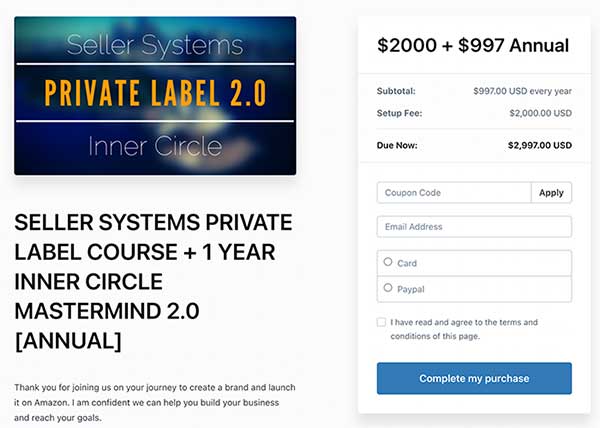 I've seen most FBA courses range from $997 to $4,997 so the price of this course falls well within that range.
There is a 14-day money-back guarantee refund policy.
What is Included in the Mastermind
This training course includes live classes on:
Data-driven product research
Sourcing factories and working directly with suppliers
Optimization for your listings
PPC strategies
Product launching
ManyChat and Facebook training
A deep understanding of the Amazon algorithm
What is a nice option about this course is if you rather not invest in it right away, you can buy the 5-hour Masterclass for $197. You can learn how to find products and how the business works to help decide if FBA is the business for you.
Other Available Courses On Seller Systems
Sellers Systems contains a few other courses related to Amazon FBA. They are as follows:
PPC Masterclass – $297
This is a 5-hour class that covers Amazon PPC. The course includes:
Introduction to PPC
Purpose & Strategy
Ad Placements
Keyword Optimization and Indexing
Launch with Case Study
Growth with Case Study
Maintenance
Review Summary, Common Mistakes, Nuggets
Launch Masterclass – $797
This is a 6-hour intense Amazon product launch workshop. In this course you will learn:
The Amazon A9 algorithm
Keyword Data Mining / Research
Listing Optimization for Rank
PPC for Ranking
Facebook / Google / Pinterest Traffic to Maximize Rank
Web-based Chatbots
The Best CRM to Use
Marketing Automation
Free Amazon Private Label Masterclass
In this free masterclass you'll learn:
Data-Based Product Analysis
Data-Based Competitor Analysis
Sourcing Direct Walkthrough
Profitability Calculator
Who is the Inner Circle Mastermind For?
This training program is for anyone interested in starting an Amazon FBA business. This can include individuals who are seeking a way out of their 9-to-5 jobs. Or for those who only want to create an extra income.
It is also ideal for anyone who already has experience with eCommerce and is looking to expand into selling on Amazon. Or for those who are currently selling on Amazon and want to take their business to the next level.
What I Like About This Course
I like that this course teaches how to do certain aspects of the business based on data. For example, product research is data-driven. Competitor analysis is also data-driven.
Another plus is the teaching on the Amazon algorithm. Having a deeper understanding of the algorithm is used for product launching and getting maximum credit for each of your sales.
Is Seller Systems Inner Circle Mastermind Legit?
This course is absolutely legit. I have yet to come across a scam Amazon FBA course. Brandon Young knows his stuff and the training offered seems very thorough.
The refund policy is also straightforward with no conditions (from what I could find.) It is a 14-day no-questions-asked refund.
Many of these high-ticket courses have a condition to get a refund which usually has to do with proving that the training didn't work for you.
Final Thoughts On This Training Program
I like what the Inner Circle Mastermind has to offer. It covers everything needed to be successful with Amazon FBA including topics like PPC and using chatbots.
The live weekly calls are a benefit and I also like the actual mastermind of having access to 7 and 8-figure sellers.
How I Make a Steady Income Online Without Using Amazon FBA
I can understand the popularity of starting an Amazon FBA business. When you see the success a lot of these sellers are having, it's hard not to want in on it.
What you have to keep in mind is that besides paying for an expensive course, you'll still need several thousand dollars to fund your business.
You'll have to buy inventory, ship it to an Amazon warehouse, and pay for PPC ads on Amazon. Not to mention Amazon's fees.
For some, it is not an ideal business model when starting out online. The good news is that there are other ways to make money online.
One of those ways is the way I got started (and what I continue to do today.) It is called affiliate marketing.
With affiliate marketing, you don't need your own product. There is no inventory to buy or ship anywhere.
Affiliate marketing is the promotion of another company's products in exchange for a commission when a sale is made.
I create niche websites and recommend products related to the niche that I chose. For example, I run a coffee niche website that talks about selling coffee online.
One of the products I recommend is Shopify. I'm a Shopify affiliate. That means anytime someone visits my coffee website and clicks on one of my Shopify affiliate links and pays for a subscription, I make a commission.
Here's an example of an affiliate commission I made from one affiliate program: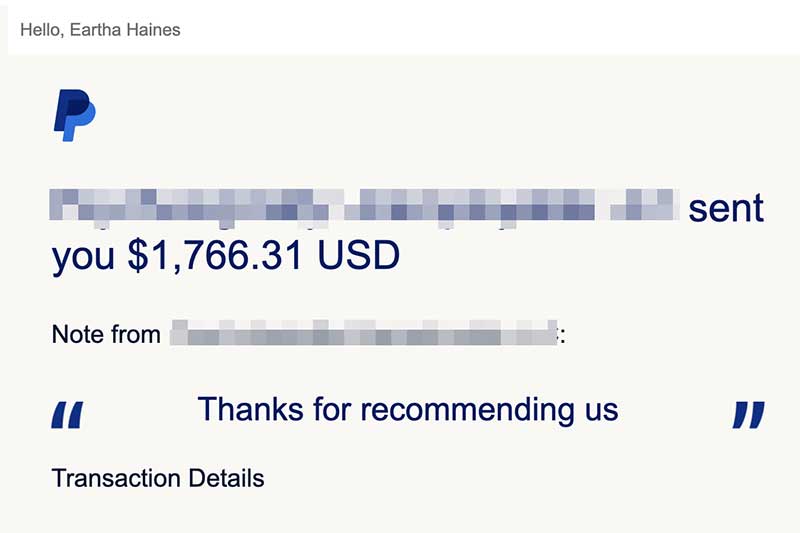 Getting started with your own niche website is really easy. Especially if you follow the same training program that I used. Get started today:
Click the button above and create your user profile. I'll be in touch when you do!
Yours in success,
Eartha 🙂
P.S. – Learn how I used a simple website to quit a lousy retail job. Click here to learn how.