How cool would it be to dropship products without having to operate your own eCommerce store, plus have a built-in customer base of millions of users?
That's what you can expect when you do eBay dropshipping. I've tried dropshipping on eBay in the past and it did not go well. Thankfully there are people who persevere like Paul Lipsky and figure it all out.
Paul is the creator of the Dropshipping Titans training course that teaches how to do eBay dropshipping. It sparked my interest when I came across it so I decided to do a quick Dropshipping Titans review.
Hi! I'm Eartha, the author of this blog and a full-time affiliate marketer. I make it a point to seek out various online courses and products that relate to earning an income online.
Many of these courses cost well over $1,000 and there is no way of knowing if the course is for you until you buy it. Not only that, some courses have refund policies with conditions you have to meet before you can receive a refund.
That is why I like to do research on a product before I consider investing in it. That's what you'll find below. Let's get started!
Product Name: Dropshipping Titans
Product Price: $297 or 3 payments of $127/month
Product Creator: Paul Lipsky
Niche: eBay dropshipping
NEXT: How I Quit a Lousy Retail Job Using a Simple Website
What is Dropshipping Titans?
Dropshipping Titans is an online training course created by dropshipping expert Paul Lipsky. The course teaches how to do dropshipping on eBay. Essentially, what is taught is how to place a listing for a product on eBay.
Once the product is bought, you then go to an online retailer such as Amazon or Walmart to buy the product and ship it directly to the buyer. You keep the difference in price and that is your profit.
What makes this online business model ideal for many is that you already have the built-in customer base of eBay.
Many people shop on eBay without browsing around other online stores for the best prices. Another plus is that dropshipping is low-cost to get started in comparison to something like Amazon FBA.
What Does Dropshipping Titans Teach?
This course focuses on dropshipping on eBay. Unlike the typical dropshipping model where you open up a Shopify store and dropship items from AliExpress, you will learn how to dropship solely on eBay.
What is interesting is that after reading the FAQ section of the sales page, it states that it is against eBay's terms of service to dropship from third-party retailers. It may result in having your account suspended.
However, the course teaches how to dropship from wholesale suppliers and third-party retailers leaving the choice up to you for which one you choose.
That kind of makes me wary. If someone wanted to create a long-term online business using this model, how could they rest assured that their eBay account won't be suspended if they choose to dropship using retailers such as Amazon or Walmart?
Obviously, some dropshippers choose to source from Amazon, Walmart, and others as it is easy to list a variety of products.
In fact, we ordered a product once on Amazon and when it arrived it was clearly shipped from Home Depot. No, we didn't complain about it but it made me feel as though I could've just ordered from Home Depot if that was the case.
Side Note: Paul also has a course on Facebook Marketplace Dropshipping.
Wholesale suppliers tend to have only specific products that they wholesale and that may limit you as a dropshipper.
What's Included in the Training
There are 10 modules and 75 training videos. The modules include:
Module 1: Your Life is About to Change!
Module 2: Get Your Store Up and Running FAST
Module 3: My Titans Product Research Formula
Module 4: The Perfect eBay Listing
Module 5: What You Need to Know Before Listing More Items
Module 6: Getting Your Customers Their Orders Fast
Module 7: Top Customer Service Hacks
Module 8: Titan Hacks to Double Your Profit On Every Sale
Module 9: Keeping Things Organized
Module 10: Advanced Topics
Bonuses include:
Titans Tribe Facebook Mastermind Group
Downloadable professional customer service scripts
Advanced educational modules
Who Is This Course For?
This course is ideal for anyone seeking to make extra money or even wants to replace their 9-to-5 income altogether.
However, like any business model, there are no guarantees that you'll make any money at all.
Although Paul and many of his students are having success, I would go into this business model with caution.
There is A LOT of competition on eBay for all types of products. For example, I typed in "air fryer" and tons of similar photos of the same air fryers were displayed.
All the same stock photos, likely from the same retail websites. Chances are you'd have to list dozens of products every single day to hopefully make some sales.
How do you stand out from the crowd? I'm sure there is a method to the madness and it's hopefully covered in this course.
Who is Paul Lipsky?
Before Paul Lipsky became a dropshipper, he worked in corporate America as an attorney. He started to do dropshipping on the side as a way to supplement his income.
It was not an easy road. There was a steep learning curve. Paul didn't know how to scout out retailers, how to list products, or how to get people to buy products.
He didn't give up and just by spending time during his lunch breaks to work on his business, he was able to reach $2.5 million in sales in two years.
After all of the challenges, Paul has implemented strategies into place to help fun his business. Now he knows what products sell and don't sell.
He understands how to strategically list items so they have a better chance of selling. He uses software to automate his business and he knows how to make more money on each sale.
Paul's dropshipping lifestyle allows him to travel, spend time with his family, and enjoy his hobbies. He no longer punches a clock and now controls his time.
Paul also shares a ton of information on his YouTube channel and has over 80,000 subscribers.
How Much is Dropshipping Titans?
Paul's course is actually affordable in comparison to many online business courses on the market. Dropshipping Titans is priced at $297 or you can make 3 payments of $127 a month.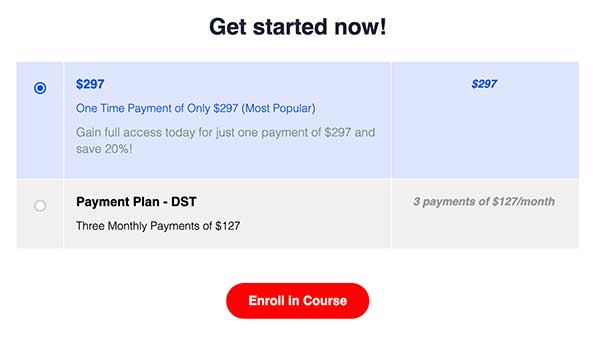 I think it is very reasonably priced. Many dropshipping courses are priced in the thousands of dollars. What does make this course different is that it focuses solely on dropshipping on eBay.
Not everyone likes the eBay model of dropshipping. For example, Ecommerce Empire Academy teaches how to do dropshipping using sales funnels.
There is also the standard dropshipping model of opening a Shopify store and dropshipping items from AliExpress.
Or even focusing on one product and having a single-product dropshipping store. People have come up with a variety of ways to utilize the dropshipping model.
Print on demand is another type of dropshipping model. In that model, you create designs for t-shirts, hats, mugs, etc., and use a service such as Printful to print your items and ship them to your customers.
What is the Dropshipping Titans Refund Policy?
What's nice about this course is that it does have a 30-day 100% money-back guarantee. If you don't love the course, you can send an email to Paul within 30-days and he'll give you a complete refund.
It's rare to find online courses that don't have any conditions in the refund policy. Most of them want you to prove that the course didn't work for you before you can request a refund.
Dropshipping Titan's refund policy is straightforward with no catches.
Does Dropshipping Titans Work?
From what I've discovered thus far, I think this training course can work for those that follow it and put in the work required.
No training course will work if you don't apply what you've learned. The sales page has several testimonials of students that have had success following the training.
Even with the best training, what separates success from failure is the amount of effort put in as well as consistency.
I can't stress enough how important it is to have consistency. Without consistency, you'll only ever have subpar results.
What I Don't Like About eBay Dropshipping
Although Paul has become very successful at eBay dropshipping and he shares some great student success stories, there are still things that I don't like about the eBay business model.
I used to sell products on eBay and did somewhat well with it for the short time that I did it. My spouse and I would find products in thrift stores or retail stores for a good price and list them on eBay.
What was frustrating were the customer questions and refunds. Some customers were super nitpicky and refunds were always a hassle.
I understand that is a part of any eCommerce store. You have to deal with customer service. However, I don't particularly like it.
Also keep in mind that you'll have to do your best to keep your ratings high on your seller account. It was also frustrating when customers would leave a negative rating.
If you read through some of the testimonials on the Dropshipping Titans sales page, you can catch a glimpse at what some people are doing to achieve the results they have.
For example, there is a screenshot of one student who has made over $18K in sales. He says he has utilized one virtual assistant while working a full-time job and plans on bringing on one more.
That tells me that you probably have to list a crap ton of items to begin making any sales. I'm sure you could list items by yourself but it would be a slower process and take longer to make significant sales.
It just isn't a business model that I care for. When you have the money to outsource all of the work, it is different. I definitely do not want to deal with customer service which is why I don't do eCommerce at all.
Overall Thoughts About This Course
I think it is worth buying if your goal is to do dropshipping and you want to do so on eBay. It isn't super expensive and there seems to be a lot of support offered within the private Facebook group.
Be aware that it isn't the easiest business model. Unless you can afford to hire virtual assistants, you may be doing a bulk of the management.
That means constantly listing products, and responding to customer questions, complaints, and refunds.
I do like that the modules cover everything needed and that there is a support group to seek help and additional support.
Paul is active on his YouTube channel so there is plenty of free content to watch first if you want to get a better idea of what is involved with dropshipping on eBay.
How I Make Money Online Without Dropshipping
I've dabbled with dropshipping on eBay in the past. This was way before it was popular to dropship. I've also sold various products on eBay.
In the end, I didn't like the hassle of customer service, refunds, and all of the eBay and PayPal fees.
My online business model of choice is creating simple niche websites and monetizing them using affiliate marketing.
Maybe you are familiar with affiliate marketing. If not, the model is really simple:
Affiliate marketing is the promotion of another company's products in exchange for a commission when a sale is made.
There are a lot of companies that have affiliate programs to include Amazon, Walmart, and many more.
Affiliate marketing doesn't require you to have your own product and you never have to deal with customer service.
Let's say you wanted to start a coffee website. You could write about different coffee topics and join an affiliate program like Amazon Associates.
Then you could recommend various coffee products like coffee makers, coffee grinders, etc., using your affiliate links (provided by the affiliate program.)
Anytime a web visitor clicks on your affiliate links and buys the product, you earn a commission!
Most affiliate programs pay commissions via PayPal. Some may pay via direct deposit.
Here is a screenshot of a commission I made from one affiliate program: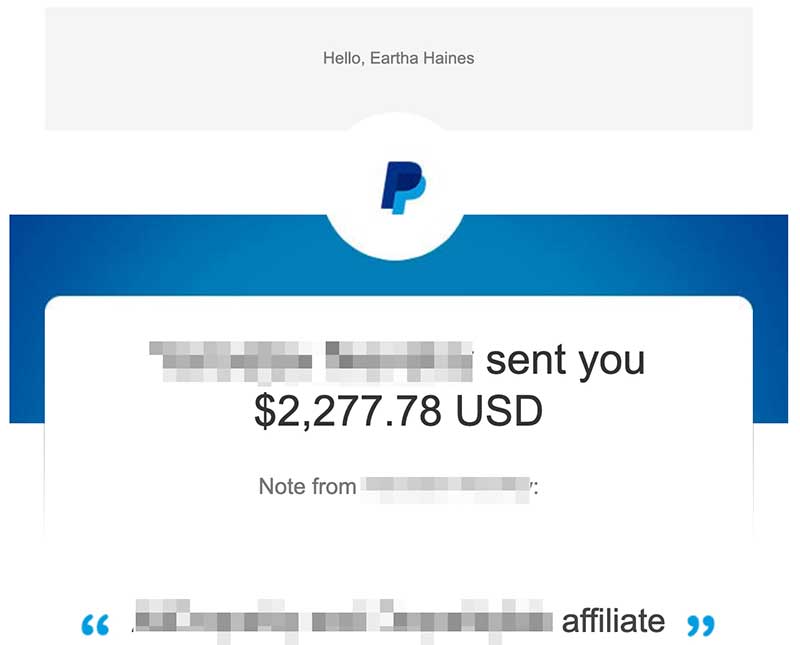 Learning affiliate marketing is easy and you don't need much except for a domain name, web hosting, and WordPress installed on your hosting account.
Most web hosting providers can set you up with all three. It is one of the lowest cost and lowest risk online businesses you can start.
Best of all, it is truly a long-term business model. A niche website can generate income for years with ongoing content creation.
Getting started is easy. I recommend following the same online training program that I followed when I got started. Click the button below to start today:
I hope this Dropshipping Titans review was helpful. I wish you the best in your online business journey!
Yours in success,
Eartha 🙂
P.S. – Learn how I went from zero to making a steady income online with a simple website. Click here to learn how.