Wouldn't it be great to make money from real estate without having to buy properties? That is what's possible when you utilize Airbnb in combination with Jorge Contreras' The R.E.A.L. System.
Jorge teaches how to profit from Airbnb without having your own property. You can either sublease (rent), co-host, or buy property. The goal of this system is to learn how to generate passive income using Airbnb.
I'm always interested in learning how to make passive income. Hi! I'm Eartha, the author of this blog and a full-time affiliate marketer.
I like seeking out online courses and products related to making passive income and doing a bit more research to learn if they are legit or a scam.
There is nothing worse than investing in an online training program that costs hundreds, if not thousands, to only find out it doesn't teach what you were expecting.
Oftentimes, these expensive courses have conditions to their refund policies making it difficult to request a refund if the training truly is not a good fit.
That is why I make it my goal to research as much as I can before deciding to buy. I hope my Jorge Contreras review may offer some helpful info for you as well.
Product Name: The R.E.A.L. System
Product Creator: Jorge Contreras
Product Price: Not listed
Niche: Airbnb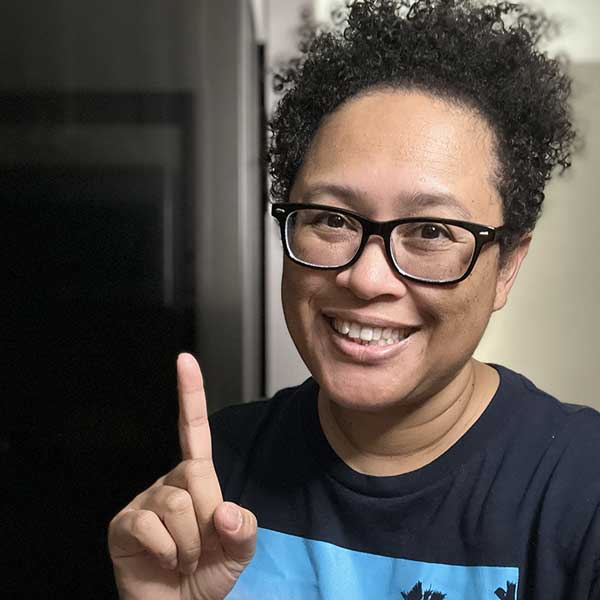 How I Make $1,000 Per Sale
Hey there! I'm Eartha, the author of this blog and an affiliate marketer. I share ways to earn income online. With affiliate marketing, I'm able to make $1,000 – $2,000 for every sale that I refer.
I don't need my own product and I don't have to personally sell anything. Click the link below and I'll show you how it works:
Who is Jorge Contreras?
Jorge Contreras did not have an easy life. At a young age, he was exposed to gang violence, drugs, and alcohol. In order to put food on the table, he began helping his father sell drugs at the age of 7.
At the age of 10, he was helping his family smuggle people across the border. Being around gangs, drugs, and alcohol was normal for Jorge. Sadly, at the age of 12, he lost his father to alcoholism.
His teen years were not any easier. He barely graduated high school with poor grades and dropped out of college in his Freshman year.
Fortunately, Jorge did not give up. In 2007, he started his first business and sought the guidance of some mentors.
He has been a real estate investor since 2012. Before that, he had a career teaching Latin dance all over the world.
Jorge was working so hard as a dance teacher that he eventually had to have back surgery. He knew there had to be a better way than to trade time for money.
It was in 2012 that he got started investing in real estate.
Today, he has a 7-figure business, owns multiple properties, and generates 6-figures in cash flow from Airbnb.
Now he helps teach others how to leverage Airbnb and real estate to live the life of their dreams.
What is The R.E.A.L. System?
The R.E.A.L. System is a 90-day coaching program that teaches how to launch and automate your first passive income Airbnb.
You will learn how to acquire, launch, and automate your first cash flow producing Airbnb by either subleasing a property, co-hosting, or buying a property.
Subleasing is when you rent a property and get in writing from the landlord to use the property for Airbnb. Co-hosting is when you get hired to manage other people's Airbnb properties for a percentage of the sales. Finally, buying property is when you can outright own a property to use for Airbnb.
Jorge suggests starting out with subleasing and/or co-hosting if you cannot buy property right away. You can still earn passive income and eventually buy your own property later on.
What is Included Inside the Training?
The training includes a lot of information. Here is what you'll get:
A library of Airbnb templates (welcome books, listing descriptions, check-in & check-out procedures.)
Private Rolodex of preferred vendors list.
Access to contacts of accountants and attorneys.
Step-by-step training.
Weekly live "ask me anything" group coaching sessions with Jorge Contreras
Lifetime access to an exclusive members-only Facebook group.
Daily networking opportunities with students and coaches.
The course won't leave you hanging. You'll learn where to find winning properties that you'll never have to own as well as how to find interested people ready to rent.
You'll also get access to the system that does everything for you in terms of automating booking, collecting money, and depositing the money into your bank account.
Who is The R.E.A.L. System For?
I have to say after watching the free webinar, I'd say this system is for anyone interested in making money with Airbnb but also has a steady income to get started.
If you are struggling to make ends meet, this may not be the best business model for you. You'll need money to be able to rent or buy property.
Otherwise, you could look into co-hosting (which is taught in the course.) I'm not sure if co-hosting alone could earn you the passive income you are looking for.
This is a good strategy for those who are already investing in real estate and want to add an additional stream of income to what they already have coming in.
How Much Does it Cost?
The price is not readily available for the training. I signed up for the free training which was not the training that was stated on the page.
It said that you would see the system Jorge is using as well as the exact tools & platforms he uses.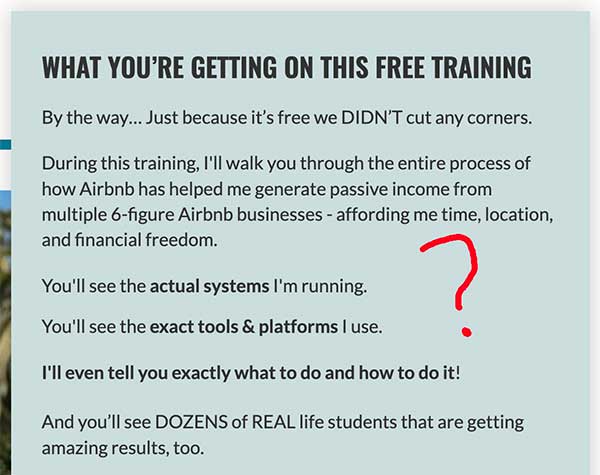 However, the video was fairly short and Jorge only talked briefly about how he got started and how he found success with Airbnb.
After watching the video for 10 minutes, a button appears where you can apply to the R.E.A.L. System.
It is an application form that ends with you booking a call. Therefore, you won't know the price of the program until you are on the phone with a salesperson.
Since there was no price listed, there were also no details about a refund policy (if any.) If you do book a call, I would ask if one exists.
Is The R.E.A.L. System a Scam or Legit?
According to the BBB.org website, the company has 5 out of 5 stars. There were some customer complaints, most of which were addressed by the company.
No red flags have come up for me so I wouldn't call this training course a scam at all. I feel it is legit.
If you are wanting to learn how to make money using Airbnb without having to own your own property, it offers the training to help you.
I would definitely ask questions about the program over the phone when booking a call.
Most of the time when you have to speak with someone before buying, it usually means that the course is high ticket (usually over $1,000 or more.)
It doesn't mean the course wouldn't be worth it but it helps to go into the phone call expecting it to be high priced.
Final Thoughts On Jorge Contreras and The REAL System
Overall, I think this is an awesome course if you are interested in real estate, particularly in making money with Airbnb.
I wouldn't go into this expecting to be financially independent after 90-days. Could it happen? Anything is possible.
Keep in mind that Jorge has many years of real estate investing under his belt. His results are not typical.
If anything, you could probably generate some passive income and eventually develop it into more over time.
I think having the knowledge is always helpful. Real estate is one of the most popular ways to create passive income.
Do keep in mind that Airbnb is not without its issues. Search YouTube for videos about quitting Airbnb and you'll get a more in-depth view of why it may not always be the best business model.
Policy changes, customers ruining the property, and more have caused many people to quit using the service.
How I Make Money Online
If you don't have the funds to start making money using Jorge's training or you're simply looking for an easier way to make passive income, I recommend the online business model I use.
It is the process of making niche websites and leveraging other people's products to make money. In short, it is what's known as affiliate marketing.
Affiliate marketing is when you promote another company's product in exchange for a commission when a sale is made.
Everything is tracked using special links called affiliate links. Whenever someone clicks on your affiliate link and makes a purchase, you earn a commission!
You may be wondering how do you get traffic? That is the beauty of niche websites. Essentially, they are blogs. Blogs require content in the form of blog posts.
Your content is what generates free targeted web traffic from the search engines like Google and Bing.
If you want to get an idea of what is possible, here is a screenshot of an affiliate commission I made from one affiliate program: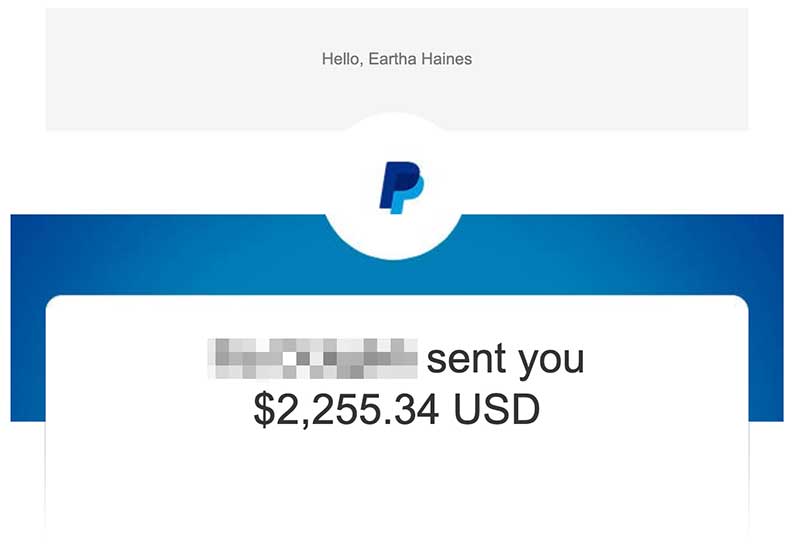 The sky is the limit with a niche website and affiliate marketing. You are only limited by how much effort you put into it.
When I got started, I had been laid off from my job. It is easy to learn but I do recommend following a legitimate training program as I did:
I hope this overview of Jorge Contreras' Airbnb course has provided some insight into what he has to offer.
I wish you all the best in your online business endeavors!
Eartha 🙂