Besides recurring commissions, high-ticket commissions are my next favorite type of affiliate commission to make.
The reason is that it takes no more effort to promote a high-ticket product than it does a low-ticket product.
If you are not familiar with what a high-ticket affiliate product is, here is a definition:
A high-ticket product is one that is priced over $1,000. Many of these types of products can reach up to $10K or more. Therefore, your commission can be $1K and up depending on the product price and commission rate.
One strategy that works extremely well for promoting these high-ticket products is a sales funnel.
It wasn't until I implemented a simple sales funnel that I began receiving more leads and more conversions for one affiliate product that I promote.
I'm going to go over a basic sales funnel model that can be used to promote low-ticket and high-ticket products.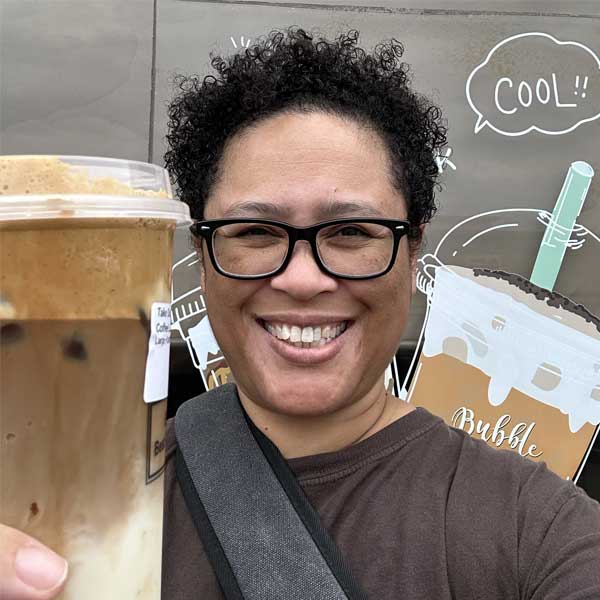 Hey there! I'm Eartha, the author of this website and an affiliate marketer. Besides sharing affiliate programs, I also share how to boost affiliate income. Click the link below to learn how I'm able to make $1,000 – $2,000 commissions:
The High Ticket Sales Funnel Model
Setting up a sales funnel is easier than ever. You don't need any experience with the various sales funnel software on the market.
Clickfunnels remains one of the most used platforms for this and with good reason. They make it easy for anyone with no prior experience to set up a sales funnel.
The funnel I'll be describing below is completely doable using that software but you can do it with any sales funnel software.
Take a look at the sample sales funnel below: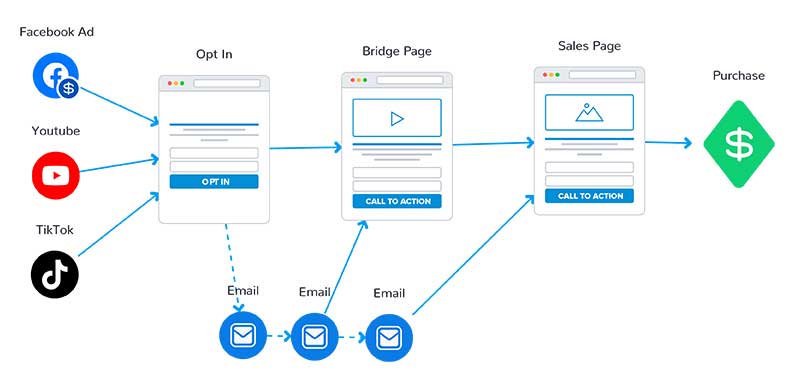 I will break down how this works and what each section's function is.
The Landing Page or Opt-In Page
A landing page will be the first part of your sales funnel. On this page, you will offer some type of free offer which is referred to as a lead magnet.
The lead magnet is an incentive for your visitors to input their contact details. Your free offer could be an ebook, a video, audio file, or email course.
Whatever lead magnet that you choose needs to have helpful information that is related to your niche.
For example, if you are promoting a product that helps people start an online business, then you could create a lead magnet that explains how to get started in five easy steps.
Your landing page will have an opt-in form that can collect a first name and email address or at a minimum, just an email address.
This opt-in form will be provided by an autoresponder service such as AWeber, GetResponse, ConvertKit, or any number of email services out there.
Using a Bridge Page
The bridge page is one of the key components of a sales funnel. It serves as a way to warm up your visitors for what they can expect when they go to the merchant's page.
You can also refer to this page as a "presell page" as that is exactly what you'll be doing; pre-selling the product to your visitors.
This page can include a video of yourself talking about the product or it can be text if you prefer not to have a video.
Either way, you'll want to write some copy that talks about the benefits and features of the product. Share what you like and dislike about it.
Finally, you'll have a call-to-action on this page that will let the reader know to click over to the merchant's page.
A call-to-action can be a link or a button that lets the reader know to "click here" or some other direction.
The bridge page is an essential part of my own sales funnel and I can attest to how well it works in terms of conversions.
Driving Traffic to Your Funnel
Once you have your sales funnel set up, your job is to drive traffic to it. Your funnel will take care of the rest.
You can send both free and paid traffic to your funnel. I prefer free traffic because, well, it's free!
Besides that, free traffic can last longer whereas paying for traffic only lasts for as long as you have money to pay for ads.
Free traffic strategies can include social media platforms such as Instagram, TikTok, Facebook, and more.
Two effective free traffic sources include having a YouTube channel and TikTok account.
Videos have been one of the best free traffic sources I've created. You do not need to be in your videos if you don't want to be. Faceless videos work as well.
Building a List
If you read back up to the landing page/opt-in page, you'll remember that I said there will be an opt-in form on that page that is provided by an autoresponder service.
This is how you build your email list. Each time someone inputs their email address into the form and confirms their subscription, they are added to your email list.
You can then send emails to your list any time you want. Your emails should be helpful and informative. However, you can always add promotional information in order to make sales.
Your email list is also an essential part of your funnel. Instead of losing all of the visitors to your landing page, you get to retain some of them.
As long as they remain on your email list, you can market to them for the long term.
High-Ticket Funnel Training
While knowing the parts of a basic sales funnel may seem easy enough, it is another thing to piece it all together properly.
That is when a helpful training course comes in handy. When I became serious about affiliate marketing, I searched for an online course that taught the same business model I was interested in.
In this case, if you are new to affiliate marketing and need help with building a sales funnel, it may be a good idea to find a training course.
The 3 Day Business Breakthrough Challenge can have you up and running with your own sales funnel in three days.
That training course is by a successful internet marketer, Jonathan Montoya. It will take you step-by-step into setting up your own sales funnel using the Clickfunnels software.
Can You Make High-Ticket Sales Without a Funnel?
You absolutely can. I have made many high-ticket sales without using any type of sales funnel.
The way I've accomplished that is by creating a niche website. It is the online business I started with and what I continue to do today.
A niche website can generate free targeted web traffic for years. It is a matter of creating helpful content for your niche audience.
There are many affiliate marketers that use niche websites as their primary means of making affiliate sales.
Don't underestimate the power of a blog!
Closing Thoughts
Implementing a sales funnel was a game-changer for my online business. It is the business model for many affiliate marketers.
The best thing about a sales funnel is that once it is set up, you only need to send traffic to it on a regular basis to generate leads and new sales.
If you want to get a jump start on your online business, check out the 3 Day Business Breakthrough Challenge.