Have you come across the 3 Day Business Breakthrough Challenge by Jonathan Montoya?
I discovered the program coming across one of his ads on YouTube. Since I am an affiliate marketer, I was curious about his training.
Hi! I'm Eartha and I'm a full-time affiliate marketer. I enjoy researching new affiliate products and sharing what I learn here on this blog.
In this post, I'm going to cover what the 3 Day Business Breakthrough Challenge is about and whether it is worth investing in.
I have been a full-time affiliate marketer for a few years now and I can typically notice the "red flags" when it comes to online training courses.
Let's get started!
Update: I have bought the 3 Day Business Breakthrough Challenge.
Who is Jonathan Montoya?
Up until I came across his YouTube ad, I had not come across any of Jonathan Montoya's courses.
However, upon doing a bit of research, Jonathan is a successful internet marketer, online business coach, and founder of Passive Income Lifestyles.
He is a former electrical engineer and like many people, he wanted to escape the 9-to-5 rat race.
Jonathan had a goal of becoming a full-time internet marketer. It wasn't until he found a mentor that his online business began to take off.
He learned how to generate consistent leads from YouTube and became proficient with paid ads.
Now he coaches clients and sells his own online course called the Business Breakthrough 2.0 Course.
Launch Your Online Business Today Using the 3 Day Challenge
What is the 3 Day Business Breakthrough Challenge?
This challenge is actually a training program that teaches how to start your own online business in affiliate marketing in three days.
The strategies taught are the same ones used by Jonathan Montoya. Although this is a low-ticket intro product, it does cover the basics of launching an online business in affiliate marketing.
The training covers:
Day 1: What affiliate marketing is, how to find offers, and get traffic.
Day 2: Setting up your sales funnel and autoresponder.
Day 3: Traffic generation strategies (free and paid methods.)
There are also bonuses offered in this training program including:
Bonus 1: Jonathan's 6-figure affiliate funnel.
Bonus 2: Viral video scripts.
Bonus 3: His ebook lead magnet that you can use in your own sales funnel.
This training program seems to cover some of the essentials of creating a sales funnel. Do be aware that it is an introductory course.
I don't doubt that anyone could take the information and work it to create their first online business.
For more advanced and in-depth training, you'll probably be interested in Jonathan's Freedom Breakthrough 2.0 Course.
What the Freedom Breakthrough 2.0 Course Covers
This course is a complete course that goes into more detail than the 3-Day Challenge.
It is made up of 12 modules and 5 bonuses. The modules cover:
M1: The Affiliate Stacking Ecosystem
M2: The Perfect Affiliate Funnel
M3: The Online ATM Machine
M4: YouTube
M5: TikTok
M6: Facebook Groups
M7: Daniel Chou's High-Ticket Sales
M8: Joshua Ong's Facebook Profile Funnel
M9: Create a Website for Blogging
M10: Nathan Lucas – SEO Mastery
M11: Google Ads
M12: Launch Jacking
Bonus 1: Live Group Coaching for 8-Weeks
Bonus 2: 3-Day Challenge with White Label Course
Bonus 3: YouTube Ads Breakthrough Course
Bonus 4: 75% Commissions for Life
Bonus 5: Private Facebook Community
The Price of the 3-Day Business Breakthrough Challenge
For what is offered in this introductory course, I would say it is well worth the price. As of this post, Jonathan is offering this training course for only $7.
If you are a complete beginner to affiliate marketing or you want to learn the same strategies Jonathan uses (sales funnel and driving traffic to it), then the price is a bargain.
How Much is the Business Breakthrough 2.0 Course?
The more advanced version of Jonathan Montoya's course is high-ticket. It is currently priced at $1,497 and has an installment plan offer.
This course is ideal if you want more in-depth training of what's covered in the 3-Day Challenge. Another plus is that you can promote the course as an affiliate for 75% commissions.
I find the best success promoting products that I have personally used. It enables you to share genuine reviews and that leads to higher conversions.
Who is the 3 Day Business Breakthrough Challenge For?
This program is ideal for anyone who wants to start a business online. Beginners can do this but if you already have an understanding of affiliate marketing, even better.
Is the 3 Day Business Breakthrough Challenge a Scam?
I've bought my share of scammy products and am well aware of the major red flags to watch out for. One of the first is not knowing who the product creator is.
In this case, Jonathan Montoya is his own brand. He makes it clear that he is the product creator. You can follow him on the major social media platforms or his Passive Income Lifestyle YouTube channel.
Also, there are many people that have already bought the training course and have left testimonials.
Although these reasons do not guarantee that a product is legit, they are good signs to look out for.
Before you consider buying the 3 Day Business Breakthrough Challenge consider the following:
It is an introductory product to a sales funnel for a high-ticket product
The complete training course is priced at $1,497
You'll need sales funnel and autoresponder software
Are you comfortable using social media such as TikTok?
Will you be willing to maintain a YouTube channel?
Do you have a budget to run paid ads?
The online business model that is taught in this course is a common strategy used by many affiliate marketers and product creators.
It is the process of building a sales funnel, building a list, and driving traffic to your funnel using free and paid methods.
Like anything else, the business model works if you take action on what you've learned.
The good news is if you don't like the strategies taught in this course, there is an alternative way to earn income online.
How I Run My Online Business
I am able to make a steady income online without a sales funnel or running paid ads. The way I accomplish this is with niche websites.
Earning income with niche websites is not a new strategy either. However, there are tons of people that earn a full-time income just from their blogs.
You can learn how I got started and how you can too by reading my story.
Essentially, I choose a niche that I like, create a blog, and write content that will attract people who are interested in the same niche.
I promote various affiliate products and when people visit my websites, a percentage of them buy the products that I promote.
In comparison to the sales funnel and paid ads business model, the benefits of a niche website include:
Low-cost to start (typically under $50)
Low-risk (no spend on ads that may not convert)
Low maintenance (only requires writing blog posts)
No other software required
You can absolutely run a niche website and use the methods taught in the 3 Day Business Breakthrough Challenge.
In fact, if you scroll up and read what is taught in M9 (module 9), it is "Create a Website for Blogging".
Therefore, Jonathan Montoya recommends blogging as part of his business model.
Final Thoughts On the 3 Day Business Breakthrough Challenge
I think what Jonathan Montoya is teaching is a legit online business model. It will take consistent effort and possibly having a marketing budget, but is completely doable.
There are alternative methods out there for making money online so be sure to consider your options. As I mentioned, niche websites are one such method.
It is what I use for my online business. It is beginner-friendly, low-cost, and low-risk.
Here is a screen capture of an affiliate commission I received from one affiliate program: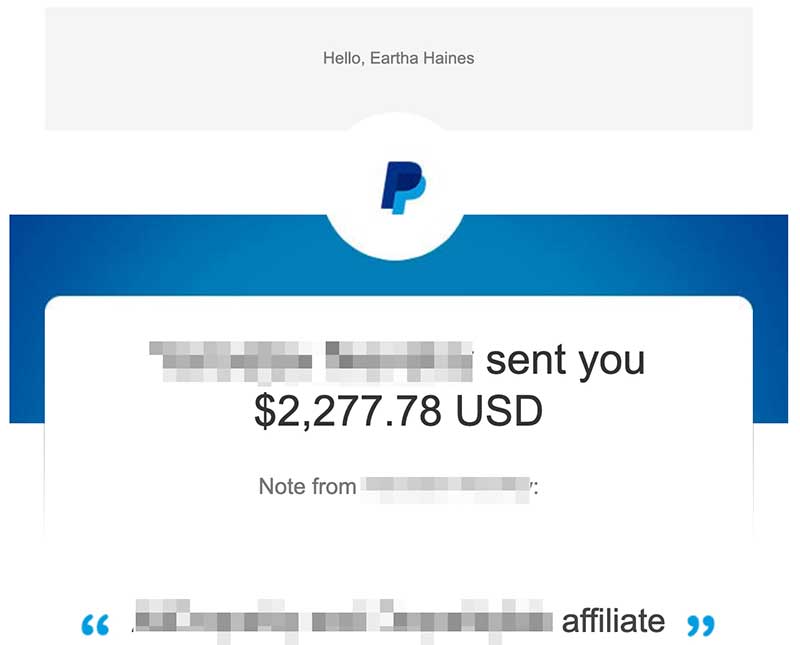 The sky is the limit with affiliate marketing. You determine how far you can go. Follow the same training course I used below:
I'll see you inside!
Eartha 🙂
Learn how I was able to quit a full-time retail job to work on my website full-time. Click here to learn how.