Furniture store sales in the United States equate to $116 billion! That means there is plenty of room for you to make money in this niche. Getting started begins with joining various furniture affiliate programs. The ones highlighted below offer some great options.
One of the best ways to make money with furniture affiliate programs is by creating a niche website. Lifestyle bloggers have this down pretty well. You may come across blogs that share home decor tips and recommend furnishings using their affiliate links.
I will also cover how to get your own niche website so that you can dive into this niche as well.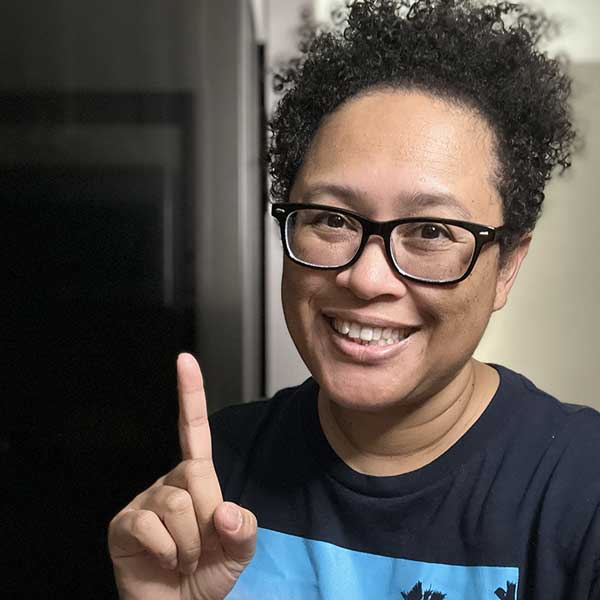 HOW I MAKE $1,000 COMMISSIONS
Hey there! I'm Eartha, the author of this website and an affiliate marketer. I share various affiliate programs and ways to help boost affiliate income. Click the link below and I'll share how I'm able to make $1,000 – $2,000 commissions:
Furniture Affiliate Programs
Froy
Overstock
Wayfair
Simbly
Chita Living
Unruh
Kroft
Froy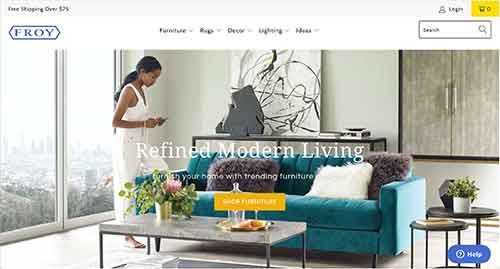 The Froy furniture brand is an online retailer of curated furniture from around the world. They carry furniture in popular styles such as modern, rustic, mid-century, Scandinavian, coastal, farmhouse, and more.
Customers receive free shipping on orders of $75 or more, plus 14-day returns. Their affiliate program is managed by Refersion and offers a 5% commission rate and 30-day cookie length.
Why Apply to the Froy Affiliate Program?
This company does an excellent job of curating furniture and home decor items from around the world. Their website makes it easy to begin browsing popular styles.
Commission: 5%
Cookie Length: 30 days
Overstock
You are probably already familiar with Overstock. They started in 1999 and has since become a billion-dollar online retailer. They carry furniture, home decor, jewelry, apparel, and more.
Their affiliate program is managed by CJ Affiliate and offers a 6% commission rate on all sales with a 14-day cookie length.
Why Apply to the Overstock Affiliate Program?
It may be well worth it to promote products on Overstock for the brand recognition alone. Besides that, they have a large selection of just about everything. That offers you much more to recommend on your own niche website.
Commission: 6%
Cookie Length: 14 days
Wayfair
If you are seeking one of the most popular online destinations for furniture and home decor, Wayfair has to be it. The company generated $9.5 billion in net revenue for the twelve months ended March 31, 2020.
Their affiliate program is managed by CJ Affiliate and offers a 7% commission and 7-day cookie length.
Why Apply to the Wayfair Affiliate Program?
You can find literally everything to decorate a home on this one website. Besides that, Wayfair has become a household name. Conversions would likely be high once your referrals land on this website.
The commission rate isn't bad and considering that many people will likely buy multiple items, this could make for a nice steady income.
Commission: 7%
Cookie Length: 7 days
Simbly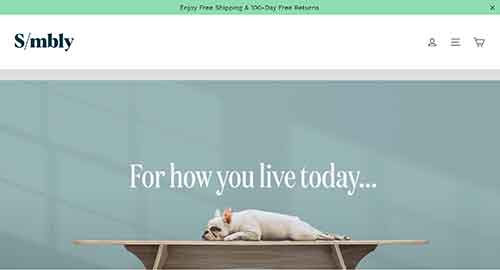 An eco-friendly and sustainable furniture company, Simbly offers modern furniture that is also affordable. They also offer free shipping and 100-day returns.
Unlike most furniture companies, Simbly specializes in contemporary tables and benches. Their affiliate program is managed by ShareASale and offers an 8% commission rate with a 90-day cookie length.
Why Apply to the Simbly Affiliate Program?
Simbly has cool and modern style tables and benches that many people would love when searching for unique pieces of furniture. They have a decent commission rate and generous cookie length as well.
Commission: 8%
Cookie Length: 90 days
Chita Living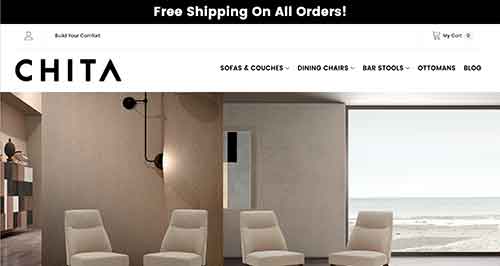 This company sells sofas, mattresses, chairs and more. They specialize in premium quality furniture that is easy to assemble, well-designed and affordable.
The affiliate program is managed by ShareASale and offers a 5% commission and 60-day cookie length.
Why Apply to the Chita Living Affiliate Program?
If your target audience likes modern furniture, Chita Living furniture offers that with some great selections. Currently, there isn't a lot of inventory offered on their online store. However, I'm sure it will change in the future.
Commission: 5%
Cookie Length: 60 days
Unruh
The Unruh furniture company creates custom furniture and allows customers to customize almost every aspect of their order. It begins by selecting a piece and then you presented with options to customize the size, wood, finish, drawers, and doors.
The affiliate program is also awesome. Affiliates receive $100 per sale and payments are sent via Cash App, Venmo, or PayPal.
Why Apply to the Unruh Affiliate Program?
Custom furniture is a great furniture subniche to pursue. Unruh offers a lot of customizations for all of their furniture options. That is a great selling point when promoting their products.
Not only that, but the $100 commissions per sale is an awesome incentive for affiliates. Build a following with your social media accounts and a niche website and you could easily earn several hundred and possibly thousands per month.
Commission: $100 per sale
Cookie Length: not disclosed
Kroft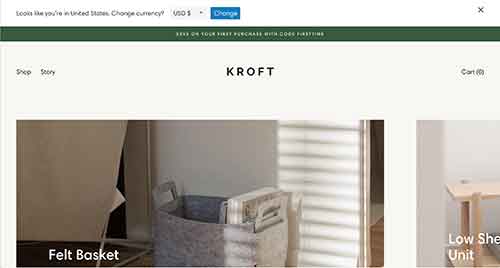 This furniture company crafts uniquely designed furniture that is also stylish. They specialize in furniture accessories, seating, and storage & shelving.
The affiliate program is managed by Affilio and offers a 6.5% commission rate with a 20-day cookie length.
Why Apply to the Kroft Affiliate Program?
This is another furniture company that offers really cool and unique modern designed furniture. Their affiliate program has auto-approved commissions and commissions are available in two days.
Commission: 6.5%
Cookie Length: 20 days
How to Best Promote Furniture Affiliate Products
If I were to begin promoting furniture as an affiliate, I would create a niche website. You don't have to be an expert in interior design to recommend furniture.
Some bloggers will recommend furniture after buying a specific piece. They'll display it in their home and write a review. Other bloggers curate information related to home decor which is easy to do if you search for ideas on Pinterest.
Another way you could promote furniture is by building up an Instagram following. You could focus on home decor photos and then occasionally post affiliate products and post your affiliate link in your bio.
When I decided to take affiliate marketing seriously, I didn't know how to start making money with a blog. I searched for an online training program and found this one.
Following that training is what helped me to finally get to the point of making a consistent income online with affiliate marketing.
Why Niche Websites Work So Well
A niche website is simply a website that focuses on one topic. In many cases, a niche website is a blog and the content that you create (blog posts) is what attracts targeted visitors to your website.
The niche that you choose does not have to be directly related to furniture. For example, many lifestyle bloggers promote furniture.
I've come across mom bloggers that may decorate a particular room in their home and use their affiliate links for some of the items in the room.
However, it can be beneficial to have a website in the home decor niche. You can then create content for search engine queries like "small modern end tables" or "where to buy floating shelves for living room".
Getting Your Niche Website Up and Running
I always recommend using a self-hosted WordPress website. All that means is registering your own domain name, getting a web hosting account, and installing WordPress on your account with one-click installation.
Don't worry. It is a lot easier than you think. There are many web hosting providers that you can choose from. I recommend SiteGround or WPX Hosting.
Both let you register your domain name and have one-click WordPress installation. It is really easy to get set up.
Once your WordPress website is up, you can choose a WordPress theme. I recommend Generate Press. There is a free version and it is an easy to use theme that is also fast loading.
Creating Content for Your Niche Website
Content creation is the bread and butter of your niche website. That means you will need to focus on creating new blog posts at least 1 to 2 times per week.
Before I write a new piece of content, I do keyword research. There are paid and free keyword tools that you can use. Now a days, I use Google Search and the autosuggest feature.
The autosuggest results let you know what Google searches are searching for and most of the time, you can get some really good long tail keyword phrases.
I use this process to continually rank on the first page of Google. As my blog posts rank, the more traffic I receive from all of the blog posts that are ranked.
My Closing Thoughts On Furniture Affiliate Programs
I hope that these furniture affiliate programs have provided you with some great options for your next niche website or affiliate marketing project.
Out of all of the above, the Unruh affiliate program really stood out to me. I like the $100 per sale commission and the fact that all of their furniture can be customized. That is an excellent selling point.
If you are ready to level up your affiliate earnings, I recommend following the same step-by-step training program I followed.