Out of the various online businesses that you can start, FBA (fulfillment by Amazon) is one of the most popular but also one that has a high startup cost.
It is also one of the most challenging businesses that has a somewhat high learning curve. A course like FBA Masterclass by Tom Wang is designed to help beginners navigate the world of running an FBA business.
The FBA Masterclass course is high-ticket. It will likely cost thousands of dollars to take the course. There is no way to know if you'll like the training or not.
Before I invest money into a product, I like to do as much research as possible before I buy it. I've been working online long enough to spot whether a product is a scam or legit.
That is my goal with this FBA Masterclass review. I want to find out all about it and decide if it is worth investing in.
Who am I? I'm Eartha, the author of this blog and a full-time affiliate marketer. I enjoy searching for new products and online courses related to starting online businesses.
Let's get started below. Also, if you want to know more about starting an online business that is low-cost, low-risk, and long-term, read until the end as I share what I do.
Product Name: FBA Masterclass
Product Creator: Tom Wang
Product Price: $6K – $8K (estimate)
How I Make $1,000 Commissions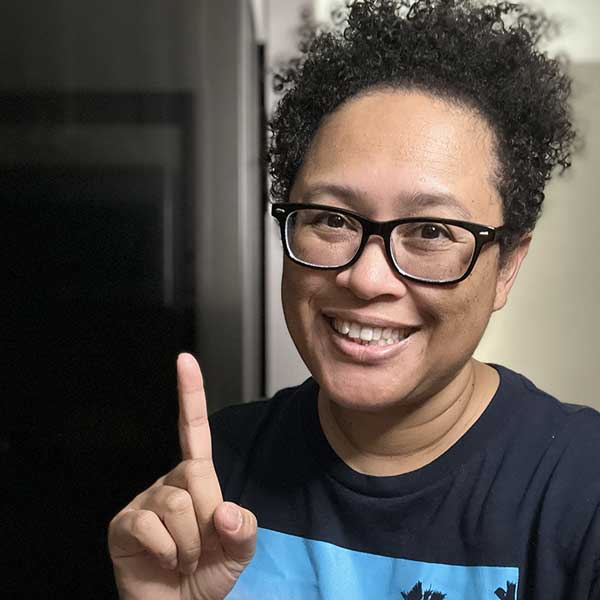 Hey there! I'm Eartha, the author of this website and an affiliate marketer. I share ways to help boost income online. Thanks to affiliate marketing, I'm able to make $1,000 – $2,000 for every sale that I refer.
I never need my own product and I don't have to do any order fulfillment. Click the link below and I'll share exactly how I do it:
What is FBA Masterclass?
FBA Masterclass is a training program created by Tom Wang that teaches how to create your own online business with Amazon FBA (fulfillment by Amazon.)
It is a 200+ module self-paced training program that includes live coaching calls and an active Facebook group.
Besides the core training, you also receive four bonuses including:
Million Dollar Network – Tom's pre-approved list of vendors.
List of Great Product Ideas – A vetted list of product ideas.
Perfect Product Manifesto – Helps you find the perfect first product.
Negotiation Secrets Case Study – Watch an entire negotiation from start to finish and a script to use on your own.
The live coaching calls are conducted Monday-Wednesday by Tom and his team. Another plus is that the course is updated with new modules on a regular basis covering new tactics and strategies.
Private coaching is also available from other 7-8 figure Amazon sellers. Students also gain access to VIP guests such as 8-figure sellers and equity investors.
There are also partnership invitations and funding opportunities. Finally, students also receive done-for-you templates and systems.
Who is Tom Wang?
Tom Wang's journey to entrepreneurship was not an easy one. He began selling things at a young age such as watches and hoverboards.
In 2015, he noticed that hoverboards were trending on social media. He figured that he could buy them from China for $300 each and sell them for $500 each.
He spent his last $5,000 to buy 15 hoverboards and 10 of them ended up being defective. Fortunately, due to his hoverboard experience, he met someone who was selling products on Amazon.
Tom partnered up with this person and sold some of his hoverboards on Amazon. It was his first exposure to Amazon FBA.
In 2017, Tom started to do Amazon FBA himself. It was a challenge and after two failed product attempts, he wanted to quit. However, his girlfriend/business partner pushed him to try again.
This time, he reached out for help from some other experienced sellers. Their advice gave him what he needed to approach the business differently.
Tom began achieving success and two years later, he was sharing his story live on stage in front of thousands of people.
Who is FBA Masterclass For?
I would say this course is ideal for anyone interested in starting an FBA business. It is also good for those already doing FBA but struggling to make money with it.
It is also recommended to have at least $5,000 to start your eCommerce FBA business. You have to account for costs associated with buying inventory, shipping it to an Amazon warehouse, Amazon fees, PPC ads, and more.
You must also be willing to follow every step of the training and take action on what you're learning. Without action, your business won't get off the ground.
I also think you should be comfortable with taking risks. Although you'll have plenty of guidance from the course, there is still a chance that you pick a product that doesn't work out the first time.
Therefore, there is definitely some financial risk involved.
How Much Does FBA Masterclass Cost?
I couldn't find a price for the program on the website. What I found during my research were prices ranging from $6,000 – $8,000. This could be due to price changes over the years.
Either way, you can bet that this remains a high-ticket product. With all that is offered in the course (over 200 modules plus live coaching calls, etc.), it is not going to be a cheap course.
Does This Program Offer a Refund?
I did search for information about refunding the product and ended up on the website's terms and conditions page.
Doing a search for the word "refund" brought me to the section of the page talking about the refund policy.
According to the terms, all sales are final.

Sometimes those pages are not kept up to date. I would reach out to customer support before buying and ask about the refund policy to get the most up-to-date information about it.
I wouldn't be surprised if all sales are final. Selling digital products is tricky. Once a customer has access to the information, the product owner can't exactly take it all back.
That is why you may come across online courses that make it a bit difficult to get a refund by stating that you have to prove that the training didn't work for you.
I don't know how exactly someone proves that. However, it is a strategy that a lot of online course creators use to protect themselves from fraudulent refunds.
Is FBA Masterclass a Scam or Legit?
Upon doing my research, there is nothing that stands out that would make me think FBA Masterclass is a scam. It is all on the up and up.
It is one of the most robust Amazon FBA courses I have come across. Tom Wang is the real deal. He is not hiding in the shadows simply trying to sell a course.
Like any online course, if you invest in it, you need to follow through. If you buy it and dabble with what is taught, you won't reach success.
Put what you learn to work and stay consistent. Consistency is key!
What Others Have to Say About This Program
One of the first things that I do when researching a product is to find out what others have to say about it.
You can read and watch testimonials on the product website but those are always going to be glowing reviews.
Instead, I search for the product on websites like Trustpilot and BBB.org. FBA Masterclass was on both websites.
The Trustpilot reviews were primarily for Tom Wang's book. On the BBB website, there were only two reviews. One was positive and one was negative.
For the most part, the negative complaint was more about the cost of the program and the cost of running an FBA business.
A representative from FBA Masterclass did respond to the complaint and I felt it was handled well.
The fact of the matter is that Amazon FBA is a high-cost and somewhat high-risk business model. You are going to spend thousands of dollars to start on top of the training course.
The FBA Masterclass sales page is clear about this:

They state that you need to have at least $5,000 to build your business and if you don't have it, save up until you do.
Final Thoughts On FBA Masterclass
My final thought on this program is that it appears to be one of the better Amazon FBA courses available.
What I think many people may not understand is how much it costs to start and operate an Amazon FBA business.
When you see the success of those that are earning 5, 6, and even 7-figures with this business model, it is exciting and makes you want to go all in.
However, I think it's important to think about how much money it takes to get going. For example, if you invest in the course, you're already spending several thousand dollars for it (more than likely.)
Next, when you find a product to sell, you'll spend several thousand in inventory, plus fees to ship it to an Amazon fulfillment center.
Don't forget about Amazon's fees for storage and order fulfillment, plus what they take each time one of your products sells.
On top of that, all business has some level of risk. You could spend thousands of dollars and the product you've chosen doesn't sell well.
For some, this business model is the solution they're looking for. For myself, I chose to go a different route.
The business I chose has a lot less hassle and stress, and it is fun. Read below!
How I Make a Steady Income Online Without FBA
I'll give you a bit of my backstory first. Several years ago I worked as a web designer for a marketing agency. The owner of the company was retiring and decided to sell the company.
During my third year there, the new owners laid off the entire web team. I had nothing to fall back on and no idea where to go next.
It was then that I decided to start an online business and choose affiliate marketing as my business model.
Affiliate marketing is the promotion of another company's products in exchange for a commission when a sale is made.
I had dabbled in affiliate marketing in the past with no real results. This time I would take it seriously.
Since I needed a low-cost way to start, I created a website using WordPress. I still needed guidance so I searched for a legitimate training program and found this one.
Following that training and applying what I learned to my own website helped to quit a lousy retail job that I took after losing my job.
I was able to transition into working for myself and it is what I continue to do today.
Here is a screen capture of an affiliate commission I made from one affiliate program: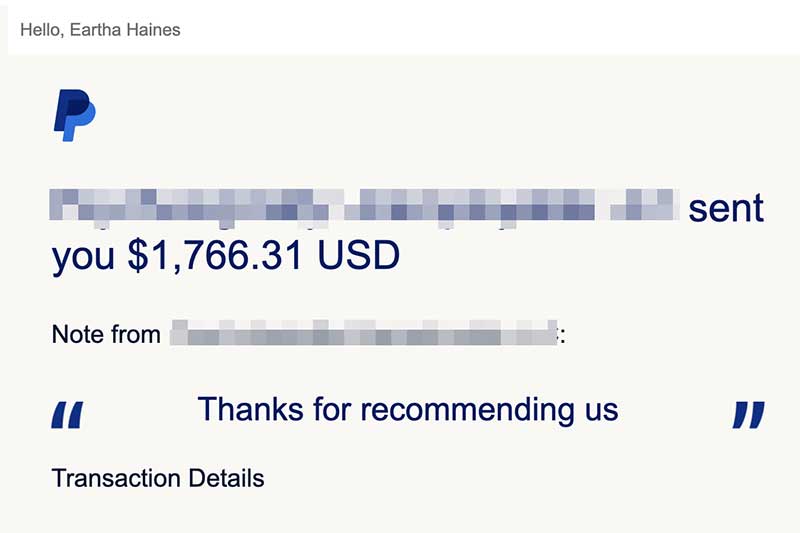 Affiliate marketing has so many great benefits in comparison to FBA such as:
You don't need your own product
Never any inventory to buy or ship
No customer service hassles
Work from anywhere with WiFi
Unlimited earning potential
Create time freedom and lifestyle freedom
Tons of products you can promote
Affiliate programs are free to join
Choose any niche you want
Low-maintenance, low-risk, and easy to start
You can follow the same exact training I did and get started with affiliate marketing today. Click the button below:
Wherever your online business journey takes you, I wish you all the best!
Wishing you success!
Eartha 🙂