I began selling on Facebook Marketplace in order to sell some items that were in our storage. After listing some of the first items, we immediately began to get inquiries via Facebook messenger.
We were selling locally only (no shipping) and the messages were coming in steadily. Within the first week of listing items, we sold three of the items we had listed.
That being said, I became curious about Facebook Marketplace dropshipping. If our own items were selling so quickly, wouldn't other types of items sell just as fast?
Hi! I'm Eartha, the author of this blog and a full-time affiliate marketer. I enjoy seeking out ways to make money online. Keep reading to learn how to dropship on Facebook Marketplace and if it's worth it.
Discover how I created a steady income online with one simple website.
What is Facebook Marketplace Dropshipping?
Have you ever sold anything on eBay? If so, Facebook Marketplace is very similar. I think it initially began as a way for people to sell their items locally.
However, users now have the option to ship items as well. Dropshipping on Facebook is now picking up a lot of steam. It seems to be an untapped marketplace for dropshippers.
Don't sleep on it, though! A lot of people are learning about using this platform for dropshipping so competition will eventually increase.
The way dropshipping on Facebook works is similar to how it works on other eCommerce platforms.
You find dropshipping suppliers that you want to work with and begin listing items on Facebook Marketplace.
What a lot of dropshippers do is find items on retail websites such as WalMart, Costco, and such. They copy the images and description and paste them onto their listing on Facebook Marketplace.
You can then increase the price so that you make a profit. You do have to take into account Facebook's fees. When a sale is made, Facebook charges a 5% fee or $0.40 cents (whichever is higher.)
When someone orders one of the items that you have listed, you place the order from the dropshipping supplier, input the user's shipping info, and the company ships the item to the customer.
Your profit is the difference between what the item cost you and what you charged the customer (minus Facebook's fee.)
It really is as simple as that. However, doing this process manually can be really time-consuming. There is a solution to make it faster and easier by using dropshipping software.
The one I used and tested is called AutoDS. It is really easy to use and makes the process of listing items on Facebook faster. They have tons of suppliers that you can use that dropship from the U.S.
Besides that, the software also updates the pricing and availability of the product for you. You can also set it to help automate order fulfillment.
What Can I Dropship On Facebook Marketplace?
There are all types of items that you can dropship on Facebook Marketplace. I think the more important question is what can't you dropship?
Here is a list of products that you can't dropship:
Adult products (like sex toys)
Medical products (e.g., band-aids, antibiotic ointments, pain relievers, etc.)
Misleading, violent, or hateful materials (for example, a T-shirt with a hateful message)
Ingestible supplements (e.g., vitamins, protein bars, and the like)
Alcohol (e.g., beer, vodka, rum)
Recalled products
Any products that violate the Facebook community policy
Source: AutoDS blog
In order to increase your chances of making sales, you should do some product research (which isn't difficult) by starting on a website like Amazon.
Amazon shows you the products that are bestsellers. You can search through them to find items to dropship. Click through each category to get ideas.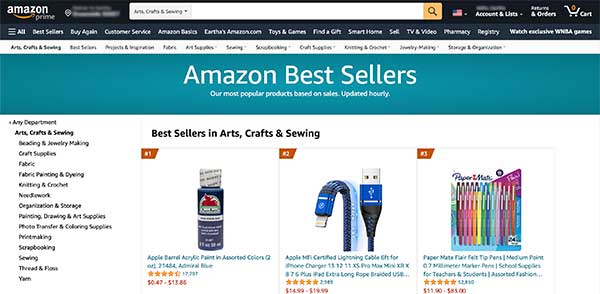 Good categories include arts & crafts, appliances, automotive, home & kitchen, etc.
While you can dropship products from Amazon to Facebook Marketplace, there are tons of other websites you can source from as well.
These include websites like:
Walmart
Target
Costco
Banggood
AliDropship
eBay
If you're going to use websites like Banggood or AliDropship, be sure to choose products that ship from the U.S.
Keep in mind that in order to dropship on Facebook Marketplace, you will need to be located in the U.S.
Facebook Marketplace Dropshipping From Amazon
If you prefer to use Amazon for dropshipping, you simply buy the product from Amazon the way you would when you buy products for yourself.
The only difference is that you'll be using your customer's address as the shipping address. Some dropshippers choose to ship items as a gift.
I'm not sure what the advantage of this is. If you're wondering if customers will be upset if the item comes from Amazon, it apparently isn't that big of an issue for most dropshippers.
You can simply explain that you fulfill some of your items through Amazon's warehouses.
Another option is to find merchants that fulfill orders themselves rather than using Amazon FBA. These are third-party sellers that ship via USPS or another method.
Facebook Marketplace Dropshipping Software
As I mentioned earlier, it is faster and easier to dropship on Facebook if you use some type of Facebook Marketplace dropshipping software.
When I began doing research on Facebook dropshipping, I came across a useful software called AutoDS.
It is user-friendly and has a ton of features. You can dropship from places like Amazon, Walmart, eBay, Banggood, and many more.
They also have Chrome browser extensions to help speed up listing. You can import products from other retailer websites and paste images and text into your Facebook Marketplace listing with a click of a button.
There are plenty of tutorial videos inside your admin dashboard that will should you step-by-step how to add products.
This software is a time saver and is especially helpful if you plan on opening more than one Facebook Marketplace account.
You can also use the software to dropship on eBay and Shopify. It is low-cost and worth the money if you want to scale up your business.
I can't imagine trying to dropship by doing it all manually. It's definitely possible but it is a slow process.
A big benefit to using this software is that it automatically updates any price changes and stock changes.
That way you never have to worry about if the price goes up or down or is out of stock.
What to Consider Before Dropshipping On Facebook
After selling a few items within the Facebook Marketplace, there are some things to be aware of before dropshipping products.
For one thing, be prepared to install Facebook messenger on your smartphone if you haven't already.
When people are interested in buying a product that you are selling, they will likely reach out to you before buying.
Most people will message with the standard "is this still available?" question. Either way, they will ask something about the product.
They may also try to haggle for a lower price. You will spend a lot of time answering these questions depending on how many products you have up for sale.
Most people are satisfied once you respond and will feel comfortable enough to buy.
How Many Products To List
According to AutoDS, most Facebook Marketplace dropshippers sold their first item after listing between 20 to 30 items.
I didn't list nearly that many but I can understand how the more you list, the higher the chance you'll make a sale.
Selling products that you already have in stock sells faster in my opinion. I think it helps that you take your own photos of the products which make them appear to be more genuine than the stock photos that you copy from a retailer's website.
Serious dropshippers that earn full-time incomes list tons of products. This is why AutoDS recommends hiring virtual assistants as you sell more products.
Hiring VAs helps you scale faster as they can list products for you. It saves you a lot of time and frees you up to do other things.
However, hiring VAs shouldn't be necessary until you are earning a good income already from dropshipping.
Dropshipping is a Real Business
Like any other online store, you'll be dealing with customer support issues. There will be times when a customer wants a refund. You'll have to deal with handling product returns and refunding money.
The more items that you sell, the more customer service issues you'll have as well. Again, if you have the budget, you can outsource customer service to a VA.
When you're just starting out, be prepared to handle these issues yourself.
Another thing to keep in mind is that you'll be constantly on the lookout for new products to add to your marketplace listings.
Some products will sell often while others may not sell at all. You'll have to keep track of best sellers and items that flop.
What I Don't Like About Dropshipping On Facebook Marketplace
Many products that you find to sell won't have the best price. This is because you are not buying items wholesale.
Therefore, every product that you list won't have a high-profit margin. That is the reason why you have to list a ton of products in order to make a decent amount of money.
You'll also need to have a budget so that you can pay for products. Facebook doesn't release the money that you make right away.
It will take a few days to send to your bank account. You'll need to have money available to buy products from your dropshippers so that they ship quickly to your customers.
I also don't like the customer service portion of dropshipping. While it only takes a minute or two to respond to Facebook messages, it can feel overwhelming when you have a lot of them coming in.
A Dropshipping Alternative – How I Make Money Online
I've never really cared for running an eCommerce website regardless of what platform is used. The main reason is that I don't like customer service issues.
It is one of the reasons why I chose to do affiliate marketing. Affiliate marketing is different than dropshipping and more beneficial in some ways.
If you don't know what affiliate marketing is, it is the promotion of another company's products in exchange for a commission when a sale is made.
The screenshot below is a commission that I made from one affiliate program: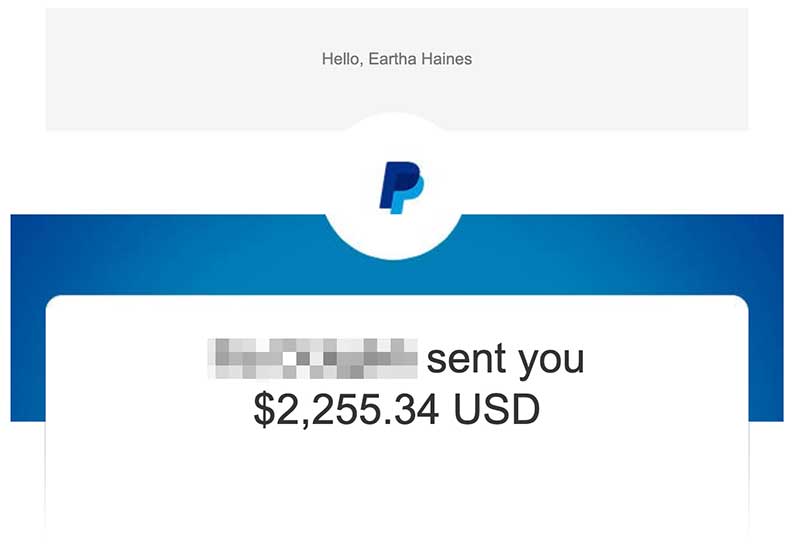 Best of all, I didn't need my own product. I didn't need to buy anything or ship anything. All I did was create a simple niche website and create content on a regular basis in the form of blog posts.
I explain how it all works here.
Affiliate marketing is a great alternative to dropshipping. If you like, you can even do both at the same time.
Closing Thoughts On Facebook Marketplace Dropshipping
I think if you are truly interested in dropshipping, it is worth giving it a try on the Facebook Marketplace.
My recommendation is to use dropshipping software like AutoDS to help you automate the process.
You won't get very far manually adding products. Not to mention there is no way to stay up to date with pricing and inventory levels.
I do think there are plenty of opportunities for anyone to dropship on Facebook Marketplace.
Learn how I was able to quit a full-time retail job to work for myself online. Click here to learn more.