I've said on many occasions that software is one of my favorite things to promote as an affiliate marketer. Most referrals will use software for years and many of these affiliate programs have recurring commissions. Email marketing affiliate programs fit that description well.
The great thing is there are plenty of email marketing services to choose from and if you want, you can definitely apply to multiple affiliate programs and earn commissions from different companies.
In this post, I will highlight several companies with excellent affiliate programs as well as share how I would go about promoting them as an affiliate.
Tired of not making sales? Learn how I went from zero to consistent affiliate commissions every month. Click here to learn how I did it.
Email Marketing Affiliate Programs
An email marketing affiliate program is set up by the company to help generate leads and new sales which are generated by affiliate marketers. These companies share a percentage of each sale in the form of a commission.
Many of these affiliate programs offer recurring commissions. Sometimes these services are also referred to as autoresponder services.
Email marketing continues to be a tried-and-true method of nurturing relationships with new and potential customers. As an affiliate marketer, you can recommend these services to other businesses while earning a commission in the process.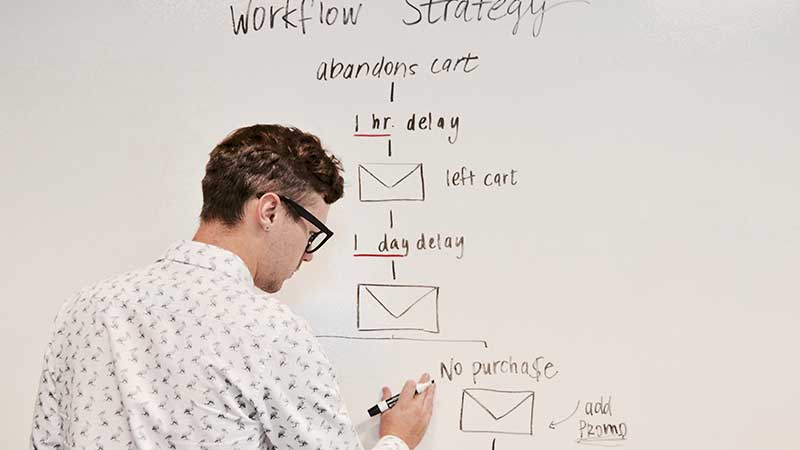 Constant Contact
When I think of email marketing, Constant Contact is one of those companies that comes to my mind. They have been operating since 1995 and have grown their service beyond email to having a drag-and-drop website builder.
Although their affiliate program does not offer recurring commissions, they still have a great commission. You can earn $5 for each new referral and when a referral pays for a new account, you will earn $105.
Those commissions can add up fast in the span of a month. The affiliate program is managed by Impact.
Commission: $5 for each referral, $105 for new accounts
Cookie Length: not disclosed
---
Mailigen
This company has been in business for over 9 years as of this writing. Their email service has some great features to include behavior-based automation, drag-and-drop email editor, and integration features for a CRM, blog, or eCommerce store.
Pricing is reasonable as well starting at $10 per month for up to 500 subscribers. They also offer a 30-day free trial and plenty of free resources for learning how to grow and nurture an email list.
The affiliate program appears to be managed in-house and offers $2 per referral and $50 for each paid account. They also have a long cookie length of 120-days.
Commission: $2 per referral, $50 for paid accounts
Cookie Length: 120 days
---
MoonMail
The MoonMail service is an all-in-one messaging platform that offers Email, SMS, Voice, WhatsApp, FB Messenger, Amazon (ADM), Apple (APNs), Baidu & Firebase (FCM).
I couldn't find much info about the services features or the company itself. You can get some details about what is offered on their pricing page. When paid monthly, a user can start off at $59 per month.
Their additional plans are priced at $249 and $499 per month. They do offer a free sign-up offer as well. As an affiliate, you may like this affiliate program as it does have a 25% recurring commission.
Signing up is easy. You create a MoonMail account and get your affiliate link from your profile/affiliates tab.
Commission: 25% recurring
Cookie Length: not disclosed
---
ActiveCampaign
This service is more than email marketing. They also specialize in marketing automation and CRM & sales automation.
At 500 subscribers, pricing starts at only $15 per month. However, it does not include the CRM with sales automation feature. They also offer a free trial.
Unlike a typical email marketing service, ActiveCampaign offers features that many small to medium-sized businesses need such as the CRM & sales automation.
The affiliate program offers a 30% recurring commission which makes this company one to look into.
Commission: 30% recurring
Cookie Length: not disclosed
---
ConvertKit
This email service is quite popular among creators. I tried out the service for a little while and and liked its features. However, I felt at $29 per month, I could go with a more inexpensive service that met my needs.
What is great about ConvertKit is that you can send emails based on what your subscriber wants. Let's say you provide information on different topics.
Subscribers can opt to receive content A versus content B, etc. You can also make sales within your email funnels.
The affiliate program is awesome as it is recurring and offers a 30% commission. Signing up is easy and they manage their affiliate program in-house.
Commission: 30% recurring
Cookie Length: not disclosed
---
AWeber
This particular email service has been my goto service for years. Even after trying out various other companies, I've come back to AWeber on multiple occasions.
AWeber has been in business since 1998 and still remains a popular autoresponder for affiliate marketers. They've added many cool features over the years.
Their features include a AI-powered email template designer, landing pages, drag-and-drop email creator, free template library, and auto-newsletters from your blog.
The affiliate program has a 30% commission and a generous cookie length of 365 days!
Commission: 30% recurring
Cookie Length: 365 days
---
GetResponse
This email marketing company has great features and a really good affiliate program. GetResponse is another service that has been around for quite some time (over 20 years.)
Some of GetResponse's features include autoresponder, sales funnel, landing pages, marketing automation, and integrated webinar software. It really is an all-in-one marketing service for business of all sizes.
Their affiliate program is generous and offers two ways to earn commissions. You can either choose their bounty program in which you can earn $100 per sale or their recurring commission program at 33% commissions.
Commission: $100 per sale (bounty) or 33% recurring
Cookie Length: 120 days
---
MailerLite
The MailerLite email service was founded in 2010. They started out as a web agency in 2005, discovered email marketing, and fell in love with it.
This service offers many helpful features to include a drag-and-drop editor, website builder, landing pages, pop-ups, embedded forms, subscriber management, email automation, split testing, and more.
The affiliate program has a 30% recurring commission. Applying to the affiliate program is simple. Fill out a short form and get access to your affiliate link.
Commission: 30% recurring
Cookie Length: not disclosed
---
How I Would Promote Email Marketing Software as an Affiliate
My best advice for promoting any type of software is to have used it yourself. Even if you don't use the software for a long time, it helps to test it out for at least a month so that you can become familiar with its features and provide genuine and helpful feedback.
You can accomplish this fairly easily with email marketing affiliate programs. Most of them have payments that are on a monthly basis and some of them even offer between 14-day and 30-day free trials.
That is plenty of time to test out the features and create user reviews and tutorials.
Create a Niche Blog for Long-Term Commissions
Niche blogs work extremely well for generating affiliate commissions. In fact, it wasn't until I created a niche blog of my own that I had any success at all with affiliate marketing.
Initially, I didn't understand how to create a niche blog that would generate consistent affiliate commissions. I knew that I had to learn some skills so I searched for an online training program and found this one.
Following the training there made a big impact and enabled me to transition out of a full-time retail job to working full-time on my blog.
I quickly learned the power of niche websites and affiliate marketing. Blogging is a long-term online business. The content that you create is what gets indexed and ranked in the search results.
When you learn how to write for your niche audience, your blog will eventually receive traffic, and it is then that it can begin earning income.
What You Need for a Niche Blog
There isn't much that you need to start your own niche blog. In fact, it is one of the lowest cost online businesses that you can start. All that you need is:
a domain name
web hosting
installing WordPress with one-click installation
You can get all of the above with almost any web hosting provider. The two web hosting providers that I recommend include SiteGround and WPX Hosting.
I've used SiteGround in the past for its excellent customer service. I switched to WPX Hosting for its speed and customer support.
Choosing a Niche for Your Blog
Email marketing software is used by all types of businesses. You could enter many niches because of this. In my case, I would recommend email marketing software to other internet marketers.
I could do what I mentioned above and test out the various services using their free trials or paying for one month.
By doing so, I could create user reviews, user tutorials, and product comparisons. That provides me plenty of content to write for my blog.
I could then continue to recommend the various services within other blog posts that I write and link back to my product reviews.
Another idea is to choose a specific audience for example:
small business owners
real estate agents
medical offices
affiliate marketers
life coaches
restaurant owners
There are so many people and businesses that can benefit from email marketing. Think about niches that you have an interest in and whether or not that niche audience can use an email marketing software.
Write Helpful Content Often
The key to any blog is to write helpful content on a regular basis. By regular, I mean 1 to 2 times per week. That is completely doable, even with a busy schedule. I created content around 3 to 4 times per week with a busy schedule.
It is your content that will drive free targeted traffic to your blog. With consistent effort, you can expect your first visitors around the 3 month mark.
Do not give up! I've come across many people that quit after the 3-month mark of starting their blog. If I had quit at the 3-month mark, I wouldn't have experienced success with my first blog.
Closing Thoughts On Email Marketing Affiliate Programs
Email marketing is something that almost any business needs. Once you have a referral, they will likely stay with a service for several months and possibly many years.
With recurring commissions, that is equates to a steady income stream for you. Niche blogs are how I am able to generate a consistent income online.
If you are ready to level up your affiliate earnings, consider following the same step-by-step training program that I followed. Following that program helped me to progress faster than if I had learned on my own.
I use the same training platform today to help others one-on-one with creating their own niche websites.