The drone niche is a lucrative niche for affiliate marketers. The key is finding a high-commission and good quality drone affiliate program.
The ABJ Drone Academy is one such affiliate program that offers high commissions and in-demand service.
Below, I will highlight what the ABJ Drone Academy affiliate program offers and how you can start promoting their product as an affiliate.
Tired of not making sales? Learn how I went from zero to consistent affiliate commissions every month. Click here to learn how I did it.
What is the ABJ Academy Drone Affiliate Program?
The ABJ Drone Academy offers online and in-person training covering commercial and industry specific drone training for drone pilots of all skill levels and backgrounds.
Therefore, as an affiliate, you would be recommending their digital courses. These courses are a much needed in the drone niche.
Everyday, there are people that are in search of how to obtain the proper training and licensing to fly drones.
Whether for themselves, a home-based business, or for their career, ABJ Academy offers flexible online training.
By targeting the right niche which would be beginner drone pilots, it would be a simple conversion when recommending the ABJ Academy courses.
What the ABJ Drone Academy Affiliate Program Offers
Besides having an in-demand drone training course, ABJ Academy doesn't skimp on their affiliate program.
They offer 4 different levels of commissions as follows:
| | |
| --- | --- |
| Level 1: | 1-9 Sales within 30 days = 40% Commission |
| Level 2: | 10-39 Sales within 30 days = 50% Commission |
| Level 3: | 40-99 Sales within 30 days = 60% Commission |
| Level 4: | 100+ Sales within 30 days = 70% Commission |
The base 40% commission is already quiet good in comparison to what most affiliate programs offer.
However, having the opportunity to earn up to 70% commissions based on the number of sales you can produce is a great incentive.
Other Affiliate Program Details
You'll also get a 30-day cookie length and a $50 minimum payment threshold.
The affiliate application is simple but does ask for a website URL and what would make you a good fit.
Otherwise, the approval process is within 24-hours.
If you want to ensure that you are approved the first time you apply, it helps to already have an asset such as a niche website, social media profile, or YouTube channel related to the drone niche.
Commission: up to 70%
Cookie Length: 30 days
Drone Affiliate Program Alternatives
There are other drone affiliate programs that you can apply to as well. Some of them include the DJI affiliate program that offers a 5% commission.
The AerialTech affiliate program is another with a 4% commission rate. It is great to have options so that you can recommend other related products in the niche.
How to Earn Income From Drone Affiliate Programs
One of the best ways to earn a steady income from a drone affiliate program or any affiliate program for that matter is to create a niche website.
A niche website is essentially a blog. When I took affiliate marketing seriously, I created a niche website.
At first, I didn't know how to earn income from a blog. I only knew that it was an easy and low-cost strategy for making money online.
Rather than try to figure out how to do it all on my own, I searched for an online training program and found this one.
Following the training and applying what I learned is what helped me to transition out of a 40-hour a week retail job into working on my website full-time.
The content that you create on a niche website is what eventually gets indexed and ranked by the search engines like Google.
As your blog posts get ranked, your content is what attracts targeted web visitors.
A percentage of people that visit your website will click on your affiliate links and a percentage of those clicks will convert into sales.
Creating a Niche Website
The first step to creating your own niche website is deciding on the niche. In this case, the niche will be drones.
However, there are a number of subniches that you can consider within the general drone niche.
Here are some ideas:
racing drones
drone repair
drone training
drone footage
career as a drone pilot
Focusing on a subniche offers less competition in the search results and enables you to attract a much more targeted audience.
After choosing your niche, you'll need to register a domain name, get web hosting, and install WordPress on your hosting account.
Almost any web hosting provider can take care of all of this for you. Good hosting providers include Bluehost, SiteGround, and WPX.
Writing Content for Your Drone Website
I don't create a new piece of content without doing some keyword research.
Keyword research helps you to understand what your niche audience is searching for.
Remember, the ultimate goal is to help your readers. The more helpful you are, the more they will trust your content and that leads to more clicks on your affiliate links
The first place I go to for doing keyword phrase research is Google Search.
I begin typing in a keyword related to the niche and wait for the autosuggest results to display.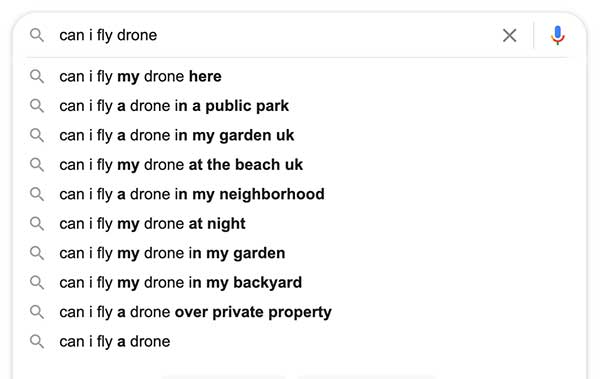 From the list above, you begin to get ideas for what people are needing solutions for.
You can then pick one of the ideas and write an article about it. Repeat this process often and create new content often.
Over time, your posts will be indexed and ranked. That results in free targeted web traffic.
That is why it's important to write new content on a regular basis. I recommend posting at least 1 to 2 times per week.
I do this full-time so my personal goal is to write 3 to 4 times per week.
Before you know it, you'll have a steady stream of web traffic and once that happens, your website can start earning income.
How to Boost Your Conversions
I've had the best conversions by writing product reviews for the affiliate products I am promoting.
In this case, if you are actually interested in becoming a drone pilot and want to take the ABJ Drone Academy courses, it would be a great way to review the product firsthand.
However, that isn't necessary. You can read as much detail about the courses and even reach out to the company and ask specific questions to add to your product review.
Once you've written your product review, you can link back to it from your other blog posts when you want to recommend it.
Your review acts as a presell page. A presell page warms up your visitors to the product before clicking over to it using your affiliate links.
Warming up the visitor before they land on the merchant's website increases the likelihood that they will buy the product or service.
Closing Thoughts
Overall, I think the ABJ Drone Academy affiliate program is worth applying to if you want to pursue the drone niche.
It is a product that is useful to many people that are interested in becoming a drone pilot.
By helping this niche, it makes for an easy conversion to recommend training courses that they need to accomplish their goals.
If you are ready to level up your affiliate earnings, consider following the same step-by-step training program I followed when I got started.
Ready to make money with a blog? Learn how I went from zero to consistent affiliate commissions every month. Click here to learn how I did it.