Recently, I came across an ad for Affiliate Nation and was immediately intrigued as I like finding new affiliate marketing-related products.
The ad led to a website called High Ticket Nation and I signed up so that I could watch the webinar and learn more about their offer.
I was expecting some type of training course for learning affiliate marketing but that is not what was offered at all.
Rather, what Affiliate Nation offers is a DFY (done for you) business that is based on their own business model. Read on to learn more about what the DFY business is about.
Tired of not making sales? Learn how I went from zero to consistent affiliate commissions every month. Click here to learn how I did it.
What is Affiliate Nation?
When I came across their ad, I had never heard of Affiliate Nation. The company is made up of a team of individuals with years of marketing and sales skills.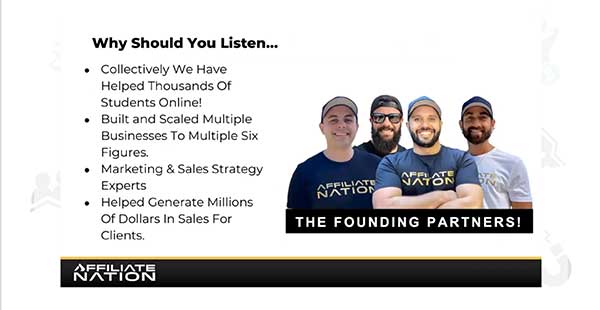 They do state their names in the webinar which is already a good sign. When you come across any type of affiliate marketing product or course, it's important to have some transparency about who the owners are.
The actual Affiliate Nation website directs you to the same webinar that is on the High Ticket Nation website.
There is a free training course linked on the Affiliate Nation website that is called Organic Marketing Formula.
I glanced through the information and noticed that they do promote an organic SEO tool called Pepper.
What is High Ticket Nation?
This website is a funnel page that directs people to a free webinar. I signed up and watched the entire webinar which was probably around 20 to 25 minutes long.
This was refreshing as many free webinars are over an hour long. I really don't know how people have the patience to sit through webinars that are that long!
There wasn't anything too informative about affiliate marketing. It was really all about the high-ticket offer (more on that below.)
The High Ticket Nation Webinar and What is Offered
I have to admit that I was a bit disappointed that the webinar didn't really have to do with affiliate marketing at all.
With a name like Affiliate Nation and High Ticket Nation, I was expecting some training on how to actually do affiliate marketing.
Instead, it was more of an introduction into another business which appears to be operated by the same team that is in the travel niche.
It's not necessarily a bad thing since you likely become an affiliate of the travel company.
There are still things you'll need to learn and implement and Affiliate Nation provides all of the needed tools and resources.
What Affiliate Nation Offers Their Affiliates:
Done for you sales funnels and automated marketing system
Done for you marketing and advertising
Done for you sales and client management
If you like done-for-you systems, this may be an ideal option for you. Let's dive a little deeper into what the system is.
DFY Digital Franchise Model
The webinar introduces the Digital Franchise Model. If you know what a franchise is, it's a business that someone has created and licenses the business model, brand, rights, etc., to a franchisee.
Think McDonald's but this business is online. Chances are you would need to pay into this business model in some way, whether it is a monthly fee or one-time payment.
The term "franchise" is sort of misleading for affiliate marketers. What this is for sure is a high-ticket offer that is promoted using affiliate marketing strategies.
Thus, the DFY sales funnels and sales & client management.
Unify Travel Club
The franchise that is the offer is called Unify Travel Club. It is a discount travel website that offers members significant discounts on travel, hotel, and resort stays.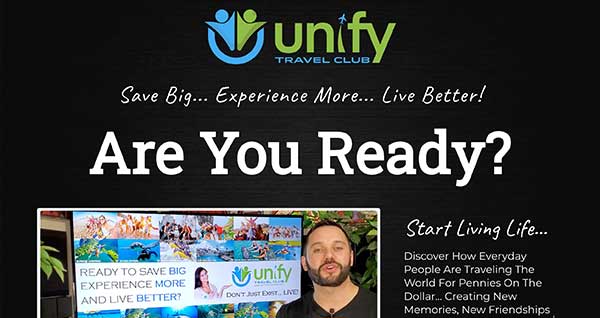 It is a great niche since travel is an evergreen niche. People are always going to travel and they want to save money doing it.
Since this is a high-ticket offer, chances are the membership is likely high-ticket as well.
In order to learn more about the Unify Travel Club, you must attend another free webinar. They do collect names, email, and phone numbers as the sales team will likely follow up with you.
Possible Issues with Travel in General
Traveling has been set back as the world is still dealing with and recovering from the pandemic.
The good news is that once the world opens back up and travel is back to normal, any travel business is set to have significant sales.
Therefore, getting your system into place and starting the marketing process can set you up for future success.
However, it is important to take into consideration the current state of the travel industry before investing into this business model.
Is The Digital Franchise Model Better Than Affiliate Marketing?
I wouldn't say that the digital franchise model offered by Affiliate Nation is better, it is just a different method of earning income online.
As an affiliate marketer, you have the freedom to promote any affiliate offer that you want.
The Unify Travel Club is another type of offer. What I think makes this different from a typical affiliate offer is that you likely have to be a member of the travel club yourself which may mean ongoing fees.
Some affiliate programs do operate in this manner. In order to make commissions from the offer, you have to buy the offer yourself before you can promote it.
There are a lot of other high-ticket affiliate marketing offers out there in various niches.
If you're passionate about travel, this offer may be a good fit for you. However, I would think twice about investing in a high-ticket offer if you don't have any desire to be in the niche.
You can find plenty of travel affiliate programs that do not require any investment.
They may not be high-ticket offers but you can still earn a steady income online by promoting them.
High-ticket is not the only way to earn steady affiliate commissions. Small commissions add up too and more people in the niche are more likely to buy low-ticket products before investing in high-ticket.
There are pros and cons to both. In my opinion, any commission is welcomed as an affiliate marketer.
A Better Alternative?
Don't be fooled by done-for-you systems. In the end, you're still going to have to do the marketing for your business.
If it were that simple, everyone would be doing it. Affiliate marketing requires hard work and dedication.
That is why I would much rather invest in my own online business versus relying on a DFY system.
Having ownership of your own affiliate website places you in a better position.
What if the DFY system you've invested thousands of dollars in goes under or closes the program for some reason?
You have no assets of your own earning income for you. That is why I recommend creating your own niche website.
That is how I got started as an affiliate marketer and it is what I continue to do today.
Initially, I didn't know how to earn a stead income online with a niche website.
I searched for an online training program and found this one. Taking action on what I learned there is what helped me to transition out of a full-time retail job into working on my website full-time.
Closing Thoughts On Affiliate Nation
I recommend taking some time to think about the pros and cons of this business model before making an investment.
The worst thing to do is invest money into the system and realize later that you don't have the desire to promote the offer.
If the offer does interest you, ask as many questions as you can about how it works and read the fine print.
Another alternative is to invest in yourself by creating your own niche website. Consider following the same step-by-step training I used when I got started.
Ready to make money with a blog? Learn how I went from zero to consistent affiliate commissions every month. Click here to learn how I did it.