At some point in your affiliate marketing journey, you're likely going to be in need of a sales funnel, email list, and more. All-in-one marketing platforms such as Kartra and Clickfunnels offer an easy solution but which to choose? In this Kartra vs Clickfunnels post, I'll share my perspective as an intermediate affiliate marketer.
Be sure to read the entire post so that you don't miss out on key details on why I made my decision to go with one platform over the other.
You may be surprised at which option I chose and why. I hope that this comparison does help you in your own decision-making process.
Tired of not making sales? Learn how I went from zero to consistent affiliate commissions every month. Click here to learn how I did it.
Kartra VS Clickfunnels Pricing
I'll start with one of the most popular questions for both of these platforms and that is pricing.
Kartra has several pricing plans that break down as such:
| Plan | Price Per Month |
| --- | --- |
| Starter | $99 |
| Silver | $199 |
| Gold | $299 |
| Platinum | $499 |
Clickfunnels has two plan options:
| Plan | Price Per Month |
| --- | --- |
| Starter | $97 |
| Platinum | $297 |
Right out the gate, Kartra offers more in terms of pricing flexibility whereas Clickfunnels' two options make me feel as though it is just either-or.
Kartra's plans give me room for growth. I can start at $99 per month and stay at that level with everything that I need until I eventually outgrow the plan and can move up to the next level.
It is really quite a leap from $97 to $297 with Clickfunnels. The purpose of an all-in-one marketing platform is so that you can do everything that you need in one place.
If you want all of the cool features that Clickfunnels offers, you have no choice but to upgrade to the Platinum plan which is too expensive for beginner to intermediate affiliate marketers such as myself.
Kartra lets you use all of their features in their Starter plan which gives beginners and intermediate marketers the opportunity to utilize tools to grow their business.
By offering so much at the Starter plan, chances are high that those that grow their business will likely stay on with Kartra when it is time to upgrade.
What Kartra Offers at $99 vs Clickfunnels at $97 a Month
I tested out both platforms for a week before making my decision on which one I'd stay with.
A few years ago I signed up with Clickfunnels based on a recommendation by another affiliate marketer that I followed.
I was impressed by what it could do and still am today. Back then, they didn't offer as much on the Starter plan that they offer today.
Today, Clickfunnels lets you build sales funnels, sell your own product, and build a membership site at the $97 per month plan.
However, if you want to use their email marketing feature or run an affiliate program of your own, you have to upgrade to the $297 per month plan.
Kartra, on the other hand, gives you access to all of their features at the $99 per month Starter plan.
The only thing it does not include is the Agency feature which isn't necessarily that important as an affiliate marketer.
That means you can build funnels, build an email list, send emails, build a membership website, sell your own products, host videos, and run an affiliate program for $99 per month.
Features and Ease of Use
After using both platforms for a week, I have to give ease of use to Kartra. It's not that Clickfunnels isn't easy to use – it is.
However, I felt that Kartra was really easy to figure out. I didn't have to watch any video tutorials on how to build a funnel or build a list.
That isn't to say there isn't a learning curve. I did have to click around and play with things before truly getting the hang of it.
It did feel easy enough and if I ever got stuck, I could always turn to the free Kartranaut training website.
Clickfunnels also provides helpful videos so you won't feel lost when trying to figure out how to use their platform.
Deleting Funnels Versus Archiving Them
One annoying thing for me about Clickfunnels is that you can't delete funnels. You can only archive them.
Is it a big deal to archive rather than delete? Not for most people but when I want to delete something, I want it gone, haha.
The nice thing about Kartra is that when I delete anything on that platform it is removed for good and not archived.
Landing Page Templates
Both platforms offer pre-made templates for landing page creation and funnels. I like the templates on both platforms. They are all professional, well-designed, and plentiful in terms of variety.
Creating landing pages is easy for both. They are both similar in terms of the drag-and-drop page editing.
You can also start with a blank template and pull in elements that you want to have on the page. As far as using the page builders, both platforms performed extremely well.
Email Marketing
I am not able to provide an opinion on Clickfunnels email feature since it requires an upgrade to the Platinum plan ($297 / month). I do know that it is robust in what it has to offer.
Kartra's email marketing feature is powerful. Before implementing it, I as using AWeber and wasn't even using any of the extra features there.
Now that I have used Kartra's email feature, I am hooked. They offer sequences and automations that give you so much control over what your subscribers receive in terms of email messages.
If I want a certain action performed based on a subscriber's action, I can create it. I'm certain I've only scratched the surface in terms of the email marketing features.
The nice thing is that I can use this feature at the Starter level plan with Kartra. I was able to cancel AWeber and keep all of my marketing in one platform which was the goal.
Selling Your Own Product
Both platforms let you sell your own products. A few years back, I don't remember it being an option on the Clickfunnels' starter plan but they do offer it now.
I do sell an ebook and previously sold it using SamCart and then switched to E-Junkie.
After signing up with Kartra, I created a sales page for my ebook and have already made a sale!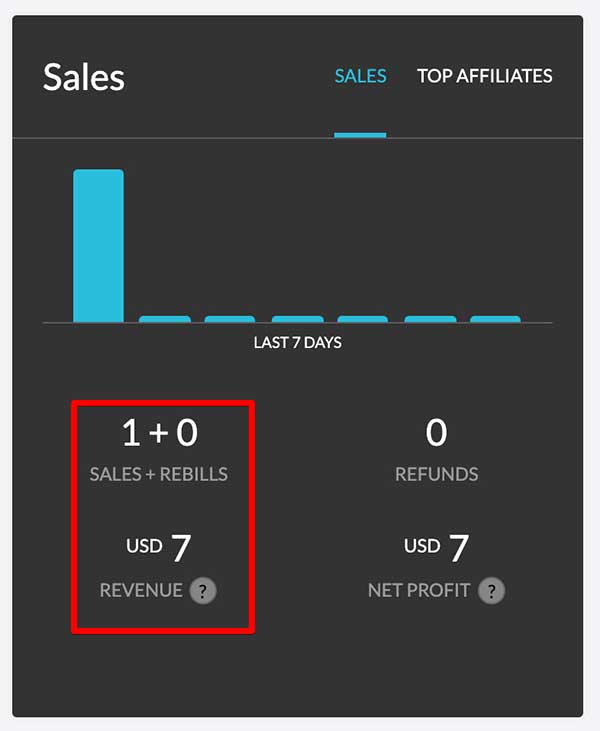 My payment processor is Stripe and PayPal. Kartra's checkout is flexible and there are many features to include:
upsells
downsells
subscriptions
order bumps
single-step or multi-step forms
embed the forms on another website
As far as I can tell, Kartra does not charge any fees on their end. The only fee that came out was from Stripe after the sale was made.
Clickfunnels does charge a fee on their end for processing orders. However, they do enable you to use Stripe as a payment processor as well.
Kartra's checkout process is seamless and they do enable you to test the entire checkout process before taking your page live.
Membership Websites
If you want to ensure that you can have a membership website, you can with both Kartra and Clickfunnels on the lowest plan.
A membership website enables you to charge a monthly subscription for membership.
I've also seen affiliate marketers use their membership websites to offer a free course and recommend affiliate products within the content.
SMS [Text Messaging Your List]
This feature is offered in Kartra but I don't know if it is in Clickfunnels. When you're creating a broadcast (email message) within Kartra, you have the option to send an SMS or email.
I currently don't have a need to text message anyone and I don't collect phone numbers anyway. However, I can imagine this feature would be useful for coaches, consultants, or salespeople.
A/B Split Testing
Both Kartra and Clickfunnels offer split testing which is key when you are attempting to figure out if something you've implemented is effective.
Video Hosting
I really do appreciate this feature and it is one of the features that Kartra offers and Clickfunnels does not (at least not at the time of writing this post.)
Since Kartra hosts videos across all of their plans, I am able to upload a video and place it on any of my pages.
For example, I have a bridge page on one of my funnels in which I have a video of myself talking.
If I were to host it on YouTube and place it on my page, there would be a call-to-action link on the video that says, "Watch on YouTube" which would lead some visitors away from my page.
I uploaded my video to Kartra and place it on my bridge page easily within the landing page editor. Now there are no distractions on the video and visitors can stay on my page.
How I Use Kartra as an Affiliate Marketer
Part of my marketing strategy is to build an email list and promote the products that I am an affiliate of.
In order to build a list, I need a squeeze page. Before I started using Kartra, I made my squeeze pages myself and connected them to AWeber.
I've always liked the ease of building a funnel using funnel software. After using Clickfunnels, I didn't feel it was worth $97 per month just to have a small and simple funnel that I could make myself.
What changed my mind about Kartra is that I could build funnels, also use their email marketing feature, and host videos there as well.
Plus, I could sell my ebook all from the same platform. The Starter plan made it worth my while which is why I signed up.
So far, my squeeze page is working like a charm and my list is growing every day: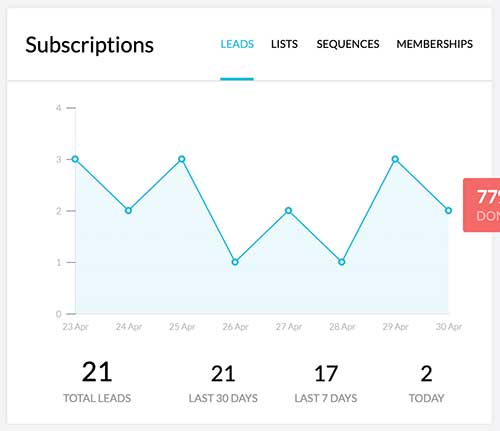 Closing Thoughts
If you haven't guessed by now, Kartra is the winner for my marketing needs. The more I use it, the more I appreciate all that it offers.
I can make funnels quickly and easily and I have full control over selling my ebook and managing my email lists.
The Kartranaut training website is extremely helpful and I do play the lessons when I have time so that I am sure not to miss out on how any of the features work.
If you are in need of an all-in-one marketing platform and want the most for your money, Kartra may be the best solution.
I recommend taking Kartra for a spin. You can test them out using their 14-day free trial.