How would you like to earn $250 per referral as an affiliate marketer? That is what is possible when you are a part of the DoorDash affiliate program for merchants. You can help connect small business owners with DoorDash to help increase their overall sales.
If you're not familiar with DoorDash, it is similar to other food delivery apps like Uber Eats and GrubHub. Users of the DoorDash app can have food, groceries, alcohol, and other retail items delivered to their door.
The affiliate program offers an awesome opportunity for affiliate marketers to earn some lucrative commissions by connecting merchants to DoorDash via their marketing efforts.
How to Make $1,000 Affiliate Commissions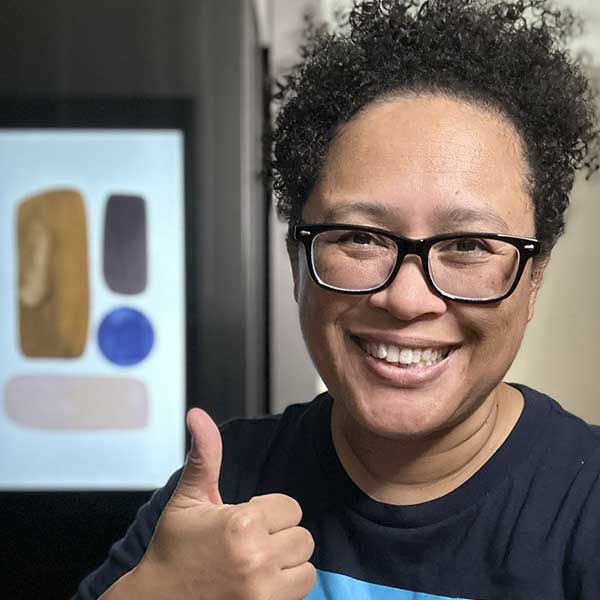 Hey there! I'm Eartha, the author of his website and an affiliate marketer. I share various affiliate programs and courses that may help boost affiliate income.
My favorite way to increase affiliate income is by focusing on high-ticket affiliate offers versus low-ticket affiliate offers.
By shifting my focus to high-ticket affiliate marketing, I've been able to make $1,000 – $2,000 commissions. It is one of the fastest ways to scale affiliate income.
Click the link below to discover how to make high-ticket commissions:
What is the DoorDash Affiliate Program for Merchants?
There are many businesses that do not offer delivery services. However, they could definitely increase revenues by offering delivery. Some small business owners cannot afford to hire delivery drivers.
That is where a service like DoorDash comes in. Delivery drivers are freelance drivers that work part-time and are paid via the DoorDash app. Merchants that partner with DoorDash can then offer delivery of their goods without hiring employees.
DoorDash charges either a delivery or pickup commission per transaction. The affiliate program pays $250 for every merchant that you refer. Get a steady flow of targeted traffic and if a small percentage of that traffic converts, your commissions can really add up.
Requirements to Join the Affiliate Program
Some affiliate programs have requirements before you can apply. The DoorDash affiliate program requirements are typical of most affiliate programs. They are as follows:
Operate a brand or website that targets DoorDash's B2B audience of restaurants, liquor stores & florists
Create original content, such as blog posts, videos, social media posts, podcasts, ads, or events
Be familiar with DoorDash, our B2B business model, and have an established audience
Share details on how/where you reach your audience, and intended marketing strategies to promote DoorDash
In short, you should have some type of online asset that attracts the target audience that is highly likely to connect with DoorDash. In this case, small business owners. These business owners can include:
Restaurants
Grocery
Alcohol
Convenience
Flower Shops
Pet Stores
Retail
How to Meet the DoorDash Affiliate Program Requirements
The easiest way to meet the requirements is to create a niche website. A niche website is how I got started in affiliate marketing and it's what I continue to do today to make steady affiliate commissions online.
A niche website is simply a website that focuses on one specific topic. For example, if I were to create a niche website to promote DoorDash, I'd likely focus on a website that provides tips on how to increase revenue for small businesses. Then I could recommend DoorDash as a new revenue stream.
To give you an idea of what a niche website looks like, take a look at the below screen capture of one of my personal niche websites. This website is in the coffee niche.
I write about various ways to sell coffee online as well as providing overviews of different coffee related product such as espresso machines.
In the post shown below, I write about some of the best espresso machines under $200. I then link to these machines using my Amazon Associates affiliate links.
Whenever someone clicks on my affiliate links and buys a product, I earn a commission with the Amazon.com affiliate program.
This particular post has already earned affiliate commissions.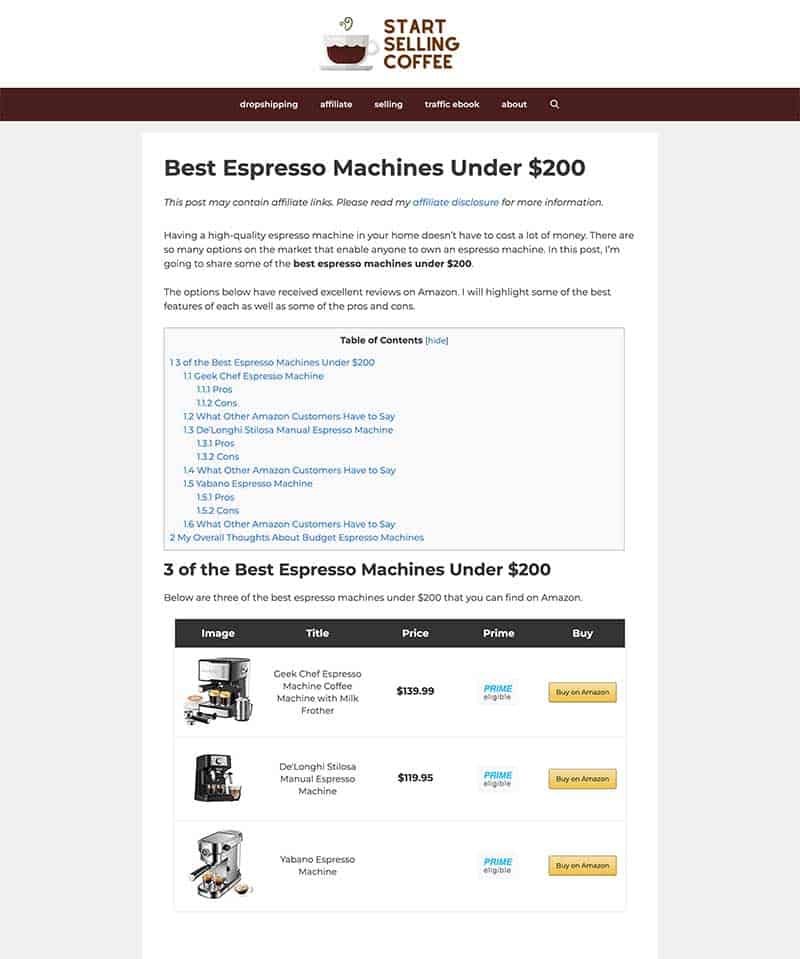 Create Original Content
Getting web traffic is essential for making affiliate sales. The next step of your niche website process is to begin creating original content or what's known as writing blog posts.
Content is key to attracting the target audience that is highly likely to buy what it is you are promoting. Therefore, it is essential to write content that is being searched for.
That means doing keyword research. Let's say for example, my niche website is based on providing tips for small businesses to increase their revenue.
I'd begin doing keyword research using Google Search and its autosuggest feature. I begin typing in some small businesses that may need help. Here are some keyword phrases that were returned:
increase sales coffee shop
increase sales grocery store
improve restaurant sales
You can get even more specific by typing in various types of small businesses that could possibly benefit by adding delivery or pick-up service using DoorDash.
When it comes to creating content, the more the better. I often suggest writing at least 1 – 2 new pieces of content per week.
Content creation is the same for other platforms as well such as a YouTube channel, social media accounts, podcast, etc.
Become Familiar with DoorDash
The next step in meeting the DoorDash affiliate program requirements is to become familiar with the DoorDash business model. Visit the DoorDash website and learn how they can benefit small businesses.
Find out what their fees are for using the service. The more you understand the product that you're promoting, the easier it will be to recommend to others. You have to think of it as if it is your own product that you are promoting.
When you are well-versed in how the product or service works, you can recommend it confidently. Your authenticity will come through in your content and that builds trust with your audience.
Share Details On How You Will Promote DoorDash
One final requirement is to share details on how you plan to promote DoorDash. In this case, we are going to promote using a niche website.
Before you apply to the affiliate program, I recommend having at least 5 to 10 good blog posts on your website related to your niche.
I would write at least 5 good articles based on keyword research that helps small businesses.
When you submit your website during the affiliate program application process, they will see that you are serious about content creation for the same niche audience.
This will increase the chances of you getting approved. I have yet to be rejected by an affiliate program I've applied to when I submit a relevant niche website.
Closing Thoughts
The DoorDash affiliate program offers a very generous commission of $250 per sale. By putting in the time and effort to create content that attracts the right target audience, there is no reason why you couldn't earn a steady income with this affiliate program.
Affiliate marketing is one of the best online business models. You never need your own product and there is unlimited earning potential.
To give you an idea of what's possible, here is a screen capture of an affiliate commission I earned from one affiliate program: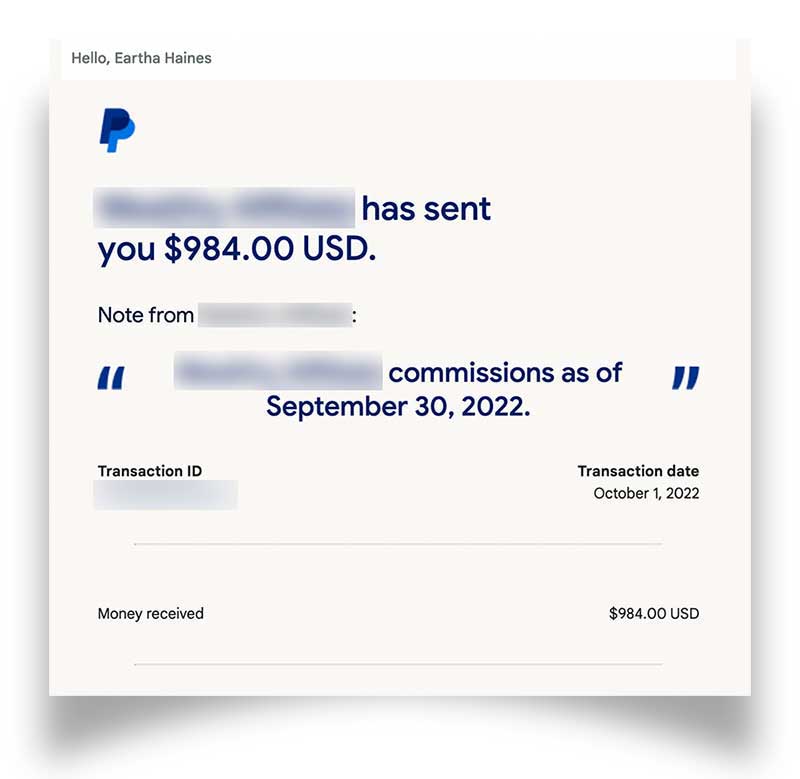 If you are ready to level up your affiliate marketing skills and start making steady income online, then I recommend following the same online training program I followed when I got started. Click the button below to learn more: