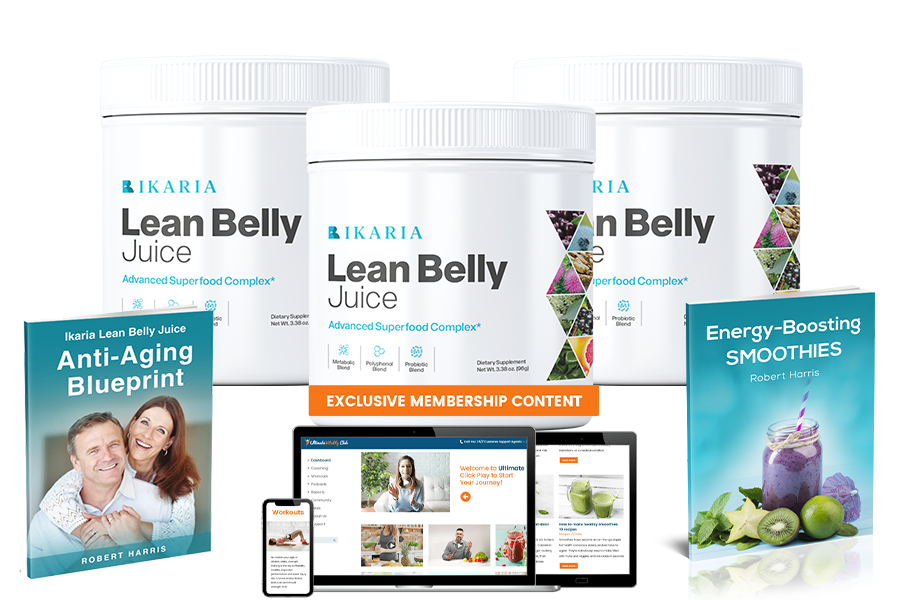 The Clickbank affiliate network has several physical products that are selling very well. One of these can be found in the Ikaria Lean Belly Juice affiliate program. Weight loss products are plentiful on Clickbank.
Before they began implementing physical products on the network, digital weight loss products sold extremely well. The niche itself is an evergreen niche and when targeting the right audience, conversions can be high.
I'll go over what the Ikaria Lean Belly Juice is and how to best promote it as an affiliate.
Product: Ikaria Lean Belly Juice
Price: $69 / 30-day supply, $59 / 90-day supply, $39 / 180-day supply
Commission: 75%
Affiliate Network: Clickbank
How I Make $1,000 – $2,000 Commissions Using a Simple 2-Step Process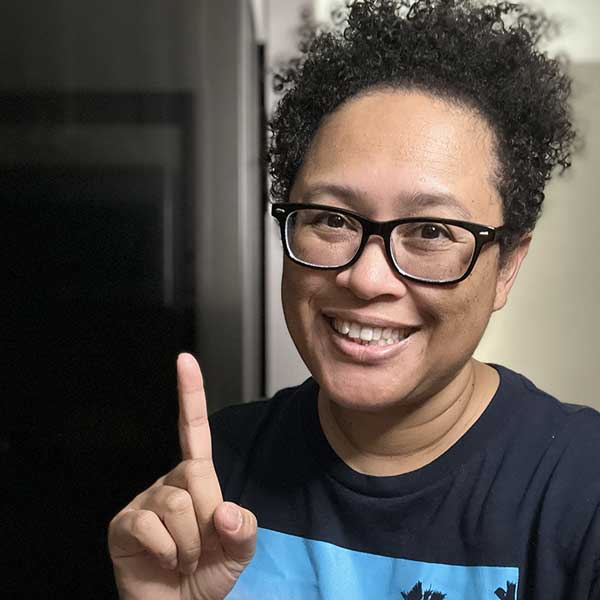 Hi! I'm Eartha, the author of this blog and an affiliate marketer. My goal is to share the top affiliate programs as well as ways to help boost affiliate income.
One of the ways I've been able to boost my affiliate income is by doing high-ticket affiliate marketing.
High-ticket affiliate marketing is one of the best ways to help scale up your affiliate income.
If you want to learn how to start making $1K – $2K commissions with affiliate marketing, click below!
What is the Ikaria Lean Belly Juice Affiliate Program?
The Ikaria Lean Belly Juice affiliate program is managed by the Clickbank network. Affiliates can earn a 75% commission per sale. In order to become an Ikaria Lean Belly Juice affiliate, you'll have to create an account on Clickbank if you haven't already.
Once you have your Clickbank account, head over to the Marketplace and search for "Ikaria". You can create your affiliate link, copy it, and place it wherever you plan on promoting the product.
Clickbank will handle keeping track of your clicks and conversions. They will also handle your payouts and will send your commission by direct deposit or check (whichever method you choose.)
Products sold on Clickbank have a 60-day cookie length. That means that if someone clicks on your affiliate link but doesn't buy immediately, you can still earn the commission if they buy within the 60-day window.
What is Ikaria Lean Belly Juice?
It is important to understand what this product is so that you can promote it effectively as an affiliate. Ikaria Lean Belly Juice is a powder supplement designed to flush out ceramides.
The powder is made up of 8 fat-burning nutrients including:
milk thistle
taraxum
panax ginseng
resveratrol
citrus pectin
ECGC
fucoxanthin
bioperine
It also has a proprietary blend of:
beet root
hibiscus
strawberry extract
acai extract
African mango extract
black currant extract
blueberry powder
Some benefits of the powder are that it is easy to mix, is vegetarian, contains no stimulants, is non-GMO, and is non-habit forming.
How Much Can You Make Promoting Ikaria Lean Belly Juice?
You can actually make quite a bit of affiliate commissions if you can generate a steady flow of web traffic. The commission rate is high at 75%. However, you can request a higher commission of 80%-85%.
There are some benefits to becoming an affiliate. Some of these benefits include:
Upsell Funnel. Ikaria Lean Belly Juice is the front-end product of a high-performing upsell funnel. This sales funnel also includes two other weight-loss formulas. One is called "Flat Belly Cleanse" and the other is called "Revitalize Night." The two supplements were designed to enhance the results of the Ikaria Lean Belly Juice.
Top-Quality VSL. The video sales landing page was tested and optimized for months. The copy includes a weight loss story, a unique hook, scientific evidence, and production value. The combination is sure to help with conversions.
Low Refunds. This product has a low refund rate which means you get to keep more commissions. The company keeps the product in stock and they have a top-quality customer service team.
Understanding The Product Demographics
What is great about this affiliate program is that they provide some excellent information about the target audience. Here is what you should know about who is highly likely to buy Ikaria Lean Belly Juice:
Countries: USA, Canada, UK, Ireland, Australia, New Zealand, Western Europe, Northern Europe
Male/Female: – 50-50
Age: 35 and up
Understanding who the target audience is enables you to create content better suited to those who will likely buy what you promote.
Now you can do keyword research for men and women in their mid-thirties and older that are seeking ways to shed excess pounds.
Doing some quick keyword research myself, here are some topic ideas that I found:
help losing weight over 40
tips for losing weight after 50
best way to lose belly fat after 50
what to eat to drop body fat percentage
I've barely scratched the surface with those keyword phrases above. Imagine all of the content that you can create to attract the target audience you need.
What is the Best Way to Promote Ikaria Lean Belly Juice?
As an affiliate, you can promote this product in a variety of ways. If you have a social media following, it is easy to recommend it to your followers. The same goes if you have a YouTube channel and you create video reviews.
However, if you're just starting out, I highly recommend creating a niche website in the health & wellness niche, weight loss niche, or a niche in which the audience would likely buy the product.
The great thing about a niche website is that you use content marketing (writing articles – also known as blog posts) to attract your target audience.
That means you could write a product review for Ikaria Lean Belly Juice and add your affiliate links to the review. Then you can link back to your product review from the other blog posts that you write.
Click here to create your FREE niche website today!
Email Marketing
Another option is to build an email list and send product information to your subscribers. Building an email list is essential for affiliate marketers. It gives you the ability to grow your own customer base.
Building an email list will require a landing page and email marketing software such as AWeber, Constant Contact, ConvertKit, and others. Most of these email marketing software companies offer landing pages as part of their service.
Send traffic to your landing page and start building your subscriber list. I build my email lists through my niche website and YouTube channel.
Closing Thoughts
The Ikaria Lean Belly Juice affiliate program offers an excellent commission rate. It is also an in-demand product within the health and wellness niche. By sending the right traffic to this offer, you have the potential to earn steady affiliate commissions.
One of the best ways to make sales is to create a simple niche website. Niche websites are excellent for beginner affiliate marketers. They are easy to create and easy to maintain.
Creating a niche website is how I got started as an affiliate marketer and what I continue to do today to make a steady income online.
To give you an idea of what is possible with affiliate marketing and a simple niche website, here is a screen capture of an affiliate commission I earned from one affiliate program: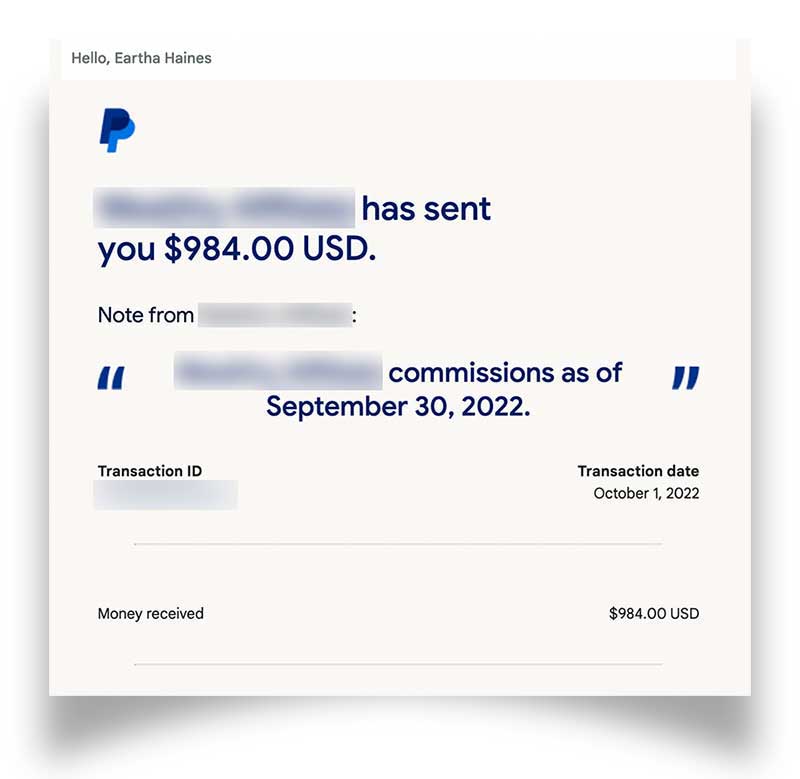 If you are serious about making money as an affiliate marketer, click on the button below and get started today for free.