ClickFunnels™ is one of the best services to choose for creating sales funnels. It also has a pretty awesome affiliate program. In this ClickFunnels affiliate review, I will cover what the software is all about and how the affiliate program works.
One of the great things about their affiliate program is that the founder, Russell Brunson, is a legend when it comes to affiliate marketing. He has years of experience and success.
Therefore, ClickFunnels' affiliate program provides its affiliates with plenty of tools and support. Let's dive into how it all works!
ClickFunnels Affiliate Program:
Commission – 40% recurring
Cookie Length – lifetime (sticky cookie)
Dream Car Incentive
Tired of not making sales? Learn how I went from zero to consistent affiliate commissions every month. Click here to learn how I did it.
The ClickFunnels Software and Features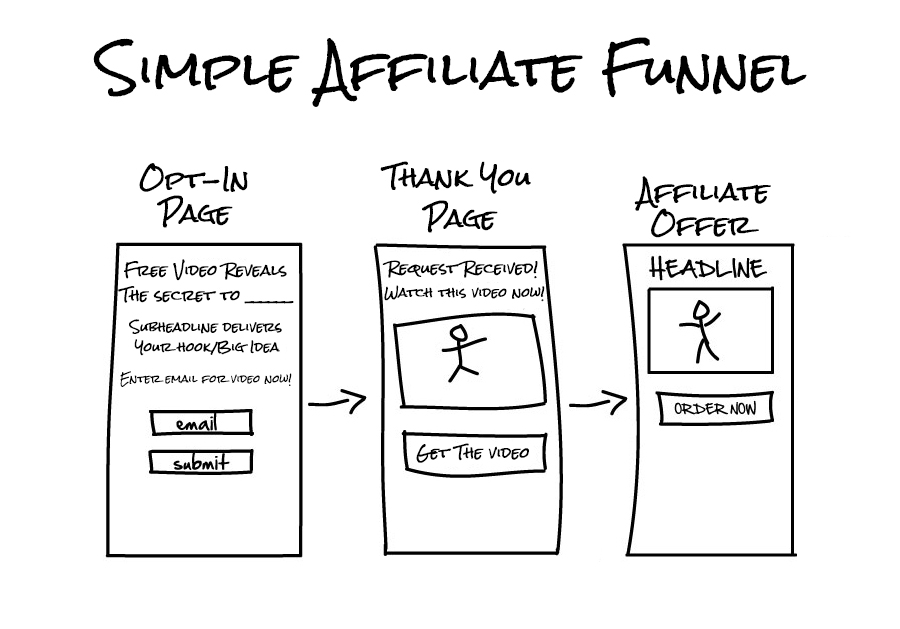 To put it simply, ClickFunnels is a software solution that helps anyone to create sales funnels that convert visitors into leads and customers.
The software is easy to use with a drag-and-drop editor and eliminates the need to hire or rely on a tech team.
There tons of templates that you can use for your web pages and you can modify them as you please.
Other features include:
Smart shopping cart with 1-click upsells
Email and FaceBook marketing automation
Run affiliate programs
Create membership areas
The company was founded by Russell Brunson who has been creating successful online businesses for many years.
Russell and his team do an excellent job of keeping ClickFunnels' users engaged. They run a podcast and have a very active YouTube channel called Funnel Hacker TV.
Who the Service is For
Sales funnels can be utilized by any type of business. Some of the businesses that can benefit from ClickFunnels include:
Agency / Freelancer
Information Products
eCommerce
Coaching / Consulting
Network Marketing
Local Small Business
B2B Lead Generation
Blogging / Affiliate
Non-Profits
How the ClickFunnels Affiliate Program Works
Many affiliate marketers are excited to promote ClickFunnels as they really do have an awesome affiliate program.
You do not have to be a ClickFunnels user in order to sign up as an affiliate. You can find the affiliate sign up link at the bottom of the ClickFunnels home page:

The affiliate commission is 40% recurring per month so long as your referrals remain paid subscribers. What is even better is that ClickFunnels has a sticky cookie.
Essentially that means they offer a lifetime cookie. The only time your cookie ends is if someone clears their cookies in their browser or they click on another affiliate's link.
Dream Car Incentive
Another perk of promoting ClickFunnels is the Dream Car program that they offer. If you refer 100 active ClickFunnel users, they will cover your payment on your dream car.
As long as you have 100 active ClickFunnels users, they will send you a $500 check towards the lease of your dream car. When you reach 200 active users, they increase the payment to $1,000.
How to Make Commissions with ClickFunnels
The reality is that there are a lot of affiliate marketers promoting this service. Don't let that deter you if you really like the product and you want to promote it.
It obviously converts well and many affiliates are making a lucrative income from the affiliate program.
In order to get your share of the commissions, you will need to think a bit about who you want to promote the product to (your niche.)
Create a Niche Website (Blog)
I recommend creating a niche website. It is how I am able to generate consistent affiliate commissions online from various affiliate programs.
It takes a bit longer to start earning commissions versus running paid ads. However, unless you have a large budget and some experience, you probably shouldn't jump into paid ads right away anyway.
A niche website is really easy to set up. The first thing you'll need to do is figure out the niche you want to target.
Since ClickFunnels is great for all types of business owners, you have plenty of options. For example, you could target:
Network marketers
Professionals such as attorneys, doctors, accountants, etc.
Online business owners
Local business owners
Coaches
Consultants
After you've settled on a niche, you can get your website. I recommend getting a self-hosted WordPress website.
All that you need for your website is:
A domain name
Web hosting
Installing WordPress
You can get everything you need in one place with a hosting company like Dreamhost. They have plans starting at $4.95 per month. You can register your domain and they will pre-install WordPress on your account for free.
Why Niche Blogs Work So Well for Affiliate Marketing
Niche blogs work well because you will be creating a lot of content that addresses the questions and concerns of your niche audience.
That content will eventually rank in the search engine results and attract targeted visitors to your website.
You will have affiliate links within your content and a percentage of your targeted visitors will click on those links and buy what you are promoting.
So basically you are building an online business that generates free targeted traffic and earns affiliate commissions month after month.
It really is an ideal business model for affiliate marketing. There is a learning curve to niche blogging but it is made easier when following a good affiliate marketing training course.
When I started out, I made sure to find a legitimate training course and I followed and implemented what I learned. With hard work, I was able to quit a full-time retail job to work on my business full-time.
Is ClickFunnels Worth Promoting?
I was a ClickFunnels user in the past and I really like the platform. If you've never used their software, you can take advantage of their 14-day free trial.
Although I really like their service, I didn't have a strong need for it. It helps to use their features so that you have a better understanding of how it can benefit business owners.
I have heard in the past that ClickFunnels does have a high turnover rate, meaning many customers cancel the service.
There is no way to verify that as far as I know. However, I think with the right marketing to your niche, you can definitely increase the chances of getting referrals that will stick with the service.
Some affiliate marketers have left ClickFunnels for one of its competitors called Builderall because they have a good affiliate program as well.
My Closing Thoughts On My ClickFunnels Affiliate Review
ClickFunnels has a great affiliate program. The key is to figure out a niche that you like and that will make sense to promote the service to.
Niche websites are what I use to earn a consistent income online through affiliate marketing.
It is one of the best ways to earn affiliate commissions. I make commissions while I am sleeping, out grocery shopping, or relaxing with my loved ones.
Beginners may find it a bit challenging to get started. I did as well so I followed a step-by-step training program.
That training program made all of the difference for me and I use it today to help others one-on-one with creating and growing their own niche websites.