MLMs were never my thing but if I decided to take it seriously today, Cesar L. Rodriguez would be at the top of my list as an MLM coach. I've known about Cesar for years now after coming across him online.
Cesar Rodriguez is a successful multilevel marketer who has reached top-level status with MLM companies he has been a part of. He has years of experience coaching other multilevel marketers and is a well-known and highly sought-after public speaker.
His YouTube channel has a lot of great content in which he shares valuable tips for prospecting and growing your business. Cesar is down-to-earth and offers actionable advice for MLMers.
In this review, I'm going to share what I've learned about Cesar and his MLM coaching business.
If you're interested in launching your own online business (not related to MLM), read until the end as I share one of my all-time favorites.
Who am I? Hi! I'm Eartha, the author of this blog and a full-time affiliate marketer. I enjoy searching the web for products, product creators, and online courses related to starting online businesses.
How I Make $1,000 Commissions Using a Simple 2-Step Process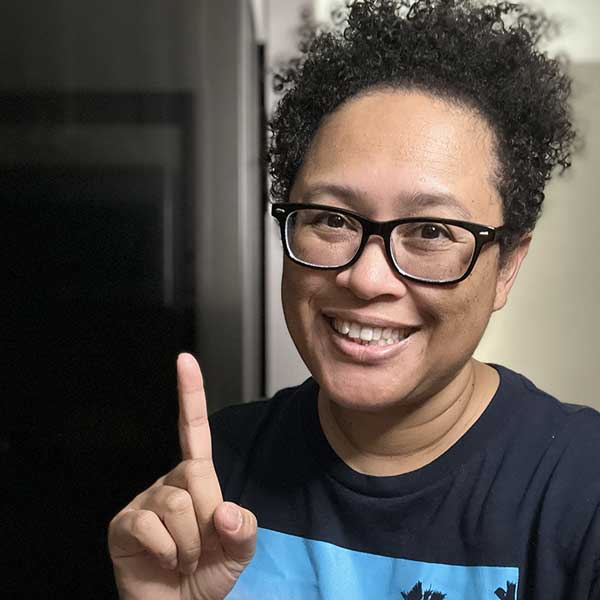 Hey there! I'm Eartha, the author of this website and an affiliate marketer. I seek out various affiliate programs, and courses, and highlight entrepreneurs here on the blog.
I've been able to boost my income by focusing on high-ticket affiliate marketing which enables me to earn commissions of $1K, $2K, and more.
If you are ready to level up your online income (or create an online income), then click the link below to get started:
Cesar L. Rodriguez MLM Background
Cesar got his start in MLM by a chance encounter with his future mentor who was already a successful multilevel marketer.
In order to learn all that he could and dive deep into training, he packed up everything and moved to the same state as his mentor to be closer.
That move paid off because Cesar is at the top of his game when it comes to prospecting and lead generation.
Not only can he prospect in person but he has online lead generation working as well.
He has branched out into product creation and sells his own MLM training courses.
Besides selling courses, you can hire Cesar as a coach with packages ranging from $1,000 up to $30,000.
The higher-end packages include spending time with Cesar in person and learning how to prospect on the streets as well as setting up online funnels to automate lead generation.
If you follow his Instagram account, you can get a sneak peek of some of his in-person coaching which is conducted in his home.
B10xB Brand
You may see Cesar wearing t-shirts, hats, or wristbands with the logo B10xB on them. This is his personal brand that is short for Be 10 Times Bolder.
The motto acts as a reminder for times when you're in an uncomfortable situation such as prospecting for new leads. What would you do if you were ten times bolder?
It's a great reminder to take action even when you don't want to or if you are out of your comfort zone.
Cesar Rodriguez Coaching Products
If you aren't able to hire Cesar as a coach, you can still benefit from his experience through his coaching products.
He offers four different products that can help anyone interested in growing their MLM business.
His products include:
Prospecting Mastery
Calling & Closing Mastery
Leadership Mastery
The Immediate YES Formula
The first three products are also available in a bundle package.
Should You Have an MLM Coach?
Multilevel marketing is not an easy home business to grow. It involves direct sales. Although most MLM opportunities appear to be easy to start, many people never get to the level of earning a steady income.
The biggest hurdle for most MLMers is having to grow their own downline. Growing a downline requires prospecting.
Speaking to people you know about your business opportunity is one thing but approaching complete strangers is a nerve-wracking experience for many.
An Inactive or Inexperienced Upline Sponsor
If you happen to sign up under someone who isn't very active or doesn't have much experience, you'll need to find someone else to mentor you.
A coach can make a big difference in the growth of your business. You get to learn from their mistakes and implement strategies that are proven to work.
Be prepared to spend quite a bit of money for an experienced coach. Cesar knows the value of his time and experience. Therefore his coaching prices are on the high end.
However, what you pay in coaching can pay off for you 10-fold if you apply what you learn.
My Personal Experience with MLM
I've written about various network marketing companies such as Beachbody, Forever Living, World Ventures, and more.
The trend seems to be the same for a majority of these companies in terms of income disclosures of their independent distributors.
A bulk of distributors never make more than a few hundred dollars per month or less.
I was an active Beachbody Coach many years ago and managed to sign up a few people into my downline using internet marketing.
However, it was difficult for me to retain people if they weren't able to build their own downlines.
After a while, I lost interest in the business model and continued with my pursuit of affiliate marketing which worked out better for me.
Final Thoughts On Cesar Rodriguez MLM Coach
Multilevel marketing isn't my go-to recommendation for earning income online. There are a variety of ways to make money online such as affiliate marketing, digital product creation, eCommerce, and more.
However, if you are already in an MLM company or you simply like the business model, a coach such as Cesar could make a positive impact on your overall business growth.
Keep in mind that no matter how much coaching you receive, it is still up to you to take action on what you learn.
You'll still have to prospect, follow up with phone or Zoom calls, and close the sale. If you are not comfortable with that, you'll likely not do well regardless of the coaching you receive.
How I Make a Steady Income Online Using a Simple Website
Network marketing is a challenging business model. It's not easy to sign up new people into your downline.
That is a big reason why I chose a different business model. The business model that I chose is affiliate marketing.
Affiliate marketing is a lot different than running an MLM business. Here are some of my favorite benefits:
You don't need your own product
Never need to build a downline (no recruiting)
No inventory to buy, store, pack, or ship
There is no customer service
Work from anywhere with a WiFi connection
Unlimited earning potential
Create lifestyle freedom and time freedom
Tons of products you can promote
Affiliate programs are free to join
My business model consists of:
Choosing an interest (cooking, sports, parenting, anything you like!)
Building a website (WordPress will do)
Attract visitors (free traffic from your website content)
Make money promoting other company's products
Here is a screen capture of an affiliate commission I made from one company: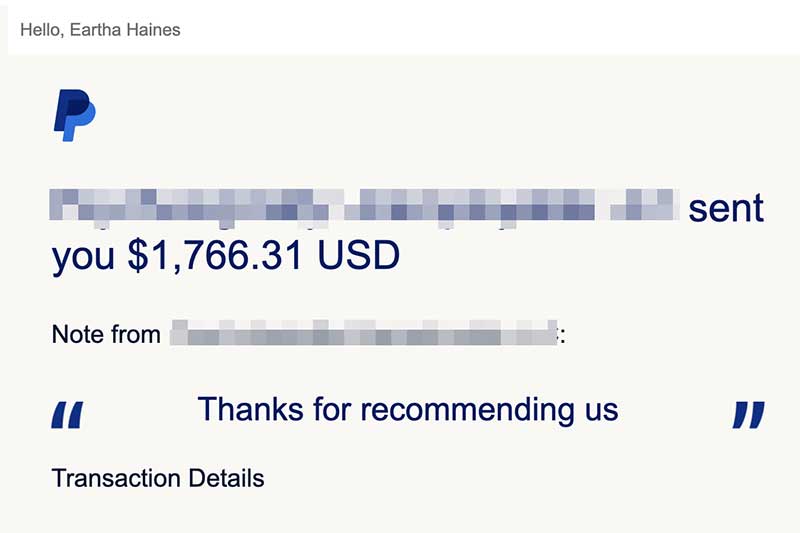 The sky really is the limit with affiliate marketing. It is a fun business model. When I got started, I didn't know how to make money with a website.
I needed guidance so I searched for a legitimate online training program and found this one. Following that training helped me to quit a lousy retail job and work on my website full-time.
If you want to get started today, you can follow the same exact training I used by clicking the button below:
Keep taking action!
Eartha 🙂
ALTERNATIVE: Why This Online Business Model Works Better for Most People